What do you need to throw an unforgettable bee themed 1st birthday party? In this post I will share bee themed invitation ideas, bumblebee party food ideas, and bee party decoration tips.
I hope the things we did to throw our twins a bee themed 1st birthday party, help give you some good ideas for your own bumblebee themed party.
Please note, there are affiliate links in this post. Read my disclosure policy to learn more.
Why A Bumblebee Themed Party?
You can definitely throw a bee themed party any time of the year. But, one reason I chose bumblebees for my twins' first birthday party theme was they have a summer birthday.
Another reason I went with a bee theme was I liked the color scheme and thought it would be cute.
Bee Themed Invites
Since this party was a first birthday party and it was for my first born babies, the guest list was more extensive than typical for us.
That is why we decided to mail out invitations. Here are a couple cute options you could use.
Another option for invitations is to send out Evites or to create an event on Facebook. I have found these options to be increasingly popular.
It is of course less formal, so just decide what works best for your bee themed party.
Bee Party Decorations
I have found the best options and best prices for decorations, especially for a themed party, are online. For this reason, it's good to have a theme planned at least a month before the party. This gives you enough time to get decorations on order.
Balloons
Yellow and black balloons are a great way to add to the color scheme. Since we had part of our party outside, the balloons were tied to patio chairs.
Tableware
I ordered plates, cups, napkins, utensils, and tablecloths online. I opted for a combination of solid colors, in yellow and black, and bee themed items.
For example, I got dessert plates with a bee on them that said 1st birthday. But for napkins and dinner plates I went with black and yellow.
I want to mention that, besides tablecloths, I now stick with only solid colors for tableware. Inevitably, you will end up with extra tableware. It is much easier to use them for something else in the future if they are only solid colors.
If you want something to be themed, go with the tablecloths because they will be thrown away at the end of the day.
Bee Decor
To add to ambiance I also found some cute, inexpensive bee decorations to add to the ambiance. This included centerpieces and fun items to hang from the ceiling.
Don't forget to see what you might have around the house. I happened to have a stuffed yellow jacket (from my Alma Mater the University of Rochester), so I used that as a decoration too.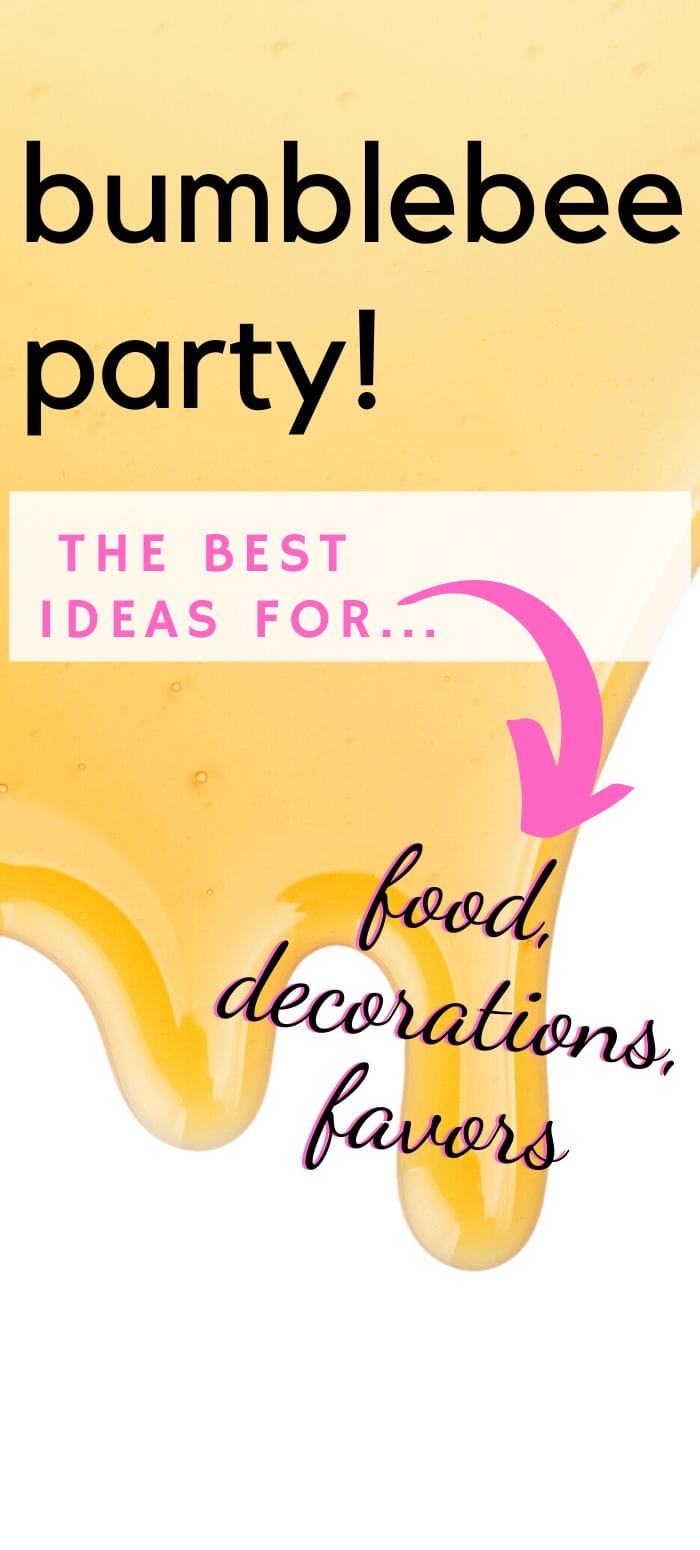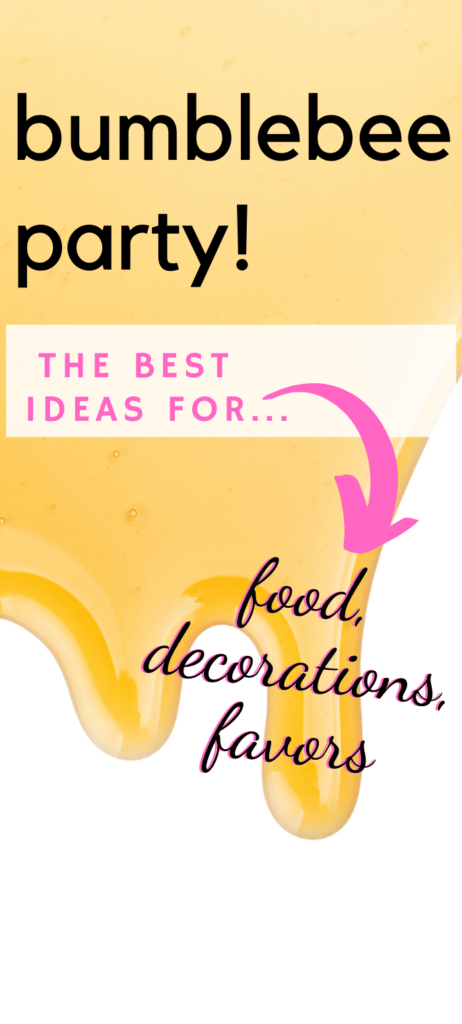 Bumblebee Party Food Ideas
For food I tried to find things that were relatively simple to put together. I'm not the artsy, craftsy type and like all other moms I don't have a lot of time. So, bumblebee party foods that were cute and easy were my target.
I did opt for some food that was not bee themed, including sandwich trays and chips.
Here is a list of the bumblebee themed party food ideas I used.
Cut up pineapple and blueberries on wooden skewers.
An olive and cheese tray with a few olive and cheese shaped bees.
Lemonade in a drink dispenser, to go with the color scheme.
Yellow, black, and white M&Ms placed in bowls and scattered around the party.
Beehive Cupcakes
For dessert we decided to make cupcakes. We made both vanilla cake with yellow frosting and chocolate cake with yellow frosting.
The cupcakes were then arranged in the shape of a beehive. I also bought little sugar bees for the finishing touch.
Since this was a first birthday party for twins I liked going with cupcakes because I did not have to make 2 separate smash cakes. Each birthday girl got a cupcake to eat and make a mess with.
How Did The Bee Themed 1st Birthday Party Turn Out?
The girls wore cute dresses for their party, that someone had given them. I did not see a need to go out and spend more money for bee themed dresses.
The biggest hiccup of the day was the weather. The twins' birthday is in July, so we planned to have the party on our sun porch and patio.
It turned out to be a very hot day so the patio was not really usable in the hot sun. Guests ended up staying on the porch, and in the air conditioned family room.
Since it was a 1st birthday party, there were no set activities. But, the older kids played basketball, decorated our driveway with sidewalk chalk, climbed through tunnels and tents, and rode in cozy coupes.
Another weather related issue were the balloons. I didn't realize the extreme heat would cause the balloons to deflate or pop. That was a good learning experience. In the summer, balloons need to stay inside.
Overall, people really enjoyed the food and had a very nice time.
And finally, before our guests left they all received honeycomb cereal in bee themed favor bags for their favor.
That is how we pulled off the twins bumblebee themed 1st birthday party. It took a lot of planning and prep work, but in the end everyone had a great time.
I hope this post has helped give you some good ideas for your bee themed party. Happy planning!
If you found this post helpful, please save it on Pinterest.