The Best Pregnancy Journal & Planner with Checklists (Digital Download)
$7.00
The Pregnancy Journal & Planner With Checklists will help you stay organized and reduce stress throughout your pregnancy. Never forget an appointment or lose track of when you need to complete things like your baby registry or your birth plan. With this 70+ page instantly downloadable pdf you get access to checklists and trackers. On top of that you receive a printable pregnancy journal to track your pregnancy and create memories. One of the best parts of this package is it allows you to keep everything related to your pregnancy in one place.
When you buy this product you will be able to INSTANTLY download a PDF file containing both the planner and the journal.
Prints beautifully in color or black & white.
Description
Are you stressed over preparing for the arrival of your newborn?
A pregnancy planner and journal is exactly what you need!
With the 30+ page planner you can stay organized, save time, and get prepared for the arrival of your baby.
The pregnancy journal has 40 printable pages so you track everything that happens in each week of your pregnancy and create a birth journal for your baby too.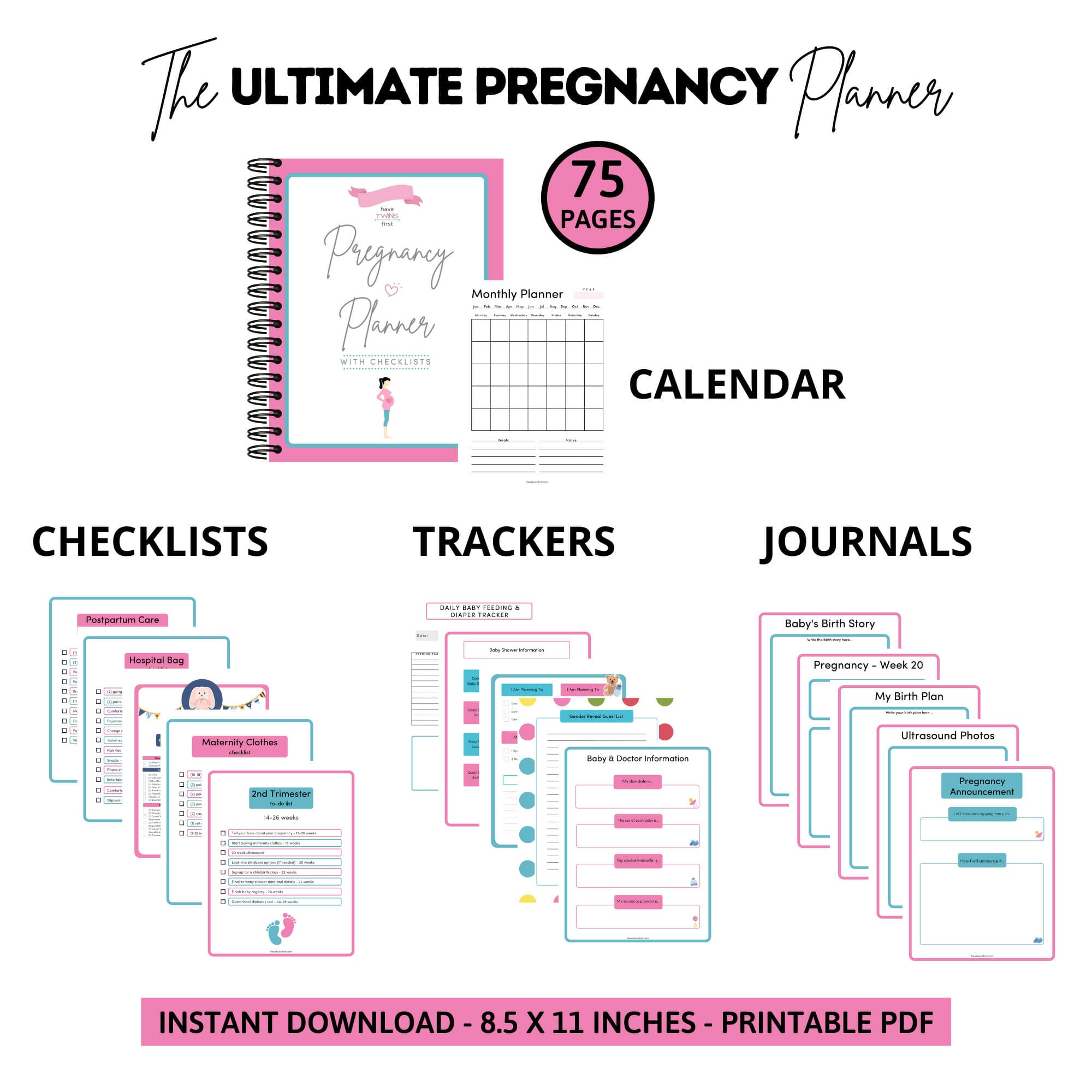 1st, 2nd, & 3rd Trimester Checklists

Pregnancy Announcement & Gender Reveal Planners

Baby Name Ideas List

Maternity Clothes Checklist

Nursery Planner & Checklist

Baby Registry Planning Sheets

4 Baby Registry Checklists (typical, minimalist, eco-friendly, Montessori)

Baby Shower Planning

Gift & Thank You Note Tracker

Baby & Doctor Info Sheet

Doctor Appointment Tracker

Maternity Leave Planner

Pediatrician & Childcare Planner

Birth & Delivery Planner Sheets

Hospital Bag Checklist

Postpartum Care Checklist

Monthly Outlook Calendar & Notes Page

Pregnancy Journal for Weeks 6 – 40: includes size of baby and weekly journal prompt

Ultrasound Photos Journal

Baby Birth Journal

Hospital Visitors List

Feeding & Diaper Tracker