Feeding time could ruin the day for you and your picky toddler. And on top of that, long term, it could get in the way of your toddler's growth and development.
Unfortunately, toddler fussy eating can lead to stressful situations for both parents and children. In this post we are sharing five meal ideas for picky toddlers. Read on to discover some surprising, and some not so surprising toddler meal ideas, that your toddler will actually eat!
Please note, there are affiliate links in this post. Read my disclosure policy to learn more.
Finger Foods For Picky Toddlers
Looking for quick dinner ideas for toddlers? Finger foods are a good way to go. Check out the recipe below for chicken nuggets.
Chicken Nuggets
Have you ever considered chicken served in another form for your toddler's satisfaction? You can make that happen with these healthy, homemade chicken nuggets.
Ingredients:
4 oz bite-sized chicken breast chunks
2 eggs
2 cups almond flour
1 cup coconut flour
2 Tablespoons tapioca starch
1/2 cup pickle juice
1/2 Tablespoon chili pepper
1/2 teaspoon garlic powder
1/2 teaspoon onion powder
3/4 teaspoon salt
Cooking oil
Preparation: Soak the chicken breast chunks in the pickle juice for an hour. In a separate bowl, mix the tapioca starch, flours, and other dry ingredients. In a separate bowl, beat the eggs. Remove the chicken chunks from the pickle juice and dip them into the eggs. Next, cover the chunks with the flour mixture. Lastly, fry the chicken in a preheated cooking oil.
Why chicken nuggets? They are tender and easy to eat, while still meeting your picky toddler's nutritional needs.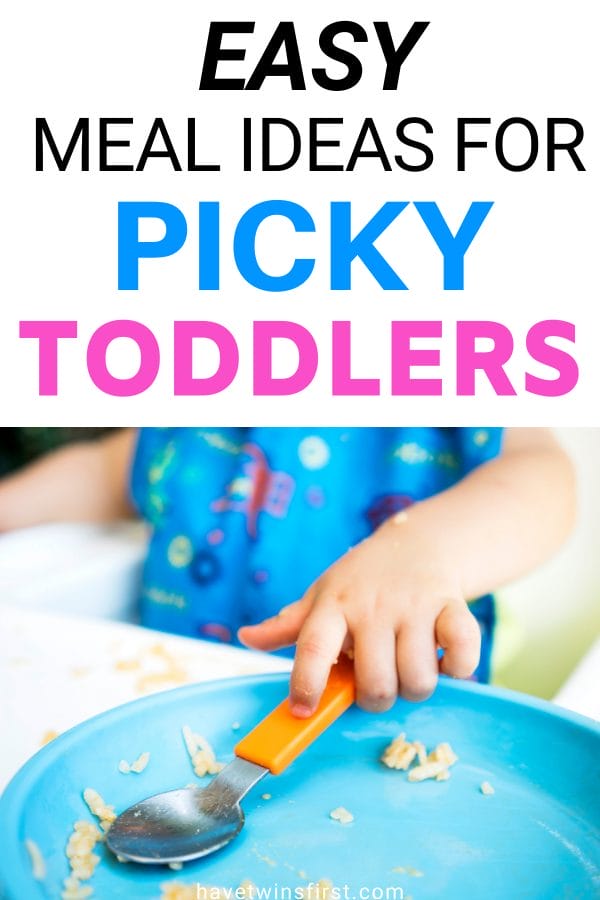 Breakfast Meal Ideas For Picky Toddlers
It can be very tricky to find healthy meal ideas for picky toddlers, but this pancake recipe is a great option to try to get your toddler to eat.
Potato Pancakes
This recipe typically calls for bananas and eggs. But, instead of bananas, sweet potatoes will be used and your toddler will not be able to resist their sweetness.
Ingredients:
2 sweet potatoes
2 eggs
1/4 teaspoon vanilla
1/8 teaspoon baking powder
Cooking oil
Preparation: Peel the sweet potatoes, then cut them into cubes. Roast the potatoes in the oven at 350F for 30 minutes. Once out of the oven, proceed to mash the sweet potatoes. Mix the eggs with the mashed potatoes. Add the vanilla flavor and the baking powder. Then cook in the oil for 3 minutes. You have to flip it over like you do when making omelet and be careful while doing this.
Why Pancakes? This nutritious meal does not need a lot of chewing, so it is perfect for kids wanting to do away with hard chewing foods.
Easy Weeknight Meals For Picky Eaters
Check out these two recipes for some quick dinner ideas for toddlers that are picky.
Noodle Fritters
You want empty plates after dinner? Here you have it with Noodles Fritters. It is yummy and irresistible.
Ingredients:
2 eggs
1/2 cup grated carrots
1/4 cup peas
1/4 cup fresh corn
50g diced ham
1/4 cup flour
1/2 cup milk
Preparation: Pour lukewarm water in a clean bowl and soak your noodles for 5 minutes. Drain the noodles and include the other ingredients to the bowl. Do not forget to add the seasonings that come with the noodles as well. Over medium heat, place your healthy cookware and add a little oil. Fry the mixture batch by batch until golden brown.
Why Noodles Fritters? It looks good, tastes good and above all, it encompasses high nutritional value.
Fish Cakes
Fish is an excellent source of protein for kids. How about presenting them to your picking eating kid in the most enticing and palatable way?
Ingredients:
8 oz tilapia or salmon fish (canned or fresh)
1 egg
1/4 teaspoon pepper
1/2 cup bread crumbs
1/2 cup cheese
1/4 teaspoon salt
1/4 onion powder
1/2 teaspoon garlic powder
Cooking oil
Preparation: Mince the fish, if required. Next, blend all the other ingredients together to produce a sticky paste. Mix the paste and the minced fish. Form small balls with the mixture and fry in cooking oil for 5 minutes.
Why Fish cakes? You will not have to worry about your fussy eater getting the right amount of protein.
Toddler Won't Eat Vegetables Or Meat
Here is a great snack to try out with your picky toddler.
Toddler Trail Mix
Every toddler would love a trail mix recipe, including your picky eating toddler. It is a great snack that has the most types of foods kids adore.
Ingredients:
2 sources of preferred healthy carbs (for example, Cheerios and rice cakes)
2 sources of fats/protein (for example, coconut chips and walnut halves)
2 dried fruits (for example, apple chips and banana chips)
Preparation: Get a clean bowl. Pour moderate quantities of each ingredient into the bowl. Gently mix them together and serve.
Why Toddler Trail Mix? Trail mix gives your toddler a wide range of nutrients he or she needs for development. And, on your end, it is a plus because it is easily prepared.
More Meal Ideas For Picky Toddlers Help
Before we sign off, if you are looking for more help be sure to check out these picky toddler eating tips too.
Even if you get nervous when its mealtime for your picky kid, I hope these five unique meal ideas for picky toddlers helps you find something new for your child to eat. Best of luck!
About the guest author:
Julie Angela is a cooking enthusiast. As a cooking enthusiast, she has tried pretty much everything that is somehow connected to the cooking industry like healthy cooking, cooking tips, healthy recipes, etc. Her goal is to share her experience and expertise on cookwarereviewz.com to inspire you to get cooking while having fun.