Returning to work after having a baby is not as straightforward as it looks. If you have been breastfeeding, it's not only about finding childcare for your baby.
If you would like to continue breastfeeding, especially exclusively, then you will need to pump while you are at work. A breastfeeding mother should pump for each feeding session she is away from her baby. This will help retain breast milk supply.
If you will be working and pumping breast milk there are quite a few pumping at work supplies you will need, in addition to breaks to pump milk. Let's review the full list of essential supplies to bring for pumping at work. Plus, you will learn where to store these pumping supplies when you are not using them.
Please note, there are affiliate links in this post. Read my privacy & disclosure policy at the bottom of this page to learn more.
What Kinds Of Things Are Needed For Pumping At Work?
Pumping at home and pumping at work are different. For example, you can pump at home in a space you have setup for yourself, all while reading or watching something on your electronic device.
But when you are at work you need a private pumping space. Additionally, you will be carrying many of your pumping supplies to and from work.
Some of the items you will need include a pump, bottles, and breast pads. Those probably seem obvious. But there's actually quite a bit more to consider, since you will be traveling with breast milk each day.
The Best Essential Pumping At Work Supplies
Which pumping items do you need at work? Which ones are absolutely necessary and which ones are optional?
Since you will be traveling with these items you will want to keep the amount you need to a minimum. Let's start by reviewing just the essential pumping at work must supplies.
1 – Double Electric Breast Pump
At work you will likely have minimal time to pump. This is especially precarious when your child is less than 6 months old because you need to pump more frequently.
This is why it is best to have a double electric breast pump. An electric pump works faster than a manual pump. And with a double pump you can pump from both breasts at the same time.
On top of this pumping from a double breast pump yields more milk with higher energy content.
Research has shown that:
Simultaneous expression stimulated more milk ejections and was a more efficient and productive method of expression, yielding milk with higher energy content.

Breastfeeding Med. 2012 Dec;7(6):442-7
Some things to consider for choosing a double electric breast pump to use at the work include its weight and noisiness. For double electric breast pumps I recommend either the Medela Pump In Style MaxFlow or the Spectra S1 or S2 pumps.
You might also be wondering about using a wearable pump. That is discussed below in the optional pump supplies section.
2 – Pump Parts
It's vital to have some extra breast pump parts with you. This includes valves, backflow protectors (depending on the pump you own), tubes, and breast shields.
Having multiple sets of replacement pump parts will allow you to stay worry-free if something goes awry with a part. You can keep the parts organized in a small bag, so always know where to find them. It's also important that the parts have been sanitized.
There are many options for replacement parts available on Amazon. Check out NENESUPPLY, which creates parts for all the most popular pumps on the market today.
3 – Hands-Free Pumping Bra
Besides having the supplies on hand, you will want want clothing that makes it easier for you to pump milk frequently at work. You can either wear a hands-free pumping bra all day long (if you pick one that is convertible) or change into it when you pump.
Personally, I chose to change because I had my own private office and felt these bras were kind of bulky to wear all day long. A pumping bra has holes in the front of each cup. These holes hold the breast shields and attached parts so you can pump without needing to hold the breast shields and bottles with your hands.
I have tried quite a few of these bras and my favorite by far is the Simple Wishes hands-free pumping bra.
4 – Bottles
When you are pumping milk, you need somewhere for the milk to go. Often you will pump directly into bottles if you are not using a wearable pump.
Either way you will also want bottles for storing pumped milk. Do keep in mind that some bottle brands are not attachable to all breast pumps. It is most efficient to either buy bottles for the same brand as your pump (if available) or bottles that are compatible to the pump you use.
Make sure to use good quality BPA-free baby bottles. Even if you are not using the same bottles to feed your baby, you are using them to store the milk for long periods of time.
My favorite bottles for pumping are Medela or Dr. Brown's.
5 – Bottle Cooler
You will be transporting your breast milk to and from work and home, so I recommend having a bottle cooler to keep the milk from spoiling. Additionally, if you don't have a fridge at work you will definitely need this.
There are two types of bottle coolers. The first type is a regular container with separate ice packs (as shown above).
You will keep the ice packs in the freezer and put them in the cooler. The ice packs will keep the baby bottles cool.
The second type of bottle cooler is a little different. You will put the whole cooler in the freezer and then put the bottles in it. You can click here to see what that one is like.
Whatever type you choose, ensure that the cooler's quality is good and that the bottles stay cool until you reach home.
6 – Bag For Pump
You do need a way to transport your pump. That's where a pump bag comes in. This bag should be small and easy to carry. It will also potentially be able to carry all your pumping supplies.
7 – Bags For Pump Parts
As I said earlier, it is best to have some extra sets of replacement parts. You also need a small bag to store and organize pump parts.
There are small reusable bags you can buy that are designed to store pump parts, they are like wet bags. These bags have two pockets, one for the used (wet) parts and the other for the clean and dry parts. There is waterproof separation between the pockets.
You can put the used parts in the wet bag and keep the bag in the fridge. Later on, you can use the same parts for the next pumping session without washing (or sterilizing) them.
Another option is to use a disposable Ziploc bag each day, but that is not as environmentally friendly.
8 – Breast Pads
Breast pads, also called nursing pads, are very beneficial for breastfeeding moms. You just have to place them in your regular bra, and they will absorb any leaking milk.
Breast pads will save you from being embarrassed or uncomfortable, and they will save your clothes from stains. Keep a couple of pairs in your pump bag so you can replace them once they get dirty.
You can choose between reusable breast pads or disposable ones.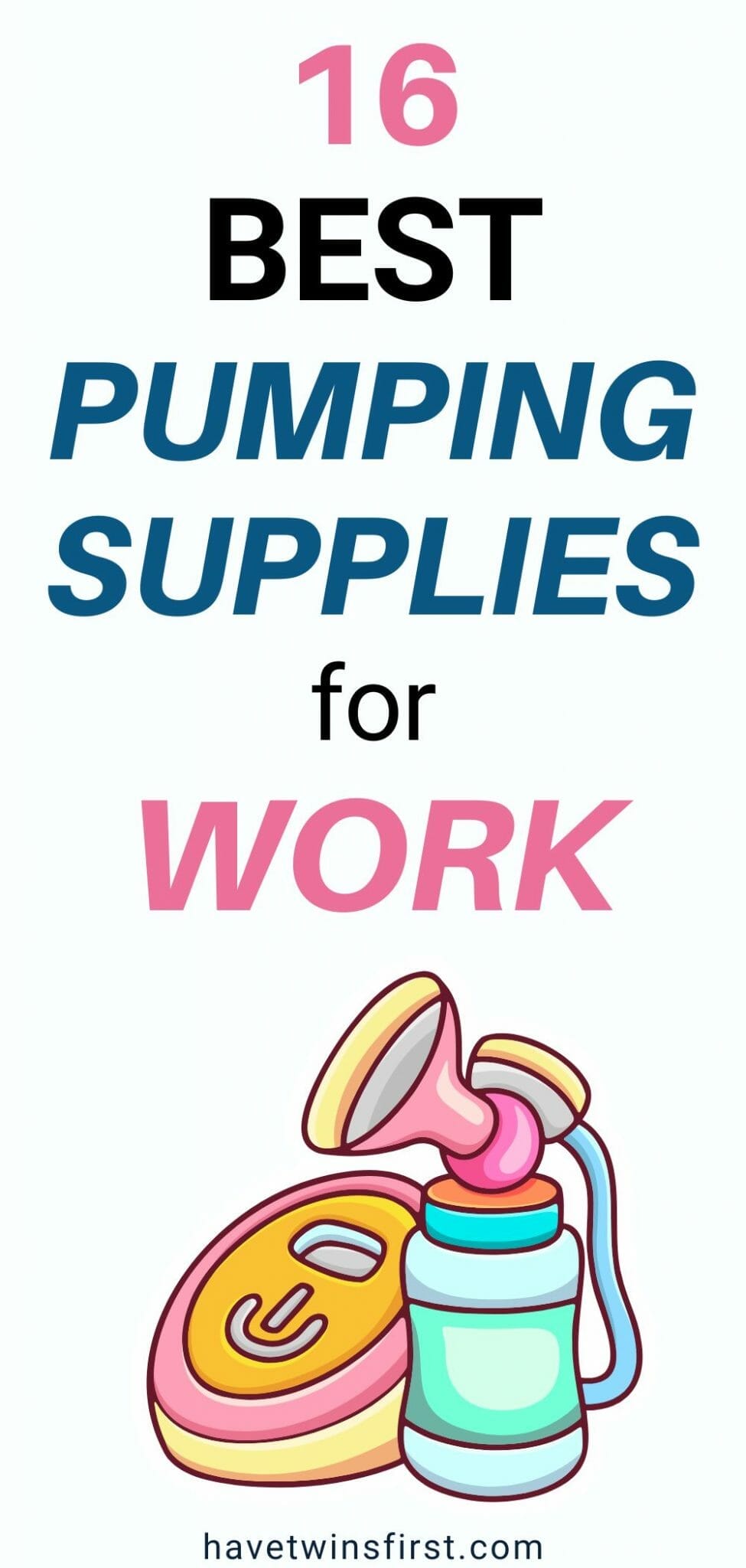 The Top Optional Supplies To Bring For Pumping At Work
Now that we've reviewed the absolute must have pumping at work supplies, there are also some optional items you might want too. These things are not absolutely necessary, but you will want to consider getting some things on this list.
1 – Wearable Breast Pump
As the name suggests, you can actually walk around and do things while "wearing" this type of breast pump. It has no cords, wires, or tubes and you don't need to be attached to a plug to pump milk.
When It's time to pump, put the wearable pump on by inserting it into your nursing bra. Next, just push the on button and go about your day.
A wearable pump has attached collection containers. Most wearable breast pumps make much less noise than regular electric breast pumps, so that's another plus point.
However, these wearable pumps are very expensive. Depending on if you are getting a single or double pump they run from $250 to $550.
You will also want to consider that you need to produce enough milk when looking into using a wearable pump at work. Finally, it's important to understand that you will need to recharge the batteries to make sure you have enough power to use this pump throughout the day.
2 – Manual Pump
Besides having an electric or wearable breast pump, you can also choose to have a small manual pump in your bag. Manual breast pumps are:
Convenient
Make almost no noise
Don't require batteries
Easy to use
Affordable
By having a manual pump, you have a backup in case of any problems. You can use the manual pump if your electric pump is broken or if you have any dysfunctional pump parts.
Moreover, if you can't find a constant electric supply or your pump runs out of battery, a manual pump can come in handy.
3 – Pumping Privacy Sign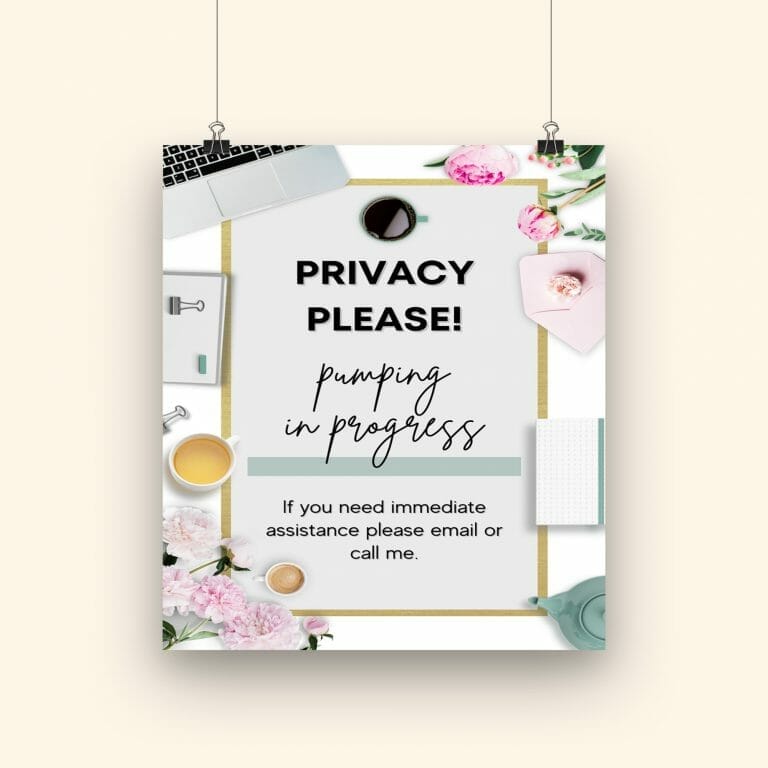 If you're concerned with being mistakenly walked in on or interrupted while pumping, get a privacy sign to hang on the door at work.
I recommend just getting a simple one that you can print – you can check out a great option here.
4 – Pumping Log or Journal
If you need a good way to keep track of your pumping progress, then get a pumping log or pumping journal to track your progress.
I think a journal is especially helpful when you first return to work and start your journey of combining pumping with breastfeeding. A great investment is this printable Pumping At Work Journal.
With this journal you get the following:
(2) sample pumping at work schedules – 3 pumps/day & 2 pumps/day
Blank pumping at work schedule (write out your own schedule)
Pumping log
Breast milk inventory sheet
Pump part replacement tracker
Breast milk storage guidelines
Daily baby feeding & diaper log – give to daycare or nanny if you want
Pumping privacy sign for work
5 – Nursing Cover or Cardigan
A nursing cover is a simple piece of clothing that will give you some privacy if you want it. It's like an apron without a waist tie.
It's not essential, as some people don't mind not covering up while nursing or pumping. But if you do prefer having the privacy, getting a nursing cover will allow you to be more comfortable while pumping.
For me personally, I had the privacy of my own office so I didn't need a cover. But I did opt to get an open-front cardigan to keep myself warm while I pumped. If you are often cold – I highly recommend this.
6 – Photos Of Baby
Prolactin and oxytocin help stimulate milk production. Usually, when a baby touches the skin of her mother, milk production is stimulated.
However, when you are pumping and at work you will not have your baby in your arms. Having a photo or two of your baby to look at before or during pumping can help stimulate milk production. Although it may not work as well as having your baby with you, it's better than nothing.
7 – Water Bottle
It is so important for a nursing mom to stay hydrated. Nursing or pumping milk can cause you to become more dehydrated than normal. Plus, drinking some water before pumping will improve milk flow.
I always had a water bottle handy, so I could drink water throughout the day. My absolute favorite water bottles are the stainless steel ones from Contigo. It will keep your water cold all day long!
8 – Tote Bag (To Carry Everything In One Place)
You will have many things to carry to and from work when pumping. These items include:
Breast pump
Pump parts
Bottle cooler
Bottles
Cleaning supplies (if you plan to wash the pump at the workplace)
Other accessories you need
Items from your normal work bag
Work files (if you have any)
Instead of a pump bag that will only fit your pump and associated parts, you could get a larger tote bag that will carry EVERYTHING you need in one place.
The bag you choose should have large space so you can put everything in it and the handles should be strong yet comfortable for you to carry. Besides a tote bag type option, you could opt for a backpack pump bag if you prefer.
What Do I Do With My Pump Supplies At Work When I'm Not Using Them?
If you have a wet bag for your used pump parts, you can simply put it in the fridge in between pumps. Then once you go home, you can wash your parts there.
You can also clean and store the pump parts at work, especially if you do not intend to bring them home. Make sure all your pumping at work supplies are somewhere safe and easily accessible.
How To Clean & Store Pump Parts At Work
Here's some step-by-step instructions for cleaning and storing pump parts at work.
Get a portable wash basin and keep it at your workplace, at least that's what I recommend. I think it's best not to have the parts touch a sink that everyone else uses.
When you are done pumping, separate all the parts. If you want, clean the parts with a paper towel. This prevents the soapy water from getting too much milk in it.
Put hot water and dish soap in the wash basin, put the parts in it and let it soak for a couple minutes.
Clean the parts with a brush and rinse them.
Dry with a towel or leave them to air dry.
When the parts are properly dried, put them away.
It's time to prep and get all your pumping at work supplies in order.
Pumping at work is easier if you plan ahead and have all the necessary supplies on hand from the get go. Now you know both the essential and optional pumping at work supplies, so you won't miss anything.
I hope you now have a better understanding of what you need. Good luck!