When you are 24 weeks pregnant with twins, the presence of your babies inside your womb is much more noticeable. You have started feeling them and they kick often.
As your due date inches closer it is true that being pregnant with twins is different from being pregnant with a singleton. In this article, I will discuss what to expect during the 24th week of twin pregnancy including what tasks you should be working towards completing.
Please note, there are affiliate links in this post. Read my privacy & disclosure policy at the bottom of this page to learn more.
Twins Development at 24 Weeks (Size & Weight)
Initially, twin babies grow at the same rate as a singleton grows. However, at around 25 weeks the growth of twins becomes slightly slower when compared to a single baby. This is because the space in the womb becomes more crowded.
This means that at 24 weeks pregnant, you can expect your babies to be the same size as single babies at 24 weeks in the womb. Your twins will measure 11-12 inches (about 30 cm) long and weigh around 1-1.5 pounds (about 0.5 kg) each, on average. At this stage, your twins' weight will be mostly their organs, bones, and muscles.
Baby fat is still accumulating and will not weigh much at this time. At 24 weeks pregnant, your babies are much thinner than the newborns you see, but they are growing really fast.
What Would Happen If My Twins Were Born at 24 Weeks?
Your twins might survive if they are born at 24 weeks gestation, but the chances of survival are 50:50, even in intensive care. Babies born at 24 weeks are about the size of a cob of corn. The organs are not fully developed, and their fat content is still insufficient.
If your twins are born at 24 weeks and survive, it will take a lot of time for them to gain weight and fully develop their body organs. Your twins will spend many weeks in the NICU.
The chances of survival increase with every week inside the womb. Ideally, twins should stay in the womb until 37 weeks. However, most twins are born at 35-36 weeks of pregnancy.
How Much Movement To Expect at 24 Weeks Pregnant With Twins
Many moms carrying twins report feeling their babies move a little earlier than singletons. This is likely because of more limited space. Two babies will take more room, and the mother will feel it more when they move.
By 24 weeks pregnant, the movement of your twins will be very noticeable. In a singleton pregnancy, moms may not feel any movement when their baby is sleeping.
But in a twin pregnancy, you have two babies in the womb. If one is sleeping but the other one isn't, twin moms will still feel those kicks and flutters. This means you can expect to feel movements more often.
What Should My Weight Be at 24 Weeks Pregnant With Twins?
Recommended pregnancy weight gain for a mom carrying twins is different from that of a mom carrying a single baby. Your target weight gain at 24 weeks pregnant with twins is highly variable depending on various factors, which includes:
Weight when you got pregnant
Height
BMI
Physical health
What your doctor thinks is right for you
As you can see, there is no exact answer to what your weight should be at 24 weeks pregnant with twins. Instead, you should check your BMI and use the guide below for second trimester twin pregnancy weight gain.
Underweight: 1.5 – 1.75 lb/wk
Average weight: 1.25 – 1.5 lb/wk
Overweight: 1 – 1.25 lb/wk
Obese (BMI over 30): 1 lb/wk
How Big Should My Belly Be?
For many twin moms, the uterus will cover the entire stomach. You will see a baby bump by now if you are not obese.
How big should your belly be? It depends upon many factors like whether it is your first pregnancy, age, genetics, and belly size before pregnancy.
Pregnancy bumps appear earlier when it's not your first pregnancy. Your doctor will measure your belly size at each appointment, so if there is a problem you will know.
Twin Pregnancy at 24 Weeks: Comfortable or Uncomfortable?
Every person is different. You may or may not feel comfortable with a twin pregnancy at 24 weeks. The second trimester is usually easier than the first and third trimesters.
For me personally, this is when I was the most comfortable. Nausea and exhaustion are usually the hardest part of the first trimester. In the third trimester, twin pregnancy becomes very uncomfortable due extra weight and swelling.
Some moms might start feeling uncomfortable around 24 weeks. Here's some symptoms you can expect:
Uncomfortable while sitting or standing for a long time
Backache
High blood pressure
Fluid retention
Tight clothes – time to start wearing maternity clothes
Stretch marks
Milk glands developing – could be bothersome for some
Should I Be Exhausted?
Yes, you might be exhausted – there are two babies growing inside of you!
To help have more energy, ensure you are eating a well-balanced and healthy diet. You need around 300 extra calories per baby per day.
Ask your healthcare provider about what exercises you can do safely. Following a moderate workout routine is a great way to keep you energetic.
It's normal to feel exhausted and wanting to sleep more. However, if you are feeling unusually tired and you are having trouble finishing your routine tasks, its best to talk to your doctor about it.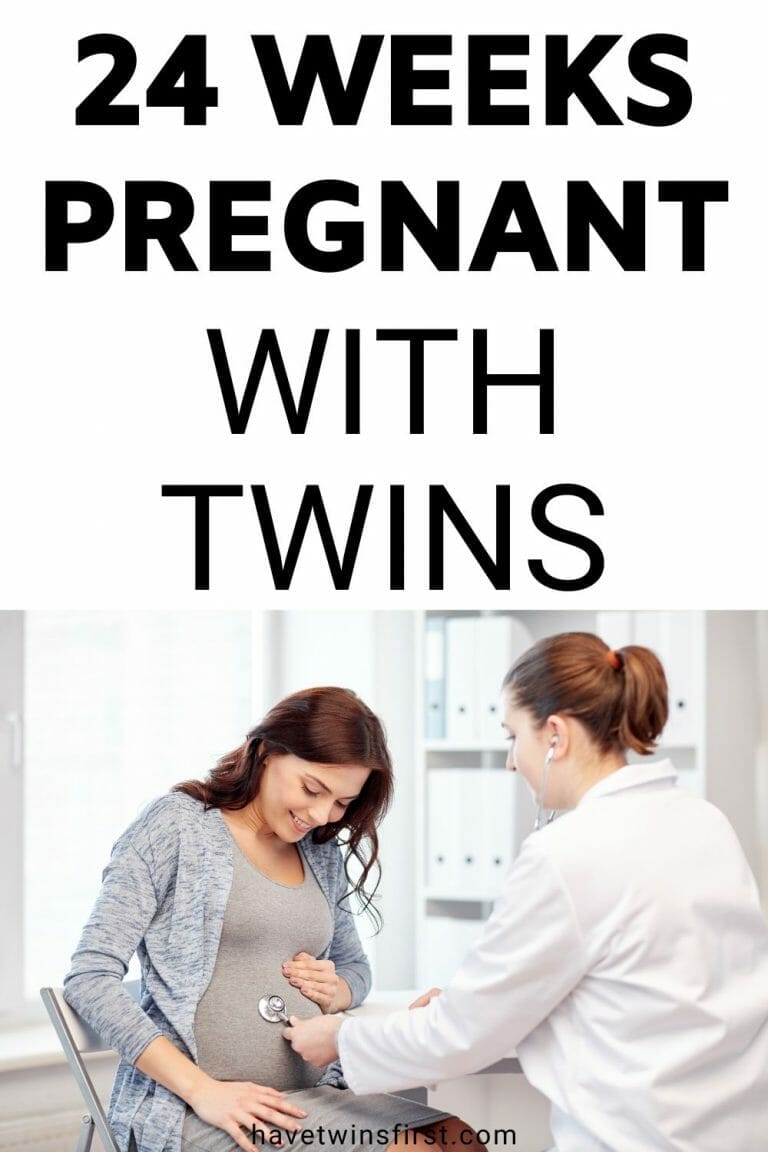 What Should I Be Doing & Expect at 24 Weeks Pregnant With Twins?
24 weeks pregnant feels so early to finish all the pending tasks, but believe me the time will just fly by. The list below is what I recommend working on at this stage.
1 – Finish Twin Baby Registry
Creating a baby registry takes time and needs some planning. Plus, twin babies tend to arrive earlier compared to singletons. That is why this is the best time to finish your twin baby registry.
A twins shopping list will be a little different from singleton shopping list. There are many things that your twins can share and there are many things you need to buy double of. There are also some great products on the market that are specifically made for twins.
Start by making a list of what you need, what you already have (if you have older kids), and things you want but are optional. Finally, you can do some research about the best brands and compare prices.
For more help, you might want to grab our FREE Twin Baby Registry Guide by filling in the form below. It includes a printable Twin Baby Registry Checklist and links to (2) ideal sample twin baby registries. This guide will walk you step-by-step through selecting the baby items that are perfect for your family's specific needs.
2 – Gestational Diabetes Test
Being pregnant with twins means you are at higher risk of pregnancy related complications such as gestational diabetes. This condition is more common for twin pregnancies vs singleton pregnancies.
Your gestational diabetes test will be done at 24-28 weeks of pregnancy. If it turns out you do have it, your doctor will give you instructions on how to control your blood sugar.
3 – Prepare For Twin Labor & Delivery
You should plan and prepare for your twins labor and delivery early on. Be sure to discuss it at your doctor's appointments.
It is best to give birth to twins in a hospital because there are chances of complications in twins delivery. So, it will be good to be in a hospital where all the necessary equipment and experienced doctors are available.
Many women think that a C-section is the only choice when giving birth to twins. But in reality, more than 40% of twin births are vaginal, including mine.
I also highly recommend taking a labor and delivery class. I personally love the the online birthing classes from Mommy Labor Nurse for those expecting twins.
You select the course that applies to your type of birth (C-section, epidural, or natural) and each class has an entire section devoted to the birth of multiples. On top of that it's taught by a labor and delivery nurse who is also a mom of 3.
If you're not sure yet, sign up for the FREE birth preparation workshop first.
Finally, another thing that's super helpful are birth checklists and plans. You can get labor checklists created specifically for twins by clicking here!
4 – Finalize Baby Shower Details
Before the end of your second trimester, you should finalize your baby shower details with your hosts. You can help them create the list of the guests. If the hosts need it, you can help prepare the menu and with decorations.
It is also important to finish your baby registry before baby shower invitations are sent. Finally, start thinking about a thank you gift for the baby shower host(s). You might also want to buy a set of thank you cards too.
5 – Decide On Childcare (If Needed)
If you will need childcare for your twins, it is time to plan what that will look like. Caring for twins is not an easy task.
There are two aspects to this. You will want to line up help (if it's available) when your twins are newborns. It's possible to care for newborn twins alone, but it's much easier if you have a helper. As they get older it will be easier to be on your own.
Additionally, if you will be back going back to work, you need to start thinking about what childcare will look like. Do your twins need to go to daycare? Are you going to hire a nanny for twins? Do you have family that will watch them?
24 weeks pregnant with twins is a great time to figure out all these details.
At 24 weeks pregnant with twins, the birth of your twins is not all that far away anymore!
Pregnancy is different for everyone at 24 weeks. Some moms will feel comfortable while some won't. You can expect your babies to move a lot.
Babies born at 24 weeks gestation have a 50:50 chance of survival, but birth this early is rare. Most twins are born at around 36 weeks.
This is the best time to prepare for your twin's arrival. Finish your baby registry, plan the baby shower, plan the delivery, and decide on childcare.
Your twins will be here before you know it. Good luck with everything.
Finally before I sign off you might also be interested in these printable twin pregnancy resources listed below.