How To Find A Good Nanny For Your Family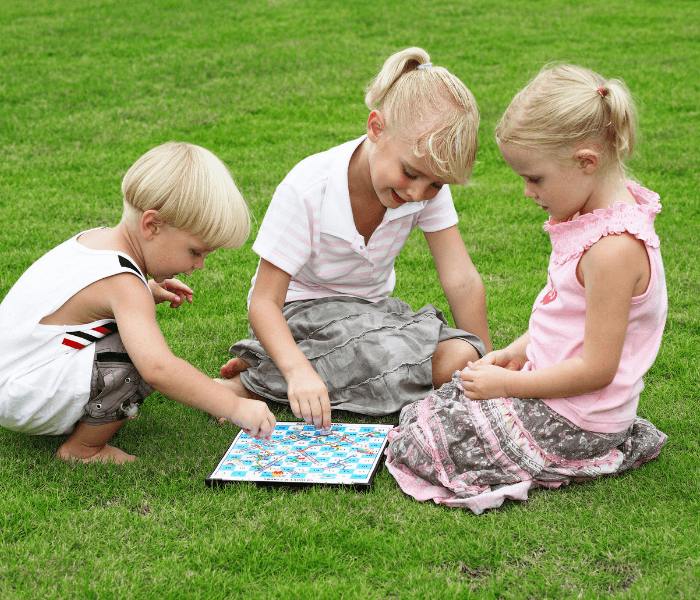 When my husband and I found out we were having twins, we decided we would need to find a good nanny.
We both worked full time and planned to continue working after having children.
My husband is a lawyer and I am an engineer and even though the cost of child care is very high, it made the most sense for both of us to keep working.
Please note, there are affiliate links in this post. Read my disclosure policy to learn more.
How To Decide If You Should Hire A Nanny
The biggest driving factor for our family to hire a good nanny as opposed to going to a daycare, was the fact that we were having twins.
With two babies to take care of, the cost difference was not nearly as significant to try to find a good nanny. it just made the most sense for our family.
Even with two kids in daycare, it is still slightly more expensive to have a nanny work for you full time (insert % more range). But, with twin babies to care for, it was more than worth the extra cost.
There are definitely a lot of time saving advantages to having a nanny at your house all day including:
No daycare pick up and drop off
No need to prep bottles, snacks, and lunch for daycare
Your children's laundry will be done by the nanny
These are HUGE time savers that really add up over time. For me personally, it has been completely worth it.
Find A Nanny Vs. Going To Daycare
Another difference between daycare and having a nanny at home is the amount of interaction your child or children will have with other children.
In a daycare setting, they will be with other children their own age that they can play with throughout the day. It may also be a more structured day.
Meanwhile, with a nanny your child(ren) will get more one on one attention.
And, another huge advantage to hiring a nanny, is your children are less likely to get sick, since they will not be interacting with other children every single day.
Additionally, if your child is sick, your nanny can still take care of him, while you go to work. On the other hand, if he was in daycare, he would need to stay home and one of the parents would need to miss work.
How To Find A Nanny
So, after much debate you have decided to hire a nanny. But, how do you find a good nanny for your family?
It is vital that you find a person that is the right fit for you and your children.
After all if you hire someone that doesn't work out, then you might have been better off with daycare all along.
Today, my twins are about to enter kindergarten and I have a singleton who is 2 years old. In the last 5 years, we have had 2 full time nannies.
We had wonderful experiences with both of our nannies and I wanted to share with you what my husband and I did to find the right fit for our household.
Our first nanny moved on in her career, but she still babysits for us to this day. Our second nanny has been with us for 3 years and counting.
Decide Nanny Job Requirements And Pay
Before figuring out where to look for a nanny, it is important to decide what your expectations are for the nanny.
You will also want to have a general idea of how much you will be paying for the nanny position.
The number of children that will be cared for, their age, and the amount of responsibilities will be a driving factor in the nanny's pay.
Here is a list of some of the things you will want to determine before going on your nanny search.
Do you want a live in or live out nanny?
What will a typical day be like for the nanny?
Which meals will she be providing to the children?
Will the nanny be doing laundry?
Will the nanny be doing any cleaning?
Will the nanny be preparing meals for the whole family?
Do you have pets that need care as well?
As you can see there are quite a few things to consider before seeking out potential nannies for your family.
Where To Look For A Nanny
Once you have a good idea of what you want a nanny to do and how much you will be paying for the job, it's time to start your nanny search.
There are a few options I recommend looking into. For our family, we have found both of our nannies on Care.com.
As explained above, we have had wonderful experiences with both of the nannies we hired through Care.com.
I know quite a few other families that have also used Care.com to find full time nannies and they also have been very happy.
If it were me, this is where I would go to look for a nanny.
Now, there are other options.
A more expensive option is to use a local nanny placement agency. I have friends that have used this service and have had both good and bad luck with it.
I think it's a great option, but there is a somewhat large fee associated with using a nanny placement agency.
Another possibility for your nanny search include word of mouth and local Facebook groups.
When we had to start our second nanny search I posted the job in a local mom's group and a local babysitting group. I have also seen other parents and potential nannies posting in these groups as well.
I will say that the resumes I received through Facebook were not nearly as strong as the ones I got through Care.com. In the end, we did not interview anyone referred to us through Facebook.
With all that said, given our experience and the other options out there, if I was doing a nanny search today I would use Care.com all over again.
How To Write A Strong Nanny Job Description
A key to receiving good quality nanny resumes will be the job description you post.
So, what makes a good nanny job description? Include the following in your posting.
Number of children
Hours per week
Location
Live in or live out
Whether own car is required
Responsibilities
Expected pay range
As far as responsibilities go, besides keeping our children safe we expect our nanny to prepare meals for the kids, keep the toys and books organized, do the kids' laundry, clean the kids' dishes, and let our dog in and out during the day.
We generally follow the guideline that if it's something for our kids then the nanny is required to do it. You will notice we do not have our nanny clean the house, do laundry for the adults, or prepare dinner.
If you want your nanny to clean the house, for example, then include that in the job description and be willing to pay a higher hourly rate.
Typically, each additional responsibility will run about $1-2 more per hour.
I also want to point out that I think it's important to include an expected wage directly in the job description.
We talked with quite a few potential nannies that had very high pay expectations and it was not something we were willing to pay because we did not think it was the going rate.
The moral of the story is to do your research on the area you live.
Check out the Care.com pay calculator and maybe find out what others in your area pay their nannies. You could even ask the question in a local Facebook group.
With all this said, when we hired a nanny the second time around, the exact hourly rate was included directly in the job description.
We learned from our first nanny hiring experience, and I believe this saved us time from speaking with potential nannies who were expecting a higher hourly rate.
Review Resumes And Do Phone Interviews
Now that you have the job description ready, you are ready to post the job.
I recommend posting the nanny job for 1-2 weeks. Once the job posting has expired, review all the resumes you collected.
Pick out at least 4 resumes for a phone interview. We did 4-6 phone interviews during each nanny search.
You will generally want to find people who have previous experience working with children the same age as yours.
If your nanny will not be living with you, then the location he or she will be driving from will be a factor to consider too.
In my experience it was pretty easy to narrow down our search to 4-6 people to do phone interviews with.
Nanny Interview Questions
Contact the selected potential nannies and set up a time to talk over the phone.
Now, what on earth are you going to talk about and what questions do you need to ask?
My husband and I always started the interview giving the potential nannies a little introduction to our family, including what a typical day would be like at our house caring for our children.
We would then ask the interviewees to tell us a little bit about themselves and their experience. After introductions we had a list of nanny hiring questions to discuss.
Honestly, even by the time you get through introductions, you will probably have a good feeling on whether you like the person or not.
To give you an idea of good questions to ask the nannies you are considering hiring, check out the list of questions below. You can also use this questions list for the in-person nanny interview portion.
Why do you want to be a nanny?
Do you have previous experience as a nanny?
Why did you leave your last job?
Do you have a way to get to work?
What do you like most about working with kids?
What do you like least about working with kids?
Are there any things in the job description you cannot do or have a problem with?
Are you happy with the wage listed in the job description?
How will you get to and from work?
Plan to have each phone interview last about 15-20 minutes.
Interview Potential Nannies At Your Home
You are so close to finding a good nanny for your family!
Pick the 2-3 nannies you liked best from the phone interviews and have them come to your home for an interview.
This is when you can have them meet your kids. It will be important to evaluate how you feel they interact with your children.
We didn't have the kids spend a huge amount of time with the potential nannies, just about 5-10 minutes.
Then, we put on a TV show so we could talk and continue the interview with just the adults.
For the in person interview I would review the expected hours and job responsibilities again. You can ask more questions from the list above or even repeat some of the same questions.
If you have any concerns that came out of the phone interview be sure to address those as well.
Pick The Nanny That's Right For Your Family
This is all about picking the person you felt the most comfortable with and clicked with the most.
In the end, this might not be the person that looked best on paper (of course it could be), but don't worry if it's not.
Just remember to follow your instincts and you will find a nanny that is the best fit for your needs.
Of course, there's the possibility that it's not just you deciding and you will need to make a joint decision with your partner.
If this is the case, talk it over with your partner and hopefully you are able to come to an agreement on who you would like to make an offer to.
How To Find A Good Nanny – Quick Summary
Phew, that was a lot of information to take in! Here is a summary of the step by step process you will need to take to find a good nanny for your family.
Decide nanny's job requirements and how much you will pay
Write a clear and concise job description for the job posting
Sign up for Care.com and post your job
Collect and review resumes
Pick 4-6 candidates for phone interviews
Prepare questions for the phone interview
Pick 2-3 candidates for in person interviews at your home
Select a one of the candidates to offer the nanny job to
Good luck with this very important process for your family's future. Following these steps will help ensure you find the perfect nanny.
And, finally, don't forget to follow our Facebook page or pin this article for future reference.
---
---