One of the hardest parts of caring for newborn twins are the soothing, feeding, and diaper changes at night. After a long and tiring day with twins, it's actually a lot of extra work to wake up and then walk to your babies several times at night to care for them.
With that said, there are bassinets for twins! These bedside sleepers for two will give you easy access to both your newborn babies all night. You can soothe and put them to sleep together without getting up and walking.
In this article we will review various bassinet options and setups for twins, which include either a double bassinet or two separate bedside bassinets.
Please note, there are affiliate links in this post. Read my privacy & disclosure policy at the bottom of this page to learn more.
What Are Bassinets For Twins?
A simple baby bassinet is a small cradle that is made specifically for newborns and can be used by babies up to 3-5 months old. The shape of a bassinet is suitable for keeping babies secure and comfortable, while also making it easier for parents to move it from one place to another.
A bassinet for twins is a modified bassinet with two compartments to fit two newborns at the same time. A twins bassinet has a separator between compartments, so each twin has their own sleeping space.
You cannot put twins in the same bassinet because of the risk of SIDS, so a double bassinet provides a sleeping arrangement for newborn twins that is safe, while also allowing your twins to sleep together.
What Is The Age Range For Bassinets For Twins?
The recommended age range for a bassinet for twins is the same as a regular bassinet at 3-5 months old. Ideally, you should transition your babies to cribs when they start to roll or try to sit.
Some pediatricians advise transitioning earlier to be on the safe side.
Do Twin Parents Need a Double Bassinet?
A double bassinet is not an absolute twin must have, but it can be very convenient. It will allow your newborn twins to safely sleep close to you, so you don't have to get up several times at night.
The Best Bedside Bassinets For Newborn Twins
The good news for twin parents is that there are some great bedside bassinets available that are made especially for twins. Here is our list of the the best bassinets for newborn twins.
1 – Simmons Kids By The Bed City Sleeper Bassinet For Twins
My first choice is the Simmons Kids By The Bed Sleeper Bassinet For Twins. The bassinet is made of polyester that is comfortable for babies.
The sides have mesh material that guarantee increased airflow and visibility. Your twins can see each other, which can be comforting for them. But at the same time, they are sleeping separately (safe and recommended).
The bassinet includes a 1-inch firm and waterproof foam mattress pad that is safe for your babies. It also includes a fitted sheet that is removable. You can wash it and reuse it.
The bassinet's frame is Z-shaped, so you can slide the base under your bed and keep your babies near you. Your twins will be co-sleeping with a safe separation between you and them. This feature is especially helpful for moms who are recovering from C-sections and who are breastfeeding twins.
The height of the Simmons twin bassinet is adjustable to 5 different levels. Even if your bed is high or low, you can adjust the bassinet's height accordingly.
The wheels of the bassinet make it easier to move around the house. However, it's not travel-friendly. The bassinet has large storage pockets where you can store baby products like burp clothes, diapers, and wipes.
Finally, the Simmons bassinet for twins is JPMA approved, so it meets all safety standards.
2 – Delta Children's Little Folks Twin EZ Fold Double Bassinet (sold at Walmart)
The Delta Children's Little Folks EZ Fold double bassinet is sold exclusively at Walmart. It's an excellent fit for twin babies.
The bassinet is made of polyester with mesh sides and walls. The mesh allows proper airflow and improves visibility.
The bassinet can be moved from one area to another with wheels. These wheels can move 360°, so you can easily rotate the bassinet.
It also includes a 1-inch thick and firm mattress with a removable and washable cover. The bassinet can hold up to 30 lbs in weight (aka 15 lbs for each baby).
The best thing about this bassinet is that it is portable! It's lightweight (the frame only ways around 17 lbs) and can be folded to take anywhere with you. So, if you are a traveler, this bassinet is an excellent choice.
This double bassinet is very easy to set up, with minimal assembly required. It also has storage pockets where you can store small baby products for easy access.
Moreover, this bassinet for twins is JPMA certified, so it meets the safety standards for your babies. It is available in grey and aqua geo colors.
3 – HALO BassiNest Twin Sleeper
The HALO BassiNest Twin Sleeper is an excellent choice for bedside sleeping with your twins. Just as the other bassinets on this list the mesh walls provide breathability and good visibility.
This bassinet swivels and rotates 360 degrees too, making it easy to move around. There is a soothing center that includes a nightlight, two vibration levels, lullabies, soothing sounds, and a 30 minute automatic shut off.
This bassinet can be used with each baby being up to 20 lbs in weight. The height is adjustable from 24″ to 34″.
The biggest downside to this double bassinet is the hefty price tag, especially when compared with other items on this list.
4 – Ihoming Twin Bassinets Pro
The Ihoming Twin Bassinets Pro is best for babies who have reflux. This bassinet is designed to adjust the inclined position. You can tilt it to a 10° angle.
This bassinet is made of polyester, while the frame is built with premium aircraft-grade aluminum. It can bear up to 175 lbs in weight, which is amazing.
The Ihoming twin bassinet is adjustable to 6 heights ranging from 29.5" to 35.5". This bassinet is wide (37.5″ x 35.5"), so your babies will have enough space. The mesh separator between the babies is removable per your needs.
This bassinet is easy to assemble. It has wheels so that you can move it around the house, and the wheels are lockable to ensure safety.
There are a few negatives to this bassinet too. Due to its size, it is not suitable for a smaller room. Moreover, it doesn't have storage pockets to keep small baby things handy.
Two Single & Narrow Bassinets
Instead of getting a bassinet made for twins, you could opt to purchase two single bassinets that are narrow. Personally, this is what I did.
But of course when my twins were newborns there were no double bassinet options. The following list are my favorite single bassinets that don't require much space.
5 – Simmons Kids By The Bed City Sleeper Bassinet
The Simmons Kids bassinet is also available as a single bassinet, and it has basically all the same amazing features. Instead of the double version, you can get two of these single bassinets for your twins (one for each baby).
If your twins do not love sleeping near each other or each parent is going to take care of one baby at night, this option will be more suitable for you.
Just as with the double version, this bassinet is comprised of polyester and has mesh sides to improve airflow and visibility. The Z-shaped frame allows the base to move under the bed so you can bring the baby near you. The bassinet has storage pockets, a washable fabric fitted sheet, and a 1-inch thick firm mattress.
The Simmons bedside sleeper bassinet is quite narrow so it's great for small bedrooms. You can put one bassinet on each side of the bed.
6 – Chicco Close To You 3-in-1 Bedside Bassinet
The Chicco Close To You 3-in-1 bassinet is an awesome choice because it's not just a bedside sleeper bassinet. The wheels allow you to move it around the house, making it a portable bassinet. Plus, the height is adjustable, allowing it to also be used as a changing table.
The mattress cover is waterproof and can be used as a changing pad. Another great feature of this Chicco bassinet is that it is small and narrow, making it a perfect choice for smaller rooms.
The wheels are lockable, and the height is adjustable (24 inches to 33.5 inches). The mesh material on each side allows proper airflow and visibility.
A huge bonus with the Chicco bassinet is that it can play 6 different melodies. There are two vibration settings and a soothing nightlight.
Before we move on you might want to grab our FREE Twin Baby Registry Guide by filling in the form below. It includes a printable Twin Baby Registry Checklist and links to (2) ideal sample twin baby registries. This guide will walk you step-by-step through selecting the baby items that are perfect for your family's specific needs.
The Best Double Bassinet Playards
The market for bassinets for twins is actually pretty diverse! Other than simple bassinets you also have the option to choose a playard that has two bassinets on top.
The icing on the cake is that after you are done with the bassinets you can use the bottom portion as a portable crib. So here is our list of the best double bassinet playards designed for twins.
7 – Baby Trend Lil' Snooze Deluxe III For Twins
The Baby Trend Lil' Snooze Deluxe III for Twins is a great choice because it serves three purposes. It can be used as playard where your twins can play or nap.
You can attach two bassinets to the top where your newborn twins will sleep safely. Or, you can flip it out to create a changing table.
The materials consist of polycotton, plastic, and steel. The two bassinets have plush fabric and mesh sides to ensure proper airflow and ventilation.
Each bassinet has two hanging toys and an electronic music player with adjustable volume to keep your babies entertained and help them fall asleep. The music player also includes a nightlight and vibration settings for each bassinet.
The Lil' Snooze Deluxe III for Twins has an organizer that holds essential baby items, such as diapers, bottles, toys, burp clothes, etc. In short, this double bassinet playard is a great choice and very convenient for twin parents.
8 – Joovy Room2 Twin Nursery Center with Bassinet
The Joovy Room2 Twin Nursery Center is a large bassinet that comes with a detachable separator. This means you can use it for one baby (without the separator) or with twins (with separator inserted). It also includes a changing table that is water-proof and easy to clean.
Please note you must also purchase the bottom playard separately. The nursery center bassinet is actually a topper to the playard, and it can be removed or attached as per the your convenience.
Each bassinet can hold up to 15 lbs. The bassinet has a super-soft padded mattress that complies with safety standards, and the mattress sheet is washable.
The changing table can hold up to 25 lbs in weight. It is removable and it can be flipped down when not in use.
The Joovy Room²-Playard (that you will buy separately) has a floor area of 10 square feet and can support two babies up to 35 inches tall. It has mesh material on all sides to ensure visibility.
The high-quality wheels make it portable, and it can be folded and packed in a travel bag.
9 – Baby Trend Retreat Twins Nursery Center
The Baby Trend Retreat Twins Nursery Center has large wheels with brakes to improve portability and ensure safety. It has an electronic music player and nightlight for the comfort of babies. It has two styles of music and natural sounds.
The nursery center for twins includes two removable bassinets. Each bassinet can be used as a standalone rocker after removing it from the nursery center.
Additionally, each bassinet has a canopy where two plush toys are hung for your baby to play with. The maximum weight limit per bassinet is 15 lbs.
The bassinets have mesh sides to improve ventilation and visibility. The nursery center also has a changing table that can be flipped when not in use.
The waterproof sheet of the changing table is easy to clean. Finally, the deluxe parent organizer makes it easy to keep small baby items accessible all the time.
10 – Graco Pack 'N Play Playard with Twins Bassinet
Graco baby products are popular because of their great quality and reasonable prices. With that said the Graco Pack 'n Play with Twins Bassinet is a good product to consider.
The playard comes with two attachable bassinets, which include quilted mattress pads that are cozy and safe. The bassinets have canopies to create a welcoming environment.
You can convert it into a playard by removing the bassinets. The playard has mesh sides and wheels to provide portability.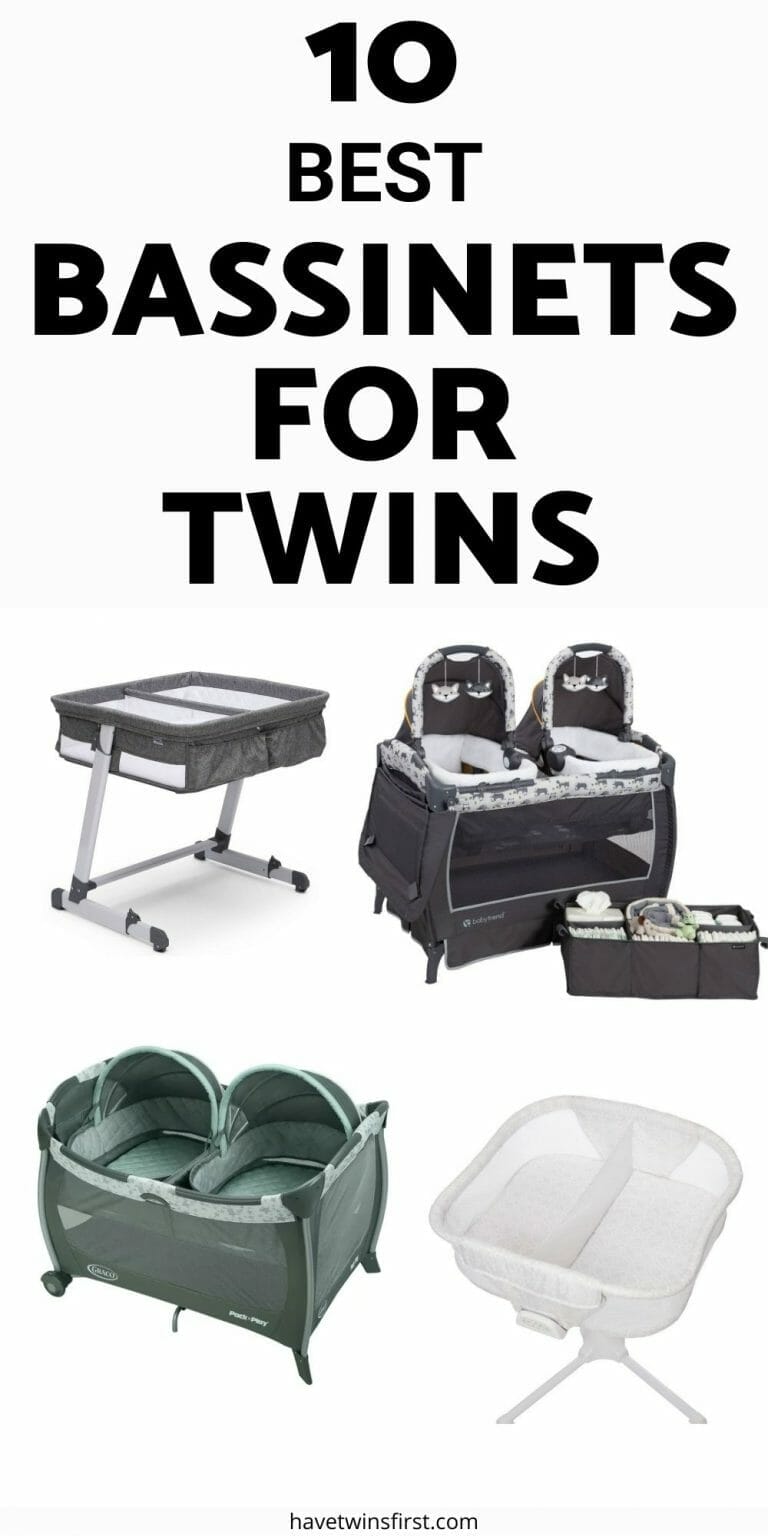 Reasons To Get & Not Get Bassinets For Twins
Why you should get a twin bassinet? Here are some reasons it can be helpful.
Your newborn twins can sleep together without risking their safety
It makes it easier to care for both babies simultaneously
Your twins can spend more time together and strengthen their bond
Twins bassinets are cost effective – you get two bassinets and one portable crib
Why not get a twin bassinet? There are a few circumstances where a twin bassinet may not be useful.
If your twins do not share the same routine, a twin bassinet may not be helpful
Takes up a lot of space
Now you know the best bassinets for twins and can make an informed decision if this is something you want as a twin parent.
A twin bassinet is the modified version of a simple bassinet with a twin bassinet being larger with two compartments – one for each baby. Your babies can use a twin bassinet until 3-5 months old.
Your options for bassinets for twins include a twin bassinet, two single bassinets on each side of the bed, or a playard with two bassinets on top. Which one do you think will suit your family best?
Finally before I sign off you might also be interested in these printable twin pregnancy resources listed below.