A bassinet is usually one of the first things on a new parent's checklist. But before investing in one, it's important to know how long it can be used.
Is it worth the money? Can you opt to get a large size bassinet for a big baby?
There are many questions that come to mind before making a decision to purchase a bassinet. In this article we will discuss how long to use a bassinet, reasons to stop using one, and when you should move your baby out of his bassinet.
Please note, there are affiliate links in this post. Read my privacy & disclosure policy at the bottom of this page to learn more.
Why Should I Use a Bassinet?
As the parent of a newborn there are a few great reasons to use one. To start, new parents often want to keep their baby close while sleeping.
Newborns need to be fed frequently throughout the night and having your baby sleeping next to you makes this much more convenient. Additionally, the AAP recommends babies sleep in their parents room until 6 months old to reduce the risk for SIDS.
Bassinets are small and portable giving parents the ability to keep their babies in their room with them. On top of this the portability allows it to be moved anywhere in the house where you want your newborn to sleep.
Don't forget newborns spend most of their lives sleeping at first!
How Long Can a Baby Use a Bassinet?
The duration of using a bassinet varies between 3 to 5 months. A baby can sleep in a bassinet from the first day he's born until he outgrows it.
To be more specific, your baby can use a bassinet until he starts to roll over. This is the primary sign that it's time to move to a larger sleeping device.
However, the size and weight capacity of your bassinet model might be another concern regarding how long it can be used.
How Long Can the Pack N Play Bassinet Be Used?
When talking about the Pack N Play, the bassinet portion is the top sleeping insert meant for newborns. The weight limit for the bassinet section of a Pack N Play (if you have one that comes with it) is 15 pounds.
Now, keep in mind after your baby outgrows the top of the Pack N Play, they can use the bottom portion, which has a weight limit of 30 pounds.
Is a Bassinet Worth It?
In my personal opinion, yes it is! Although you cannot use a bassinet for years, the safety and convenience it offers in the exhausting early months of parenthood make it worth investing in one.
In the longer term your baby will likely transition to a crib. But, if you can't fit a crib or Pack N Play in your bedroom, then you are going to want to get a bassinet.
Plus, don't forget with a bassinet you can feed your baby without ever having to get up from bed.
Our Favorite Bassinets
Which bassinets are the best? Here are three that we highly recommend and babies have proven time and time again that they love.
If you are looking for a safe co-sleeper then we recommend the Arm's Reach Cambria Co-Sleeper.
What Is The Size & Weight Limit For Bassinets?
There's no specific answer for that question. Each company's model comes with different size and weight limits.
I can share that the average weight limit of a typical bassinet is 15 to 20 pounds and the size limit is approximately 28 to 32 inches in length.
Where Should My Baby Sleep After He Grows Out Of The Bassinet?
Once a baby is too big for a bassinet, most parents transition him or her to a crib. You can actually make the move to a crib at any time and not only when you're baby gets too big.
When the frequency of feedings reduces to once or twice in the nighttime, this could be a good time to transition your little one to a crib. Of course, there's no rush.
You can use the bassinet as long as your baby is comfortable and safe in it. Besides a crib, you could consider moving your baby to the bottom portion of a Pack N Play.
This could be a good option if you prefer to keep your baby in your room.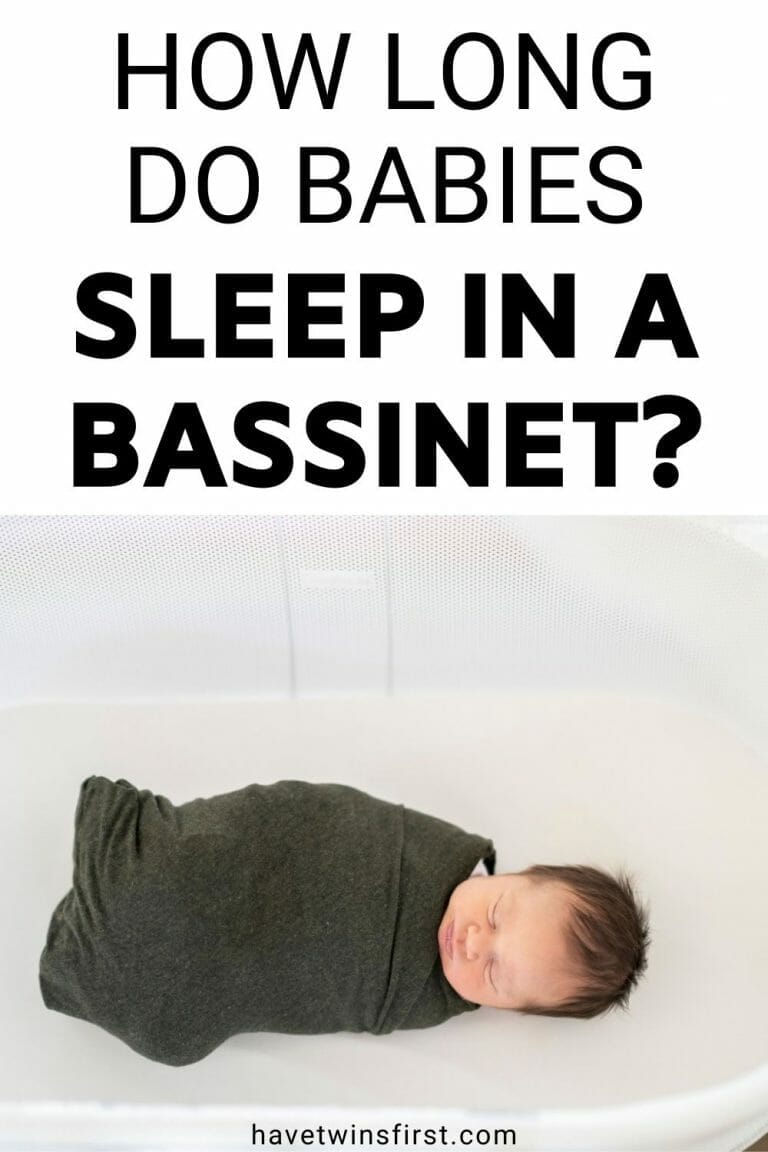 Reasons To Stop Using a Bassinet
By now, you understand that at some point you will have to stop using a bassinet for your child. But here we will explain scenarios on why it becomes necessary.
Baby Rolling Over
Children typically learn to roll over around 3 to 5 months of age. Bassinets are not designed to handle babies that are moving around.
When babies start to move or rollover, there is a chance they can fall out of or tip over the bassinet. To avoid that hazard you need to move your little one out ASAP.
Baby Doesn't Like It
Babies have different sleeping patterns. Some of them like to spread their legs and hands while sleeping (just like the grown-ups).
Even if your baby fits into the bassinet, they just might not be all that comfortable. Discomfort can lead to poor quality of sleep and your baby will likely let you know by crying a lot too.
Too Big For Bassinet
As previously discussed, if your baby's height and weight outgrow the recommended limits of his bassinet model, it is no longer safe for your baby. Baby bassinets are not designed to be sturdy like a crib.
So, don't ever cross the recommended limit. Stop using the bassinet before anything unpleasant takes place.
How To Move Baby Out of a Bassinet
Transitioning a baby from his bassinet needs to be smooth. Here are the steps to follow while moving your baby to a crib or Pack N Play.
Choose the new alternative – typically a crib or Pack N Play.
Prepare the crib or Pack N Play following all baby sleep safety standards.
Try to put your baby to sleep in the crib when he's drowsy but still awake.
Check if he wakes up or gets uncomfortable sleeping in a bigger place.
These are just the first steps. Your baby might be quite unhappy with moving to new sleeping quarters. To get all the details on how to transition your baby to a crib, check out our detailed post on this topic.
Options Besides Bassinets For Newborns
Some parents prefer to opt for a longer-lasting alternative. If you are one of them, then we recommend getting a Pack N Play with a combo bassinet and changing area for your newborn.
As your baby gets bigger you will remove the top bassinet and changing area and use the bottom portion as a portable crib. A Pack N Play is portable and convenient.
It offers protection with a mesh boundary, but it's not as sturdy as a crib. You can also have your newborn sleep in his crib from the start if you want to.
Now you know how long to use a bassinet, why you should stop using one, and how to move your baby out of it.
Hopefully, we have answered all your questions and concerns about using a bassinet. After 3-5 months you will need to stop having your baby sleep in one.
A bassinet provides a safe, comfortable sleeping environment for your newborn. On top of this, a it is often a convenient sleeping option for new parents.
What do you think? Will you be using a bassinet for your baby?