Bringing a new baby home is an exciting yet overwhelming experience. One of the most important challenges is providing the perfect sleeping space.
You want something that is comfortable and safe for a newborn, while also being convenient for parents. Many parents get a bassinet for the first few months of their baby's life because they keep babies safe and allow parents to be close by. A crib is another great choice for many parents.
But, a typical bassinet or a crib is not a good option if you will be traveling or you prefer to move your newborn to different rooms for sleep. In this case, you should consider getting a portable bassinet.
In this article, I have assembled a list of the best portable bassinets to help you find the perfect one for your needs. On top of that, I have divided this list into three categories to make it even easier to find what you want. The categories include the best portable bassinets with canopies, for newborns, and for traveling.
Please note, there are affiliate links in this post. Read my privacy & disclosure policy at the bottom of this page to learn more.
What Is a Portable Bassinet?
A portable bassinet is a type of baby bassinet that is specifically designed for easy transportation. Typically, they are lightweight, compact, and have carry handles. Some even have canopies, music players, or vibrators to keep your baby comfortable while you are traveling.
Most portable bassinets are designed to be easy to care for. The bedding is usually very easy to clean, so you don't have any problems while you are traveling.
Should a Portable Bassinet Have a Canopy?
A canopy can add so many features to your baby's bassinet, such as protection, entertainment, privacy, and security. But keep in mind, a canopy is not absolutely necessary and it might make the bassinet more expensive.
At the end of the day, it is your personal choice if you want to get a bassinet with a canopy or not. You will see below we have listed out various options, and that includes a list of the best portable bassinets with a canopy.
The Best Portable Bassinets With a Canopy
If you would like to get a portable bassinet with a canopy, here are my picks for the best ones available.
Dream On Me Karley Bassinet
The Dream On Me Karley bassinet is a great option when you choose to get a bassinet with a canopy. It actually has a double canopy!
The zipper on the top allows you to use it as a canopy on either side of the bassinet. Or, you can fully cover the bassinet.
With full coverage you can protect your baby from bugs. That makes this portable bassinet especially great for camping.
Both sides of the canopy have soft fabric to provide proper ventilation. The height of the bassinet with the canopy is almost 37 inches.
This Dream On Me bassinet is very easy to transport. It is super-light with an aluminum frame and weighs 12.5 lbs.
It has a quick folding mechanism making it easy to fold. The folded dimensions are 19.5 x 6 x 32 inches.
This bassinet comes with a 1-inch thick mattress pad, as is recommended by ASTM/CPSC. The mattress meets the flame retardant requirement of CPSC.
Both sides of the bassinet also have soft and breathable fabric to ensure good airflow and temperature control. The comfortable and safe polyester foam fabric is very easy to clean too.
The storage space below the bassinet is beneficial for keeping your baby's essentials on hand. This super stylish portable bassinet is recommended for newborns weighing up to 25 lbs.
Safety 1st Nap and Go Rocking Bassinet
The Safety 1st Nap and Go rocking bassinet is a great choice if your little one loves rocking. This bassinet rocks side-to-side to put your baby to sleep faster.
The retractable canopy protects from the sun and provides the perfect amount of shade. Moreover, there is a mesh net to keep bugs away. When you don't need it, the bug mesh can easily be rolled and stored in the zippered pocket in the canopy.
This Safety 1st bassinet is comfortable with mesh sides that provide proper ventilation. It is also roomy, so your little one can comfortably sleep in it.
It is easily foldable, and it comes with a carry bag to easily transport it. The Nap and Go Rocking bassinet weighs 14.5 lbs. It is suitable for infants from birth up to 20 lbs in weight.
This bassinet makes a great portable bassinet with a canopy, however there are a few downsides. There is no storage basket and the mattress pad is quite thin.
Overall, it is a good choice though.
Baby Delight Slumber Rocking Bassinet
The Baby Delight Slumber rocking bassinet is somewhat similar to the Safety 1st bassinet because it has many similar features, including the rocking motion. Not all portable bassinets have a rocking motion.
This Baby Delight bassinet features a side-by-side rocking motion to help you put your child to sleep. It can also be locked to make it stationary instead of rocking.
The canopy on this bassinet is removable and extendable as well. The net attached to the canopy will protect your baby from bugs.
It is easy to take this bassinet to different places. It is simple to fold and it fits into a compact carry bag. This bassinet is 12 lbs in weight, making it very easy to pick up and carry.
The Slumber rocking bassinet is JPMA certified and designed with maximum safety. The mesh walls allow proper airflow. The cover and the sheets are removable and washable so you can clean the bassinet thoroughly.
The sleek design of the slumber bassinet can fit into any room. This bassinet is recommended for babies from birth up to 20 lbs in weight.
The one con with this bassinet is that it doesn't have storage space. Otherwise, it's a very good choice for a portable bassinet.
besrey 3-in-1 Portable Baby Bassinet
In my opinion, the besrey 3-in-1 portable bassinet is the best choice because it has ALL the good features of the bassinets listed above. This is a 3-in-1 bassinet, which means you can use it as a rocking bassinet or change it to a stationary one. The height is adjustable to two different positions.
The canopy of the besrey bassinet is different because it is only soft net fabric. That means it doesn't provide much shade, but it is great for proper ventilation and bug safety. Moreover, you can completely remove the canopy if you want.
The besrey bassinet is very easy to assemble and fold, and it weighs 12.4 lbs. These features make it very easy to transport from one place to another.
The strong structure of the bassinet makes it stable. It has mesh sides to provide great ventilation. Additionally, it is made of toxic-free material which provides safety.
The mattress is 1-inch thick and made of cotton. It is firm, yet soft to the touch, making it very comfortable for a newborn.
A large storage basket under the bassinet is a great plus. You can keep baby items there like diapers, burp cloths, etc. Finally, this besrey bassinet has passed the test standard by ASTM/CPSC.
The Best Portable Bassinets for Newborns
Now that we've reviewed the best portable bassinets that have canopies, what about the rest of the options? Let's take a look at the best bassinets for newborns next.
Dream On Me Traveler Portable Bassinet
The Dream On Me portable bassinet is a good choice when traveling as it is very lightweight and easy to move. The aluminum frame is very light, and the snap-on legs and one-piece top structure make it very easy to fold and carry.
Moreover, the folded bassinet can easily fit in the provided travel bag. This bassinet only weighs 7.5 pounds!
The material used in making of the Dream On Me bassinet is non-toxic. It is a combination of polyester and mesh. The polyester provides softness, while the mesh provides proper ventilation and visibility.
This portable bassinet is also comfortable because it is spacious and has a padded mattress. The mattress dimensions are 33.5 x 20 x 1 inch. The mattress is easy to remove and washable, and the zipper cover is also detachable and machine washable.
This bassinet is suitable for babies up to 25 pounds. It is available in 5 beautiful designs.
There are a few negative points I'd like to mention. First, the Dream On Me bassinet doesn't have wheels to move it around. Second, it doesn't have a storage basket.
KoolaBaby 3-in-1 Baby Bedside Bassinet
The Koolababy 3-in-1 bedside bassinet is a great option when you need multiple settings. This bassinet is three in one. It can be used as a crib, a bedside sleeper, or a playpen.
Use this bassinet as a crib during the daytime. Just pull down the zipper to make it a bedside sleeper. It is a great option for breastfeeding moms because they can sleep close to their baby, then go back to sleep easily after nighttime feedings.
The extra floor on the bottom of the bassinet can become a great playpen. You can store baby toys in that area. Simply unzip the bottom of the bassinet to create that extra space for your baby to play.
The built-in wheels with brakes are great too. The wheels are silent so you can move the bassinet around the house without disturbing your baby's sleep.
The 3-in-1 bassinet is very lightweight and easy to carry. Just fold it, pack it in the travel bag, and take it anywhere on your journeys.
The mattress of the Koolababy bassinet has 4 layers. A durable baseboard at the bottom, a high-density fiberboard on it, then a foam core, and finally a super soft mattress cover. These features make this bassinet very comfortable for your baby.
Chicco LullaGo Anywhere Portable Bassinet
The Chicco LullaGo is good for parents who are looking for a cheaper portable bassinet from a well known and respected brand. It weighs 12 pounds. You can fold it easily, pack it in a carry bag, and take it anywhere.
The leg shape of this Chicco portable bassinet is sturdy and will keep your baby safe. The mattress pad of the bassinet is firm enough for a baby and it is waterproof as well. The bassinet fabric is machine washable and the mesh side panels allow proper airflow.
This bassinet is GREENGUARD Gold Certified, which means it is tested for low chemical emissions. The mesh side pockets allow you to keep minimal baby items handy. This bassinet is suitable for babies up to 20 pounds.
Fisher-Price Rock With Me Bassinet
The Fisher-Price Rock With Me bassinet is another cheaper option but with different features. This is great if your baby is used to rocking motion. A little push will rock the bassinet, and your baby will go to sleep quickly.
The sleeping space for your baby is flat, even though the bassinet rocks. You can lock the rocking legs to make the bassinet stationary.
You can easily fold this bassinet to carry it around. The bassinet can be folded flat to put it under the bed when you are not using it. This is the lightest bassinet as it weighs only around 4 pounds!
The bassinet sheet is removable and easily washable in the washing machine. The mesh sides of the bassinet allow ventilation.
The attachable elephant toy will keep your baby engaged while you work or finish your house chores. Please note, this bassinet is suitable for infants up to 20 lbs who cannot roll over or pull up on their sides.
Graco Pack 'n-Play Dome LX-Playard
The Graco Pack 'n-Play is extremely well known and is an all-in-one set. It includes a bassinet, a playard, a diaper changer, and built-in storage. The bassinet and the diaper changing station are detachable.
The bassinet and the playard are both easily foldable. Convenient carry bags are available to fold and pack both the bassinet and the playard separately.
The bassinet of this set can be raised to eye level for easy check-ins during the night. Or, you can separate it and put it on the floor whenever you want.
The Graco bassinet includes a canopy that features a UV 50 shield from the sun. It also has mesh sides for easy visibility and breathability. The bassinet is suitable for a baby up to 15 lbs, and the fabric is easy to clean.
A Graco Pack 'n-Play is the most cost effective option because when your baby grows out of the bassinet, you can convert it into a travel crib. On top of that, it also usable as a playard. The storage organizer keeps wipes, diapers, and other changing essentials close by.
Best Portable Bassinets For Travel
When it comes to traveling, you need a very lightweight bassinet that is easy to fold and small enough to put into the car. For this case, I have some great recommendations for you. Here is my list of the best portable bassinets for travel.
Fisher-Price Portable Bassinet with Canopy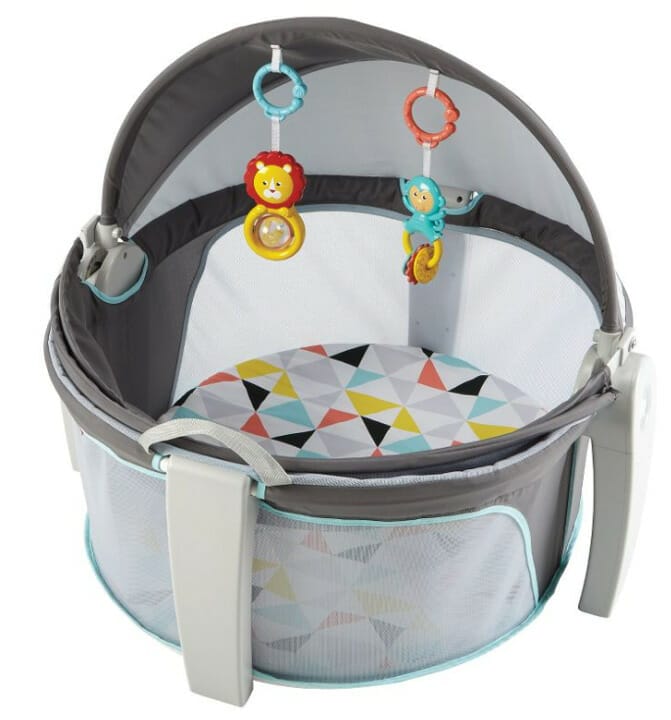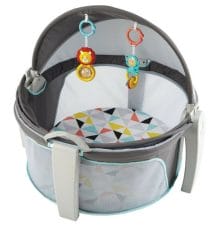 This Fisher-Price portable bassinet with canopy is an excellent choice for traveler parents. It's a 2-in-1 set that can be used as a bassinet or a play space. When your baby is not sleeping you can give her tummy time in the bassinet.
The bassinet folds flat and has handles for easy portability. You can keep it in the car trunk or under the seat.
This bassinet is just over 5 pounds in weight, so it is very easy to carry while on your journey. The soft, yet firm, one-inch thick mattress keeps your baby comfortable. The two hanging toys will keep your baby engaged while awake.
The bassinet's canopy covers the baby and protects bugs while the mesh sides keep the bassinet ventilated. The mat is wipeable, and the sheet is machine washable making it easy to maintain. This bassinet is suitable for babies weighing up to 25 lbs.
Baby Delight Snuggle Nest Harmony Portable Infant Lounger
The Baby Delight Snuggle Nest Harmony bassinet is quite different from other bassinets. I consider it one of the best options for traveling parents. It is the most versatile option as it contains many features that will make your journey with a baby a lot easier.
This Baby Delight bassinet weights only 3 lbs! It has a tool-free setup and it is easily foldable making this bassinet very easy to carry around.
You just fold the bassinet in a bag-like structure and pick it up with the handle on the top. No extra carry bag is required.
The bassinet material is mostly polyester, so it is soft and comfy for your baby. The removable light and sound unit make it easier to put your baby to sleep.
There are two rigid walls on both sides that will keep your baby safe. Meanwhile, the high mesh walls improve ventilation and visibility.
This bassinet is very long. Its dimensions are 33.5 x 14 x 8 inches. Due to the length of the bassinet, you can change your baby's diaper in it very easily. The maximum recommended weight for this bassinet is 20 lbs.
The bassinet cover is removable and machine washable. The Baby Delight portable bassinet is a unique option with many great features and an affordable price tag.
Munchkin Brica Baby Travel Pod
Technically the Munchkin Brica is considered a travel pod for your baby, but it is used just like a bassinet for a baby. It's a protective container for an infant on the go.
The pod weighs just under 3 pounds, and the assembled dimensions are 30 x 21.25 x 11.75 inches.
It is very easy to fold. Just push a button and it will fold flat. There are handles on top of the folded pod to make it easy to carry around.
The water-resistant pad and fitted sheet make the Munchkin travel pod easy to clean. The mesh top and sides keeps babies safe from bugs.
The Munchkin baby travel pod is a cheaper option, but it is usable for a small amount of time and doesn't have extraordinary features.
It is suitable for babies from birth to 15 lbs. You should discontinue use if your baby is able to push up on her hands or knees.
Dream On Me Niche On The Go Portable Travel Pod
The Dream On Me Niche portable travel pod is equipped with some nice features when you are on the go. It weighs just under 5 lbs and its compact fold mechanism makes it great for traveling.
It folds flat so you can keep it in the car trunk or under the seat. A carry bag is included in the set. The carry bag has some storage pockets so you can keep small baby items in them. It also has two straps to carry it on your back.
A full mesh 8 inch canopy keeps your baby protected from bugs. The canopy is removable. The pod set includes a 1-inch thick mattress for your baby's comfort and safety. The Dream On Me travel pod meets the safety standards of ASTM.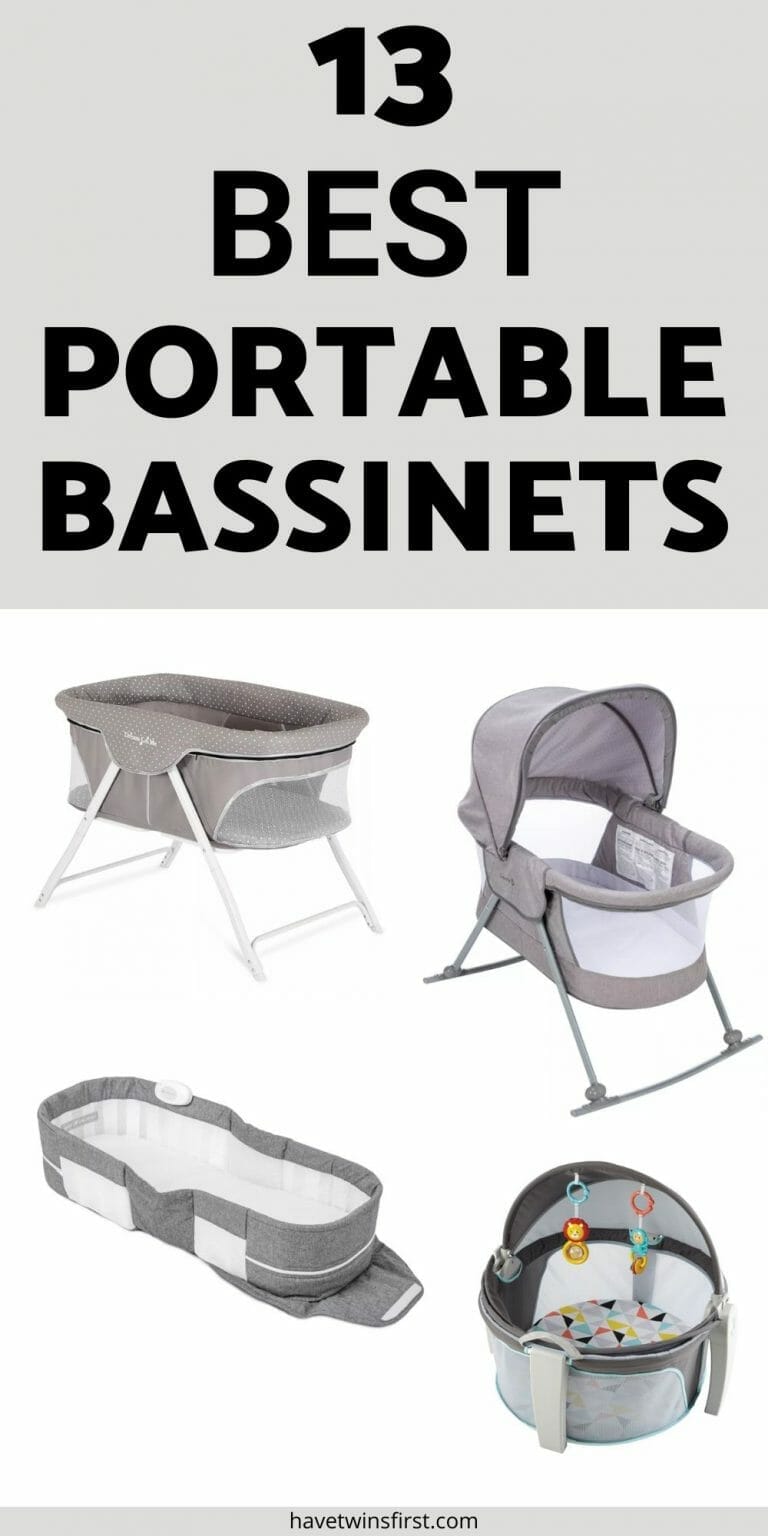 Qualities of the Best Portable Bassinets (What To Look For)
Now that we've reviewed the best portable bassinets, let's take a look at the qualities you should be aware of. This will allow you to make an informed choice on the best one for your needs. Here are some important features of a good portable bassinet.
1- Weight
A portable bassinet should be lightweight. This will make it easy to move the bassinet from room to room or to take it with you when you are traveling.
2- Foldability
The portable bassinet you choose should be very easy to fold. You don't want to waste time assembling the bassinet every time you need it.
3- Carry Bag
If a bassinet comes with a carry bag, that's a huge plus. A good carry bag will make it easier to carry the bassinet and will protect it.
4- Comfort
While looking for a compact bassinet, you shouldn't ignore the comfort of your baby. Babies are already off schedule on trips. An uncomfortable sleeping space will add to their fussiness.
5- Safety & Sturdiness
The safety and sturdiness of portable bassinets are two very important features. Look for the material safety and the strength of the bassinet. Moreover, ventilation in the bassinet and visibility are important. High walls might also be important for protection.
6- Maintenance
Cleaning the bassinet should be easy. For example, a removable cover that is machine washable is a good feature to look for.
How Long Can a Portable Bassinet Be Used?
A baby can typically continue to sleep in a portable bassinet until 4-6 months old. As soon as he starts to roll over or lift himself up, he should be out of the bassinet.
Additionally, each bassinet has a maximum weight recommendation and it varies for each one. Typically, maximum weight ranges are 15-25 lbs.
The best practice is to read the manual of the bassinet you have. The maximum weight and other requirements will be mentioned there.
You should also regularly monitor your sleeping baby in the bassinet to ensure that he is not too active or too big for the bassinet.
Are Portable Bassinets Safe?
Yes, portable bassinets are safe as long as you are following the guidelines given by the manufacturer. Please note that no matter how safe a bassinet is, you should always check the following things.
Sturdiness
No sharp edges
Firm and flat mattress
Soft bedding
The bassinet is away from cords and wires
Proper ventilation
No blankets or other items inside bassinet while baby is sleeping
Even after ensuring all these safety measures, you should not leave a sleeping newborn unattended for a long time.
When searching for the best portable bassinet for your family, it's important to know the qualities that are most important to you.
A portable bassinet can be very beneficial for parents. It makes traveling with an infant a lot easier. Other than traveling, portable bassinets are easy to move around the house too.
A good portable bassinet should be lightweight, compact, sturdy, and comfortable for your baby. I hope you were able to find a great option from above that suits your family's needs.
Finally, before you go you might be interested in these FREE printable Baby Registry & Pregnancy Checklists. Just fill in the form below to learn which must haves to put on your baby registry and when to complete items in each trimester of your pregnancy.