If you are having a baby or already have a newborn in the house, you will come to realize that bibs and burp cloths are a way of life for now. Keeping some in each room of your home (or at least on each floor) and some in the diaper bag is your the safest bet for being prepared with these items.
Bibs and burp cloths are definitely baby must haves. Given their importance, you might be left wondering: How many bibs and burp cloths do I really need?
In this post we will discuss just that, so you don't buy too many or not have enough.
Please note, there are affiliate links in this post. Read my privacy & disclosure policy at the bottom of this page to learn more.
Do You Need Burp Cloths & Bibs? Are They Necessary?
Yes and yes!
Bibs and burp cloths are most certainly necessary because whether you breastfeed or bottle feed, your baby will inevitably need the area around her mouth cleaned, plus she will likely spit up at some point in time too.
Burp cloths ensure your clothing stays as stain-free as possible for as long as possible. They are also great for wiping your baby's mouth after and during a feed.
Bibs are an absolute necessity when your baby is teething and starts drooling constantly (yes, this happens). You will also need bibs when your baby starts experimenting with solids.
A lot of the food ends up all over their faces, on the floor, on their hands, and on their clothes (if you don't have a bib).
How Many Burp Cloths Do I Need For The First Year?
As we have now established, burp cloths are essential items in the first year. But how many burp cloths do you actually need during this time?
You will want to have approximately 10 burp cloths on hand for your baby, especially during the first few months. As your baby gets closer to a year old, you will find yourself using burp cloths less often.
The amount and need will vary according to the age of your baby – and also whether you are having just one baby or multiple babies. Let's review in more detail below.
How Many Burp Cloths Do You Need For a Newborn?
When you burp your newborn baby (they really do need help releasing excess gas so that they are not uncomfortable and cranky), it is inevitable that her feeding will come along for the ride sometimes. It is for this reason that you should invest in a decent stash of burp cloths.
On average parents opt for between 8 and 14 burp cloths for newborns. This is really so that you have a fresh clean cloth for each feed. My personal recommendation is to get 10 burp cloths for a newborn baby.
If you find yourself having to do laundry a lot because you are running out of burp cloths, then you would want to get more. Keep in mind that sometimes you will use the same burp cloth throughout the day if it doesn't get dirty.
It's a good idea to keep one or two burp cloths in your diaper bag too.
How Many Burp Cloths Do I Need For Twins?
What about how many burp cloths you need for twins? If my babies weren't sick, I would use the same burp cloth while feeding my twins simultaneously.
Since sometimes you might use the same burp cloth and other times separate, I recommend having approximately 16 burp cloths for twins. Again, you can always buy more if you find yourself doing laundry too often.
How Many Bibs Do I Need?
Bibs are another essential item you will want to invest in. They can be used for drooling as young as the newborn stage and you will start using them when feeding solids at 4-6 months old.
With teething comes a whole lot of drooling. You will want to make sure your baby is wearing a bib to avoid drool all over her adorable outfits and also to prevent any rashes that could occur as a result.
My babies drooled a lot starting around 2 months old and that's when bibs became absolutely necessary in my house. Another use for baby bibs is when your little one starts to explore the world of solid food. With all this in mind, how many total bibs do you need?
In the first year, you will need approximately 10-12 cloth bibs on hand. I also recommend getting 2 silicone bibs starting around 9 months old (this is when they start fitting).
How Many Bibs Do You Need For a Newborn?
When it comes to a newborn, you will not be needing many bibs unless your baby does spit up a lot after feeds. The ideal amount of bibs to have in your newborn baby's closet is around 6. That should be more than enough to get you through the first month or two.
But as mentioned, starting around 2 months old you might want to have a few more on hand. Then, you will want to add a few more to mix around 4-6 months old when your baby starts eating solids. This will eventually get you to the total of 10-12 bibs mentioned above.
How Many Bibs Do I Need For Twins?
The amount of bibs you will need for twins is double what you need for one baby. You will want approximately 20 cloth bibs and 4 silicone bibs to get you through the first year with twins.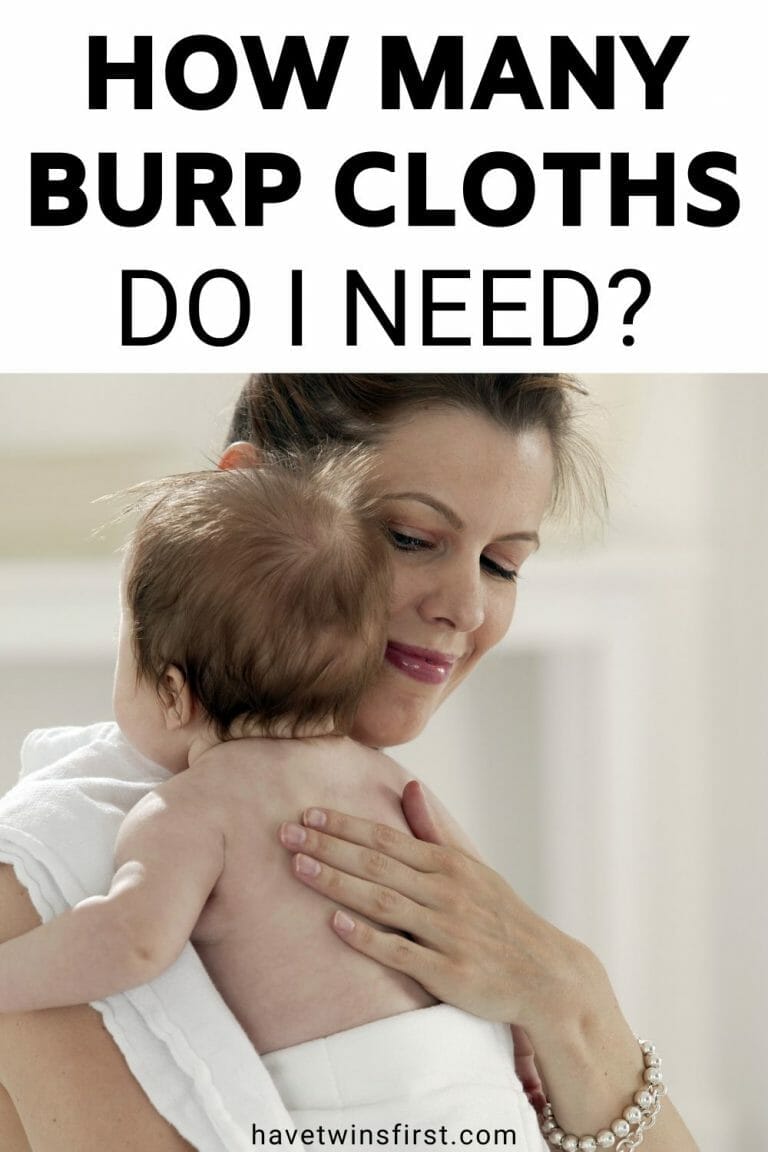 How Long Do You Use Burp Cloths & Bibs For?
Burp cloths can usually be ditched once you baby has reached the age of 6-9 months. This is generally the time that babies sit by themselves and start moving around, which helps them to burp on their own. Babies also start holding their own bottles at this age too.
Bibs you will be making use of for longer. This is mostly because your baby will be feeding themselves from 9 months onwards (if not sooner), and that whole exercise can be extremely messy.
In fact, right through toddlerhood things can be very messy and bibs can be a lifesaver. Again, for feedings after 9 months I highly recommend getting some silicone bibs for home. When traveling or on the go – a cloth bib works.
How Many Bibs & Burp Cloths Should I Pack In My Diaper Bag?
Taking a trip out for a few hours in a day would mean you will be feeding your baby along the way. It would make sense then to take 1 bib and 1 burp cloth with you in your diaper bag.
Bonus tip: Keep your bibs and burp cloths in clear plastic bags in your diaper bag, this will make transporting the dirty ones home a lot easier.
Qualities To Look For When Buying Burp Cloths
What sort of qualities do you think make a great burp cloth? The most important quality would be something that is super absorbent.
The other qualities that parents should look for when buying burp cloths include:
Eco-friendly – Natural fibers that are gentle on the skin
Durability – You will want burp cloths that withstand constant use and regular washing
Quality – High quality fabrics with good stitching are important
Affordability – Cost effective so that you can buy large quantities
Nice to look at – Because we (and our babies) love things that look appealing
Size – A good size so that you get full coverage
Before we move on, be sure to grab your FREE printable Baby Registry & Pregnancy Checklists by filling in the form below. Learn which must haves to put on your baby registry and when to complete items in each trimester of your pregnancy.
The Best Burp Cloths To Buy
Now that you know how many burp cloths you need, how do you know which ones to buy? My personal recommendation is that flannel is best!
Here's my list of the top 3 burp cloths to purchase or add to your baby registry.
Burt's Bees Baby Burp Cloths
Burt's Bees is synonymous with natural, eco-friendly, and organic products. This theme follows through in their amazing burp cloths.
What can you expect from this product?
100% organic cotton
Super absorbent
Tri-fold design gives you 3 layers of over-the-shoulder protection
Folds up easily for use on the go
Variety of colors and prints to choose from
With these burp cloths not only will you be keeping your baby happy and clean (and saving your own clothes from mess), but you will be supporting sustainability at the same time.
Luvable Friends Flannel Burp Cloths
The Luvable Friends flannel burp cloths are great quality, really affordable, and come in fun prints. What can you expect if you buy this product?
Flannel material (which I highly recommend for burp cloths)
Multiple layers – cleans up messes easily
Soft and comfortable for your baby's skin
Perfect for everyday use at home or on the go
Comfy Cubs Double Layered Burp Cloths
The Comfy Cubs burp cloths have superior quality. You will not be disappointed if you decide to grab some of these.
What can you expect when you buy this product?
100% pure cotton material
Two layers for extra absorbency
Multipurpose – use as a burp cloth, to clean up messes, as a changing mat cover, or as a breastfeeding cover.
Durable
How To Pick The Best Bibs
When it comes to bibs, you will want to buy the ones which are very absorbent, large in size, and easy to put on and remove. Make sure to invest in bibs that can be used for an extended period of time and that are durable when it comes to consistent machine washing.
The Top Recommended Bibs For Babies
Finding the right bibs for your baby does not have to be a chore. The below list contains some of the most highly recommended bibs on the market.
Although the preferred material for bibs is waterproof cotton, there are many others you can purchase or add to your baby registry.
green sprouts Bibs
green sprouts bibs are very good quality and the best part is they have a waterproof lining. They will definitely keep your little one dry and comfortable through feeding messes and teething drooling sessions.
Features of these bibs include:
Absorbent terry cloth outside and waterproof lining
Easy to put on and take off
Suitable for ages 3-12 months
Great value
Neat Solutions Waterproof Bib Set
Neat Solutions bibs are a newer brand on the market. The bib set comes in wonderful bright colors.
Features of these bibs include:
Water-resistant
Absorbent triple layer protection
Easy to put on and take off
Suitable for babies up to 6 months of age
BPA and PVC free
Simple Joys by Carter's Teething Bibs
As mentioned before, bibs are needed during the teething stage. Babies drool a lot when they are teething.
Having a good quality bib helps to prevent drool rashes on a baby's neck and chin, as well as keeping clothes clean and dry. The Simple Joys by Carter's teething bibs are perfect for this time in your baby's life.
Features of this product include:
Side snap closure
Triple-layer lining
100% cotton
Waterproof lining
Comes in a few different fun designs
How To Care For and Clean Bibs & Burp Cloths
The trick to ensuring you do not need to continuously go out and buy bibs and burp cloths is to take care of the ones you have. Make sure to wash them well and keep them clean.
To ensure they last longer, wash them on the delicate cycle of your washing machine or wash them by hand. Personally, I prefer to use my washing machine. Make sure you dry them on low or you could hang them to dry.
A great tip to get stubborn stains out is to use baking soda and scrub the bib or burp cloth to dislodge the ingrained stain. Wash with your preferred detergent, rinse, and hang out to dry.
Now that you know how many bibs and burp cloths you need, it's time to get busy adding them to your baby registry or maybe even purchasing some.
Truth be told you can never have too many bibs or burp cloths. But in order to save money and space the ideal number of burp cloths to have on hand is around 10 and the number of bibs is also around 10.
When you are choosing bibs and burp cloths make sure you take their quality into consideration. You want bibs and burp cloths that are absorbent and multi-purpose.
For bibs you also want them to be waterproof. Ideally you will get products that are 100% cotton or organic material so they are gentle on your baby's skin.
Finally before I sign off, if you are expecting you might also be interested in these other printable pregnancy resources listed below.