Putting together a baby registry is so much fun and having one makes buying gifts for you, the expectant mother, so much easier for your loved ones.
But, as a new mom-to-be or even if you have had more than one baby already, it is so easy to get carried away with what you put on your baby registry list. And the truth of the matter is, you are probably only going to use a third of what you get as gifts.
So there is no time like the present to become a minimalist – and create a minimalist baby registry. And now, just a couple notes before we move on.
As a twin mom I had to include a section on a minimalist twin registry. At the end of this post, there is a section explaining how to adapt this list to create a minimalist twin baby registry.
If you just want to see all the minimalist items we recommend in one place. Check out our minimalist baby registry on our Amazon storefront. And finally, if you would like a printable minimalist baby registry checklist, you can grab it here.
Read on to find out how to keep things simple, but still get exactly what you need for your new baby.
Please note, there are affiliate links in this post. Read my privacy & disclosure policy at the bottom of this page to learn more.
What Is a Minimalist?
We are going to be looking at how best to create a minimalist baby registry, but it may be a good idea to start with what being a minimalist really means.
When you refer to someone as a minimalist you are talking about someone who believes in the motto "less is more." When you live a more minimalistic life you tend to make use of fewer things.
You do not have things that are not useful or that do not bring value into your home or life. As human-beings we have this affinity for accumulating stuff.
But, often it is stuff that is really unnecessary and just takes up space. Now, this can also be true when it comes to buying items for babies.
It is so easy to just keep on buying or adding crazy amounts of items to your baby registry. That's all good, but at the end of the day, you want to know what you are getting for your baby will be useful and not go to waste.
Let's now delve into how to use minimalism while setting up your baby registry.
How To Use Minimalism With a Baby Registry
When you are able to apply minimalism to your baby registry it can help you with more than just making sure you do not accumulate a whole lot of unnecessary things. It can be a real budget saver too.
But, how can you really make use of minimalism overall?
Applying the following principle can be a big start. What does a newborn baby need to:
Those are the three main concerns you need to address when making your minimalist baby registry checklist. The rest can come later (and most of it never ever does – because it is not needed).
Things like baby toys, teething toys, playmats, excessive amounts of clothing, large and numerous pieces of furniture, these are things that can be overlooked and left for a later stage, when they are REALLY needed.
It is easy to get caught up in what other people suggest that you just "have to have". But in all honesty, (and speaking from experience) you will not need, or use, even half of what you are recommended.
Organic, Eco-Friendly & Non-Toxic Baby Registry
Part of being a minimalist also boils down to the fact that you want to live a more wholesome, sustainable lifestyle. Most minimalists are people who want the best, not only for their families but also for the environment as a whole.
Introducing minimalistic principles into your daily life can make this a reality. This brings us to the point of adding organic, eco-friendly and non-toxic items to your baby registry.
These types of items are generally made in a way that puts less strain on the environment, which directly impacts sustainability. You will also find that they last a lot longer, and are just so much better for your little one to be around.
Here are a few ideas of what to consider when putting together an eco-friendly minimalistic baby registry:
Reusable / multi-use products
Biodegradable materials – especially when it comes to wipes
100% cotton fabrics
Non-toxic materials on things like car-seats and crib bedding
Cloth diapers vs disposable diapers vs eco-friendly disposable diapers
Using these principles as a guideline, you will be sure to find products that are both useful AND good for the environment to put on your baby registry.
Lastly, keep in mind borrowing or buying used baby items is another way to practice minimalism. It is a way to be sustainable buy using something that might otherwise be thrown away.
Best Places to Create a Minimalist Baby Registry
When it comes to creating a minimalist baby registry checklist, it helps to make use of stores that really speak to the cause. This is especially the case when you look at the more organic and eco-friendly items.
In this section, we take a look at the best stores that make it easy to create your baby registry and also have the best options for non-toxic, eco-friendly and organic baby items to choose from.
Amazon
When you think Amazon you think – a world of products at your fingertips. That is why they are top of the list when it comes to creating a baby registry to rival many others.
But, what really makes them stand out is that they have an array of products to choose from that are also more environmentally friendly. They even have what they call a "Climate Pledge Friendly" principle, whereby you can shop for products that have a sustainability certification.
This is Amazon's way of contributing to the preservation of the natural world. Amazon's delivery service is also on track to leave less of a carbon footprint, which is a big plus for me.
And last but not least, when you create your baby registry on Amazon, you also get a bonus baby box filled with essentials for your baby.
Babylist
Babylist is a very popular place to get your baby registry up and running. But what makes them even more appealing is that they have an entire section dedicated to a more "green, eco-friendly" baby.
Babylist has many eco-friendly baby products that qualify as sustainable, non-toxic, and certified organic. It is definitely geared to the minimalist in so many ways.
Here are some of the brand names known for sustainability you can expect to see in their store:
Burts Bees
Stokke
WaterWipes
Nuna Sena
Oeuf
Snuggle Me
These are just some of the names you will see and they provide such amazing high quality and sustainable items. It will be hard to keep to the minimalistic checklist, but I know you can do it!
Babylist also provides you with a baby box filled with essentials when you create a baby registry on their site.
buybuy Baby
buybuy Baby is a great place to shop all things baby. They have an online store where you can either pick your items and have them delivered to your door, or if you cannot wait to have your items you can pick them up at your nearest store within 2 hours of placing the order.
They also offer contactless delivery to your car, if you do not wish to enter the store. Now that is all great, but even greater still is the vast amount of baby related items available to add to your baby registry.
You can even enter search criteria such as "minimalist" or "eco-friendly" and within minutes there are a wide variety of goodies to choose from. You will be able to find some of these awesome items at great prices:
HALO sleep sacks
Avanchy bamboo plate and spoon
SKIP HOP eco-friendly diaper backpack
Bare Minimum Baby Essentials List
Now that we reviewed what it means to be a minimalist and how it can be applied to putting together your baby registry, let's look at some of the absolute baby registry essentials, that also lend themselves to the minimalist lifestyle.
From sleeping through to feeding and baby care, we have it covered here.
Minimalist Baby Items for the Nursery & Sleeping
(1) Crib
Try and find one that can grow with your baby. There are many crib options that are adjustable.
Convertible cribs are used as an actual crib for your newborn baby. Then they convert to a toddler bed and sometimes even to a full size bed too.
Having a crib like this means you can continue to use it as your child grows or you can reuse it, if and when, you decide to have another baby.
Good GREENGUARD Gold certified crib options that are are also convertible include:
Dream On Me Synergy 5-in-1 Convertible Crib
DaVinci Charlie 4-in-1 Convertible Crib
Babyletto 3-in-1 Convertible Crib
(1) Crib Mattress
A breathable, eco-friendly and organic brand of mattress is your best bet when purchasing a crib mattress. Make sure it is the correct fit as well.
Some great options that your baby will love and are non-toxic and GREENGUARD gold certified include:
Delta Children's Twinkle Stars Fiber Core Crib Mattress
Serta Tranquility Eco Firm Innerspring Crib Mattress
Eco Classica III Organic & Eco-Friendly Foam Crib Mattress
(1) Short Dresser (if you don't already have one)
You will need a dresser for storing clothes, diapers, etc. We recommend a short dresser so you can put a changing pad on top of it.
(2) Waterproof Crib Mattress Protectors
Using these keeps the mattress in better condition for longer. Your baby will have diaper leaks or accidents as a toddler. Plus, milk could spill.
So having a waterproof mattress protector is a real lifesaver and money-saver in the long run.
(2) Crib Sheets
You really do not need more than two sheets. If you invest in good quality, organic sheets, they will stay fresh and look good wash after wash.
(2) Brands of Pacifiers
The reason we recommend starting with two different brands is because a baby will always gravitate to one specific type and brand of pacifier and stick with that (assuming they take one at all).
Two popular and eco-friendly brands that are great to try out first are:
SWEETIE Natural Rubber Pacifier 0-6 Months
HEVEA Orthodontic Pacifier 0-3 Months
(1) Playard (if you plan to travel within the first 3 months)
Playards may not necessarily be seen as an essential, but they can be really beneficial if you are needing something more portable and want a place for your little one to rest when you are not at home – or in another room.
They are fantastic for travel purposes and they can be used up until your little one is 3 years old. So, if you do invest in a playard / travel crib now, you can be assured you will use it for many years to come.
Minimalist Baby Items for On The Go
(1) Car Seat & Stroller Travel System Set
Travel systems for your baby are very handy. Many people invest in these because once again it is an item which can grow with your baby.
The concept is that the infant car seat fits into the stroller, so it is easy to move baby from stroller to car and back again as needed. Then, as your baby grows out of his infant car seat, the stroller converts and has a seat for your baby instead.
Minimalist Baby Items for Diaper Changes
(1) Changing Pad
With this item you can invest in a changing pad that is eco-friendly and GREENGUARD certified.
A changing pad can be placed on top of the short dresser in the nursery. This prevents the need for purchasing a changing table.
(2) Changing Pad Covers
These 100% cotton, organic changing pad covers are SO soft and easy to clean. Plus they come in a variety of fun colors and patterns which is always a winner.
Diapers
Since we are looking at a minimalist approach to baby registry creation, it would make sense that we extend this to diapers as well. Whether you choose disposable or cloth is up to you and definitely a personal choice.
What you should know is that disposable diapers have come a long way. You can now find a wide variety of eco-friendly and sustainable brands that make diapers out of natural products like bamboo.
My personal choice for the best bamboo diapers is the Eco Pea Co.
If you have chosen to go with cloth diapers, they too have come a long way. Cloth diapers now come in various patterns, sizes and shapes and they are so much easier to put on, take off and clean.
Although the initial cost when purchasing cloth diapers can be a little steep, it will save you heaps of money in the long run.
(1) Case of Wipes
Wipes are a definite staple in any home with a baby. For sustainability, there are now reusable wipes on the market.
Or, you can opt for biodegradable bamboo baby wipes, I am again recommending Eco Pea Co. for those.
(1) Container of Diaper Rash Cream
Diaper rash is real and it is extremely uncomfortable for your little baby. Having a good diaper rash cream on hand is important because you never know when it may flare-up.
Look for brands that are hypoallergenic and contain natural and organic ingredients.
Minimalist Baby Items for Feeding
(1) Bottle Brush
A bottle brush is very important for keeping baby bottles clean and free from milk build up.
(8) Bibs
It is no secret, babies are messy when it comes to just about everything – but especially so when it comes to eating. It is, for this reason, you will want to invest in quite a few bibs.
In the first 6 months bibs are actually more beneficial for helping when your little one when drooling is out of control. We recommend going with organic bamboo bibs.
(1) Set of 4-5 oz Bottles
There will come a time when you want to use a bottle for feeds (such as, having daddy do a middle of the night feed so you can get some sleep).
So, investing in a set of bottles is very beneficial to you. We particularly like the Philips Avent glass bottles for the minimalist lifestyle.
If Breastfeeding…
(1) Box of Breast Pads
Look for more reusable breast pads rather than disposable. Breast pads are good to have for leaking (and, yes, you will leak).
(1) Jar of Lanolin
Lanolin is very soothing and repairing and is an absolute must-have in case you experience cracked or painful nipples while breastfeeding. Go for a natural, organic option.
Minimalist Baby Items for Baby Care
(1) Non-Contact Forehead Thermometer
Your baby will not want you sticking a thermometer in his ear or mouth. So, having a non-contact forehead thermometer is something that makes life much easier when you need to check for a fever.
They are also very accurate.
(1) Set of Baby Nail Scissors or Clippers
Baby nails can be very sharp! To avoid babies from scratching and injuring themselves, it is a good idea to invest in a good set of nail scissors or nail clippers.
(1) Set of Baby Soap & Lotion
Babies have sensitive skin, so you do need to make sure you have suitable baby soap and lotion.
Minimalist Baby Clothes List
How many baby clothes do you really need? The best way to maintain the minimalist life is to try and get hand me downs or shopping at a thrift store.
However, if you absolutely need to buy clothes for your baby, here is a small, concise list of the bare minimum. Start with a set in newborn size and 0-3 months.
(10) Onesies – get both short and long sleeve
(6) Sleepers with foot covers – perfect for newborns to stay warm
(6) Pants – just pull on over the bottom of a onesie
(6 pairs) Socks
(1 set) No-Scratch Mittens
Baby hats (optional, depending on the season)
You really do not need more than this.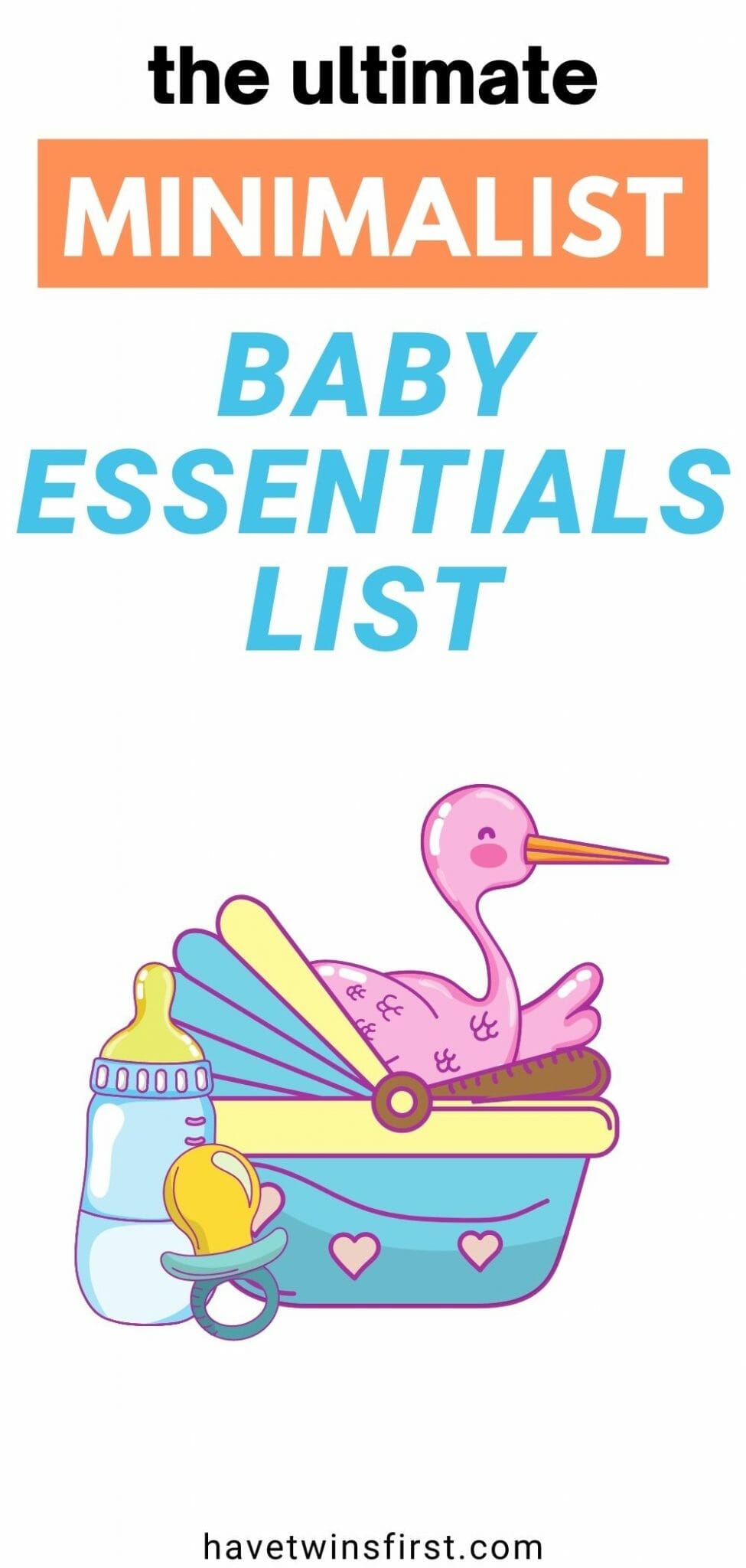 Minimalist Baby Toys
We all love those colorful and musical baby toys that are available, but they do not have a place on a minimalist baby registry list. This is mainly because a newborn baby right through till around the 3-6 month age group does not need toys.
They are so much more interested in the environment around them including your face and the faces and voices of others. They find this way more entertaining.
Another reason to not bother with toys yet is they just create clutter – and this is far from what being a minimalist means.
What To Leave Off your Minimalist Baby Registry
There are many baby items out there that are considered typical and must-haves but in essence, if you are wanting to have a more minimalistic approach, you can leave them off your baby registry altogether.
But, that being said, there are some items that can make life with a baby easier if you want to choose a few from the list below.
Baby Bath Tub & Baby Bath Towels
You can bathe your baby in a normal bathtub or you can use a sink when they are a newborn. It can make bath time easier to get a bathtub with an infant insert, but it is definitely not a necessary item.
For bath towels and wash cloths, you can use towels you already own. You do not need special baby bath towels.
Baby Swing
Although this is not a must have, a baby swing is wonderful if you have the space. It can be very soothing for a baby with colic for instance.
They are also great to have for when you want a safe place to put baby while they are awake and you may be busy.
Baby Monitor
Since this does not take up much space this might be one of the top items I would select from this list of baby non-essentials.
An audio baby monitor or video baby monitor can put new parents at ease and is extremely helpful if you plan to sleep train.
Bassinet
If you have an adjustable crib or playard you do not need a bassinet as well. But, you might opt to get one if you want baby to sleep in your room at first and don't have space for the crib or playard in there.
Burp Cloths
Use cloth diapers or receiving blankets from the hospital. You do not necessarily need to buy more.
Swaddling Blankets
Again, you can use the FREE, very large receiving blankets you will get at the hospital or birthing center.
Diaper Bag
Use a backpack or tote bag that you already own. The diaper bags are cute, but not necessary.
Bottle Drying Rack
These are definitely not an essential as you can just place your bottles on your normal drying rack or a towel.
Breastfeeding Pillow
Breastfeeding pillows can make life more comfortable for you and baby while breastfeeding and help moms successfully breastfeed. But, they are not absolutely something you must have.
If breastfeeding is important to you, then it's not the worst idea to have a breastfeeding pillow on hand. You could try to borrow one from a friend first before buying one.
Breast Pump
Breast pumps come free through health insurance so there is no need to purchase one.
Nasal Aspirator
Get one for free at hospital, so again something you do not have to buy – but it is very beneficial to have one on hand.
Bottle Sterilizer
You can place bottles in boiling water to sterilize them.
Items You Won't Use During the First 3 Months
There are many items they you will not need within the first 3 months of your baby's life. So, there is no need to purchase these items now because they will end up being stored away.
Sippy cups
Baby bowls, plates, and utensils
High chair
Potty training potty
Baby gates
Convertible car seat
Minimalist Baby Registry For Twins
What if you are having twins? I am a twin mom, so I can help you out with this one.
You will reference the list above, but adjust quantities for the following items:
(2) Infant car seats
(2) Cribs
(2) Crib mattresses
(3) Waterproof crib mattress protectors
(4) Crib sheets
(16) Bibs
(2) Sets of 4-5 oz Bottles
Double the amount of clothes recommended
(1) Single breastfeeding pillow (optional)
(1) Double breastfeeding pillow (optional)
Lastly, although not necessary, if you are planning to get a feeding pillow. I highly recommend the Twin-Z pillow for twins.
Even if you will be bottle feeding, this pillow is a huge help. For breastfeeding twin moms, it is beneficial to have both a single breastfeeding pillow and a double breastfeeding pillow.
That wraps up our list of baby items for minimalists. Be sure to keep the number of items on your minimalist baby registry low and to pick organic, eco-friendly, and non-toxic baby items for your registry.
We have looked at many ways in which you can create a minimalist baby registry. It really is a smart lifestyle, especially if you want to save a few dollars, minimize clutter, and be kinder to the planet.
We wish you good luck with your baby registry. May you only receive the absolute necessities for your baby and most of all, enjoy the journey and enjoy your time with your newborn.
Before you go, we have a couple of items to help you even more. First, you might want to check out this bundle of (4) types of printable baby registry checklists including a minimalist one.
And finally, if you are expecting you might also be interested in these other printable pregnancy resources listed below.