Having a car seat that is safe and comfortable for your little one is very important. But what happens when you have more than one child needing a car seat?
As a twin mom, I know all too much about the need for car seats that are slim and narrow. We made the mistake of investing in convertible car seats that were very wide. When baby #3 came along, we ended up having to get all new car seats that would fit 3 across.
That's why I have put together this article, so you can learn the best narrow car seats you can find. In this case, finding the right car seats that are safe and all fit comfortably into your vehicle is your ultimate goal.
With that said, let's review the best slim car seats available to help you piece the puzzle together of fitting three car seats into your car. And additionally, at the end of this article you will find a list of which car seats on the list are the slimmest for each car seat type.
Please note, there are affiliate links in this post. Read my privacy & disclosure policy at the bottom of this page to learn more.
What Makes a Car Seat Narrow?
A narrow car seat is defined as being taller than a normal car seat and having an average width of 17 inches. But, you can also think of a narrow car seat as something that could fit three car seats across comfortably in a smaller car.
It is also extremely important that your narrow car seat choice meets the height and weight requirements for your children.
Reasons To Get Narrow Car Seats
There are various reasons you may be looking to purchase narrow car seats. The top two reasons people typically need smaller car seats include the following:
Having more than one car seat in a car – especially when you need to fit three car seats across or own a small SUV or car.
If you plan to have more children – it is a good idea to get this kind of car seat if you may plan to have more children in the near future.
Types of Slim or Narrow Car Seats
Car seats should adapt and change as your child grows. Their weight and height changes, and therefore the car seat requirements will need to be adjusted too.
These different car seat sizes help ensure safety at all times, as well as, comfort for your kids. The three stages of car seats are listed below and we will look at each type in more detail.
Infant Car Seats
Convertible Car Seats
Booster Seats
Infant Car Seats
Infant car seats are made specifically for the first year of a baby's life. They are rear facing seats since this is the safest way for your baby to sit in a car.
All infant car seats use a 5-point harness system, which ensures maximum security. The infant seats are smaller and more protective in nature.
They tend to have more soft padding and structure to keep your baby's head and body comfortable and secure. Although each car seat will have its own weight guidelines, the minimum weight for an infant car seat is typically 4-5 pounds and the maximum is typically around 35 pounds.
Once your baby exceeds this weight you will want to start looking at a bigger seat. Keep in mind through that you will likely find your kids legs getting very long for this type of seat before meeting the maximum weight limit.
Convertible Car Seats
Once your little one has reached the maximum weight or height requirement for the infant car seat, or you are just ready to move on, you will want to start shopping around for a convertible car seat.
A convertible car seat is bigger than an infant car seat, meaning it can accommodate your growing child. But, what makes it convertible?
The fact that it starts as a rear-facing seat and can later be converted and swapped around so that it faces forward is where the term "convertible car seat" comes from. This means that you could technically use a convertible car seat from birth because you can sometimes find ones which start at a 5 pound minimum weight limit and go all the way up to 50 pounds.
The reason a lot of people purchase infant car seats is that during the first 6 to 9 months it is super convenient to leave your baby in an infant car seat when out and about. Then, you just clip the car seat itself into a compatible stroller travel system or the car seat base in your car.
I always recommend investing in an infant car seat and stroller system for the sole fact that you do not want to wake up your baby every time you have to transfer from the car to the stroller and vice versa, especially during the newborn stage.
Booster Seats
A booster seat uses the seatbelt within the car to restrain the child rather than the 5-point harness system. You can get booster seats that are just a bottom seat or a high-back booster, which has a backrest with it.
Many parents will start considering a booster seat for their child around the age of 5 years old and older. As an example, my twins are turning 7 and we are just getting ready to move them to booster seats.
Keep in mind, it is safest to keep your child in a seat with a 5-point harness system until they have outgrown it. Even though you can start using booster seats when child reaches around 40 pounds it is not necessarily the safest option yet.
Best Narrow Infant Car Seats
Okay, now on to the main purpose of this post. We have done the research so you don't have to. Below you will find my list of the safest and best narrow infant car seats on the market.
Chicco Fit2
The Chicco Fit2 has a width of 17 inches and it is therefore the broader of the 3 on the list, but still fairly narrow if you need more than one car seat in your car. Chicco has always had a good name for quality and safety standards, and this car seat is no different.
The Chicco Fit2 is a rear facing infant car seat and as with some of the others reviewed, this car seat clicks in and out of a car seat base quickly and easily. It has a 7-position head rest and the 2-stage base adjusts, allowing it to grow with your baby up to 24 months old.
This car seat can be used for infants as small as 4 lbs and can also be adjusted and converted to suit a child up to 35 lbs. Additionally, this car seat is compatible with the lightweight Chicco KeyFit Caddy frame stroller.
Baby Trend Secure Snap Tech 35 Infant Car Seat
For an economical narrow car seat choice there is the Baby Trend Secure Snap Tech 35 infant car seat. This car seat is quite slim at 16.25 inches, making this seat the narrowest of the infant car seats on our list.
The minimum weight for this car seat is 5 lbs and the maximum weight is 35 lbs. It comes with a 5-point safety harness. Releasing the seat from the base is a simple one hand operation. Another great feature of this product are the four reclining positions for its base.
Clek Liing
The Clek Liing infant car seat has a width of 16.9 inches making it the second narrowest product on the market when it comes to infant car seats.
This particular car seat comes jam-packed with safety features including an energy absorbing metal load leg, a shell lined with EPP foam for better side impact protection, and the Clek signature rigid-LATCH base, which offers 7 reclining positions.
The Clek Liing is also great for a rear-facing position. The one-handed quick release from the base is so easy and convenient. With this being the second narrowest on the market, it makes it super efficient if you need to have 3 car seats next to each other across the backseat.
Best Narrow Convertible Car Seats For Fitting 3 Across
Next, we will take a look at the best narrow convertible car seats, especially for fitting 3 across in your vehicle. The main things you want to look at is obviously the width, but also safety features according to your growing child. Here is my list of the best slim convertible car seats available to you.
Diono Radian 3RXT
You may of may not have heard of Diono Radian seats before, and if you have you will know that this brand is the original three-across adjustable convertible car seat. The Diono Radian 3RXT comes in with a width of 17 inches.
What makes this convertible car seat so amazing and trusted by over a million parents worldwide? The fact that it now has a rear-facing capability which means that you will get up to 10 years of safety for your growing child from one car seat.
You can rest assured that with the padding and safety features of this trusted brand for your newborn up to 4 years old, can be safely and comfortably secure in a rear-facing position. When your child moves to a front facing position, the adjustable head rest grows with your child. Overall, this is one of the best convertible seats on the market if you want something to carry you through the years without changing seats.
Graco SlimFit3 LX 3-in-1
The Graco SlimFit3 LX convertible car seat also grows with your child. Starting with infants from 5 lbs it will convert and adjust with your child all the way up to 100 lbs (as a highback booster seat).
This car seat is my personal choice and I have successfully used them for a 3-across setup in my Mazda CX-7 and the second row of a Honda Pilot. The width of the Graco SlimFit3 LX is 16.7 inches.
That makes this car seat perfect for a three-across setup in your vehicle. The LATCH system allows for quick installation and removal of the car seat. You will also find that the 4-position recline system allows for your infant to stay comfy and safe at all times.
Please note you want to purchase the Graco SlimFit3 LX NOT the regular Graco SlimFit. On Amazon the SlimFit3 LX is described as "SlimFit w/ 3-Across Fit". The seat you want is the one linked above.
Baby Trend Trooper
The Baby Trend Trooper has a width of 16.75 inches making it one of the slimmer convertible car seats on our list. As with all the others we have discussed, this car seat can also be used in three stages for rear-facing, forward facing, and booster.
With its narrow physique you can be sure it will fit really well in a three-across setup in most vehicles. The Baby Trend Trooper is quick and easy to install and the bubble indicator lets you know which is the most preferred angle and position. An added feature for this convertible car seat is that the cushioning and head protection is perfect for preemie babies too.
Safety 1st Jive 2-in-1
The Safety 1st Jive 2-in-1 is also an amazing product and definitely worth a mention. It has a width of 18.1 inches and converts from rear-facing to front facing effortlessly.
The rear-facing position is perfect for infants from 5 lbs through 40 lbs, and when converted, it can be used up to 65 lbs. The Safety 1st Jive is perfect when you want to fit three-across a back seat. It has added safety features such as side impact protection and a 5-point harness function.
Cosco Mighty Fit 65 DX
If you are on a tight budget the Cosco Mighty Fit 65 DX is a perfectly safe choice for a narrow car seat. This seat can be used for both rear facing (with a minimum weight of 5 lbs) and as a forward facing convertible seat (with a maximum weight of 65 lbs).
The width of the Mighty Fit seat measures 18.5 inches (without the cup holder attached) and it comes equipped with the LATCH system. It can fit 3 across in most vehicles.
Graco True3Fit LX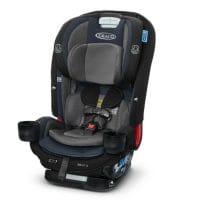 The Graco True3Fit LX has a width of 16.7 inches. You can rest assured that you will be able to fit this seat 3-across.
The Graco True3Fit has a minimum capacity of 5 lbs and a maximum weight limit of 100 lbs because it is a 3-in-1 car seat. You can use it as a rear-facing seat, then a forward facing convertible seat, and finally a high back booster seat.
It has added safety features such as side impact protection and the exclusive Graco ProtectPlus Engineered technology, which has withstood numerous crash tests.
Clek Foonf
Considered the mother of all car seats the Clek Foonf is designed to keep your child rear-facing up until 4 years of age. It is adjustable and can be used in all three stages, rear-facing, forward facing and then as a booster.
The Clek Foonf is 16.9 inches in width, and is therefore one of the narrowest seats on the market. It comes jampacked with safety features including the patented REACT energy management system, which allows for effortless installation and advanced side impact protection. The narrow width clearly makes the Clek Foonf great for a three-across setup.
Britax Marathon
The ClickTight installation system allows for the Britax Marathon to be easily and safely installed by any parent. It also fits well in most vehicles when used as part of a three-across setup.
The width is 18.5 inches, making it a little higher up on the list when it comes to width for narrow car seats. As with the other seats mentioned, the Britax Marathon also has superior side impact protection and various other safety features synonymous with the Britax brand.
Peg Perego Primo Viaggio Convertible Kinetic
The Peg Perego Primo Viaggio Convertible Kinetic car seat can accommodate children from 5 lbs through 65 lbs. The width is 18.75 inches and it works very well in a three-across setup in most vehicles.
Peg Perego is also synonymous with quality and safety features and is always on top of many car seat lists because of this.
Top Slim Booster Seats For Toddlers
Slim booster seats for toddlers usually have backrest support and will need to be used with a seat belt. You will want to look at slim booster seats if you wish to have a three across setup in a smaller vehicle and perhaps have more than one toddler.
Graco Tranzitions
The Graco Tanzitions booster is a 3-in-1 seat with a width of 17.4 inches. It has adjustable harnesses and can be used as both a forward facing convertible car seat, a high back booster seat, and a backless booster seat.
You can use this seat starting at 22 lb, until your child reaches 100 lb. It is a lot narrower than most booster seats out there, while still providing comfort and protection for your child. The Graco Tranzitions seat is lightweight, compact, and perfect for busy parents on the go.
Maxi-Cosi Rodi Sport
The Maxi-Cosi Rodi Sport comes equipped with rigid LATCH connectors to make sure the seat stays in place, and making installation and removal a breeze. This booster seat is approved for children between 40 and 100 lbs in weight.
The width of the Maxi Cosi booster seat is only 14 inches without the cup holder. When you add the cup holder the width goes up to 21 inches. This booster seat offers superior comfort and protection for your child, and works in a three-across setup in most vehicles (especially if you don't use the cup holder).
Graco Affix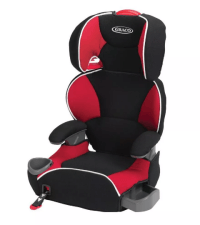 The Graco Affix Highback booster seat is perfect for safely transporting your older child in the weight range of 40 lbs through 100 lbs. The of width of the Graco Affix is 16.5 inches making it the slimmest by far on the narrow booster seat list.
The height of the high-back booster is adjustable up to 57 inches. This booster seat also has a front-adjust Latch system, which means the booster is securely connected to your vehicle's seat. The Graco Affix comes with cup holders perfect for sippy cups and snacks, which your children are sure to enjoy.
Which Car Seats Are The Narrowest?
So which car seats are the narrowest? Let's summarize the absolute slimmest of the bunch.
Are Narrow Car Seats As Safe As Normal-Sized Car Seats?
YES! All the car seats listed have various enhanced safety measures in place. There is no difference in the safety of narrow car seats and regular-width car seats. Narrow car seats generally all provide the same 5-point harness systems and side protection that a normal car seat offers.
Now that you know the best slim and narrow car seats on the market, you can go ahead and invest in the one you like in order to save space or fit 3 car seats across your vehicle.
In conclusion, we can honestly say that there are so many options available when it comes to narrow car seats to carry you and your child through the various car seat stages as he or she grows. To summarize, these are the key points.
Ideally the seat should be adjustable and have various reclining positions for safety and comfort
Narrow car seats are slim enough to fit three across in most vehicles
All car seats are built to provide adequate safety and protection for your child
Good luck finding the perfect car seat for your child and family, I hope you found some information to help you in your search.
More baby gear articles that might interest you: