In this post we will be reviewing anything and everything about baby wipes and diapers. While preparing for the arrival of your baby during pregnancy, there are a lot of questions that come up regarding both diapers and wipes.
How many baby wipes do I need? How many newborn diapers do I need? How many wipes should I register for? How many of each size diaper do I need? And, that's just to name a few of the questions new moms and dads have on this topic.
So, we will do our best in this article to answer the question of how many wipes and how many diapers are needed. We will also be reviewing our selection for the best baby wipes and the best baby diapers.
Please note, there are affiliate links in this post. Read my privacy & disclosure policy at the bottom of this page to learn more.
How Many Baby Wipes Per Day?
How many baby wipes will you use per day? Plus, how many wipes should you register for? The answer to these questions will bring you the answer to how many baby wipes do I need.
Let's start with your newborn baby because the number of wipes used per day will change as your baby gets older and has less diaper changes. During the first 6 months, you can expect to average 2.5 wipes per diaper change.
For pee diapers you will only use 1 to 2 wipes, but for poopy diapers you can expect to use 3 to 4 wipes per change. If it's a diaper blowout, be prepared for a few more wipes and maybe even going through more than one diaper during the change.
You will also go through about 6 to 8 diapers per day during the first 3 months. This means you can expect to use about 15 to 20 wipes per day.
As your baby gets older, there will be less diaper changes required. However, you might need to use a few more wipes for messy diapers as your baby continues to grow.
After 6 months of age, your baby will average 2 wipes per diaper change and 4 to 6 diaper changes per day. This leaves you with 8 to 12 baby wipes used per day.
How Many Wipes Should I Register For?
Now that you know how many wipes to expect to use per day for a newborn, how many do you need to start?
Cases of wipes come in various amounts, but I recommend starting with one case. Feel free to add this need to your baby registry list. One case of wipes will last you a while and you will be able to test out the brand of wipes you pick.
One baby wipes case is typically anywhere from 500 to 800 wipes. Also, don't forget to get one or two baby wipe storage containers or you can opt for the wipes that already come in their own container.
Best Baby Wipes
Hands down, the best baby wipes I have used are Huggies natural care wipes. They are strong, they clean up well, they are gentle, and they are 99% water.
Now, what if you are looking for a more environmentally friendly option? Then I recommend you look into buying biodegradable bamboo baby wipes.
Of course these will be a little bit more expensive, but if you are environmentally conscious this will be the route you might choose to go.
How Long Do Baby Wipes Last?
What if you end up with too many baby wipes? The good news is I still use baby wipes to this day, even though all my kids are out of diapers. They are just so useful for so many other things.
So, how long do baby wipes last? Well, it depends how they are stored. If they have been kept in their original, air tight container then there is a good chance they are still wet and can be used.
But, if you find a bunch of old wipes that you moved into a new container more than a few months ago, there is a very good chance they have dried out.
The good news is baby wipes are pretty inexpensive, so replacing old, dried out baby wipes shouldn't break the bank too much.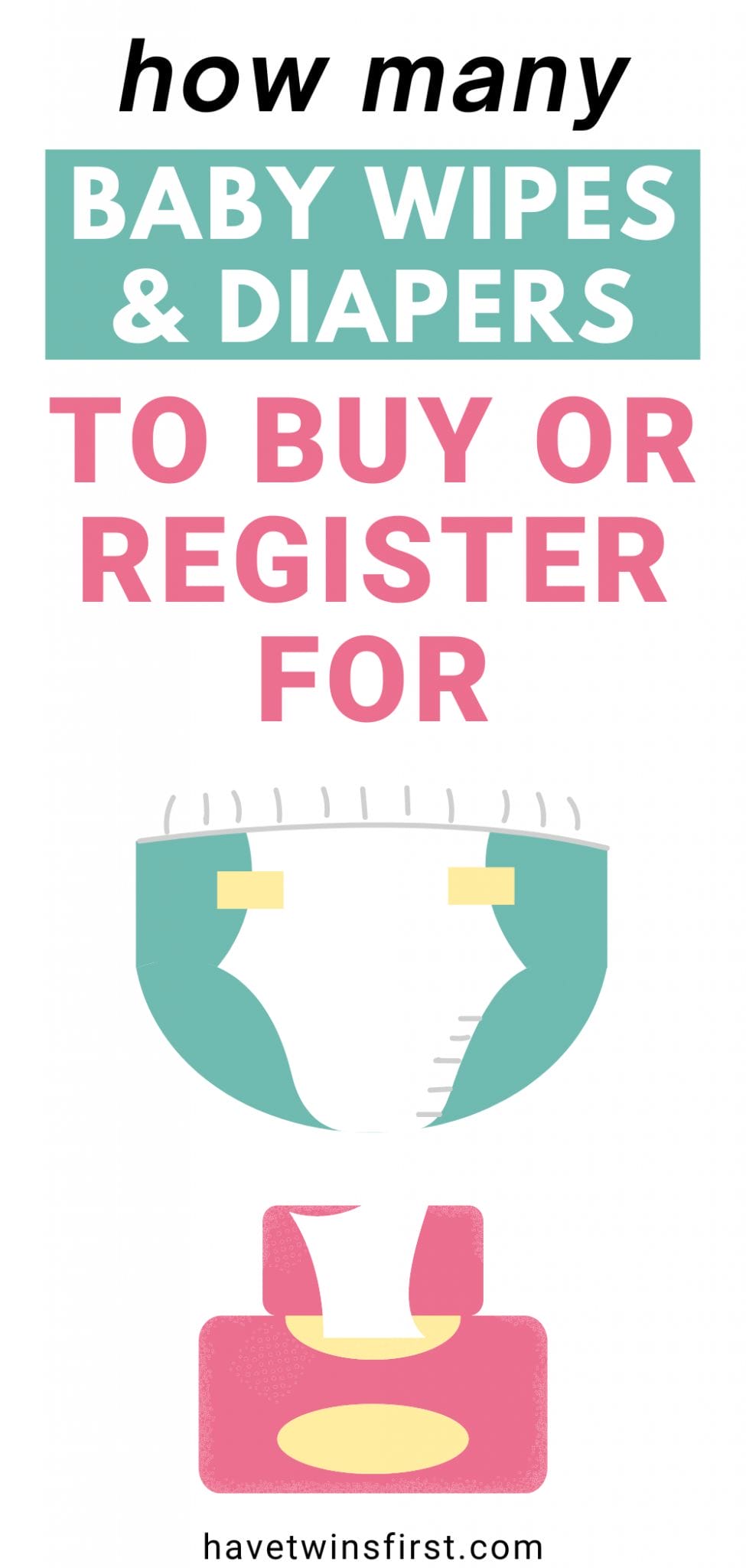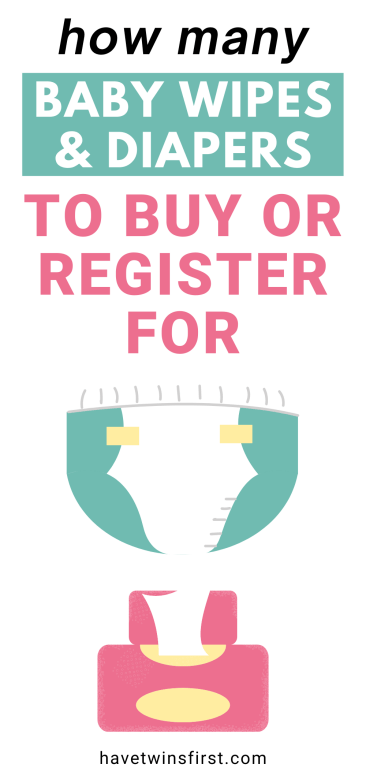 How Many Of Each Size Diaper?
I know it is very popular to stock up on diapers at a baby shower, but I actually do not recommend going this route. You are probably wondering why…
First of all, many times babies can be sensitive to certain brands of diapers or there could be a particular diaper that fits them better than others, causing less leaks.
With that said, I recommend buying only 1 case of size newborn diapers and 1 case of size 1 diapers to get started.
Best Baby Diapers
What are the best baby diapers? As mentioned, every baby is different and a particular diaper brand will work for one baby and not the other.
But, since you do have to pick a brand to start with, I will say, I always had the best luck with Pampers Swaddlers. So, I would recommend starting with those for your 1 case of newborn diapers and 1 case of size 1 diapers.
I also want to circle back to the environment. What if you don't want to use cloth diapers, but are looking for a environmentally friendly option? In that case I again recommend bamboo material and these biodegradable bamboo diapers.
Now, I do want to mention that I did switch diaper brands when my babies got bigger. Right around 6 months of age, or when they got to size 3 diapers, I started using Huggies Plus diapers from Costco. Huggies Plus, are made exclusively for Costco and have extra protection.
I love the Huggies Plus diapers because there is a noticeable difference in absorbency between these diapers and regular Pampers, Huggies, and store brand diapers. So, keep that in mind as your baby grows.
How Much Diaper Cream Do I Need?
What about all the other things you need when changing diapers. Let's review other diaper changing essentials to complete your baby registry on this topic.
We can start with diaper cream and how much you might need. You will need 1 tub of diaper rash cream per changing area and 1 tube for diaper rash cream for the diaper bag. As far as which brand to get, I've always liked Aquaphor.
You will need 1 changing pad to put on top of a short dresser in the nursery. And, don't forget to get a couple changing pad covers too. Now, if you have two floors and the nursery is upstairs, I do recommend getting a changing table for the first floor.
If you do opt for a changing table, you will need one more changing pad and one more changing pad cover.
When you are out and about with your baby, you are going to want a diaper bag. When picking a diaper bag you will want one that is easy to carry and big enough to hold all the baby items you will need with you. This might include diapers, wipes, bottles, toys, etc.
Another great thing to have is hand sanitizer at each diaper changing station, plus a travel hand sanitizer for the diaper bag.
Before we move on, you might find these FREE printable Baby Registry & Pregnancy Checklists helpful. Just fill in the form below to get them. Learn which must haves to put on your baby registry and when to complete items in each trimester of your pregnancy.
Middle Of The Night Diaper Changes
Want to know how to do diaper changes quickly in the middle of the night? If you have your newborn sleeping in your room, then you will want to get these waterproof changing pads.
If you need to do a middle of the night diaper change, you can put these changing pads, some diapers, and wipes on your nightstand. When needed, place the pad on top of your bed and change your baby's diaper right there.
You will not have to really get out of bed, making it easier to fall back asleep when you are done. It's also useful to throw one of these changing pads in your diaper bag for diaper changes on the go.
That's it! I hope this post answered your question of how many wipes do I need. And, also helped you learn about the best baby wipes and the best diapers, all while learning some helpful diaper changing tips.
Finally before I sign off, if you are expecting you might also be interested in these printable pregnancy resources listed below.