You're pregnant and you're starting to think about car seats and strollers. After all, you need to have a car seat properly installed before leaving the hospital.
You're probably wondering when to buy both a car seat and stroller during pregnancy and which ones you should buy. In this post I will review the best time to buy a car seat during pregnancy and when to buy a stroller during pregnancy.
As you will find out, your car seat and stroller will go hand in hand during the first 6-9 months of your baby's life. I will also be sharing my favorite stroller and car seat brands and models.
And, since I have both twins and a singleton, I have recommendations for both scenarios.
Please note, there are affiliate links in this post. Read my privacy & disclosure policy at the bottom of this page to learn more.
Picking An Infant Car Seat
Both your stroller and car seat decisions are big ones. And, it can be overwhelming because there are so many options to choose from.
As far as car seats go, when I was pregnant with twins I chose the Graco infant car seats. I absolutely loved these car seats, and I will say I have always preferred the Graco brand even as my kids got older and went into convertible seats and booster seats.
I had a few reasons for choosing the Graco seats. Number one was that they are the lightest. When you're having twins, this sounds like a great advantage because you could find yourself carrying two infant car seats at once.
The second reason I chose the Graco infant car seats was they have very good reviews online.
If you are looking for another great option, I recommend the Chicco infant car seat. Although I never owned one, I know many parents that purchased these car seats and love them.
Graco SnugLock Vs. Chicco Fit2
I don't think you can go wrong with either of these car seats. They are both easy to use and have great safety ratings.
I did want to provide a comparison to help you choose which one will work better for your family.
The Graco SnugLock car seats are lighter weight and less expensive. The Chicco Fit2 has an advantage because it grows with your baby into the toddler years.
Keep in mind, even if you go with the Chicco Fit2, you will still eventually need to buy a convertible car seat. It's just put off for a longer period of time.
When To Buy A Car Seat During Pregnancy – Infant Car Seat
So, back to the question of when to buy a car seat during pregnancy. Start by adding an infant car seat (or two for twins) to your baby registry list.
Ideally you will have the infant car seat by around 32 weeks, just in case your baby arrives a little early. Don't forget, besides purchasing the car seat it also needs to be properly installed before taking your baby (or babies) home from the hospital.
If you're having a baby shower after 32 weeks of pregnancy, check your registry to see if it's been purchased. If not, this might be an item you want to go ahead and buy on your own.
Time will start ticking away quickly now until your baby's arrival.
Car Seat Bases For Additional Cars
When you buy an infant car seat it will come with the base that's installed in the car. The car seat itself then snaps into the base.
If you will be driving your baby around in more than one car, then you will want to purchase more bases. Just make sure you get the one that matches your car seat brand – here are links to both Graco and Chicco bases.
Infant Frame Stroller Or Travel System
From my personal experience, I will say I would always opt for the stroller that is lightweight and small. Just make sure it's from a well known brand, so that it is good quality.
There will be days that you are lifting this stroller into and out of your car numerous times. And it needs to fit in your trunk – so the smaller it is the better.
Let's say you go grocery shopping, it's nice to be able to fit both the stroller AND the groceries in your trunk. What's my point with all of this?
When choosing a stroller that connects with your infant car seat, I recommend getting the frame stroller instead of the travel system.
These are the frame strollers you will want depending on the car seat brand you have chosen:
For twins, you will need to get a double frame stroller with universal connections, since Graco and Chicco do not make a double frame stroller, here are the best options:
When To Buy A Stroller During Pregnancy – Frame Stroller
As far as when to buy your stroller during pregnancy, this is not an absolute necessity for leaving the hospital. You could register for the stroller, and if no one gets it for you, then go ahead and buy it right after you get home from the hospital with your baby.
But, if you like to plan ahead it doesn't hurt to get it sometime in the third trimester, preferably by 36 weeks into your pregnancy. By purchasing the stroller before your baby arrives, it gives you time to assemble the stroller too.
Keep in mind this is one less thing to worry about, since you will be spending your days (and nights) caring for a newborn. We had a stroller mishap and because of this my recommendation would be to get it, assemble it, and test it out before your baby arrives.
I didn't know it at the time, but we were 1 week away from our twins' arrival. My husband assembled our Graco double stroller travel system. Luckily, we decided to try to attach a car seat to it.
Well, we found out we had the wrong stroller connection to match the car seat connection. Just to clue you in, we had gotten Graco click connect car seats with a Graco classic connect double stroller.
Luckily, it was easy to return and we replaced the stroller with the click connect double stroller. If this has got you wondering about what you have already purchased you should be okay.
The Graco SnugLock system IS compatible with Graco click connect strollers and the classic connect system is discontinued and no longer sold.
Travel Stroller Systems Are Bulky
You might have noticed I mentioned that with our twins we had a double stroller travel system as opposed to a double frame stroller. This was very bulky and heavy by comparison.
Because of this, we only used it when our twins were in their infant car seats. As soon as they were old enough to sit up with help (around 6 months), we bought a double umbrella stroller.
I thought we would save money and have the stroller travel system grow with our twins. But it was just way too big and heavy for that to be a sensible choice.
When To Buy A Car Seat During Pregnancy – Convertible Car Seats
Another car seat that will be in your not too distant future is the convertible car seat. This is the car seat your baby will move into once he grows out of his infant car seat.
First of all, as far as when to buy a convertible car seat during pregnancy, this is not something you need to get while pregnant. However, if you have the space to store a big box at your house, it doesn't hurt to put this on your registry.
If someone buys it – great! Now, the next question, which convertible car seat is best?
Between having twins and multiple cars that need car seats, we've been through 3-4 brands and models of convertible car seats. Hands down, my biggest recommendation is to get the skinniest convertible car seat you can.
These seats are huge and will take up a lot of space in your car. Even the "skinny" car seats take up a remarkable amount of space.
Additionally, the recommendation now is to keep your children rear facing until at least 2 years old (and anymore than that the better). You will find the space needed to install rear facing seats a little trickier than putting them forward facing.
My opinion is even with a big SUV or van you will want the smaller car seats. Especially if you have more than one child that needs a car seat.
Convertible Car Seat Recommendations
So, which convertible car seat do I recommend? I have really liked the Graco SlimFit Convertible Car Seat. It's very easy to buckle your child in and Graco is a good quality brand.
Another popular skinny car seat is the Diono Radian Convertible Car Seat. An added bonus of getting narrow convertible car seats is being able to fit these seats 3 across in a car.
Finally, one last thing on convertible car seats. Unlike the infant car seat where you buy a base for your other cars, you will need to buy a convertible car seat for each car that will be used to drive your children around.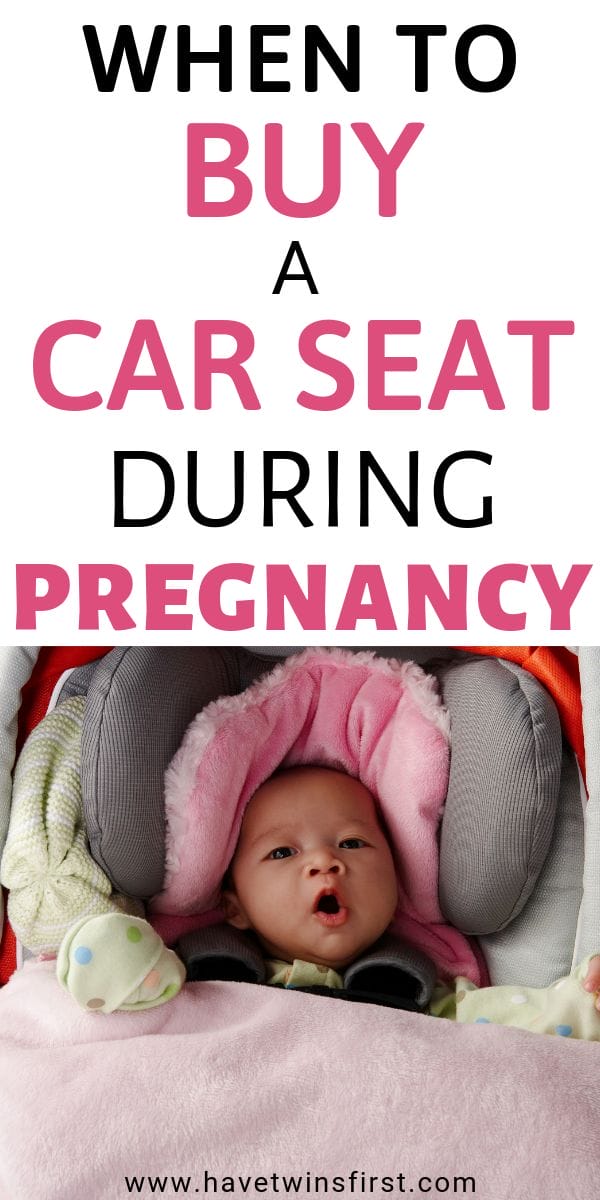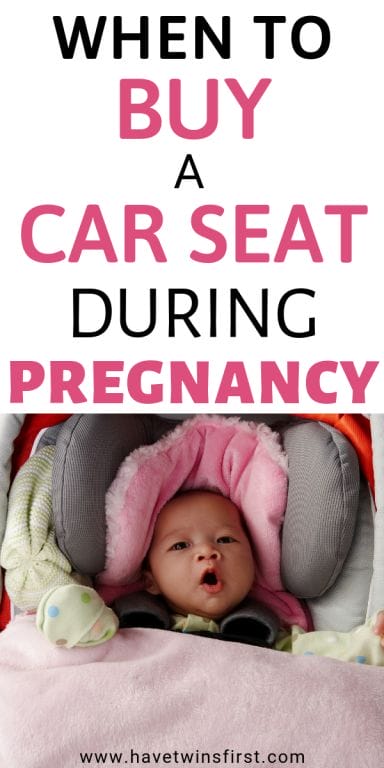 When To Buy A Stroller During Pregnancy – Umbrella Stroller
The umbrella stroller is similar to the convertible car seat because you will not need to buy this during pregnancy. If you opt for the frame stroller, you will need a different stroller once your baby outgrows their infant car seat or it becomes too heavy to lift the car seat with your baby inside.
We transitioned to an umbrella stroller for running errands and taking walks outside at 6-9 months of age. At this point it was easier to remove our kids from their infant car seat, even though we continued to use the infant car seat until they were approximately 1 year old.
For one baby I recommend the Summer Infant 3Dlite stroller.
Before we move on, you might find these FREE printable Baby Registry & Pregnancy Checklists helpful. Just fill in the form below to get them. Learn which must haves to put on your baby registry and when to complete items in each trimester of your pregnancy.
Double Umbrella Stroller Recommendation
What about recommendations for a double umbrella stroller? Whether you have twins or a toddler and a baby you will need a double stroller.
I personally recommend the Dream On Me Volgo Twin Double Umbrella stroller.
Do You Need A Jogging Stroller?
The need for a jogging stroller will depend on your lifestyle. We never found a need for a jogging stroller in our household.
But, if you are into running or hiking, there is a good chance you will want to get a jogging stroller. Jogging strollers are much smoother to push, especially through tough terrain, which is why they are good when on a run or on a hike.
They are not great when you are out running errands because they are heavy to take in and out of the car, plus they take up a lot more space than an umbrella stroller.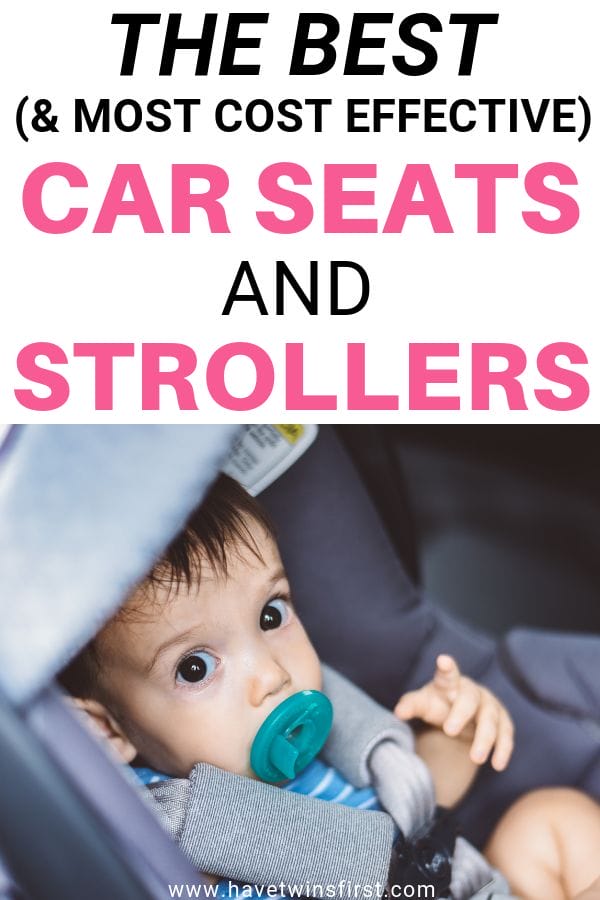 When you are buying a car seat and stroller make sure you purchase them before your baby arrives.
That wraps up my recommendations on when to buy a car seat and stroller during pregnancy and which car seats and strollers I would buy. To summarize, buy your infant car seat by 32 weeks into pregnancy and a frame stroller sometime during the third trimester.
You don't need to buy a convertible car seat or umbrella stroller (or jogging stroller) while pregnant. But, it doesn't hurt to put those items on your registry, if you have space to store the big boxes they come in.
Finally before I sign off, if you are expecting you might also be interested in these printable pregnancy resources listed below.
And you might want to read these other baby registry and baby gear articles: