Making the right decision when it comes to the comfort of your baby can be daunting. This is especially the case when it comes to finding the right type of crib to sleep in.
Not only do you need to take into consideration your baby's needs, but you also need to find something that fits within your space (and your budget). If you have limited space in the nursery you may find yourself with a conundrum in deciding on a mini crib vs a standard crib.
In this article, we will take a comprehensive look at the main differences between these two types of nursery furniture. More specifically, we will explore dimensions, weight limits, overall safety aspects, and value for your money.
Please note, there are affiliate links in this post. Read my privacy & disclosure policy at the bottom of this page to learn more.
Mini Crib Vs. Standard Crib: What's Different?
As you embark on the journey of buying the right furniture for your baby's nursery, especially the crib, you may find yourself wondering what the differences are between a mini crib and a regular crib. The main differences are their dimensions and features.
A mini crib is more portable and smaller than a conventional crib. This makes it the perfect choice for small rooms.
If you are preparing for twins or multiples and need to fit two or more cribs in the nursery, this is another time you might consider getting mini cribs. Mini cribs are intended for infants up to about 2 years old and normally fit a mattress of about 24 x 38 inches.
A regular crib on the other hand, is bigger and gives the baby more room to grow. It can be used until your child converts to a toddler bed. This typically happens between the ages of 2.5 and 4 years old.
A standard crib accommodates a regular crib mattress size of about 28 x 52 inches. Standard cribs also frequently come with extra features like convertible choices and adjustable mattress heights. Below you will find a more detailed look at the dimensions of each type of crib, weight limits, and more.
Dimensions
The obvious difference between a mini crib and a regular crib is the size. A mini crib is generally about two-thirds the size of a regular crib.
Mini cribs typically measure between 36-43 inches in length and 24-28 inches in width. This makes them the perfect option for a smaller space or in a room where you need more than one crib.
A standard size crib measures at around 28-30 inches in width and up to 52 inches in length. The benefit of a larger, regular size crib is that your baby can use it for longer. In my opinion, they are the best option if you have the space to accommodate it.
This is mostly because you can use a standard crib for a longer period of time and will likely have the option to convert it to a toddler bed and possibly even a regular bed as well. Whichever size crib you decide on, make sure to get a mattress that fits the entirety of the crib interior.
Weight Limit
The next point to consider when deciding between a mini crib and a standard crib is the weight limit of each. A mini crib can often accommodate babies until they reach 45 pounds in weight or roughly 3 years of age. Whereas the standard size crib typically is safe for a child until 4 years of age or up to 50 pounds in weight.
Generally, your baby will utilize either size crib until he or she is ready to transition to a toddler bed. This transition can happen anywhere from 2-4 years old.
Mattress Size
Having the right sized mattress to fit in your baby's crib is very important. The general rule of thumb is that less than two fingers should fit between the mattress and the crib.
A mini crib takes a mattress which is 24 inches in width and 38 inches long. The depth of the mattress can be between 1 and 6 inches.
When it comes to a standard size crib mattress, you will want one that is 28 inches in width and up to 52 inches in length. When getting a mattress for a standard crib the thickness needs to be fairly dense, around at least 6-8 inches.
Portability
One of the biggest perks of a mini crib is the portability. This makes it the perfect choice if you want to move the crib between different rooms in your home.
A standard crib is a little more hefty and definitely not easy to move around. If you invest in a standard crib, but still want something that you can transport easily, you may want to look at getting a portable bassinet or crib.
Reasons To Use a Mini Crib
Why would you consider a mini crib vs a standard sized crib? Here are some of the most common reasons parents invest in a mini crib.
Space saver – If you have a very small home or your baby nursery is on the more compact size, a mini crib might be the better choice. Your baby can use it till they transition to a toddler bed and you will have plenty of space in his or her room.
Portability – A mini crib has wheels and can be moved around your home. They are more compact and lighter as well.
Twins / Multiples – As a twin mom myself I know the difficulties for coming up with sleeping arrangements for twins. Finding space for both babies can be difficult. Mini cribs are a perfect investment to give both babies their own comfortable spot without sacrificing as much nursery space.
Grandparents – Mini cribs are a great idea to purchase for a grandparents house. They do not have to use up too much space, but their grandchild can sleep in his or her own space. Sleepovers will be a breeze.
Budget-friendly – If you are wanting a cost-effective crib, the mini crib is the answer. Since they are smaller, they tend to have a smaller price tag.
Newborns – Newborn babies need their own sleep space, but if the space is too big they might not sleep well. A mini crib provides a smaller sleep space.
Fits in your bedroom – If you want to skip getting a bassinet, but want your baby to sleep in your room a mini crib could be the answer. With its smaller size and portability it might fit better in your bedroom. Your baby can sleep in the same room with you until he or she is old enough to move into the nursery.
Is a Mini Crib Safe Vs a Regular Crib?
When it comes to the safety of your baby, both mini cribs and regular cribs are designed to meet safety standards. Here are some key points to consider when evaluating the safety of these two crib options.
Mini Cribs
As long as they meet crib safety standards, mini cribs are considered safe for your baby. Ensure the mini crib you choose adheres to regulatory guidelines for crib slat spacing, mattress firmness, and structural stability.
Keep in mind that mini cribs are designed for infants up to around 2 years old. You will need to transition your baby to a larger bed around this time.
Regular Cribs
Regular cribs also meet safety standards and provide a secure sleeping environment for your baby. Many standard cribs offer adjustable mattress heights. You can lower the mattress as your baby grows and becomes more mobile reducing the risk of climbing and falling.
Convertible cribs are a popular option. They provide additional safety features such as guardrails and sturdy construction when transformed into a toddler bed. Many convertible cribs also convert to a full size bed too.
General Safety Precautions
Reduce the possibility of suffocation or entrapment by using a firm mattress that fits tightly inside the crib frame.
Extra blankets, cushions, and soft toys should not be placed in the crib since they can suffocate a baby.
Make sure all gear is securely fastened and routinely check the crib for any damaged or loose parts.
Whatever style of crib you select, keep in mind that your baby's safety while sleeping depends on you adhering to safety precautions.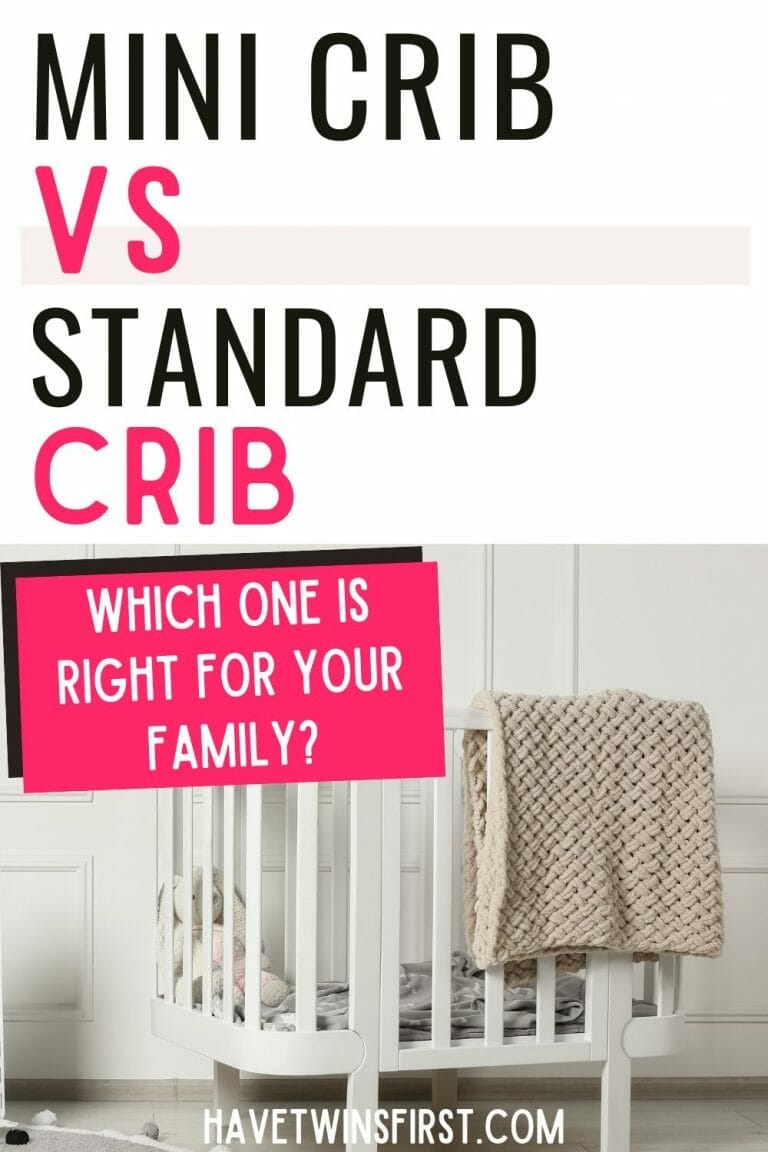 The Best Mini Cribs
Now that we have looked at various aspects of a mini crib vs a standard crib, let's review the best mini cribs on the market. With this list you can make an informed decision on the mini crib that will work best for your setup at home.
DaVinci Kalani 4-in-1 Convertible Mini Crib
The DaVinci Kalani mini crib is made from sustainable New Zealand pinewood that is TSCA compliant. It has passed all the rigorous scientific testing in order to receive the GREENGUARD Gold certification.
Some of the other key features of this mini crib include:
Four adjustable levels to grow with your baby
Converts to a mini toddler bed and a twin-size bed (conversion kits sold separately)
Product dimensions are 40″L x 28.75″W x 38.25″H
Space efficient and budget-friendly
Free of any toxic chemicals and finishes
Overall this mini crib from the DaVinci range is a great investment and it does come with a thin mattress pad.
Dream On Me Aden 4-in-1 Convertible Mini Crib
The Dream On Me Aden mini crib is also made from New Zealand pinewood. It is GREENGUARD Gold certified, which means it is free from any toxic chemicals and materials. This strong and sturdy mini crib is really nice to look at too!
Some of the other key features of this mini crib include:
Includes 1-inch mattress pad
3 position mattress adjustment
Converts to toddler daybed or twin bed (conversion kit for twin bed sold separately)
Crib dimensions – 39″L x 28″W x 38″H
Overall this mini crib is perfect as a budget-friendly, top quality crib for your baby. It's also the one I recommend for those having multiples.
HARPPA Portable Mini Crib
This HARPAA portable mini crib is also made from amazing high-quality New Zealand pinewood. It is free of harsh and toxic chemicals and finishes too.
If you are wanting a mini crib that really stands the test of time and grows with your baby, this is the one for you. It is a 6-in-1 crib that converts into a newborn bedside sleeper, a toddler daybed or twin bed, and can even into a desk later on.
Some of the other key features of this mini crib include:
Portable with castor wheels
Compact size and sturdy
Fits in any room
Easy assembly
Adjusts to 3 different heights
Safety tested
This mini crib is an excellent value, especially because you receive a mattress and mosquito net too.
Before we move on I do want to mention that all three recommended mini cribs do come with a thin mattress. Most reviews, however, for all three items recommended investing in a thicker mini crib mattress.
Mini Crib Disadvantages Vs a Standard Crib
Size is one of the main drawbacks when comparing a mini crib and a standard crib. As we discussed in detail mini cribs are smaller than regular cribs.
This means your baby will outgrow it much faster. This might be a big negative, especially if you're wanting to invest for the long term.
A conventional crib gives your infant more area to develop and can be used until he or she is old enough to graduate to a toddler bed. A mini crib can also make it tough to find accessories and bedding that fits.
Mini crib mattresses are generally thinner, so they might not be as comfortable as a conventional crib. With all that said though, the main thing is to make sure you choose a crib that fits your lifestyle and the needs of your baby.
How Long Can a Mini Crib Be Used?
The general rule of thumb for both mini and standard cribs is that when a toddler stands AND tries to climb out of the crib, it may be time to move to a toddler bed. Since a mini crib is rather compact, depending on how fast your baby grows, you may need to move to another crib or toddler bed at 1-2 years of age. The typical time is around 2 years old.
At this point, you may need to move to a standard crib. Or if you have a convertible mini crib, you can convert it into a toddler bed. Just make sure you have a safety rail installed too.
Deciding between a mini crib vs a crib can be difficult!
When you are buying a crib for your baby you will want to consider various factors before settling on the right product. If you have a small space or are expecting multiples, purchasing a mini crib might be a necessity.
I do recommend investing in a crib that is convertible, whether you get a mini crib or a regular crib. This way you can be sure that your child can use it for many years.
Before I sign off, are you pregnant or working on your baby registry? If you are, then I highly recommend you grab these two FREE checklists (baby registry and trimester) to help you stay organized. Just fill in the form below.