When you first realize you are about to become a mom, the excitement is real, but it can sometimes be very overwhelming when you realize how many things a new baby (and new mom) may need. Thankfully this amazing thing called a baby registry was invented.
But, when should you actually start your baby registry? When should you complete and share your baby registry? What if you are having twins, is the timeline different?
These questions are exactly what we are aiming to review in this post. As you read on below keep in mind that technically there is no perfect timing – but we can help you with some guidelines.
Please note, there are affiliate links in this post. Read my privacy & disclosure policy at the bottom of this page to learn more.
When Is the Best Time To Start a Baby Registry?
Many expectant parents start a baby registry almost immediately after they find out they are having a baby. But generally only start adding items to the registry around the end of the first trimester.
We recommend starting your baby registry by 20 weeks into your pregnancy at the absolute latest. By this time if you are finding out your baby's sex, you should know it, which can make it easier to create your registry.
My personal recommendation is to get started around 12 weeks. This will give you plenty of time to really plan out what you want to put on there, without too much stress.
Remember, it is in your best interest to do your research on the items you want and are must haves. You want to avoid adding too many items to a baby registry that are just "nice to have".
When Should You Start a Baby Registry For Twins?
Twins are typically born earlier than a singleton pregnancy, plus you need more items with twins. With this in mind and as a twin mama myself, I recommend starting a twin baby registry by 16 weeks pregnant at the latest.
When creating a twins baby registry, you should also take note of what you actually need two of and which items you can use for both babies.
How Long Does It Take To Create a Baby Registry?
Creating a baby registry is not something you want to feel rushed while doing. This is the reason for the recommendations above on when to start a baby registry.
As far as creating a baby registry and completing it, everyone will be a little bit different. You will need at least a few hours over the course of a week to get your baby registry mostly completed.
I also think it's hard to fill out your registry completely in one sitting, just because it's a lot to take in and research what you really want. However, don't be surprised if you end up spending more time than that on it.
You could create a baseline with all the necessities over the course of about a week, then go back and add more, or even take baby items off, as you have time to do more research over the next month.
Take your time and make a registry that is reasonable and sustainable. Sustainable in the way that the items you have on it can be used for an extended period of time – or even better – used for the next baby (if you decide on having more kids).
When To Share or Make Your Baby Registry Public
As we have now seen, making your baby registry can start as early as the day you find out your pregnant. But, this does not necessarily mean you will share it or make it public at that point.
If you are having a baby shower, the general rule of thumb is to share or make your baby registry viewable to the public as soon as the invitations go out to the guests. This generally happens sometime at the beginning of the third trimester.
It is okay if your baby registry is public before shower invitations go out. Sometimes family and friends will ask if you have one beforehand anyway. You just want to make sure you have a baby registry list you are happy with by the time baby shower invitations are in the mail.
The same rules apply if you are having twins. Just keep in mind your shower will likely be a few weeks earlier than someone having a singleton, and therefore sharing your twin registry will happen sooner.
By creating a baby registry for your shower, you can ensure that your guests will have a clear idea of exactly what you would like to receive as baby gifts.
Before we move on, you might find these FREE printable Baby Registry & Pregnancy Checklists helpful. Just fill in the form below to get them. Learn which must haves to put on your baby registry and when to complete items in each trimester of your pregnancy.
Where To Create a Baby Registry
Now that you know when to start your baby registry and when to share your baby registry, it's probably a good idea to know where the best places are to actually create it. Where you choose to create your baby registry can be location dependent, budget dependent, or even dependent on if you are looking for specialty items.
There are many options, but here are some of our favorite baby registry stores, and the most used.
Remember, you can choose one or many from the list. In fact, if you choose more than one place to have your baby registry, you will be able to cater to the variety of people who will be shopping for you and your baby.
What To Put On Your Baby Registry
Your baby registry should have the essentials on it but you can also add the items that your heart desires for your little one as well. In the meantime we have created a list of must-haves that really should make it onto your baby registry.
You can also get a more detailed run down on our baby registry must haves post or by visiting the Have Twins First Amazon Storefront that has baby registry, twin baby registry, and minimalist baby registry recommendations.
Ok, onto our list of baby registry must haves to get you started. For any links below, these are the products I have used, liked, and recommend.
Nursery & Bedding
On The Go
Diaper Must-haves
Feeding
Bathing
Medical Must-Haves
Playtime
Clothing
This will be dependent on when your baby will be born. Keep in mind you do not want to have too many clothes in one size.
For help with baby clothes, check out our post on how many baby clothes you will need.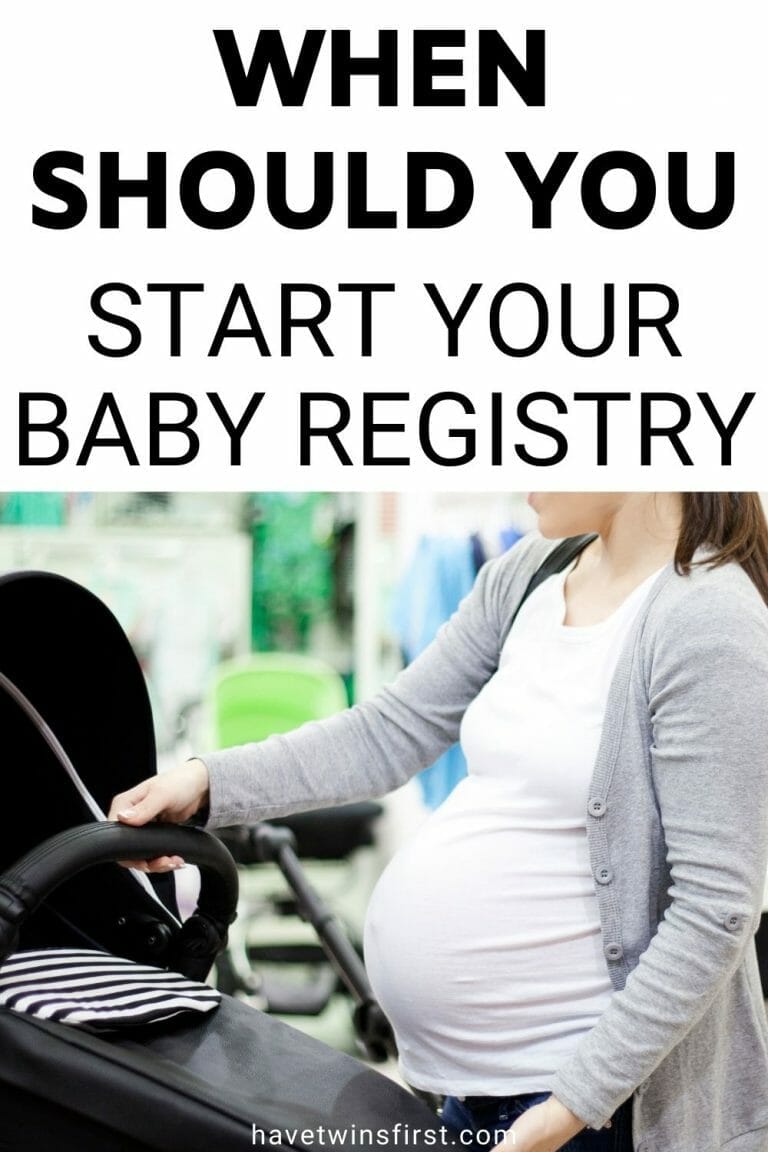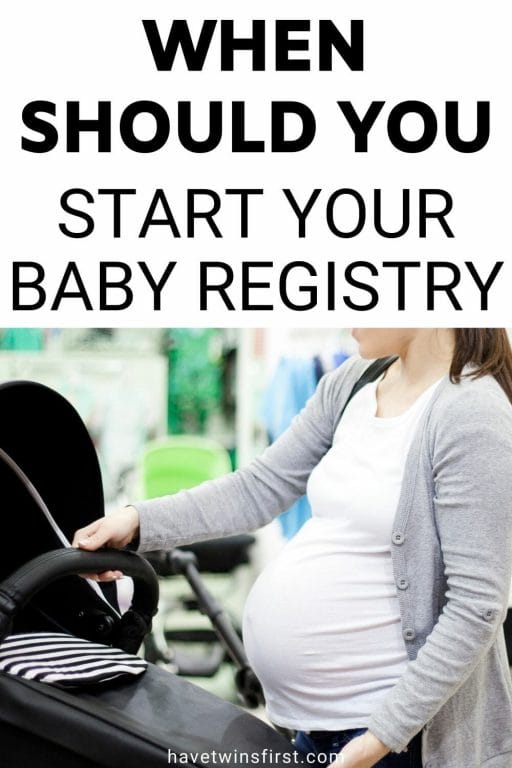 Figuring out when to start a baby registry can be confusing. Hopefully this post cleared up both the best time to start and the best time to share your baby registry.
As you can see, creating your baby registry although confusing can also be really exciting and fun. It can be a great bonding experience for you and your partner too.
Remember, it is never too early to start your baby registry after you find out your pregnant. However, you don't want to start too late and run out of time. Make sure you share your baby registry by the time shower invitations have been sent.
What you put on your baby registry should be reflective of what you feel is necessary for your baby. There are many places where you can create your baby registry and it is a good idea to choose a few that show diversity.
At the end of the day remember to just enjoy the journey and the experience.
Finally before I sign off, if you are expecting you might also be interested in these printable pregnancy resources listed below.