Are you pregnant with twins? Are you wondering which twins baby gear you really need and how much you need? Then you have come to the right place!
I am a mom of twins plus one and I have compiled this twin baby registry checklist with all the twin baby gear you really need. But before we move on you might want to grab our FREE Twin Baby Registry Guide by filling in the form below.
It includes a printable Twin Baby Registry Checklist and links to (2) ideal sample twin baby registries. This guide will walk you step-by-step through selecting the baby items that are perfect for your family's specific needs.
Please note, there are affiliate links in this post. Read my privacy & disclosure policy at the bottom of this page to learn more.
If you just don't have time to read this whole post, then check out my Amazon twin baby registry list with all the gear I recommend. This twin baby registry must haves list is comprised of items I have personally used or items I wish were around when my kids were newborns.
As I was assembling this list for first time twin parents, I took into account which baby gear you can get at the best price for its quality. Without further ado, here is the ultimate list of the twin baby gear you will need when preparing for twins.
Where To Create Your Twins Baby Registry
Before we start talking about what and how many twin baby items to register for, let's quickly review where to register. I personally recommend creating two twin baby registries.
The top places I recommend are Amazon, Babylist, or Target. When you choose multiples stores the people in your life, who will be shopping off of your registry and attending your twin baby shower, have more options. It's also nice to have an online choice and a brick and mortar store option.
And before we move I have one last item to share with you. Feel free to check out these super helpful twin pregnancy resources. When I was pregnant, I found there to be a lack of resources for expecting twin parents.
That's why I started this blog and to go along with that I have also created some helpful digital products as well. Check out the items below:
Okay – on to the twins baby registry checklist items.
Strollers & Car Seats For Twins
In this section we will cover exactly what you will need when you are on the go with your twins.
(2) Infant Car Seats with Base
I highly recommend the Graco infant car seats because I have always found the Graco car seats easy to use. I also recommend Graco seats because they are the lightest weight, which is a plus when carrying two babies around.
If you are looking for another good quality option, Chicco infant car seats are very popular too.
(2) Car Seat Bases per each additional car (optional)
When you buy an infant car seat it comes with a base. But, if there are other cars that will be driving your babies around regularly, you will want to get just the base for those cars too.
The car seat base must be from the same company as the car seat.
(1) Double Stroller Frame
A double stroller frame is much lighter than the double convertible strollers. While a convertible stroller is manageable as a single stroller, once you are talking about a double stroller it is just way too heavy and bulky.
When your babies can sit up with support it will make your life easier to get a lightweight double umbrella stroller.
(2) Convertible Car Seats per car (optional)
You will not need these car seats until your babies grow out of their infant seats. It's up to you if you want to register for these, then store them or wait until you need them to purchase them.
When picking a convertible seat, consider if you are planning to have more children. It could be important to pick slim convertible seats, that will allow you to fit up to three car seats across in your car.
(1) Double Umbrella Stroller (optional)
Just as with the convertible car seats, you will not need a double umbrella stroller right away. It's your choice if you want to add it to your registry to store for later or not.
The Summer Infant 3D strollers are a really great product, with a manageable price point. I recommend opting for the Summer 3Dpac CS+ Double Stroller.
This stroller is easy to push when you are out and about, has lots of storage, and is easy to fold up and to open.
Twin Baby Gear & Furniture For The Nursery
What are the twin baby registry nursery must haves? Let's take a look here.
(2) Cribs
You will need two cribs for your twins. Even if your newborn twins sleeping arrangements include sharing a crib, as soon as your babies start moving in their sleep you will want them to have their own space for safety reasons.
I recommend getting cribs that convert to toddler beds, and to also consider if you want the beds to be able to convert to a full size beds too.
(2) Crib Mattresses
This crib mattress was great for all 3 of our babies. And you can't beat the price point either!
(1) Short Dresser with at least 3 Drawers
I know this is very specific, but I wanted to share what I felt was an appropriate amount of storage for twins. If you have a short dresser, plus the furniture listed below you will be in good shape.
It's important to get a short dresser so you can put a changing pad on top of it.
(1) Tall Dresser with at least 5 drawers
A tall 5-drawer dresser, the short dresser, plus a full size closet will provide plenty of space for clothes and diapers for your twins.
(1) 4-Shelf Bookcase
A bookcase provides space for books, plus any additional storage that might be required.
>>For help saving money on nursery furniture check out this article on the best budget nursery furniture<<
(1) Changing Pad
I recommend putting a changing pad on top of the short dresser instead of buying a changing table.
(2) Changing Pad Covers
Don't forget to get a couple changing pad covers too. You will want at least 2 in case of any accidents.
(2 packs of 2) Waterproof Mattress Pads
You will need four waterproof mattress pads so you have a backup for each baby in case of diaper leaks. And yes it did happen that my twins leaked on the same night a few times.
(4) Fitted Crib Sheets
I personally like percale sheets. They are lightweight and breathable to help keep your babies from getting too hot.
(1) Night-light
You will want a night-light for middle of the night visits to the nursery. You can continue to use it during the toddler years and beyond.
This one is a great price and still works over 4 years later.
(1) Hamper
If you don't already have a hamper you can use in the nursery, then you will want to add one to your twin baby registry. Get one in neutral colors so it can be used elsewhere in the future.
(1) Video Baby Monitor (optional)
It's hard to find a video monitor that is absolutely perfect. For twins you will want a system that can handle 2 cameras.
The other thing you will need to decide is if you want a separate monitor or just an app on your phone or both.
(1) Set of Blackout Shades (optional)
Blackout shades can help your babies get better sleep after it gets light in the morning and and also nap for longer during the day. Personally, I think it's worth investing in these.
If you prefer curtains, check out this list of the best nursery blackout curtains.
(1) Sound Machine (optional)
Although a sound machine is not completely necessary for your twin registry, it's an item my babies loved and still use to this day. So, I would recommend adding this to your registry for twins.
(2) Crib Mobiles (optional)
You will want to select crib mobiles that match your nursery theme. This is a very optional item, but they are great for helping establishing a bedtime routine and add to the aesthetic pleasure of your twins bedroom.
(1) Double Glider Chair (optional)
I wish I had known about this double glider chair when I had my twins. I'm not sure if they existed yet.
If you will feed your twins at the same time in their nursery during the night, this is definitely worth the investment. You can also use a nursery feeding chair for twins in the future to read to your twins before bed.
Diaper Changes For Twins
This list is for using disposable diapers. You can get more info on cloth diapering twins here.
If you are opting for disposable diapers, I would put the quantities listed below on your twin registry and buy more diapers in the correct size, as needed. Keep in mind, there is a good possibility you will also receive diapers as gifts.
(2) Cases of Newborn Diapers & (2) Cases of Size 1 Diapers
I personally like Pampers Swaddlers for size newborn, size 1, and size 2. One nugget of information to keep in the back of your head is that when babies get bigger – around 6 months of age or when they go to size 3, the Costco Huggies called Huggies Plus are awesome.
These diapers are made specifically for Costco only and have extra protection. I love the Huggies Plus diapers because there is a noticeable difference in absorbency compared to all the other diaper brands I have tried.
(1) Case of Wipes
You can start with one case of wipes – they will last a while. I like the Huggies Natural Care wipes.
(1) Changing Table (if have 2 floors)
I recommend getting a changing table if you have 2 floors in your house. We purchased this one and it has been great. It's a good price, still in good condition, and has plenty of storage.
If you get a changing table you will need another Changing Pad and another Changing Pad Cover.
(2 packs of 5) Waterproof Changing Pads
These are great for diaper changes on your bed in the middle of the night during the newborn phase and to protect the changing pad cover.
When your babies get bigger use them for diaper changes on the floor. Stick some in your diaper bag too.
(1) Diaper Bag
I liked this diaper bag because it's big enough for twins and had just the right amount of storage.
(1) Container of Diaper Rash Cream per changing area
Aquaphor is my favorite. It is also good to get a small tube of diaper rash cream to keep in the diaper bag or diaper caddy.
Hand Sanitizer
You don't need to necessarily put this on your baby registry. But, keep some at each diaper changing area and have a travel hand sanitizer for the diaper bag.
(1) Diaper Pail per changing area (optional)
This item is optional, but I personally liked having a separate spot for diapers. Diaper pails do help reduce that poopy diaper smell.
I recommend the diaper genie, it worked really well and I didn't find the refills to be too costly.
Twin Baby Gear For Sleeping
We already reviewed twin nursery items, but let's go over some additional things you need or might want for helping your twins sleep well.
(2) Bassinets (optional)
If you plan to have your twins sleep in your room at first, as recommended by the AAP, then you will likely need bassinets. It's more than likely you will not have space for two cribs in your bedroom, so two small bassinets, a double bassinet, or a twins playard are great options.
>>Read up on the best bassinets for twins here<<
(12) Swaddling Blankets
I recommend a total of 12 swaddle blankets. But you will take as many receiving blankets as you can from the hospital (they are great quality and free). The hospital blankets are big, so they are great for swaddling or they can be used as burp cloths.
I would register for two packs of four muslin swaddling blankets since you will probably get at least four blankets from the hospital (two per baby). My absolute favorite swaddling blankets are the aden+anais swaddling blankets.
These cotton muslin blankets are big, soft, and have some give. This makes them perfect for swaddling.
Pacifiers
Register for 1 pack each of a couple different brands to see what your babies prefer. Two of my kids liked the Philips Avent soothies and one would only take the Nuk pacifiers.
(2) Playards or Portable Cribs
I will start this by saying that I DO NOT recommend the twin Pack N Play. This is because you can only use the top part of the bassinet for about 6 weeks.
After that, you will use the bottom playpen and the twin pack n play is larger than a regular playard. So you need special sheets and it just takes up more space. This is not convenient when you will already need to carry two playards or travel cribs when you travel.
What you should do is register for just two basic playards. You don't need the bassinet and changing space because you can only use this for about 3 months tops.
So why do you need playards at all? They are great for traveling! You can use them as portable cribs for up to 3 years old.
On top of that you can use them as playpens from 6 to 10 months old. It provides a safe play area, and is especially useful when you need to leave the room for a few minutes.
(1) Swing (optional)
I personally like the glider swings because they take up less space. There was a 3 to 4 week period where this was all two of my babies would sleep in at night.
So, I definitely think it's worth getting a swing to help get some sleep at night, but you shouldn't need more than one. If you decide you want a second swing you can always get one after your babies arrive.
(4) Velcro Swaddles (optional)
These are especially nice for first time parents that are not confident in making a good swaddle. I like the SwaddleMe Velcro swaddles best.
(2) Baby Merlin Magic Sleepsuits (optional)
This was a necessity in my home! I love the Baby Merlin because you can use it to help when transferring from sleeping in a bassinet to a crib.
We only used the 3 to 6 month size because the kids fit in it well past 6 months. So don't worry about registering for the bigger size.
(4) Wearable Blankets (optional)
You can transition to wearable blankets after after your babies grow out of the Merlin sleepsuit. My kids used these blankets through the toddler years.
They loved them. Medium will be the size you need when transitioning from the Merlin suit.
Feeding Gear For Your Twin Baby Registry
In this section we will review twin feeding must haves including breastfeeding twin baby registry must haves and what you will need if you formula feed your twins.
(16) Burp Cloths
I prefer flannel burp cloths over terry burp cloths, they seem to be more absorbent. Cloth diapers also work well as burp cloths.
(20) Cloth Bibs
There is a good chance you will receive a lot of bibs for presents, so you could wait and see what you get first. If you do want to put some on your registry, I recommend cloth bibs that have a waterproof backing.
(4) Silicone Bibs (optional)
These are awesome when your babies start eating solid foods. These silicone bibs will fit well after your babies reaches 9-12 months and grow with your baby for a long time.
My 2 year old still fits into these bibs and I have not had to replace them.
(1) Bottle Brush
I love this bottle brush and the fact that is comes with a stand.
(2) High Chairs (optional)
You will need high chairs, but they are optional because you will not need them until your babies start solids. This Baby Trend high chair held up really well – I definitely recommend it.
They are easy to clean and the storage spot for the tray is perfect. The only downside is it takes up a lot of space.
If you have a small living space, I recommend getting booster seats that attach to a kitchen chair instead. You can also use these when traveling.
(4) Sippy Cups (optional)
Make sure to start with the trainer cups. Get two different brands to see which one or ones your babies like.
We started putting small amounts of water in a sippy cup around 6 months. This made transitioning away from the bottle at 1-year-old much easier.
We had the best luck with this Munchkin cup and this NUK cup.
(12) Plastic Spoons (optional)
We received a large variety of baby spoon brands for gifts. I always find myself reaching for these Munchkin ones, they are by far my favorite.
(12) Plastic Bowls (optional)
I liked these bowls. They are good quality and conveniently come with lids. IKEA also has nice sets of plastic-ware for babies.
(1) Bottle Drying Rack (optional)
We love the Boon grass drying rack. It has gotten a lot of use and it has been a conversation piece when we've had visitors.
It's also beneficial to get the twig and flower accessory that you buy as a set or separately from the rack.
Breastfeeding Twins Baby Registry Must Haves
These recommendations are based on waiting to see how twin breastfeeding is going before investing too much money into it. These items will get you started.
If it's going well you can buy more gear as you need it. One last tip, it might make the most sense to get your FREE (through health insurance) breast pump at the hospital.
You should also get measured for your nursing bra size by the lactation department. Once you know your size, Target has a lot of great nursing bra choices.
(1) Double Feeding Pillow & (1) Single Nursing Pillow
Get one double breastfeeding pillow and one single nursing pillow. For the double nursing pillow I highly recommend the TwinZ pillow.
This pillow is also great to just let your babies lounge around. Don't forget to get a cover if the pillow doesn't come with one.
(1) Box of Breast Pads
I recommend the Lansinoh brand and starting with a box of 60.
(1) Tube of Lanolin
I prefer the Medela brand over the Lansinoh brand – it flows much easier out of the tube. I only used this during the first few weeks of nursing, but you will need it.
You will need the items below, but I do not recommend registering for them. Instead, buy them after your babies are born and breastfeeding is going well.
Bottles
The number of bottles you need will likely depend on if you will be away from your babies (such as if you will be working). There are two bottles that come with the Medela breast pump.
In addition, I recommend purchasing two of these bottle sets. The bottle set comes with the nipples you will need for feeding.
If you will be pumping at work you should also get this 2 pack cooler set. For work, you will have 16 bottles in rotation (8 per day).
If your babies take them, use the Medela bottles because all the parts match up with the Medela pump, which makes life much easier.
(1) Hands Free Pumping Bra (optional)
I recommend the Simple Wishes bra. It's comfortable, easy to use, and works well. A hands free pumping bra is especially worth the investment if you will be pumping a lot.
Formula Feeding Must Haves For Twins
You might be surprised to see that you don't need to much gear to get started formula feeding.
(6 – 8) 4 – 5 oz Bottles
I have used both Dr Brown's and Philips Avent bottles. For ease with cleaning, I recommend Avent because it has less parts and did not leak from the nipple as much.
However, it's not always that easy. Sometimes you might have to test different brands to see if your babies have a preference.
If you only want to clean bottles once a day, you can get more bottles after you know which brand your babies do well with.
You will need the items below, but I do not recommend registering for them. Instead, buy them after your babies are born and you know which brand of bottles your babies like.
Purchase faster flowing nipples as needed. You will notice your babies wanting to drink faster, but not being able to. This is the cue for going up to the next level for nipple flow.
If you are formula feeding you should register on the Similac and Enfamil websites for their rewards programs. You will get free formula samples before your babies are born.
Then you will continue to receive coupons throughout the year if you end up using one of these brands for formula.
Clean Up Items For Your Twins Baby Registry
In this section you will find all your laundry must haves for twins and twin baby bath must haves.
(1) Baby Bath Tub (optional)
You don't need anything fancy, but it's very helpful to get a tub that has an infant insert.
(6) Baby Bath Towels (optional)
You can use towels you already own, but I prefer the hooded baby towels.
(6) Baby Washcloths (optional)
You can buy special baby sized washcloths if you want. You can also just use wash cloths you already own.
(1) Set of Baby Soap / Shampoo / Lotion
I have used Johnson & Johnson, Babyganics, and Aveeno. I like Aveeno the best, it cleans well and is very gentle on the skin.
It takes a long time to get through a bottle, so it's worth the extra cost.
(1) Pair of Nail Clippers or Scissors
I personally like using nail scissors over nail clippers.
(1) Bottle of Baby Friendly Laundry Detergent
I have always used Dreft because I love the smell and it cleans well. You can also get any brand of free and gentle detergent, which can be useful if you don't want to keep track of different detergents for the adults and older kids.
(1) Spray Bottle of Laundry Stain Remover per changing area
You don't necessarily need to put this on your twin baby registry. But it is an absolute must to have this on hand!
OxiClean, Shout, Spray N Wash all work well. You do not need to purchase the baby friendly version for stain remover.
Baby Clothes For Twins (Optional)
You do not need to register for much clothing because you will receive a lot of clothes as gifts. You should also hit up friends and family who are looking to get rid of their baby clothes.
In fact, depending on how much you think you will get from others, you can consider this entire section optional.
The going home outfits are something you will pick out. I always opted for a sleeper. Zipper sleepers are much easier to use than the ones with buttons.
Buy additional clothing as you see fit, once you have received gifts and hand me downs.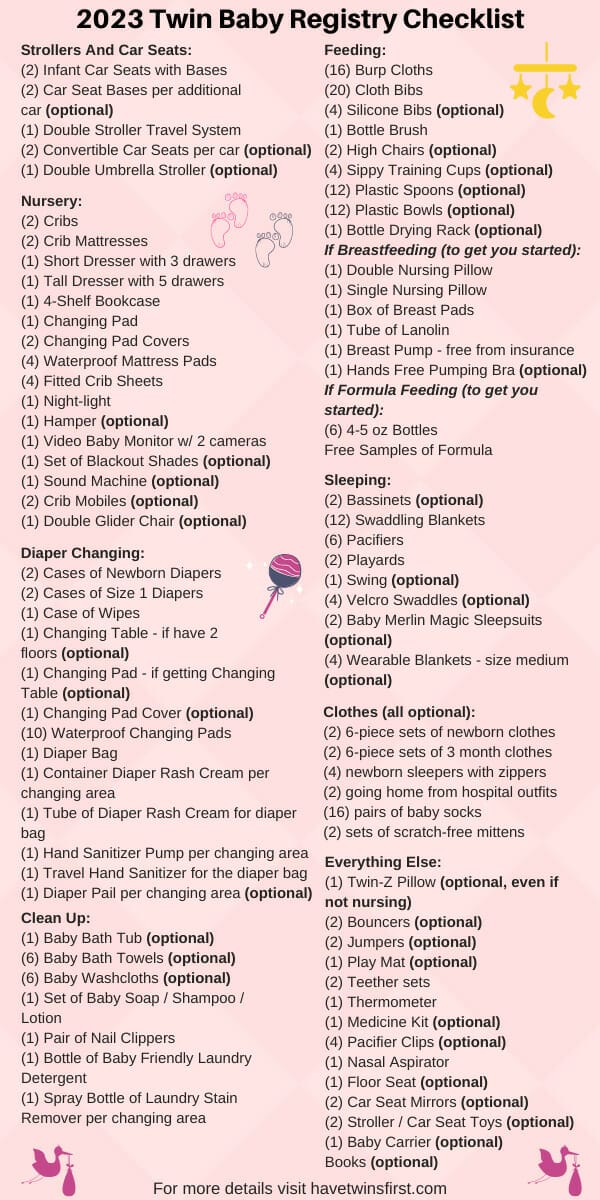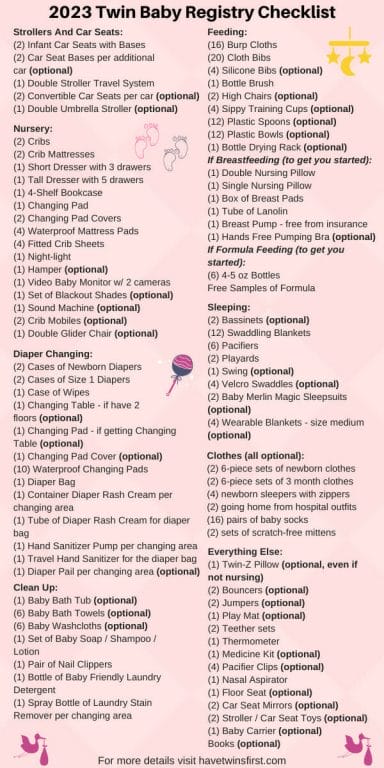 Everything Else For Your Twin Baby Registry List
That pretty much covers most of your typical twin baby needs. In this last section for your twin baby registry we cover the last few items you will want to consider putting on it.
You will also see some must have twin registry items in this section as well.
(1) Twin Z Pillow (optional, even if not breastfeeding)
The Twin Z pillow appeared in the breastfeeding must haves section, but it is also a great pillow for bottle feeding twins at the same time. On top of that, you can use the Twin Z pillow when your twins babies are just lounging around too.
It's easily portable to bring to different rooms in the house. Just note that it is not intended to be used for sleeping.
(2) Bouncers (optional)
My twins loved napping and lounging in their bouncers. If you want your babies close by while you get some stuff around the house these are a great investment.
My kids always slept well in them. It's not a necessity, but very convenient to have an extra napping spot.
(2) Jumpers (optional)
My twins played in these a lot, they just loved them! It also lets you get some stuff done while your babies are entertained and safe.
I recommend the Fisher Price jumpers. We also had a Baby Einstein jumper, but the Fisher Price one was always more popular in our house.
(1) Play Mat (optional)
This is great for tummy time. You will get a lot of use out of a play mat during the first 6 months. Make sure you get a mat that is big enough to fit two babies.
Teethers
I found my kids gravitated towards teethers from the freezer. So go with a set that you can safely put in the freezer.
(1) Thermometer
I recommend this non-contact thermometer. It works well, it's easy to use, and it won't upset your kids.
(1) Medicine Kit (optional)
This new baby medicine kit is great to have on hand. Especially when it's 3am and your babies have been screaming for who knows how long.
(4) Pacifier Clips (optional)
Having a pacifier permanently clipped to the car seat is a great way to make sure you never forget it when you go out.
(1) Nasal Aspirator
You will probably get one for free at the hospital, so you can just use that one. However, I really like the Nosefrida.
Does it sound gross? YES! But it works so well and there is a filter to prevent any exposure to snot. Plus, the tube is so long I've never had anything come anywhere close to the filter.
(1) Floor Seat (optional)
This is not a necessity, but all my kids really loved having a spot to sit up before they could do it on their own. I never found the tray to be useful, so don't worry about getting that accessory.
(2) Car Seat Mirrors (optional)
Just get them for the car you drive in most.
(2) Stroller and Car Seat Toys (optional)
Stroller or car seat toys are good to have, but there is a very good chance you will receive a few of these as baby gifts. You can register for a couple, or just wait and see what you get.
Books (optional)
If you have a few favorites you could put them on your registry. But honestly I do not recommend registering for any books because you will receive many for gifts.
(1) Baby Carrier (optional)
I could never get the hang of using a baby carrier. But I know many moms that couldn't live without it.
If you think you will use it then register for one. If you're not sure try to borrow one from a friend.
More Twins Baby Gear Registry Checklist Tips
I know making your twin baby registry can seem overwhelming and expensive. Reading through the above list is a lot to take in. As you create your twin registry keep the following tips in mind too.
A reminder that if you have two floors have a changing area upstairs and a changing area downstairs and a hamper for upstairs and one for downstairs.
When it makes sense buy gender neutral items. If you have more children you will be able to reuse this gear.
Borrow baby gear from your family and friends.
If you have Once Upon a Child or another baby consignment shop near you, it might be a good place to find something on the expensive side that you will not use for that long (like a swing).
Another place to look for used baby gear are Facebook groups. I bought my floor seat for $5 and our swing for $35 this way. I even bought twin maternity clothes on a Facebook swap site.
That's a wrap on this post for creating your twin baby registry checklist!
That is the complete twin baby gear registry checklist I recommend. Before you go, be sure to check out our other resources.
First, as a reminder you can get a FREE Twin Baby Registry Guide, which includes a printable twin baby registry checklist and links to (2) sample twin baby registries. It will guide you step by step through which baby items to get and how much of each, plus much more. Just fill in the form below.
Finally, the following twin pregnancy printables might be helpful for you too:
Good luck with the arrival of your twin babies, including your twin pregnancy delivery, and have fun creating your twin baby registry!