Hey there soon to be twin mama, congratulations on your twin pregnancy! I'm guessing you are here because you want to know all about twin maternity clothes. Well, you have come to the right place.
In this post I will be reviewing everything you need to know about twin maternity clothes. This includes how many maternity clothes you need, when to start shopping, where to shop for maternity clothes, and more.
Please note, there are affiliate links in this post. Read my privacy & disclosure policy at the bottom of this page to learn more.
When To Start Buying Maternity Clothes
The first thing we need to discuss is when you will need to start buying maternity clothes for your twin pregnancy. During your twin pregnancy experience, you will start showing a little bit sooner.
So, while moms pregnant with one baby start to need maternity clothes around 4 to 5 months, plan to need maternity clothes sooner than this, around 3 to 4 months.
Additionally, you will need to consider whether this is your first pregnancy. If it is, then 3 to 4 months is a good guideline to follow.
However, if this is not your first pregnancy, then it's safe to assume you will start showing earlier than your previous pregnancy. You will probably need maternity clothes closer to the 3 month mark or it's possible even earlier.
Which Seasons Will You Be Pregnant With Twins?
Now that you know when to expect to need twin maternity clothes, let's talk about the time of year you will be pregnant with twins.
As you start shopping for maternity clothes for your twin pregnancy, take into account the seasons you will be needing the clothes. There is a 4 to 5 month time frame that you will be wearing maternity clothes during pregnancy.
And, on top of this, you will likely continue to use your maternity clothes postpartum. This was a little known fact for me personally until my babies had arrived.
The amount of time maternity clothes are needed after giving birth can vary widely, but I would recommend planning to wear them for about 1 or 2 months. However, don't be surprised if you are in them even longer.
Twin Maternity Style Considerations
The last thing you need to consider is they types of clothes you will need. For instance, if you are working, then you might need some professional maternity clothes you can wear to the office.
Or, maybe you have a job where you are on your feet all day and you can be more casual. If you are a stay at home mom, then you are likely going to opt for more comfy clothes.
Whatever you need, the good news is that maternity clothes are so comfortable, even pants for the office!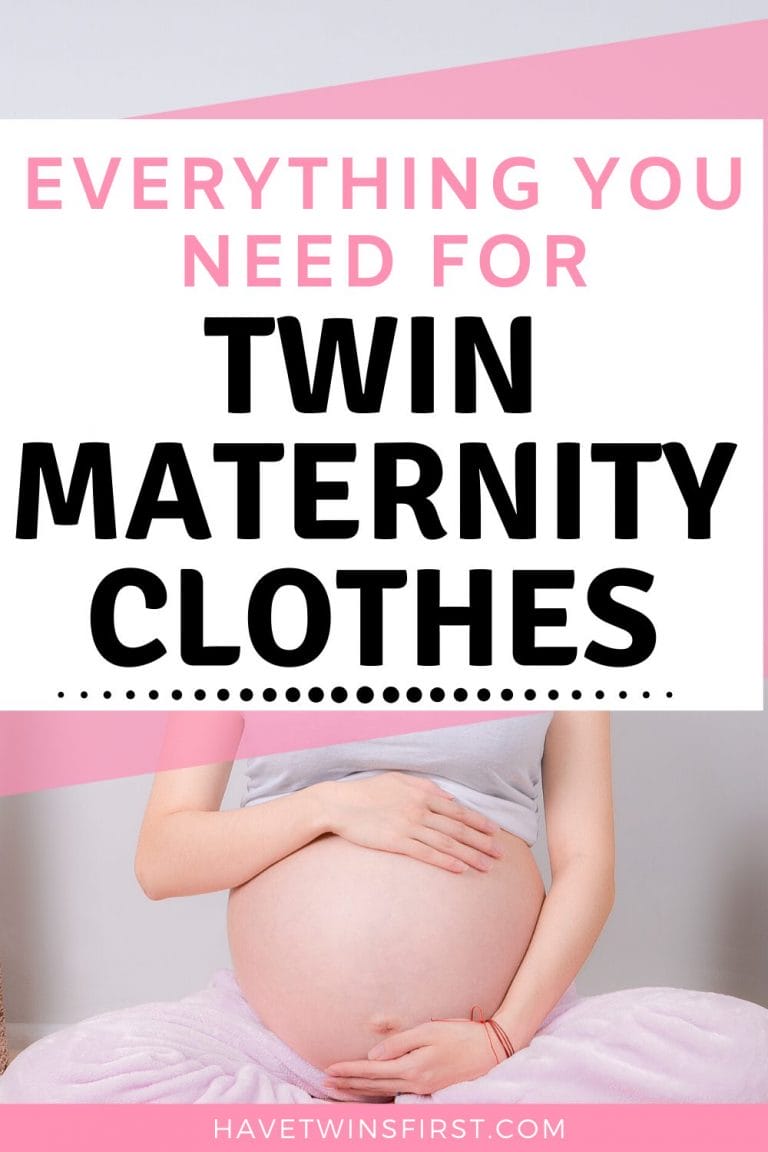 List Of Twin Pregnancy Maternity Clothes
Taking into consideration when you expect to start wearing maternity clothes, the seasons you will be pregnant, and the types of clothes you will be wearing every day, I have compiled the following twin maternity clothes list.
This list of maternity clothes should help you come up with the perfect wardrobe for your twin pregnancy both before giving birth and postpartum.
(10 to 15) shirts
(3) pairs of pants / jeans
(2) pairs of capris / shorts
(2) pairs of leggings
(2) casual maternity dresses
(1) set of pajamas
(1 to 2) bathing suits – if pregnant in the summer
I know this list seems somewhat minimal. But, consider this list the bare minimum. You don't want to waste money and buy more than you need. You can always buy more clothes if you feel you need them.
The intent of the quantities on the above twin maternity clothes list is to get you through one laundry cycle. I also put down only one set of pajamas because they are good to have, especially if you travel.
But you can just sleep in XL mens t-shirts too. This is what I did, rather than spending more money.
Before we move on you might want to grab our FREE Twin Baby Registry Guide by filling in the form below. It includes a printable Twin Baby Registry Checklist and links to (2) ideal sample twin baby registries. This guide will walk you step-by-step through selecting the baby items that are perfect for your family's specific needs.
Maternity Clothes Sizing
When you pick out maternity clothes, you will opt for the size you typically wear. I do want to mention that since you are having twins, it might be a good idea to go one size up for one pair of pants and a couple of shirts.
I say this because, at the end, my twin pregnancy belly was not quite fitting into my typical size anymore. My twin pregnancy delivery ended up being at 35 weeks. If the pregnancy had gone on any longer, I'm not sure if my pants would have continued fitting.
So, you could either buy larger sizes up front. Or, you can wait and see if you need the bigger sizes as you get close to the birth of your twins.
Lastly, you won't necessarily need to buy new shoes. But, you do want to make sure you have comfortable and flexible shoes.
Your feet will get swollen. You need shoes that have some give to them.
Where To Buy Maternity Clothes
Now that you know what you need for maternity clothes, where are the best places to buy all this stuff?
There are four stores I would start with Amazon, Target, Kohl's, and Zulily. These are the places you will find the best deals and decent quality.
If you are still looking for some more pieces to complete your twin maternity wardrobe, then check out Motherhood Maternity. Target has so many choices for maternity jeans.
Definitely check for jeans there first. You can't beat the price.
For leggings and maternity dresses I recommend starting with Amazon. If don't find what you need see what the other stores mentioned have to offer.
Amazon also has some super cute nightgowns and maternity pajama sets.
For amazing deals definitely check out Zulily. They have certain brands they promote for a period of time. So, check periodically to see what they have going on for maternity promotions.
You do have to make an account and give them your email address to browse, but there's no extra cost after that. Also, you will not be bombarded with emails from them.
When purchasing from Zulily you will want to buy everything at once because there is a standard shipping fee no matter how much you purchase. Thinking ahead, Zulily was also a great place to shop for baby and toddler shoes for twins, so now might be a good time to get signed up.
Lastly, if you still need to fill up your wardrobe with a few more pieces, then check out Motherhood Maternity. This is probably a good place to look for something on the nicer side like work pants or a dress for your shower.
As you browse each store don't forget to take a look at their maternity shirts and pick a few out. Before you know it, you will have purchased the 10 to 15 shirts that you need.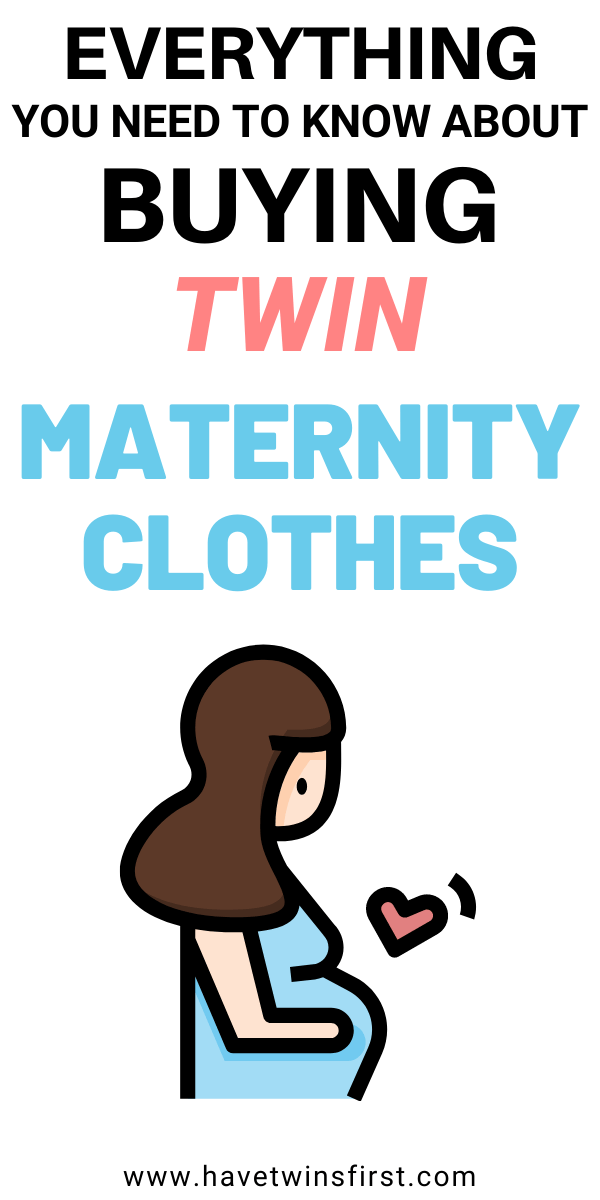 Fun Pregnant With Twins T-Shirts
Personally, I never purchased any pregnant with twins t-shirts. I guess it never even occurred to me.
But, it seems like a fun thing to have. If you would like something like this, then check out these great options for fun pregnant with twins t-shirts.
A couple more things before I sign off. If you want to save some money, hit up your friends or family who were recently pregnant and a similar size to you. They might still have some maternity clothes you can have or temporarily borrow.
And since you are pregnant with twins, you might also be interested in these printable twin pregnancy resources listed below.
That sums up my thoughts on twin maternity clothes. I hope you found this post helpful and are excited to start putting your twin maternity clothes wardrobe together. Happy shopping twin mama!