Hello expecting parents! I'm guessing you found yourself here because you are pregnant, congratulations. There are so many questions that come along with having a baby, including when to start buying baby stuff.
In this post I will be discussing the best time to start shopping for your baby. Additionally, I will be reviewing the things you need to consider, to help determine a good time to start buying baby things.
Please note, there are affiliate links in this post. Read my disclosure policy to learn more.
When To Start Buying Baby Things
I think it's important to cut right to the chase. If it were me, I would be comfortable starting to buy baby stuff after the first trimester is complete. This would be right around 13 weeks pregnant.
The reason I recommend starting to purchase baby items around this time is that the risk for miscarriage decreases once the first trimester is over.
This is also a typical time that expecting parents start telling friends, family, and coworkers their baby news.
Now, there is no hard and fast rule about when to start buying baby stuff. And, by no means do you have to start buying baby things at the 13 week mark.
13 weeks is just the earliest I would start spending my hard earned money.
Is It Bad Luck To Buy Baby Stuff Early?
Another question people wonder is whether it's bad luck if you buy baby stuff too early.
Let's be real, you are not going to medically effect your pregnancy if you purchase baby items during the first trimester of your pregnancy.
If you feel like it's bad luck to purchase baby gear, then don't. That's my best advice, if you're not comfortable with the idea, then don't stress about it.
On a personal note, I struggled to get pregnant. It took me a long time to accept that it I was actually going to be a mom. I think I was all the way into my third trimester when it finally felt real.
My point is that you could be really eager to get going on that baby shopping. Or, you could be like me, and feel you could be jinxing your pregnancy by purchasing baby things.
So, go with your gut and when it feels right to start baby shopping. But, be mindful to not wait until it's too late.
When Is It Too Late To Shop For Baby?
Besides waiting until 13 weeks to start ordering or shopping for baby stuff, it is also possible to wait too long to purchase baby items.
I would recommend at least starting to think about your baby registry or what you plan to buy for your baby by 20 weeks into your pregnancy, at the latest.
If you are looking for baby registry ideas, be sure to check out our ultimate baby registry checklist and our tips on the best places to register for baby.
Starting to get some baby gear by 20 weeks allows you enough time to plan. Plus, don't forget, sometimes babies have their own timeline. Your baby could arrive earlier than expected.
If you are able to have just the things you really need for baby ready by the 32 week mark, you will be in good shape.
So, if you start working on buying baby stuff by 20 weeks, this gives you 12 weeks to get ready for your baby.
Things To Consider When Starting To Buy Baby Stuff
On top of the timelines mentioned above, there are two important things to consider for determining when to start buying baby stuff.
Are you finding out the baby's gender?
Are you having a baby shower? If so, when is your shower?
If you plan to find out the baby's gender, then it will make sense to hold off on buying certain items, such as nursery items and baby clothes for example, until you know your baby's gender.
Secondly, if you are having a baby shower, you are going to want to wait and see what you get before you purchase some of the larger ticketed items from your baby registry.
The timing of your shower will probably be closer to the 32 week mark of your pregnancy. So, if you are a planner and nervous about having everything you need in place, you can always track what's been purchased from your registry.
If there is an item on your baby registry you really want and it's not showing purchased, go ahead and get it. You can always return it if you end up with duplicates.
Personally, I am not a huge planner. So, I just waited until after my baby shower to buy any other baby items I wanted.
Lastly, you should have some control over the timing of your baby shower, so you could aim to have your shower by 30 weeks into your pregnancy, at the latest.
When To Start Buying Diapers When Pregnant
Next, I want to discuss a few specific items and when the best time is to purchase them. First, when should you start buying diapers?
My answer to this, would be to wait until your baby shower. There is a very high probability you will be given diapers. Or, at the very least, you might get gift cards that you can use to buy diapers.
If you are not having a baby shower, then anytime in the 20 week to 32 week range is a good time to purchase diapers. Keep in mind, you don't need to go overboard purchasing diaper changing essentials.
I recommend getting (1) case of newborn diapers, (1) case of size 1 diapers, and (1) case of baby wipes. You don't know if your baby will need a certain brand of diapers or wipes, so stocking up on them could all be a waste.
Additionally, you need space to store all these diapers. Plus, newborn babies grow fast. You might only need one case of newborn diapers before your baby grows into size 1.
When To Start Buying Baby Furniture
What about buying or ordering baby furniture for the nursery? When should you start buying all your nursery must haves?
I would recommend deciding on the nursery decor as soon as you find out the gender of your baby. If you are not finding out, then purchase your furniture anytime after 13 weeks.
This will give you the most time to design and completely setup the nursery before your baby arrives. I would recommend having the nursery setup before your baby arrives.
It is not absolutely necessary to have the nursery ready, the day your baby comes home from the hospital. But, I recommend having it ready because you will be so busy taking care of a newborn. It is one less thing to have to worry about.
Buying Baby Clothes In Advance
I am not a huge proponent for buying a lot of baby clothes. There are a few reasons for this. First of all, baby clothes are a great baby item to buy used or better yet to get as FREE hand me downs.
Secondly, baby clothes are a very common gift, so there is a good chance you will receive a lot of clothes.
Of course, buying baby clothes is fun! So, I recommend buying one outfit in each size through 12 months. This way you have at least one thing you personally picked out, that was just too cute to not get.
I also recommend checking out this guide to find out how many baby clothes you need in each size.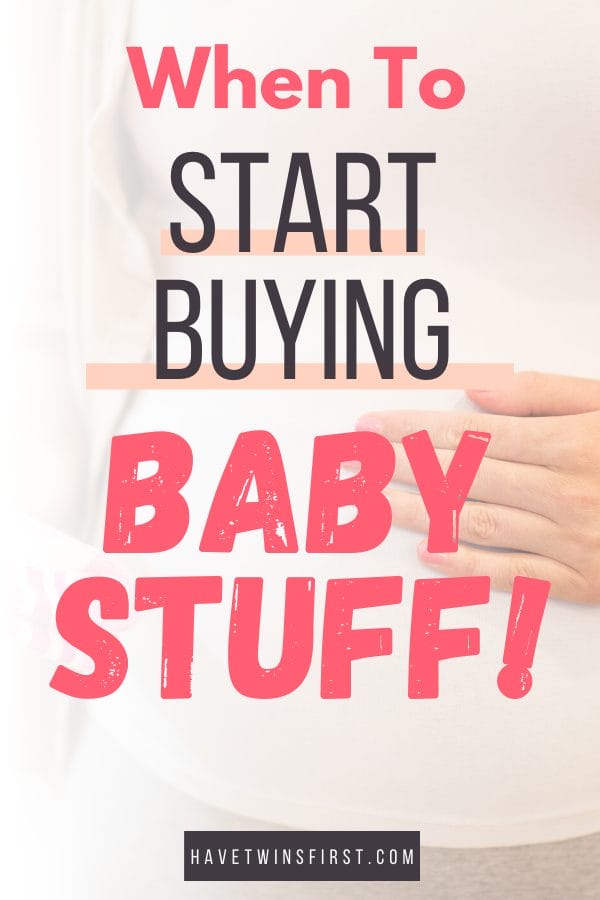 Summary Of When To Start Shopping For Baby
That summarizes my thoughts on when to start buying baby stuff. Before I go, here is a list of the important points to remember.
Start buying baby stuff between 13 weeks to 20 weeks pregnant.
When you start buying baby things will partially be determined by whether you are finding out your baby's gender and if you are having a baby shower.
Start buying diapers at 20 weeks to 32 weeks into your pregnancy.
Order nursery furniture anytime after 13 weeks or after you find out your baby's gender.
Don't go crazy spending a lot of money on baby clothes.
I didn't mention it because I already wrote an entire post on when to buy a car seat and stroller during pregnancy, but I recommend getting these by the start of the third trimester.
More Pregnancy Help
Before I sign off, I figured you are on this post because you are pregnant. I want to share some more resources for you, to help you prepare for the arrival of your baby.
First of all, be sure to sign up to receive both a FREE, customized baby registry guidebook, tailored to your specific needs AND a FREE printable baby registry checklist.
If you do choose to register for a FREE baby registry guidebook, in the email you receive, you will select the book that applies to you. There are different books depending on the sex of the baby, if you plan to breastfeed, and how many floors your home has.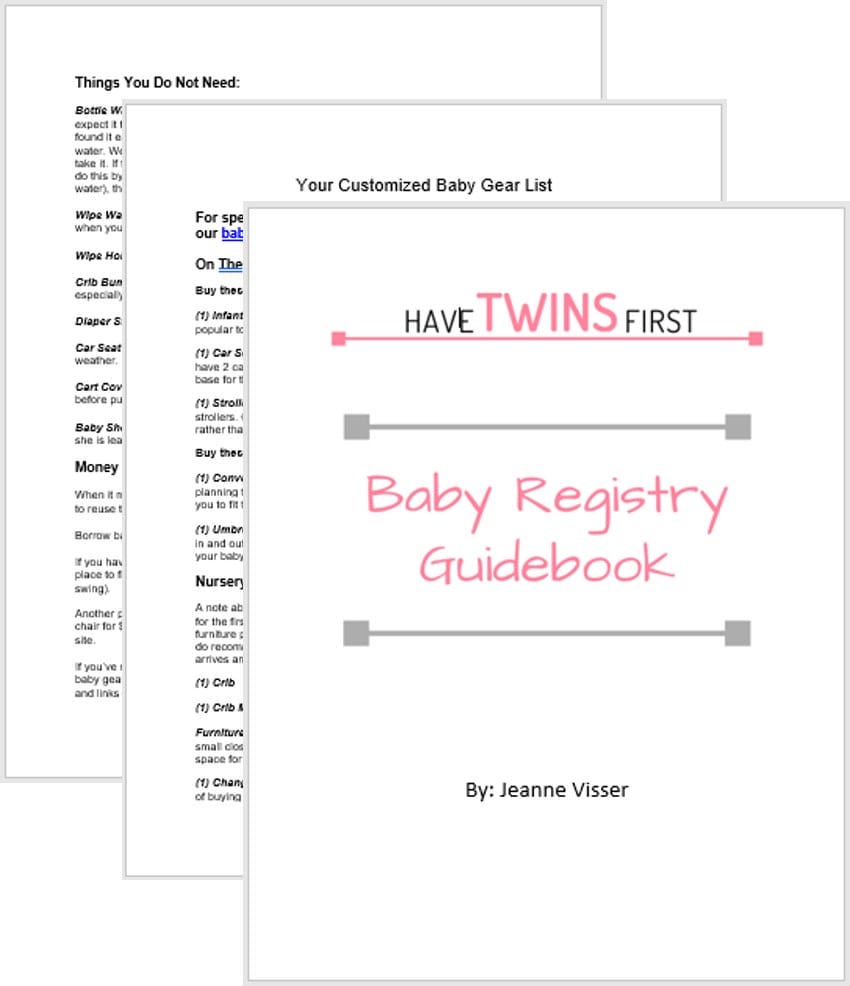 Lastly, I also recommend you look into getting a pregnancy planner. Who is this for? A pregnancy planner is a great tool for anyone that likes to plan ahead.
The one I recommend contains 35 beautiful, printable pages of all sorts of helpful lists for both pre- and post- baby. Some examples include a baby names list, weekly pregnancy tracker, baby shower checklist, a nursery planner checklist, a hospital bag checklist, and a postpartum care checklist. And that's just to name a few. It honestly just has so much helpful info for pregnant mamas that it's totally worth it to invest in it.
Now that you have a few extra pregnancy tips, that sums up my thoughts on when to start buying baby stuff. Good luck with your pregnancy and your exciting adventures to come as a new parent.