Preparing for the arrival or your baby (or two) is a lot of work! For this post I have gathered the top 10 nursery must haves all on one list.
Check it out to be sure you have everything you need for the nursery, while still having enough space to take care of your newborn.
Please note, there are affiliate links in this post. Read my disclosure policy to learn more.
Must Have Nursery Gear
(1)* Crib Mattress
This is the one we have had for all three of our children. Each time it has lasted 3 years and you can't beat the price.
*(2) for twins
(1) Changing Pad
I recommend putting a changing pad on top of a short dresser instead of buying a changing table.
(2)* Waterproof Mattress Pads
Get 2 pads, so you have a backup in case of those middle of the night diaper leaks.
*(4) for twins
(3)* Fitted Crib Sheets
I personally prefer the percale sheets because they keep your baby nice and cool.
*(4) for twins
(1) Nightlight
This nightlight works really well and is cheap, you can't go wrong with it.
(1) Hamper
Get a hamper in neutral colors so it can be used elsewhere in the future. And, be sure to check out these beautiful FREE printable new baby hamper labels too.
(1) Garbage Can
It will be very convenient to have a small waste basket in the nursery.
Nursery Furniture And Setup
(1) Crib
(1) Short Dresser with 6 Drawers
With this size dresser and a small closet we have plenty of space for clothes, diapers, etc. Plus, this will allow you a place to put a changing pad, so you don't have to buy a changing table too.
(1) 4 Shelf Bookcase
You will probably start accumulating a lot of books. It you get a 4 shelf bookcase you might put books on 2-3 shelves and have space for some decorations or additional storage.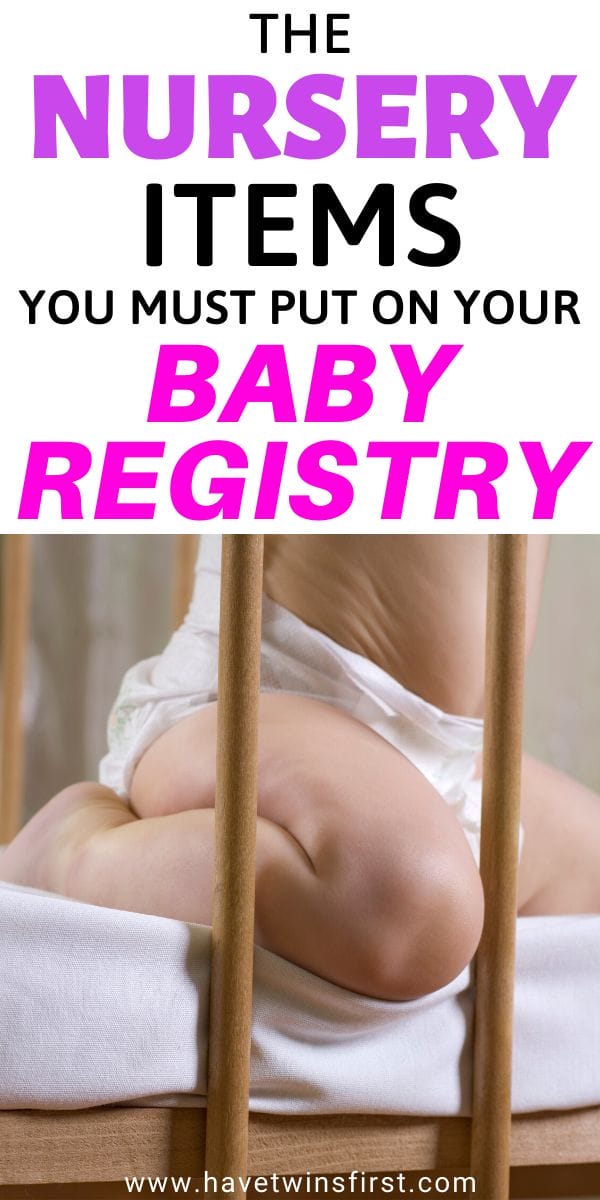 Nursery Setup For Twins
(2) Cribs
(1) Tall Dresser with 5 Drawers
(1) Short Dresser with 3 Drawers plus a Side Cabinet
Between the a tall dresser, a short dresser with a cabinet, and a regular size closet we have plenty of space for clothes and diapers.
(1) 4 Shelf Bookcase
Just as described above a 4 shelf bookcase will be a great addition to the nursery.
When To Set Up The Nursery
A note about setting up the nursery. Most people I know have newborns sleep in their own room for the first few months.
If this is the case, then you do not need to have the nursery furniture purchased and put together before the baby arrives.
With that being said, if you can find the time pre-baby, I recommend setting up at least the crib, if not the entire nursery, before your baby is born.
The main reason for this is that you will be very busy after your baby arrives. Setting up your baby's room will just be an added task that takes up a lot of time.
Another reason to get, at least the crib together, before your baby arrives is because it can be beneficial to have your baby take some naps in her crib from the start.
This completes our list of top 10 nursery must haves. Be sure to check out our entire baby registry checklist or twin registry checklist before you go.
If you found this post helpful, please follow Have Twins First on Facebook or pin this post on Pinterest.