So, you are expecting twins, congratulations! This news comes with so many questions. As a twin mom who has been there, in this post I will cover all things on preparing for twins.
Whether you are looking for a preparing for twins checklist or you are trying to figure out how to budget for twins, then you have come to the right place. Read on for everything you need to know about getting ready for the arrival of your twins.
Please note, there are affiliate links in this post. Read my disclosure policy to learn more.
Preparing For Twins In the First Trimester
Let's start at the beginning, the first trimester of twin pregnancy. What should you be doing to prepare for twins during this time?
Honestly, in the first trimester you are probably just starting to wrap your head around the idea that you will be taking care of two newborns at the same time.
And, if you are reading this as the expecting mom of twins, you are just trying to survive being exhausted and nauseous. But, don't worry most pregnant twin mamas feel better as they enter the second trimester.
My advice for your first trimester is to just get used to the idea that you are having twins. Survive the exhaustion and nausea. And, if you want, start thinking about twin maternity clothes and your twin registry list, but that's not a necessity.
Once you get your energy back, in the second trimester, you can start doing the things we will discuss below to prepare for twins.
Start Working On Your Twin Registry
For your ultimate list of twin must have baby items, you should take our twin registry quiz. Once you fill it out, you will receive your own twin registry checklist customized to your needs. You can also check out our twin registry must haves list on our Amazon storefront.
You might be surprised to find out most must have twin baby gear, is not necessarily built for twins. It's more a matter of knowing what you need two of and what you only need one of.
Our twin baby gear list blog post goes over this in detail. But, I do want to share my favorite twin gear here. The absolute best thing you can invest in for twins is the Twin-Z pillow.
The Twin-Z pillow, just has so much versatility. You can use it whether you are breastfeeding or bottle feeding. You can also use it as a lounging spot or for tummy time practice. It is 100% worth getting a Twin-Z pillow.
Besides that, the rest of your twin baby gear will not be twin specific. It will just be determining how many of each item to get for two babies.
Preparing For Twins Books
Personally, I did not go crazy reading every twin book out there on the market. In fact, I'm pretty sure I relied mostly on What To Expect When You're Expecting, which isn't even a book for twin parents.
So, I would definitely recommend getting the What To Expect books, both for pregnancy and for the first year with your babies. They are helpful guides and will give you the basics on what you need to know.
It was also fun to fill out a pregnancy journal. You can even get a twin specific journal too.
But what about preparing for twins books? I would recommend getting either What To Do When You're Having Twins or When You're Expecting Twins, Triplets, or Quads.
What about the dads out there? For expecting twin dads, I highly recommend the Dad's Guide To Twins book.
To summarize on preparing for twins books, I would purchase the What To Expect series, a pregnancy journal (or twin pregnancy journal), one expecting twins book, and, if applicable, an expecting twins book for dads.
Creating A Budget For Twins
What about being financially prepared now that you know there are two babies?
The reality is having twins is more expensive than having one baby. There are two mouths to feed, more baby gear is required, more clothing is required, and childcare will be more expensive, just to name some of the items.
I wanted to include a section on budgeting for twins, since it is so important. But, budget planning is not my area of expertise. I recommend checking out this post on budgeting for twins and also this post on twin gear on a budget.
Those posts will get you started on the things you need to think about as you set your budget for the arrival of your babies.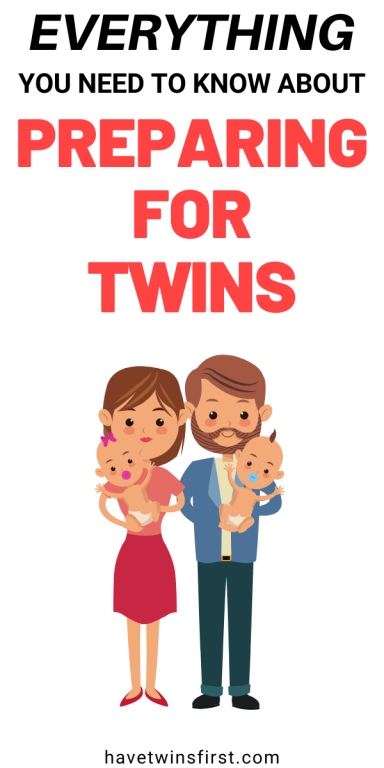 Preparing For Twins Checklist
As overwhelming as having twins may seem, a preparing for twins checklist can go a long way in helping you feel more prepared. Here is my recommended list of things to do before your babies are born.
Create your twin registry
Design and setup a nursery for twins
Assemble baby gear before your babies arrive (stroller, bassinets, etc)
Create a budget for the first year with twins
Take both a labor and delivery class and a twins class – yes, I recommend you take BOTH!
Decide how you will feed your twins – be prepared that this does not always go as planned
Decide on a childcare plan
As you go through this list, keep in mind that twins have a tendency to arrive earlier than singletons. For instance, my twins were born at 35 weeks, which is the average arrival for a twin pregnancy.
If you are able to, aim to complete this list by 32 weeks into your pregnancy. This is just my recommendation, it's not the end of the world if you don't.
I know, for me personally, I did not do everything listed. These are just my tips for a twin mom who has been through it and how I would handle preparing for twins if I were to do it all over again.
Most Asked Questions When Preparing For Twins
How many diapers do we need for twins?
How much clothing is needed for twins?
How to feed two babies at the same time?
How to handle sleep with newborn twins?
Will I ever sleep once the babies arrive?
When should I stop working when pregnant with twins?
Is it possible to breastfeed twins?
Click the link on each question, to get the answer.
Preparing For Twin Delivery
The last thing you will need to do is prepare yourself for the delivery of your twins.
Luckily, I have already written a detailed post on twin pregnancy delivery, so definitely check that out.
Additionally, I highly recommend you take a labor and delivery class. Whether it's at your local hospital, or an online class from the comfort of your own home, or a prenatal couples class.
Okay, that wraps up all my thoughts on how to prepare for twins. Got more questions? Please share them in the comments.
And, lastly, be sure to check out this list of the best twin pregnancy blogs for more FREE resources. Good luck as you prepare for the arrival of your beautiful twin babies.