Having twins is not just birthing and raising two babies simultaneously, you have to be ready to stock up on various baby items too. As a mom of twins, getting everything you need before your babies are here is very important.
Keep in mind that you will not have much time for shopping after the birth of your twins. In this article, I am reviewing the coolest things for twins that will make your life as a twin mom so much easier.
Please note there are affiliate links in this post. Read my privacy & disclosure policy at the bottom of this page to learn more.
Are There Things Made Just For Twin Babies?
It was not long ago when parents of twins would struggle to find products to help them to take care of twins, but now things are a lot easier because there are so many products available that are made just for twin babies.
Many items on my best things for twins list (see below) help twin parents look after two babies simultaneously.
Why Should I Get Things Made For Twins?
When you have twins, some tasks like carrying, feeding, and traveling with both of them can become complicated.
The things designed for twins can help out in so many ways, such as:
Putting two newborns to sleep at the same time
Nursing or bottle feeding two babies at the same time
Carrying twins together
Easier travel with two babies
10 Cool Baby Things For Twins
So, let's get to it. Here's the list of 10 pretty cool things for twins. I recommend every twin mom-to-be considers adding some or all of these items to her twin baby registry.
1 – Double Bassinet
A bassinet is a good sleeping space designed for newborn babies, but you can't put two babies in the same bassinet. That's why a double bassinet is an excellent choice to have your newborn twins sleep in.
It is a great way to sleep in the same room with two babies, without putting them at risk of SIDS (sudden infant death syndrome). Keep in mind that bassinets can typically be used until babies are around 3-5 months old.
The Simmons Kids By The Bed City Sleeper Bassinet for Twins is what I recommend for a double bassinet. This bassinet consists of mesh polyester and the assembled dimensions are 33″L x 21″W x 47″H.
I love these features of this bassinet:
It's Z-shaped! This means the bassinet can come close to you, while the base easily slides under your bed. This is helpful for soothing and feeding your babies at night.
The wheels make it easy to slide the bassinet around the house.
Storage pockets provide space for keeping baby essentials like burp cloths, diapers, and feeding accessories handy.
The mesh sides allow your babies to see each other and you.
It has five different height adjustment levels.
2 – Double Feeding Pillow
Breastfeeding is a hectic job. Nursing pillows are great products that save mom from sitting in an awkward position for a long time and they help keep babies comfortable too.
When you have two babies to feed, it can be hard to feed them simultaneously. But, by using a feeding pillow made for twins you can get much needed assistance to make the whole process easier.
One of the best twin feeding pillows on the market is the Twin Z Pillow. This pillow is super soft and the material from which it's made is eco-friendly and hypoallergenic.
One of my favorite things about the Twin-Z Pillow is that it is multipurpose. Your babies can have playtime or tummy time on it, it provides excellent back support when nursing twins, or you can also use it for bottle feeding twins at the same time.
There are some important safety tips to note. You should not let babies sleep on the Twin-Z Pillow, do not put this pillow in the crib or bassinet, and do not leave babies unsupervised when it is in use.
3 – Double Frame Stroller
A frame stroller is a stroller that provides just the framework where you are able to snap an infant car seat into it. Therefore, a double frame stroller is made for snapping two car seats into it, making it perfect for twins. I recommend frame strollers because they are lightweight and easily portable.
The Baby Trend Universal Double Snap-N-Go Stroller Frame is an excellent option for a double frame stroller. It is made of steel and plastic and comes in black.
This stroller is built to accept different brands of car seats and the infant car seat carriers easily snap into place. Some other good features of this double frame stroller are:
Lightweight and easily folds up, making it very portable
Large basket to carry accessories
Has a cup holder
4 – Double Umbrella Stroller or Jogging Stroller
Depending on your lifestyle, you will eventually need a double umbrella stroller, double jogging stroller, or both. Once your babies can sit up with support and no longer use their infant carriers, they can be switched to these types of strollers.
If you don't do a lot of walking or are not a jogger, then you would opt to invest in just a double umbrella stroller. Now, if you do take lots of walks or jogs outside then you are better off getting a double jogging stroller.
However, in that case you might want to consider also getting a double umbrella stroller for running errands because umbrella strollers are more lightweight. It's up to you and you can always start with a jogging stroller and see how it goes.
If you plan to run errands and just do some walks around your neighborhood a double umbrella stroller is a good choice. For this scenario, I recommend the Jeep Scout double stroller. This double stroller is lightweight and it is suitable to pass through a standard 30 inch door.
The Jeep Scout double stroller is designed for babies up to 3 years old. It has a 5-point safety harness and multi-position reclining seats. The sun canopy will keep your twins safe from direct sunlight. The stroller is lightweight and foldable, it has a large basket to carry extra items, and it also has a cup holder.
If you plan to run, use your stroller on difficult terrain, or do A LOT of outside walking with your twins, a double jogging stroller is a great choice for you. The Baby Trend Expedition double jogger is excellent quality at a fair price.
The shape of the three wheels and the types of tires this stroller comes with make it super easy to push. In addition, there is a belt that parents can wear to avoid having the stroller slip away. The jogging stroller has essential features like a sun canopy, reclined positions, a large basket, portability, and a cup holder.
5 – Double Nursery Glider Chair
A nursery glider chair is not a must have thing, but it is a great product that can help a new mom soothe a crying newborn or put a baby to sleep. Every mom of a newborn knows the importance of this help.
But an ordinary gliding chair won't always help a mom of twins because you can't sit in it with two babies. So a double nursery gliding chair is beneficial because the double seating space will fit two babies simultaneously.
I recommend the Baby Relax Hadley double rocker chair. This double glider chair is one and a half times wider than a standard rocking chair.
This dark taupe color chair gives a smooth rocking motion. Very minimal assembly is required, and there is a 1-year moneyback guarantee.
6 – Double Baby Carrier
Imagine two babies crying and wanting to be carried while their parent needs his or her hands free. A double baby carrier can work like a charm.
With this carrier, a twin parent can carry his or her babies while also getting some things done. Please keep in mind that I'm not saying that this is entirely comfortable.
Of course, you still have to hold the weight of two babies and provide enough space for them, but it's much better than listening your twins cry.
The TwinGo original baby carrier is a loved product of many twin moms. With this carrier, you can wear both your babies on different sides (front and back), so it distributes the weight and saves from backache.
The double carrier has adjustable straps. You can fix it according to your babies' weight and size. Additionally, a flexible head support helps when your babies cannot balance their heads or when they fall asleep.
There are also extra-large pockets to help hold baby items like diapers and baby toys.
7 – Board Books About Twin Babies
Board books about twins are a great way to make your twins understand their special bond. In addition, they will know how they are different from other kids who do not have a multiple.
Here are some excellent board books about twin babies.
No Two Alike
No Two Alike is written and illustrated by Keith Baker. This book explains the concept of human individuality.
This book is the story of two birds looking alike and going on a winter landscape journey. They observe the uniqueness of everything around them. This book explains to kids that they are two different individuals even though they are twins.
Twin To Twin
In the book Twin To Twin, the author introduces the humorous side of life with twins. She explains how everything is double when they are together. It is twice the fun, but also twice the mess.
Two Is For Twins
Two Is For Twins is a perfect book to introduce your kids to how they are a part of a pair. This book shows so many things that they can do together and compares it to all the things that come in pairs.
The author also explains that it's okay for twins to dress differently and play with different friends.
We Are Twins
We Are Twins is an excellent book for twins to help them understand how blessed they really are. They always have a friend by their side.
The book explains many great concepts like sharing and helping each other. Many different types of twin animals in this book share a strong bond with their twin.
8 – Twin Pregnancy Books & Journals
As a mom of twins, I recommend twin moms-to-be read some good twin pregnancy books and get a Twin Pregnancy Journal & Planner.
Twin pregnancy books help you understand and learn:
What's going on in your body and how you can better care for yourself and your babies
Nutritional requirements
How to avoid complications
What's safe in twin pregnancy and what's not
How to plan for birth, the arrival of newborns, and taking care of twins.
A twin pregnancy journal is something you write in to help you track the crucial milestones of your twin pregnancy and it creates sweet memories.
9 – Fun Twins Onesies
So many parents get onesies for their babies. There are some fun twin onesies available that are cute and there are even ones that help differentiate between identical twins.
Here are a few fun onesies for twins.
TWINSTUFF Twin Baby Onesies
Check out the TWINSTUFF's Amazon store for all sorts of cute onesies for twins. For example, you can get a set with one onesie that says "Sometimes when you wish for a miracle," and the second onesie says "you get two".
These super cute onesies are made of 100% cotton and are gentle for your little ones.
YSCULBUTOL Baby Twins Bodysuit
The twins section of the YSCULBUTOL baby bodysuit store is full of fun onesies for your twins. One set has a bodysuit that says "drinking" with the other one saying "buddies".
These onesies are also made of 100% pure cotton and are available in sizes up to 1-year-old.
DEFAHN Funny Twins Baby Bodysuits
This one is my favorite. When you visit the DEFAHN Twins Baby Clothes store you will find onesies that say "copy" and "paste" among other sayings. These cotton onesies are unisex and are available for kids up to 2 years of age.
Before we move on you might want to grab our FREE Twin Baby Registry Guide by filling in the form below. It includes a printable Twin Baby Registry Checklist and links to (2) ideal sample twin baby registries. This guide will walk you step-by-step through selecting the baby items that are perfect for your family's specific needs.
Essential Things That Are Not Just For Twins
Even though there are so many cool things for twins, there are plenty of items you will need that are not built for twins. In some cases you need extras of these items and sometimes you don't.
Now let's review the things that are not just for twins, but necessary for each child.
Car Seats
According to the CDC, "Parents and caregivers can make a lifesaving difference by checking whether their children are buckled properly on every trip." Car seats are an absolute must for the safety of your babies.
With twins you will need two infant car seats. Make sure you pick car seats that are compatible with the double frame stroller you purchase too.
Swaddling Blankets
Swaddling is a traditional way to keep your newborn safe and comfortable. It avoids the baby's startle reflex or Moro reflex when the baby encounters the things like loud noises or bright light.
Swaddling also helps newborns fall asleep quickly and stay asleep for longer and swaddles make babies feel like they are still in the womb.
How many swaddles should you get for two babies? I recommend getting 12 swaddling blankets.
Crib & Crib Bedding
After your babies grow out of their bassinet, it is natural to transition to cribs. If you are wondering how long you will use a bassinet before moving to a crib, this typically happens between 3 and 6 months old.
Getting a good quality crib and safe crib bedding, like a firm mattress and fitted sheets, are very important for your babies.
Do you need one or two cribs for twins? In almost all cases you will need two cribs, for more information you can check out this list of the best newborn twins sleeping arrangements.
Diapers & Accessories
Every baby uses diapers, whether you get cloth diapers or disposable diapers. Managing two babies in diapers will be A LOT of work.
To clear up what you will need and things that are nice to have, I put together this list of diaper changing items needed for twins.
Diapers – cloth or disposable
Baby wipes – reusable or disposable
Wet bag – if using cloth diapers
Diaper rash cream (disposable) or spray bottle (cloth)
Diaper bag
Changing pad + cover
Waterproof pads (for changes when on the go)
Hand sanitizer
Baby Care Items – Thermometer, Nail Clippers, & Baby Soap
While shopping for a new baby, small items might get ignored even though they are necessary. These things include a thermometer, nail clippers, and baby bath accessories like baby soap / shampoo.
A newborn baby's nails grow at a super-fast pace. You will need to clip them often to prevent your babies from scratching their delicate skin (especially the face) with their sharp nails.
A thermometer that gives accurate readings is necessary to help monitor your babies temperatures when they are sick. Finally, baby soaps and shampoos are needed when bathing your babies for their sensitive skin.
Bottles
If you plan to formula feed or pump breast milk you will definitely need bottles for your twins. Even if you plan to exclusively breastfeed your twin babies, you will still want some bottles on hand.
If you are breastfeeding you will want a natural-shaped baby bottle that mimics the breast. If your babies will only use bottles any standard bottle is acceptable.
Bibs & Burp Cloths
Babies tend to spit up and drool, which is where the bibs and burp cloths come in. You will want keep a bunch of them handy.
For twins I recommend having approximately 16 burp cloths and 16-20 bibs.
Baby Clothes
Babies grow incredibly fast and their clothes get dirty faster than you think. You will want to have baby clothes in various sizes for throughout the first year.
Make sure you have the following types of baby clothes on hand for your twins:
Onesies / Bodysuits
Pants
Sleepers
Socks
Hats
Sweaters (if you are having a winter baby)
Are There Any Free Things I Can Get For Twins?
When giving birth to twins, a prevalent problem couples face is finances. You might have planned for one baby but got two. Now you need more money than you originally thought.
If you are looking for some free stuff for your twins, the bad news is there are no companies that offer free things just for twins, but you can get discounts and coupons when you are having twins to save some money.
Some retailers like buybuy BABY, Enfamil, and Pampers offer discounts when you are having twins. You can check their websites for more details.
Here are a few other ways to save money on baby products:
Subscribe to the newsletters of the baby product brands and keep an eye on discounts and coupon codes.
Sign up for free samples. For example, you can get free samples of Enfamil and Similac by joining their rewards programs.
Grab our FREE twin baby registry guide!
Create an Amazon baby registry to get 20% off diapers for the next year ($500 must be spent from your registry).
Use cloth diapers.
Nurse your babies.
Don't buy unnecessary items.
Buy things in bulk.
Join new mom communities or the Buy Nothing Facebook groups.
Digital Things For Twins (Printables)
In addition to the products listed above, as a twin mom I have also created some really helpful items to survive twin pregnancy and reduce overwhelm. When I was pregnant, I found there to be a lack of resources for expecting twin parents.
That's why I started this blog and to go along with that I have also created some helpful digital products as well. Check out the items below: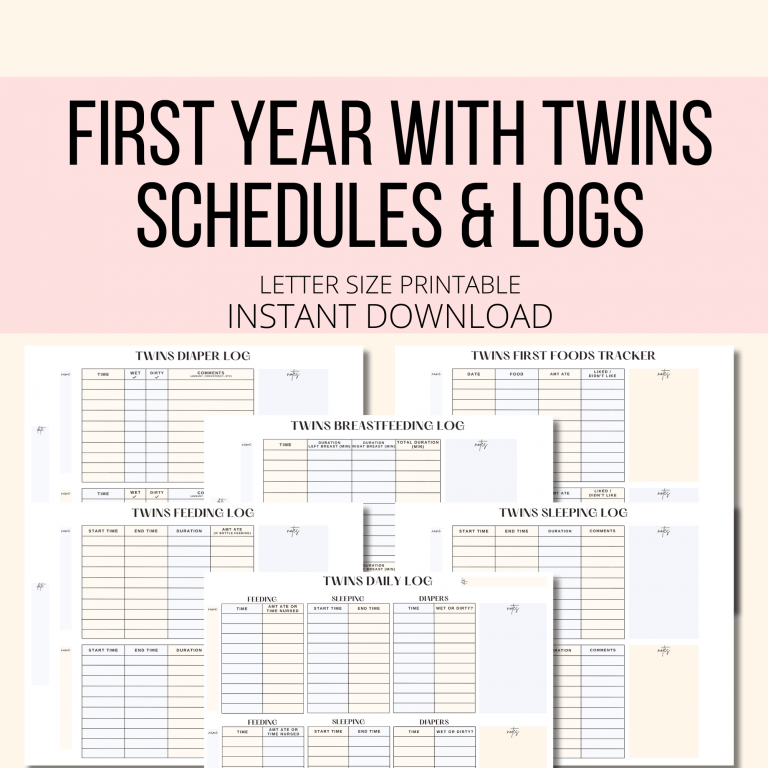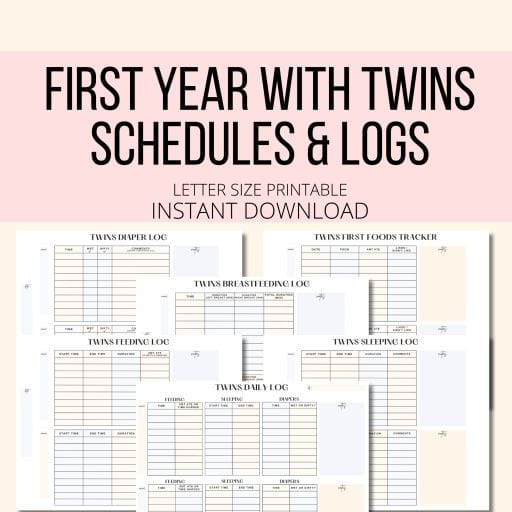 There are some innovative things for twins on the market today that can make life as a twin parent a little bit easier.
Taking care of two babies at the same time is a lot of hard work, but there are some innovative products available today that will make a twin parent's life easier. Things like double strollers, double carriers, double feeding pillows, and a double bassinet are great for those expecting multiples. You got this!