A nursing chair, also known as a nursery glider or rocking chair, is a great product to help new parents feed their infants. It's a comfortable chair that makes it easy for parents to sit with their baby while feeding and rocking him or her simultaneously.
The nursing chair actually originated back in Victorian times. It was made as a partially upholstered piece of furniture that was low-seated to reach the level of other young kids while nursing an infant. With time, this chair has evolved into a rocking chair with many more cool features.
Now what if you are having twins? Can you still get a nursing chair that works? Yes you can!
In this article, I'm going to help you find the best nursing chair for twins. You will learn how to find one that is of good quality and how to use it with two babies.
Please note, there are affiliate links in this post. Read my privacy & disclosure policy at the bottom of this page to learn more.
What Is a Nursing Chair For Twins?
Typical nursing chairs available on the market are narrow and made for one mom and one baby. But when you've got twins to take care of simultaneously, a narrow nursing chair will not work for you.
Nursing chairs for twins are made to nurse or bottle feed two babies simultaneously. They are wide enough for a parent and two babies to fit in comfortably.
A nursing chair for twins can also be called a double rocker or double glider. Some nursing chairs are wide enough for two adults so both parents can sit with one baby each.
Is a Nursing Chair For Twins Necessary?
A nursing chair is not an essential product. You and your babies can do just fine without it.
But, it will be tough to nurse them simultaneously in their room without a comfortable spot to sit. Additionally, a nursing chair is also a rocking chair. It's a great place to hold your babies and rock to help get them to fall asleep.
As you can see a nursing chair for twins is not absolutely necessary, but it can still be very beneficial for parents. I should also add that it's also a great spot to read to your babies. You can even use it for reading as they get older and enter their toddler years.
With this added benefit it might just be worth investing in a nursing chair for twins.
Qualities To Look For In a Rocker For Twins
A double glider is expensive! You will want to do thorough research before buying one. I recommend considering the following qualities before buying a double nursery glider.
1 – Width
The main feature of a double nursing chair is its width. Of course, this is the first reason you buy a double glider instead of a single narrow one.
Most standard nursing chairs are between 18 to 25 inches wide. This is comfortable for a person to sit with a baby and breastfeed.
But when buying a nursing chair for twins, it should be much wider. You want a chair that can comfortably carry one adult and two babies at the same time.
2 – Comfort
You will spend a lot of time sitting on the nursing chair during the first few months of your baby's life. Moreover, you need a comfortable sitting space after giving birth to two babies.
The nursing chair you choose should be soft and comfortable enough for you too. Besides the cushioned seat, you should consider whether the chair has cushioned armrests.
3 – Durability
The nursing chair you buy should be made of good quality material. It should be durable so you can use it even after your babies are older if you want to.
Of, you can sell it when you are done using it.
4 – Is It Convertible?
If you can find a nursing chair that can be used as a regular sofa or a chair, then go for it. This way you won't have to dispose of or sell your chair.
Initially, you can place it in the nursery or wherever you are comfortable nursing your babies. Then you can put it anywhere in your house you want after you finish this phase.
5 – Noisiness
Some nursing chairs make noise when rocking. This noise may disturb your sleeping babies or annoy you.
Look for a chair that is comparatively quiet. You can place a nursing chair on a carpeted floor to reduce noise.
6 – Does It Come With an Ottoman?
Some nursing chairs come with an ottoman. It's not essential, but if you get one it will add to the comfort.
7 – Design & Color
If you have a themed nursery, you might want to consider the design and color when buying a nursing chair.
The Best Feeding & Nursing Chairs For Twins
Now that you know what qualities to look for in a nursing chair, let's check out the list of the best nursing chairs for twins.
Baby Relax Hadley Double Rocker Chair
The Baby Relax Hadley Double Rocker Chair is the best wide nursing chair for twins. It is around one and a half times wider than a regular (standard) nursing chair.
The total size of this nursing chair is 40.5 inches long, 36.5 inches wide, and 36.5 inches tall. Overall the seating dimension is 32.5″ W x 22.5″ D.
The nursing chair's rocking motion does not make many sounds. The rocker's feet have an arch shape, giving a smooth rocking motion. The seat and the back are thickly padded, so the chair is comfortable to sit in for quite some time.
The material used in making this nursing chair for twins is fabric, foam, metal, and wood. The frame of this chair is well-built and sturdy. This double glider can carry up to 225 pounds.
The Baby Relax Hadley double rocker is available in four different colors (beige, taupe, green, and blue). The overall look of this chair is very classic. Please note these colors are available from Walmart, click this link to see them.
It's very easy to install and weighs around 70 lbs. Unfortunately, this nursing chair doesn't come with an ottoman, but you can purchase it separately. The company offers a one-year limited warranty.
Esright Double Wide Rocking Sofa Chair
The Esright double wide rocking sofa chair is similar to the Baby Relax Hadley double rocker. But in this case, this one is best for moms over 250 pounds because this nursery chair is strong enough to support up to 300 pounds.
The Esright wide rocking chair has a seating width of around 32 inches. That makes this chair almost one and a half times wider than a standard chair. The overall dimensions are 40.9″ L x 31.9" W x 36.4″ H. It is suitable for two (average-sized) people to sit on while holding babies.
This twin nursing chair has an over-stuffed back and a padded seat that is super comfortable. The ergonomic armrests are comfortable too.
The arch shape of the rocker's base provides smooth motion without making annoying noises. Moreover, the breathable fabric will not overheat you or your babies. You can sit on it for a long time and be comfortable.
The Esright rocking chair is made of rubber wood that is recyclable. The seat cushions have soft polyester too. The rocking legs are also wooden and sturdy making this chair durable.
This chair is easy to put together. All the hardware required for assembly is held in the bottom seat. This brand doesn't have an ottoman. If you want one, you'll have to find one that suits this rocking chair.
Babyletto Tuba Extra Wide Swivel Glider
The Babyletto Tuba extra wide swivel glider is different from the previous two chairs in many aspects. It's more like a revolving chair with additional features of gliding motion.
The seating dimensions of the Babyletto swivel glider are 21.25″ D x 25.5″ W, and the seat height is 18.25 inches. The 26 inch seat width allows an average to plus-size mom with twins to sit while nursing them.
The Babyletto glider is super comfortable to sit in for a long time. The swivel base allows the spinning of the nursing chair to a full 360°, and it also provides gentle back-and-forth gliding movement.
The chair doesn't make noise, so your little one can sleep without any disturbances. A lumbar pillow is also included in the set, providing extra comfort while sitting and saving you from back pain.
The chair's frame is made of wood from FSC-certified forests. This means the wood was harvested while caring for the environment and wildlife.
The fabric is made of polyester yarn and recycled fiber. At least 45 plastic bottles were recycled and used in making the nursing chair. The foam is CertiPUR-US certified. Overall, this chair is very eco-friendly.
The fabric is stain-resistant and water-proof. The frame is sturdy, making the chair durable overall. It can support 200-250 pounds total.
The Babyletto nursing chair is great for modern nurseries. The chair is available in two different colors, cream and grey and the base is stainless steel.
This nursing chair is very easy to assemble. You have to follow a few simple steps without any tools. The chair doesn't come with an ottoman, but the company sells one separately.
Pottery Barn Dream Chair and a Half Glider
The Pottery Barn Dream chair and a half glider is similar to the Babyletto Tuba extra wide swivel glider because it also has both a gliding and a spinning motion. This 100 lb nursing chair has a seating width of 25 inches and a back height of 20 inches.
The armrest is 7.5″ W x 33.5″ D x 27.5″ H. It is very comfortable for your arms and shoulders. The swivel mechanism is 3.5 inches high and 27 inches in diameter.
Keep in mind that this Pottery Barn nursing chair should be at least 9 inches away from the wall in order to fully recline. The full-down cushion makes this chair very soft and comfortable to sit on.
The back-and-forth gliding motion will keep your babies calm, and the swivel mechanism will help you move the chair to the right or left.
The frame of this nursing chair is made of hardwood that is kiln-dried and corner-blocked. This chair is GREENGUARD gold certified.
The Dream chair and half glider can support up to 300 lbs. The fabric is available as textured, plain, or velvet, and you can choose from many different colors.
This double nursing chair is very easy to assemble. You don't need any tools to install it. Just place it where you want.
Nursery Works Sleepytime Rocker
The Nursery Works Sleepytime rocker is different from all of the above. It looks more like a traditional rocking chair.
This 50 lb nursing chair has assembled dimensions of 34″ L x 30.5″ W x 34.75″ H. The inside seat width is 20 inches, and the height from the top of the seating cushion to the floor is 21" inches. The armrest to seat height is 6 inches.
The seat is lightly padded so it's comfortable for sitting for some time. A removable lumber pillow is included for extra comfort.
If you place the chair on the carpet, it will not make noise. This Nursery Works nursing chair is upholstered.
The wood used comes from FSC®-certified forests and the foam used is CertiPUR-US® certified. Additionally, this product is GREENGUARD Gold Certified.
This nursing chair can support up to 300 lbs. It is available in a six different colors including ivory, grey, walnut, and blush. This double nursing chair is easy to assemble, you can set it up without any tools.
This company does not sell an ottoman. If you want one, you can buy it from a different company. Make sure to find an ottoman that's height is suitable for the height of this nursing chair.
Before we move on you might want to grab our FREE Twin Baby Registry Guide by filling in the form below. It includes a printable Twin Baby Registry Checklist and links to (2) ideal sample twin baby registries. This guide will walk you step-by-step through selecting the baby items that are perfect for your family's specific needs.
Do I Need an Ottoman To Go With a Nursing Chair For Twins?
An ottoman is not absolutely necessary with a nursing chair. But it is a great product that increases comfort.
Sitting with babies on your lap is not an easy task. Having an ottoman will make your legs comfortable. You can change your leg position at any time. Moreover, you can give your feet support.
Some ottomans also glide along with the chair. So they are providing an extra feature that makes it even more comfortable.
On the other hand, buying an ottoman means spending extra money and extra space occupied. It is best to analyze whether you need an ottoman. If the benefits outweigh the expense, go for one.
And if possible, try to get the ottoman from the same company you buy the chair from.
Where Should a Rocker For Twins Be Located?
The best location to place the nursing chair is the nursery. This is the place where you will spend the most time with your babies.
But it's not a rule of thumb. If you spend more time in the living room, it might make sense to place it there. The best location to place a double rocker is wherever the parents feel the most comfortable.
How To Breastfeed Simultaneously In a Nursing Chair For Twins
You can nurse twins simultaneously on a nursing chair. The easiest way to breastfeed in a nursing chair for twins is to place a twin nursing pillow on your thighs.
Position your babies as you would like on the double feeding pillow and nurse them at the same time. I highly recommend the TWIN Z pillow if you are looking for a twin nursing pillow.
Can I Bottle Feed Two Babies in a Feeding Chair For Twins?
Yes, you can bottle feed two babies in a double rocking chair for twins. You can use a twin feeding pillow to bottle feed both babies or you can lay one baby on the chair and one on your thigh.
Then go ahead and feed your twins a bottle simultaneously.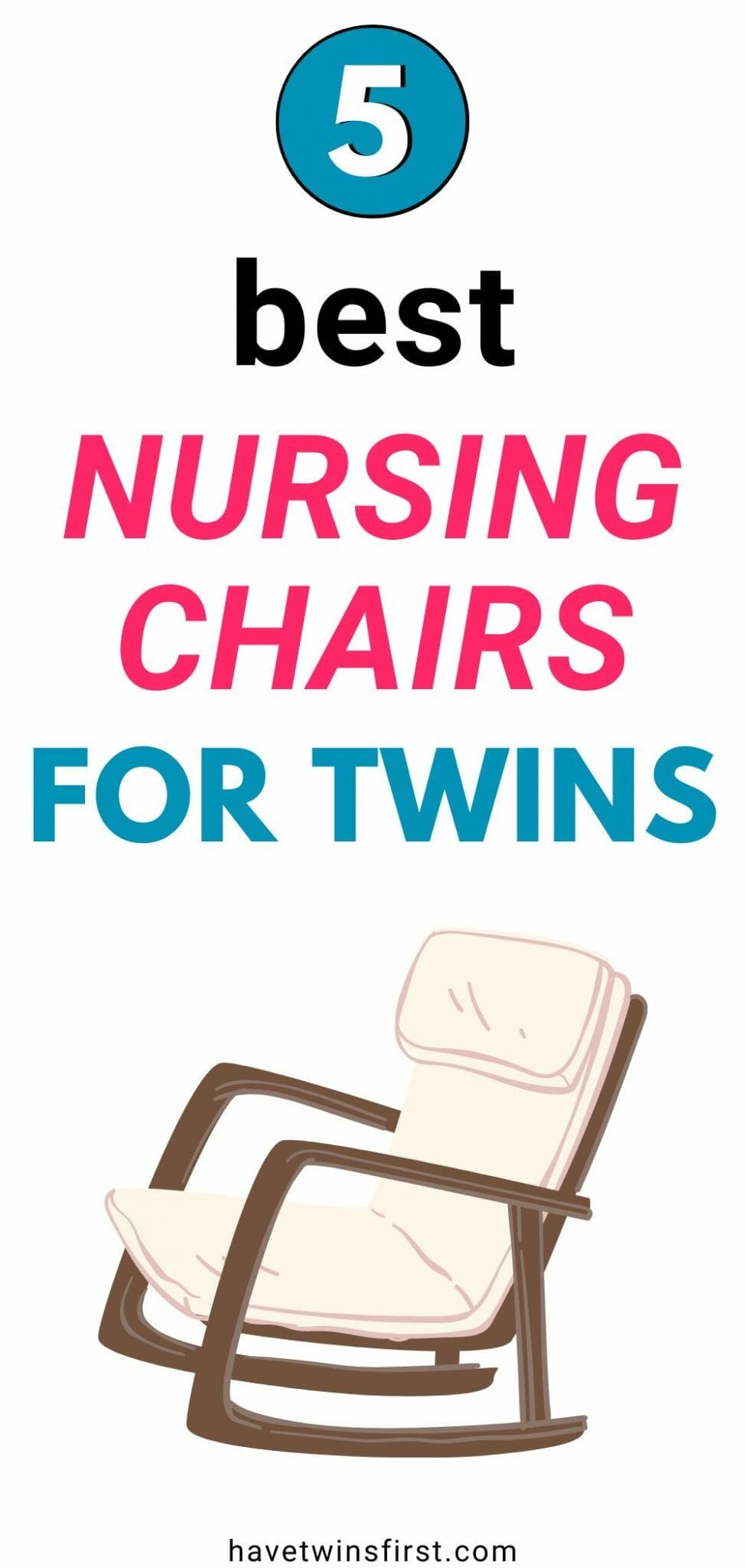 If you think a nursing chair for twins will be helpful, then invest in one!
A nursing chair for twins is not absolutely necessary, but it can be very beneficial. It is not easy to carry two babies, nurse them, and put them to sleep.
Plus, you will have to repeat these tasks many times a day. A nursing chair will keep you and your babies comfortable. And don't forget, you can sell the chair or use it as living room furniture after you are done with feeding your little ones at night.
Some double gliders only provide a back-and-forth (gliding) motion, while some have a swivel mechanism that allows you to rotate the chair to the right or left. I hope you find one that suits you and your nursery for twins.
Finally before I sign off, as a twin mom I have also created some really helpful items to survive twin pregnancy and reduce overwhelm. When I was pregnant, I found there to be a lack of resources for expecting twin parents.
That's why I started this blog and to go along with that I have also created some helpful digital products as well. Check out the items below: