"Plus size women can't have a healthy pregnancy."
Unfortunately, this is often heard, but the reality is many plus-size women not only get pregnant, but they carry and deliver twins too. A plus size twin pregnancy often comes with a lot of challenges, however it is still very possible to give birth to two healthy babies even if you are carrying extra pounds.
There is no official definition of plus size, but a woman who has a BMI above 30, or according to the fashion industry wears a size 18 or higher is considered plus-sized.
Please note there are affiliate links in this post. Read my privacy & disclosure policy at the bottom of this page to learn more.
Is It Safe To Be Pregnant With Twins If You Are Overweight or Plus-Size?
Plus size twin pregnancy may come with a lot of challenges but is it actually safe to be plus sized and pregnant with twins? The answer depends upon so many factors, including the following:
Besides being overweight, are you healthy? If you do not have serious medical conditions like diabetes or high blood pressure, you can enjoy a healthy pregnancy.
Do you acknowledge the importance of working out? If you are used to working out a bit, and you plan to continue to work out (with the consent of your OB-GYN) a twin pregnancy can be safe for you.
How committed are you to your diet routine? If you can commit to eating the right food, you can enjoy a very healthy twin pregnancy.
Can you beat anxiety? Anxiety is the most common issue that is seen in plus-sized women pregnant with twins. You might experience a lot of unwelcome comments about your plus size twin pregnancy, which is discouraging. It is important to try to be mentally tough during this time. If you commit to spending the next nine months in the most healthy way possible you can beat that anxiety.
What Are The Increased Risks For Plus Size Women That Are Pregnant With Twins?
Like I said earlier, a twin pregnancy when you are plus-sized might come with lots of challenges. However, never forget that you can beat them.
Here is a list of increased risks you might experience during a plus size twin pregnancy.
Type 2 Diabetes
Women who are obese, carry a risk of developing type 2 diabetes even if they are pregnant with one child. It is best to limit sugar intake and get checked in the first few weeks of pregnancy.
Your doctor will also keep checking you for high blood sugar.
High Blood Pressure
According to the CDC, approximately 1 in 14 pregnant women develop high blood pressure. On the other hand, weight gain is the leading cause of hypertension.
So, when you are both overweight and pregnant, the risk of developing hypertension is even higher. By managing your diet and working out (with your doctor's consultation), you can manage hypertension.
Anxiety
When a plus-size woman is pregnant listening and reading through all that negative stuff can really make a person have anxiety.
A twin pregnancy is already hard to digest, and knowing that the risks are even higher with more weight can make the news extra stressful.
Premature Birth
When pregnant with twins, chances of premature birth are high. But when the mother is overweight, the chances of this increase even more.
Intense Morning Sickness
With twins, morning sickness and nausea can become intense, and some moms will experience hyperemesis gravidarum as well.
C-Sections
Plus-sized women carrying twins are at a higher risk of needing a cesarean section to deliver their kids.
Postpartum Depression
The risk of postpartum depression increases when a woman is carrying twins. She has to take care of 2 babies, plus deal with more hormone fluctuation than a singleton pregnancy.
Anemia
Anemia is more common in a twins pregnancy. Iron and folic acid deficiency can be the causes.
Birth Defects
It's RARE. But there are greater chances with a twins pregnancy that the babies may have a birth defect.
Before we move on you might want to grab our FREE Twin Baby Registry Guide by filling in the form below. It includes a printable Twin Baby Registry Checklist and links to (2) ideal sample twin baby registries. This guide will walk you step-by-step through selecting the baby items that are perfect for your family's specific needs.
Fertility Treatments For Plus Size Women
There is a proven relationship between fertility and weight. Plus-size women can take any type of fertility treatment. But many fertility centers require a patient's BMI to be under 40.
According to social fertility, overweight women need higher doses of fertility medicines, they are less likely to become pregnant, and the rate of miscarriage is also higher.
Do Fertility Treatments Increase the Chance of Conceiving Multiples for Overweight Women?
Yes, fertility treatments increase the chance of conceiving twins or multiples in overweight women. But why?
Extra Weight – Extra body fat can increase the estrogen levels in the female body and this can cause overstimulation of the ovaries. Thus, the ovaries may make more than one egg and this is how overweight women have increased chances of conceiving twins.
Fertility Treatment – Fertility treatments, especially those that work by boosting ovulation, increases the chances of getting pregnant with twins.
Plus Size Twin Pregnancy Belly & Bump Expectations
Every new expectant mother wonders when she will start to look pregnant. Some hope for it to show earlier, while others desire to hide it for longer.
When will plus-size women become visibly pregnant? It depends on body type and how "plus-sized" you are.
A pear-shaped body will show earlier, while apple-shaped women take more time to become visibly pregnant. The belly of a plus-size woman who is pregnant with twins will start to grow by the end of the first trimester.
But, it will take more time for her to become noticeably pregnant. It is also possible that obese women will never look pregnant because the extra pregnancy weight will be distributed all over the body.
A plus-size woman pregnant with twins will become visibly pregnant much later than a thin woman pregnant with twins. However, when compared to other plus-size women carrying one baby, their pregnancy will show earlier.
How Much Weight Should Someone With a Plus Size Twin Pregnancy Gain?
According to the CDC:
A woman whose BMI is between 25.0 to 29.9 (overweight) and pregnant with twins should gain 31-50 pounds.
A woman whose BMI is greater than or equal to 30 and is pregnant with twins should gain around 25-42 pounds.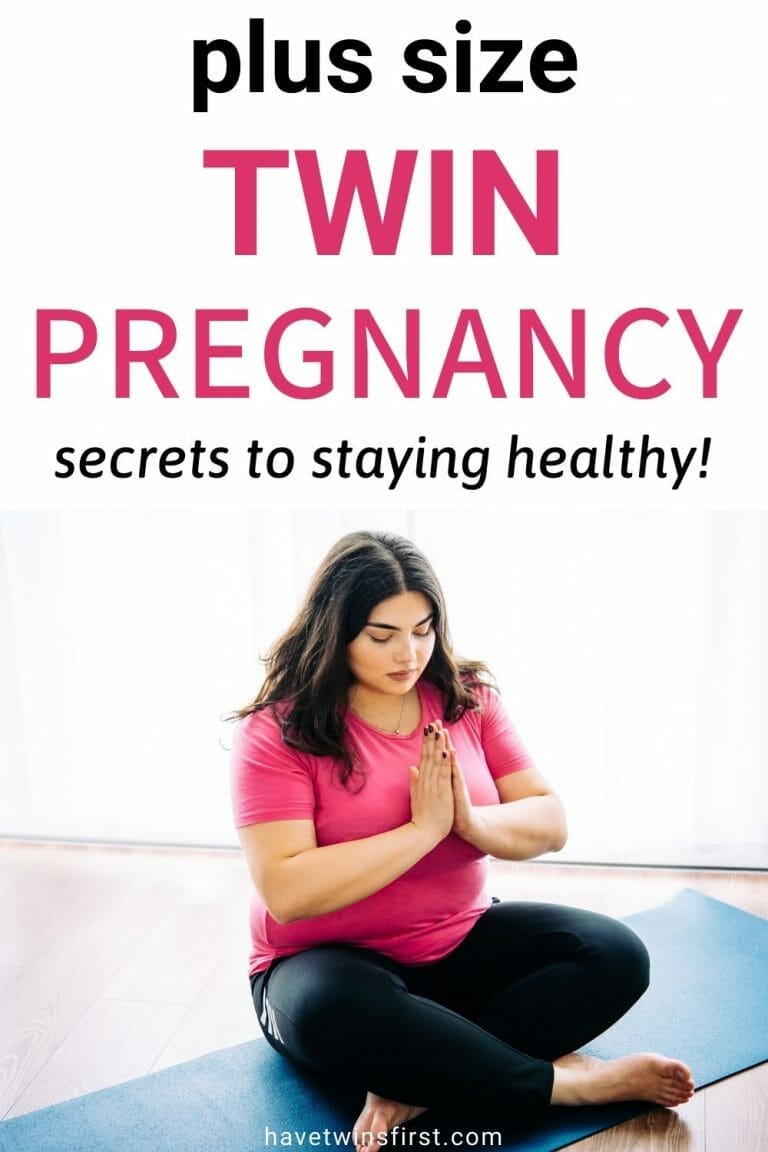 Is a B Belly More Common In a Plus Size Twin Pregnancy?
Stand up and to the side, then look at yourself in the mirror. If your belly is showing a "B shape" rather than a "D shape" it is called a B belly, and it is very common in plus-size pregnancy.
Will you get a B belly or not? It depends upon your body type and where you are carrying your babies.
A lady with muffin tops is more likely to have a B belly. And a lady who is carrying her babies on the higher side is more likely to have a B belly as compared to a woman carrying her babies on the lower side.
Having a B belly, especially in a plus-size twin pregnancy, is totally normal. But, if you have swelling, discomfort, or tenderness in the belly you should talk to your health care provider.
The Best Maternity Shapewear & Bands For a B Belly in Twin Pregnancy
Wearing maternity shapewear or bands can be really helpful to support the back muscles and it can also reduce that severe backache. On top of that, maternity shapewear can also hide a B belly.
When purchasing maternity shapewear or bands you will want to consider if you want them to be adjustable so they can grow with your belly, and you will want ones that are breathable.
Here is a list of plus-size maternity shapewear we recommend for help with a B belly and also support in general.
Plus Size Twin Pregnancy C-Section Birth
A twin pregnancy often ends up with a C-section. If a plus-sized mom pregnant with twins develops any complications, the doctor will likely pre-plan the cesarean section weeks before delivery.
If this is the case for you, I highly recommend checking out this amazing course created and taught by a labor and delivery nurse. The reviews for this class are through the roof and you can do it completely online from the comfort of your own home.
This online class is specifically designed for those having a C-section, which is pretty cool and not something I have seen anywhere else before. Make sure you are as prepared as you can possibly be for your plus size twin pregnancy C-section.
Click here to get more details on the Birth It Up C-Section class.
Plus Size Twin Pregnancy Vaginal Birth
A C-section is quite common for twins, but it doesn't mean that a plus-sized woman pregnant with twins cannot give birth vaginally. There are many women who have delivered healthy twin babies normally.
Every birthing experience is unique, but the most common scenario for a twin vaginal birth includes:
Contractions begin and dilation reaches 10 cm
Mom pushes and gives birth to baby A
Things are quiet for a few moments
Contractions begin again within 1-15 minutes of baby A being born
Mom pushes and gives birth to baby B
A plus size twin pregnancy does come with some increased health risks, but it is still very possible to have a healthy pregnancy for both mom and babies.
Be sure to take very good care of yourself, stay in touch with your doctor, and follow all of his or her advice. To get through your plus size twin pregnancy the things you can control include eating healthy and working out with the consent of your doctor.
You can check your blood sugar and blood pressure if you want, but this will also be done at your doctors appointments. Most importantly – stay positive.
Finally before I sign off you might also be interested in these printable twin pregnancy resources listed below.