Do you have a twin baby shower to attend but you have no idea what to give? It is already hard enough to find a gift for one baby, but what about two? As a twin mom myself I am here to help and share the best twin baby gift ideas with you.
In this post you will find baby shower gifts for twins that will make you the top gift giver at a twin baby shower. On top of that, this post is also helpful for expecting twin mamas looking for twin baby registry ideas.
So, let's get started learning about the best twin baby shower gifts!
Please note, there are affiliate links in this post. Read my privacy & disclosure policy at the bottom of this page to learn more.
What Makes a Good Twin Baby Gift?
When you want to give a baby gift, you should think about durability, practicality, sentiment, and things that will make a new parents life easier. But, you will also pick a gift that takes into consideration that the parents-to-be are having twins.
You could search for two separate gifts, or better yet, you can get baby items made especially for twins or opt for two paired baby items.
Should Gifts for Twin Babies Be Gender Specific?
Sometimes, expecting twin parents want to be surprised instead of finding out the gender of their babies. On the other hand, the parents-to-be might have found out the gender of their babies.
If you don't know the gender of the babies you will definitely want to stick with gender-neutral gifts. You do not want to give a gift that could be useless to the parents and babies.
And, even if you do know the babies genders you still might opt for gender neutral colors. It can be helpful to have gender neutral colors so that baby clothes or items can be used again in the future as hand me downs.
Lastly, since you know the parents, you will have an idea of what they like. Maybe your friend or family member loves pink and is having girls. This might be a good reason to get a bunch of pink clothes as gifts.
Use your best judgement, but at the end of the day you can't go wrong with gender neutral colors for a baby gift for twins.
Before we move on you might want to grab our FREE Twin Baby Registry Guide by filling in the form below. It includes a printable Twin Baby Registry Checklist and links to (2) ideal sample twin baby registries. This guide will walk you step-by-step through selecting the baby items that are perfect for your family's specific needs.
The Top Twin Baby Gift Ideas
Now, let's get to the list of our top 10 twin baby gift ideas. We are certain that you cannot go wrong with any of the items below.
Whether you opt for a twin baby gift basket set, a special twin baby item like a double or twin feeding pillow, or basic baby supplies like diapers or wipes, selecting from the list below is sure to be helpful for the expecting twin parents in your life.
Twin Baby Gift Basket Sets
Gift basket sets are a brilliant way to assemble adorable baby necessities in one cute basket. You can either build your own DIY twin baby basket or buy ready-made baskets.
If you want to make it more sentimental, it's a great idea to do it yourself. It is also a great way to control your spending by choosing what you want, while be mindful of the price of each item.
Some items you might want to add to a DIY twin baby gift basket include the following:
Plush toys
Cotton bodysuits
Beanies
Bibs
Blankets
Pacifiers
Teething rings
Bottles
Board books (consider including a twin-themed book)
Basically, any baby must have item or useful baby item that is small is a good addition to a DIY twin baby gift basket. Just be sure to add two of each item, where applicable, since it's for twins.
Double Feeding Pillow
Twin feeding pillows come in very handy for twin parents, which makes them a terrific gift. Double feeding pillows make feeding twins easier. There are pillows suitable for breastfeeding twins and pillows for bottle feeding two babies.
I highly recommend the Twin Z pillow for twin parents because it can be used for nursing, bottle feeding, and as a lounge area for two babies. With so many purposes, it's sure to get a lot of use.
Baby Clothes for Twins
You know that you can never go wrong with baby clothes at a baby shower. Just keep in mind that if you don't know the gender of the babies, it will be important to pick out gender-neutral clothing.
Baby clothes that are either coordinating or matching outfits are great picks for twin babies. The most useful types of baby clothing include onesies aka bodysuits and sleepers with zippers.
My personal favorite for baby clothes is Carters because I have always found the quality to be very good and their clothes always fit my babies well. Another good clothing gift option for twins is to get a layette set because they come with a large variety of baby clothes, which is a great when you have two babies to dress everyday.
Double Stroller
If you are having twins this is a must have item! A double stroller is the definition of convenience and practicality for twin parents.
To start, a great choice is a lightweight double frame stroller to easily transport babies in their infant car seats from car to stroller and vise versa. Once babies outgrow the infant car seats around 6 to 9 months old, a tandem double stroller or a side by side double stroller will be very useful for twin parents.
This is an expensive gift, but one that would is guaranteed to be used almost everyday. You could always buy this as a group gift with others.
When selecting a double stroller, make sure the chairs are comfortable, the stroller has a durable canopy and footrest, and that it is easily cleanable. The weight of the stroller and how easily and well it folds up are also important considerations.
Infant Car Seats
Ultimately expecting twin parents will need two infant car seats. You could opt to gift two car seats, if it's in your budget, or get them started with one seat. An infant car seat is a perfect gift for a new family.
Many hospitals will not let parents go home without having an infant car seat installed in their car. Providing safety while traveling in the car will take a huge load off the chests of parents. Look for seats that are comfortable and easily cleaned.
As a mom of 3, I have used quite a few car seat brands and I will say that Graco has always been my favorite. They are easy to install, the 5 point harness system works really well, and my kids are always comfortable in them.
Video Baby Monitor with 2 Cameras
Being able to monitor your babies is a huge help. It keeps new parents up to speed 24/7 with their newborns, even if they are in other rooms. One thing that is special with twins is the need for two cameras, so that each one can be pointed on a crib.
There are so many different baby monitor brands, with various specifications, and it can be very confusing. When shopping for baby monitors and cameras here are a few things you should look out for.
Camera has pan/tilt features
The monitor display or phone display is clear and easy to see
Able to sense movement and sounds
Has two-way talk back audio
My favorite monitor that has all the features listed above, plus comes with two cameras, is this Babysense monitor.
Double Glider Chair
Imagine a rocking chair, but for two! This double glider chair is an absolute lifesaver for new parents of twins.
It allows parents quality time with their babies and provides a spot to feed two babies at once in the middle of the night. As twin babies become toddlers, this is a perfect reading spot.
Diapers & Wipes
What new parent doesn't need diapers and wipes? With twins, they need a whole lot more than usual.
This might be one of the easiest gifts to buy from this list. Be sure to research brands and reviews to ensure no dangerous chemicals are used in production or check the parents-to-be twin baby registry to see which brands they registered for and whether they will be using disposable or cloth diapers.
If you are looking for an environmentally-friendly, green brand for diapers and wipes, I highly recommend the Eco Pea Company's bamboo diapers wipes, which are biodegradable and chemical-free.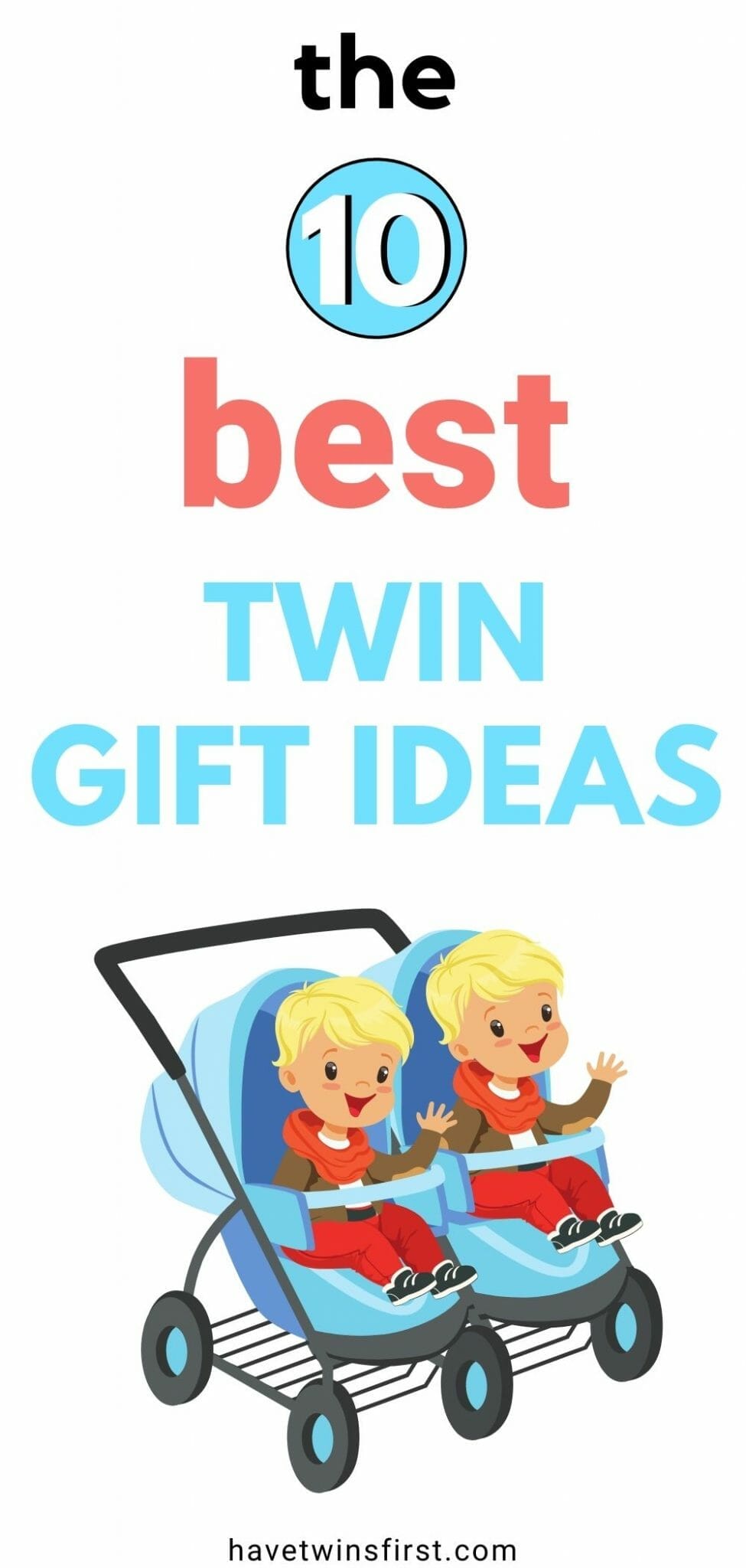 Playard
Although twin parents will likely need two playards, get them started with one. It gives the babies a comfortable space to have naps and just relax both at home and outside the home.
Playards are a great gift because they can be used up to 3 years old as a portable crib. In addition, they make a safe playpen once babies can sit up.
Crib or Bassinet
In this gift idea you have two options, which both involve baby sleep. Bassinets are a great gift idea if parents plan to have their twin babies sleep in their room. They are lightweight, making them more portable, but babies do outgrow bassinets after a few months.
On the other hand, you could consider gifting a crib. Cribs are expensive, but definitely a necessity. Plus, twin parents will need to buy two of these.
I would recommend getting a crib that converts to both a toddler bed and full size bed, so that it can be used for many years to come.
Unique Expecting Twin Mom Gift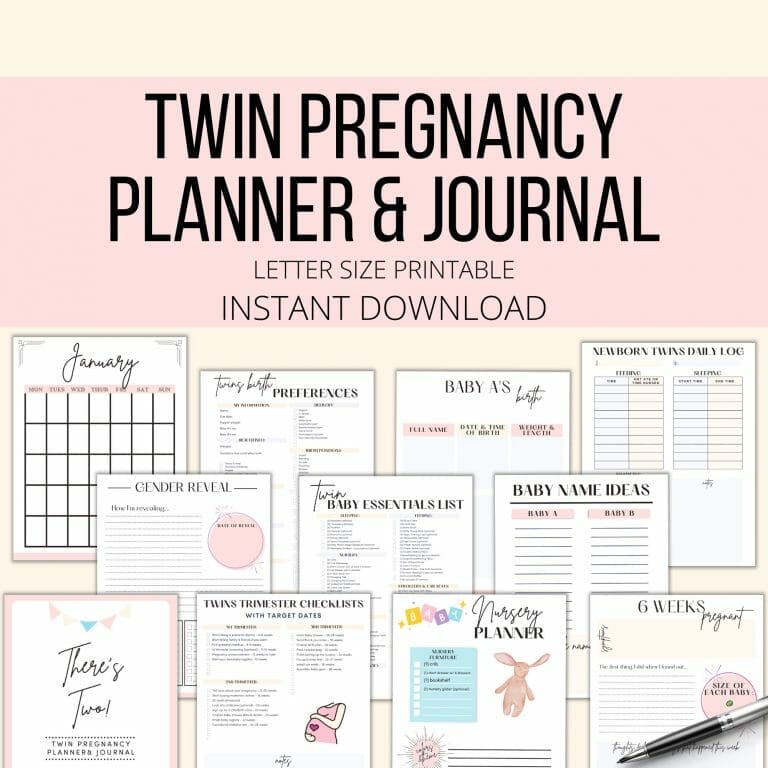 Finally, last but not least, have you considered a gift that's more for the expecting parents? A really great and exciting way to stay organized during pregnancy is with a journal and planner.
So, why not consider getting a copy of our printable twin pregnancy journal & planner. You can print it at home and put it in a binder or have it professionally printed at a copy store like Staples or The UPS Store.
This is a great supplemental gift, or if you choose to get it bound it can be a wonderful gift all on its own too. This journal and planner helps pregnant twin mamas stay organized, reduce stress, and keep everything related to their pregnancy all in one place.
Have fun selecting from this list of twin baby gift ideas whether it's for a twin baby shower or the birth of twin babies.
That wraps up our list of the top 10 twin baby gift ideas. We hope you this list helped and you have decided on a great twins gift.
Whether you were looking for a smaller gift like clothes for twin babies or a more expensive gift like a baby monitor or a twin nursing pillow, there are choices in all different price ranges. Happy twin baby shopping!