There are so many great things about having kids and watching them grow, learn, and develop their essential skills. But, what exactly do you need as your babies grow into toddlers to help them learn new things?
There are so many resources available to help you understand what babies need, but what about toddlers? In this article we are taking a look at the top toddler must haves.
This list entails what we believe are essential toddler items for 1 and 2-year-olds, as they navigate their way through the time where they learn and develop the most.
Please note, there are affiliate links in this post. Read my privacy & disclosure policy at the bottom of this page to learn more.
Toddler Toy & Playroom Must Haves
When you first have a baby the nursery is the main focus, but as your baby gets older, the toy collection will start to grow. It will be ideal to have a separate space to store your toddler's toys.
Having a dedicated playroom for all your toddler toy must haves allows your little one to have a space to call his own. Plus, having a place to pack all the toys will help keep your sanity intact!
Toddler Playmat or Carpet
A toddler playmat or playroom carpet is a really great item to have in your toddlers playroom. It is highly recommended if you have tile or wood floors.
A playmat or carpet gives your little one a safe and comfortable place to play, and it keeps the room warm when the days are chilly.
Plus don't forget, it is comfy for you too since you will be on the floor with your toddler most of the time. When you are trying to find the perfect toddler playmat, take these factors into consideration:
Is it comfortable?
Size of floor space and size of mat
Color scheme
Is it easy to clean?
Does it need to be hypoallergenic?
Toy Storage
This one is a biggie. You want to make sure that the playroom has sufficient toy storage so that it is not complete chaos all the time.
It's popular to get storage units that are stackable and colorful, which is great. But, you also want to make sure that the storage units you choose can be easily accessed by your little ones.
Additionally, it is very important to make sure the units are secure. You do not want accidents happening where the storage unit falls onto your toddler.
Having soft toy baskets are great additions for playroom toy storage because they can hold a lot of items and they also look really nice. Another way to get your toddler's toys organized is to compartmentalize similar items or sets of toys in clear containers.
Then, you can rotate these toy containers so that your toddler does not get bored and lose interest in the toys. Try introducing a new box each week, this will add some excitement around playtime for your child.
Shape Sorter
A shape sorter is a fantastic toy and a definite necessity. Shape sorter toys stimulate and strengthen hand-eye coordination, fine motor skills, and problem-solving skills.
This toy also helps children develop their vocabulary as they learn the names of different shapes, colors, and possibly even numbers, depending on the type of shape sorter you opt for. Kids love these toys and you will too, as it can often keep toddlers engaged for quite some time.
Best wooden shape sorter:
Best shape sorter with numbers:
Ring Stacker
Ring stacker toys are also fantastic for hand-eye coordination and very much help to develop visual discrimination and problem-solving skills. Generally, a ring stacker will have 4 to 5 rings, different sizes and colors, and the child will have to stack them from largest to smallest.
Being able to do this is actually quite important as it allows your child to figure out spatial concepts as they grow older.
Books
This might seem obvious, but it must be included. You can start reading to your baby from pretty much the day they are born – even if they are already sleeping. In fact, many mothers even read to their babies while they are still pregnant.
Moving on to toddlers, reading for and with your toddler is the perfect time for bonding and making that connection. It helps them to learn new words as they listen to your voice and tone.
Having age-appropriate books in your toddler's playroom means that they can also grab one that piques their interest and start paging through it whenever it suits them. Having a small book display unit helps them be independent when choosing a book to read.
To give you some good toddler board book ideas, some of the favorites when my kids were toddlers include the following:
Toddler Gear Must Haves for On The Go & Traveling
When your baby transitions into toddler-hood there are various products and items that will become the new must haves for on the go and traveling. These items will differ very slightly from the ones you may have needed when they were small babies.
Below we will take a look at some of these items, as well as, some of my favorite and recommended brands.
Convertible Car Seat
Many states and places in the world may differ when it comes to what kind of car seat a 1 or 2 year old should be in when in a car. Most commonly a rear facing car seat is used because it has proven to be far safer with less chance of neck and spinal injury if there is an accident.
Having a convertible car seat for your toddler is an absolute must-have. This car seat would be the natural progression from an infant car seat.
A convertible car seat is great because it will adjust as your child grows. You can take the padded inserts out with most seats so that a bigger child can sit more comfortably. The straps can also be adjusted and eventually many convertible car seats can become a booster seat when your child is much bigger.
Things to look for in a convertible car seat include:
Comfort
Whether it can grow with your child
If it's secure
If it's easily installed
If it's easy to clean
If you need to fit 3 car seats across your vehicle or will need to in the future
My personal favorite convertible car seat that we own (and we own quite a few) is the Graco SlimFit 3 in 1 Convertible Car Seat. This seat has all the features listed above and I just always found it so simple and easy to use for buckling and unbuckling the kids.
Lightweight Stroller
A baby needs a nice comfy stroller to get around in and often you will initially get a frame stroller set that includes the infant car seat. Once your baby is a toddler you will need a lightweight stroller that you can quickly whip out and pop your little one in.
A stroller allows your toddler to relax if needed and possibly take a nap. Strollers also allow your toddler to be front facing, which means they can see the world they are in. This helps him or her feel more apart of it all, while still being able to do so safely.
My personal favorite lightweight stroller is the Summer 3Dlite+ Convenience Stroller. It's so easy to use, simple to open and close, very light making it easy to get in and out of the car, and has plenty of storage for a diaper bag and other items.
Portable Crib
A portable crib is a must-have because when you are traveling you want to have a safe space for your toddler to sleep when away from home. There are many different styles and sizes to choose from.
It really is all about your preference and needs for your particular situation as far as which portable crib you buy. Our family always used a Pack N Play, these portable cribs, aka playards, are the most affordable option out there. They are easy to transport, easy to set-up, and comfortable.
Toddler Mealtime Must Haves
This list of must-haves may be the most important. Mealtime must-haves for your toddler are very similar to when they were babies, but the main action of these items is to avoid too much mess, while also allowing your toddler to be more independent during feeding times.
Booster Seat
Having a booster seat allows your little one to eat at the dining table and really be a part of family meal times. They attach to just about any kitchen chair allowing your toddler to sit at the table and enjoy their meals.
This is also an awesome product to have when you are going to someone else's home because they are portable.
Silicone Bibs
Silicone bibs have become increasingly popular and more and more brands are adopting to this style. The reason is probably down to the fact that they are easy to keep clean and useable over and over again.
This means you really only need about 2 of them – so it is a budget savvy product as well. Some of the silicone bibs on the market have a little compartment (for lack of a better word) at the bottom which catches any bits of food that may fall.
Many of the brands have silicone bibs that can be put into the dishwasher and washed with the dishes – super cool.
Plastic Plates & Bowls
As toddlers start to become more independent, they start exploring food and feeding themselves. This means you will want to invest in a few really good quality plastic plates and bowls.
These are great because you can get ones that are fun to look at and it will make mealtime just that much more enjoyable for your little one. Your toddler will also feel very proud knowing they have their very own set of crockery – and plastic is far more difficult to break than stoneware and porcelain.
Personally, I love this eco-friendly bamboo set of toddler plates and bowls.
Toddler Utensils
Again, having their own set of utensils helps young children feel more like they are their own person and creates a deep sense of independence. Investing in a nice set of toddler-sized utensils that include a spoon and a fork is perfect.
The best option is to get ones that are stainless steel, but also come with easy-to-grip handles.
Snack Cups with Lids
Snack cups with lids are brilliant products to have for both in the home and when out and about. These awesome inventions have a flexible lid that allows access when your little one inserts his or her hand through the silicone lid to grab a snack.
At the same time, there is no chance of spilling the snacks and your toddler can take it wherever he or she may go.
Sippy Cups
From the age of around 9 months to 1 year you will want to start looking at finding a really good sippy cup. Something that your child is happy with and can easily handle is key.
Sippy cups are the next natural progression after the bottle (if they were ever on a bottle), and therefore you want to find one that your child can use for the next few years. There are many on the market and your child can choose between a spout type, straw type, and drink from the side type.
It really will be the decision of the child as to which sippy cup you eventually buy and stick with. My two favorites are the NUK trainer cup until 2 years old, then the Munchkin Miracle 360 sippy cup after the age of 2.
Toddler Sleep Must Haves
As mentioned before, the needs for toddler sleep, although somewhat similar to that of a baby, there are some subtle changes that will take place. In this section, we are taking a look at sleep must haves for your toddler.
Sleep Sack / Sleeping Bag
Sleep sacks that allow you to also swaddle are amazing when your child is a newborn baby. It is great news that you can continue to use a sleep sack or sleeping bag well into toddlerhood, just without the swaddling piece.
You will want to be sure that you get the right size sleep sack for your toddler because they will need to move around a little during the night and not feel restricted. Sleep sacks are really great for cribs too because they do away with the need for a blanket in your toddler's crib, which is safer.
Another benefit of toddler sleep sacks is they help prevent your toddler from climbing out the crib. So, as you can see there are lot of great reasons to invest in some sleep sacks or sleeping bags for your toddler.
Toddler Bedding
At some point you will start looking at transitioning your toddler into their own bed. Maybe you have a crib that converts into a toddler bed.
When you do get to that point, you will at least need to buy a toddler comforter set and possibly a blanket as well. If you are going to a regular size bed like a twin or double bed you also might opt for fun toddler-themed bedding.
This makes toddlers feel comfortable with the move, and happy to have something that is their own.
Optional Toddler Sleep Items
The list below contains optional toddler sleep items that may be something you want to look into for peace of mind, and also to help you and your child sleep better at night. They are included on this list because I always used them and found them to be extremely helpful getting my toddlers to sleep (and stay asleep).
A video monitor is an option if your child is sleeping in a room where you are not present for an extended period of time and you want to be able to check on them.
Blackout shades are beneficial if your child is very sensitive to light and you want to keep the room dark at sunrise. They are also great at naptime to keep a room dark in the middle of the day.
A sound machine helps to soothe a small child and lull them off to sleep when they struggle and helps prevent your toddler from waking to loud noises.
Twin Toddler Must Haves
As a twin mom I always try to include a section on items needed if you have twins. As far as twin toddler must haves, you will want everything listed above, but need extra quantities and slight modifications.
Here is the list of twin toddler must haves with quantities included.
(2) Convertible Car Seats
(2) Portable Cribs
(2) Booster Seats
(4) Silicone Bibs
(2) Plastic Plates & Bowls Sets
(2) Toddler Utensils Sets
(4) Snack Cups with Lids
(4) Sippy Cups (to get started)
(4) Toddler Sleep Sacks (in case of diaper leaks)
(2) Toddler Bedding Sets
Nothing extra required from the playroom list – everything here can be shared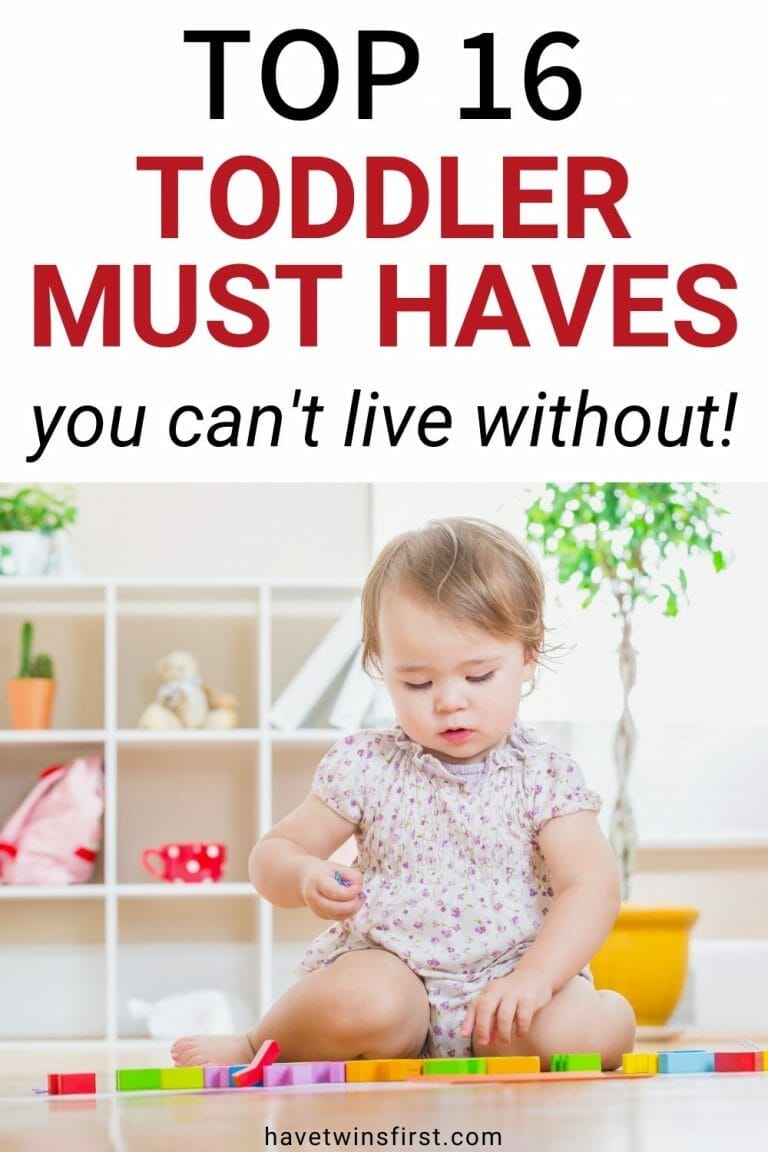 Best Places to Buy Toddler Essential Items
Now that you know the top 16 toddler must haves, where exactly should you buy them? To be honest, if you are looking for the best prices then you should just stick with the big name stores.
If you want to shop local, you can probably find at lest some of the items listed. But, for big items like strollers and car seats, your best bet will be from the stores below.
Amazon
Amazon is always a winner in my book because they have such a large variety of items available and they cater to all stages of childhood. The products are easy to order and ship to your destination and most of the time you are assured of really great quality.
IKEA
IKEA is wonderful because they provide a lot of specialty items for your child. The quality is amazing and they too have a wide variety of items.
IKEA also provides great suggestions for alternatives and additional items you may want to include in your shopping basket.
Target & Walmart
Target and Walmart should never be ruled out. They are both large stores with very big offerings for babies and toddlers.
Plus, the biggest draw – they are extremely budget-friendly. Another bonus is that you can grab some fruit and veggies, or some clothing for yourself, while stocking up on goodies for your toddler too.
Parenting a toddler can be challenging! With this list of toddler must haves for 1 & 2 year-olds, hopefully it can make that job a little bit easier.
Toddlers are a whole different ball game, even as young as 1 year old your little one is changing daily by learning, developing, and growing. That is why it is important to stock up on things that will facilitate this learning and growth.
The items listed in this article are merely guidelines, but they have all been useful in some shape or form at some time or another. Since they are tried and tested, you can be sure that purchasing a shape sorter is not a waste of money.
Keeping your toddler suitably stimulated and comfortable is key to them creating their best life in the future. Happy toddlerhood shopping and good luck!