A sleep sack is a great tool to keep toddlers warm and cozy when they are sleeping. This is especially true with blankets being a big no-no in a crib because of the risk of SIDS and suffocation (yes, even for toddlers).
But of course parenting is NOT EASY! It's not unusual for toddlers to try their best to get out of their sleep sack. And once a toddler knows how to get that sleep sack off, he will just keep doing it.
With that said, in this post we are reviewing the best sleep sacks that your toddler can't get out of it easily. Plus, I will share some hacks for keeping your toddler inside that sleep sack at night and for naps.
Please note, there are affiliate links in this post. Read my privacy & disclosure policy at the bottom of this page to learn more.
Why Should I Use a Sleep Sack For My Toddler
Sleep sacks have multiple benefits for you and your toddler. Here is a list of reasons to use a toddler sleep sack.
Help regulate body temperature while sleeping. Just be sure to choose fabric according to the season.
Prevent climbing and getting out (or falling) from the crib at night.
Keeps your toddler safe by preventing suffocation.
Best replacement for swaddles.
The Best Escape Proof Sleep Sacks Toddlers Can't Get Out Of
If you have an escape artist on your hand, what should you do? Let's take a look at the best sleep sacks that will prevent your toddler from getting out of them.
1 – Back Zip
The best option is a back zip sleep sack. As the name suggests, the zipper is on the back side. This makes it nearly impossible for toddlers to unzip themselves and escape.
I recommend the June and the Moon back zip sleeping bag. It is made of breathable bamboo and cotton that will regulate body temperature when your child is sleeping.
It is made up of very soft and stretchy fabric to keep your toddler comfortable. The back zip will make it difficult for your toddler to remove the sleep sack.
The neck and the armholes of June and the moon sleeping bag are fitted but still comfortable for a toddler. The sleeping bag is available in sizes from 18 months to 5 years old.
A downside to this sleep sack is the expensive price tag. But if it helps your toddler keep his or her sleep sack on and asleep, it's worth it.
2 – Covered Two-Way Zipper
A two-way zipper is designed to open (or close) from the top or the bottom. You can close the zipper towards the bottom so your toddler cannot figure out how to open this thing.
I like the SwaddleDesigns Cotton Muslin Sleeping Sack, which has a two-way zipper that is protected with a zip cover. The sleep sack itself is made of premium cotton muslin that gets softer with every wash.
The fabric is breathable and is more suitable for any season. The two-way zipper makes it hard for a toddler to escape, but it also makes diaper changes easier.
This sleep sack is available in sizes up to 18 months old. You can choose from many different cute designs and colors.
3 – Side & Inverted Zipper
The third option is a sleeping bag with an inverted side zipper. A side zipper is more difficult for a toddler to figure out.
The Woolino 4-season toddler sleeping bag has shoulder snaps on both sides. It has a full-length inverted zipper on the side that is easy to open and close for the parents, but is not easy for toddlers to operate.
The Woolino sleeping bag comprises a wool liner and an organic cotton shell. This sleep sack is suitable for all four seasons.
You will get a dressing guide along with the sleeping bag so you can understand how to use this sleep sack in each season. This sleep sack has a universal size of 2-4 years old and is available in 9 different designs.
Again this sleep sack has a hefty price tag, which is a negative of this product.
Hacks For Keeping Your Toddler In The Sleep Sack
Here are a few things that will help keep your toddler in the sleep sack. Getting an escape-proof sleep sack in combination with these tips will help prevent your toddler from feeling the need to take his sleep sack off.
Turn Sleep Sack Inside Out
One way to keep your toddler from opening the sleep sack is to turn it inside out. You can zip it by putting your hand in the sack, but your toddler will have difficulty doing this once it's on.
Put It On Backwards
If the neck of the sleep sack is loose and low enough, you can put it on backwards. With the sleep sack zipper on the back, it's harder to take off.
Offer a Reward For Keeping It On
Rewards and prizes work great for toddlers. You can tell your child he or she will get a reward if the sleep sack is kept on all night.
Here's some great toddler reward ideas.
Don't Let Them See You Using The Zipper
When you put the sack on or remove it, ensure your toddler is not watching you do it. You can do this by using distraction.
Play or talk with your child. This way he will focus on your face instead of your hands.
Make The Sleep Sack a Habit
Once you have started to put on the sleep sack, make it a habit. You can't keep changing what your toddler is wearing while sleeping.
If you want your toddler to stay in the sack, put it on DAILY. This could help your child get used to it and stop trying to get out of it.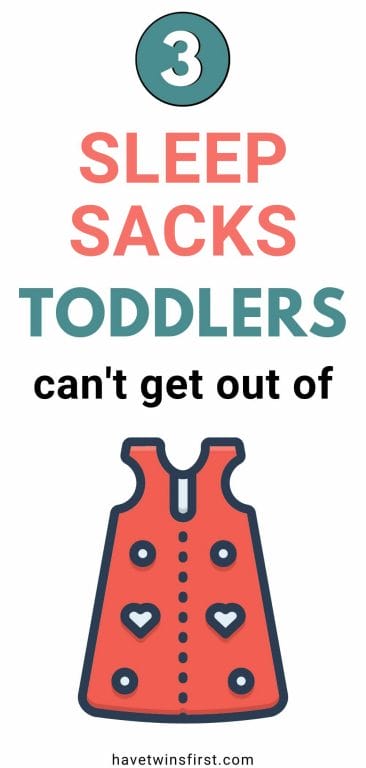 When To Stop Using a Toddler Sleep Sack
A sleep sack is a great tool for a good night's sleep, but every good thing must come to an end. Your toddler cannot wear it for life.
You can stop using a toddler sleep sack when your little one is moving out of the crib or when he wants to stop wearing it. Once a child moves to a bed, you can start using blankets.
Another thing to keep in mind is that some toddlers grow up quickly. If your child is too big for a sleep sack, you can simply stop using it.
If your toddler's a sleep sack escape artist, try investing in the type of sleep sack that toddlers can't get out of.
You can get the sleep sacks with a zipper on the back or on the sides so your toddler cannot open them. A two-way zipper is also a great option.
Besides that try some of the hacks above to help your toddler keep his sleep sack on. Good luck navigating your toddler's sleep – it's not always easy!
Finally before you go, if you have big struggles with your toddler's sleep, then this Toddler Sleep Training Guide is just what you need. This guide was written by a pediatric sleep consultant who is also a mom. If you need help with any of the following items, then I highly recommend getting it!
Getting rid of the pacifier
Stopping co-sleeping with your toddler
Toddler bedtime battles
Toddler night wakings
Transitioning from the crib to a bed
Learn More About the Toddler Sleep Training Guide
Additional toddler sleep help: