Creating a baby registry can be overwhelming at first, but it saves you a lot of work. Luckily many big online retailers allow you to create a registry with lots of customization.
With so many options, you might be wondering if you can you have more than one baby registry. Having multiple baby registries can be helpful if you avoid overlapping baby items between the registries.
One thing to keep in mind is that it can be confusing for your guests (and you) if you don't have a good strategy. In this article, we will discuss reasons to have multiple baby registries, the best alternative to creating more than one baby registry, and creating a baby registry if you are having second baby.
Please note, there are affiliate links in this post. Read my privacy & disclosure policy at the bottom of this page to learn more.
Why Should I Have a Baby Registry?
A baby registry is like a shopping list for your yet to be born baby. Having a baby registry has so many benefits, which include the following:
Keeps you organized
Easily share favorite baby products with friends and family
Keep track of which items have been purchased and which are still needed
Free welcome box, baby registry completion discounts, and other benefits are provided by many baby registry retailers
Can I Have More Than One Baby Registry?
Yes, you can have more than one baby registry. You can create multiple registries with multiple retailers.
You can even create multiple registries with the same retailer. However, every retailer does have different rules and conditions for their gift registries.
Should I Have Multiple Baby Registries?
Having multiple baby registries can be beneficial, confusing, or both. It will depend on your situation and how you create these registries.
Below we will go into great detail on reasons to have more than one baby registry. But some of the downsides include:
Greater chance of duplicating an item
Could be confusing for those purchasing the gifts
More difficult to track multiple registries
How Many Baby Registries Should I Have?
I recommend having 1 or 2 baby registries. Trying to keep track of more than two baby registries just gets hard.
One thing to keep in mind is that many some stores offer a universal baby registry, where you can add items from any online store. This will be discussed in more detail below.
Personally, I chose to create two baby registries. I had one on Amazon and one at Target. I wanted to give my friends and family a choice between shopping online and being able to go in person to pick out gifts.
At the end of the day, it will be your personal preference on how many baby registries you create.
Reasons To Have Multiple Baby Registries
If you are considering creating more than one baby registry, here are some reasons why you might choose to.
1 – Provide Online & In-Store Shopping Options
Some retailers provide in-store and online shopping options, while some don't. If you would like friends and family to have a choice between shopping in-store versus online for your baby, then this is a great reason to create multiple baby registries.
Additionally, you might like the option of looking at some items in person before adding them to your registry too.
2 – Different Stores Have What You Want
A baby shopping list can seem endless. You might like a store that specializes in something specific like nursery furniture.
You might opt to create a baby registry there for the furniture you need. But then you would want to create another baby registry elsewhere that covers all the other baby must haves.
Even if you have multiple stores that do carry everything you need for your baby, you might have preferences between different brands. Or maybe sales are better at one store versus another.
3 – Get More Welcome Boxes
There are quite a few retailers that will give you a free welcome box when you sign up to create a registry with them. The welcome boxes often include free goodies, coupons, and samples.
If you create multiple baby registries, you can get a welcome box from each store. Just keep in mind, there are often rules to qualify for a welcome box. Be sure to read up on those for any store you are considering.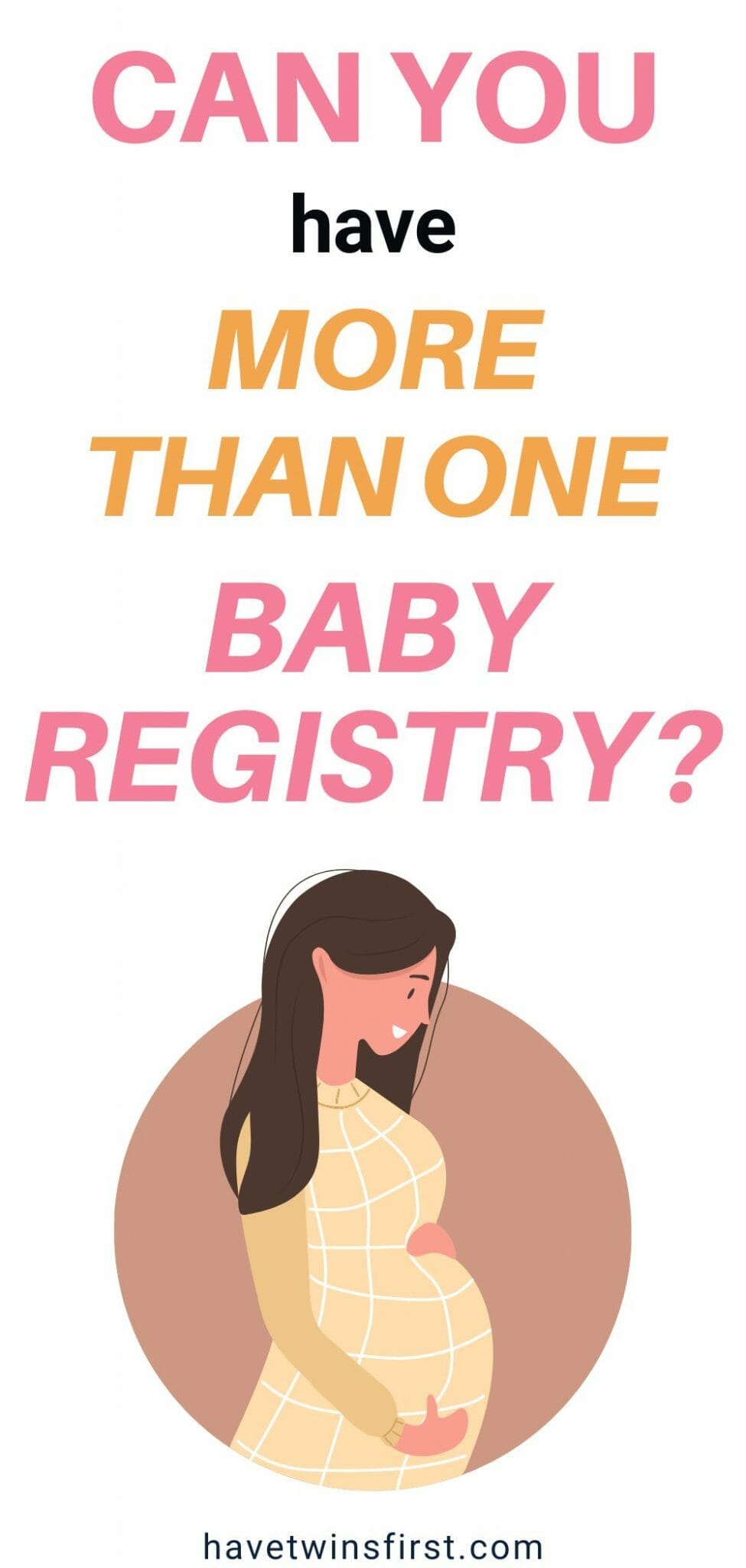 Multiple Baby Registries Etiquette
If you choose to create multiple baby registries, then take care of these things.
Avoid adding the same products to all the registries.
Make sure all registries have a few items to choose from.
Compare the prices. The same product may have different prices with different retailers. Add the product to the registry with the lower price.
Make sure your guests know that you have created more than one registry.
Keep the registries updated.
Universal Registry Rather Than More Than One Baby Registry
You also have an option to create a universal baby registry. A universal baby registry is a kind of registry where you can also add items from other stores.
This allows all your items to remain in one place and on one baby registry. Many retailers including Babylist (probably the most well known for this option) and Amazon allow for a universal baby registry.
Creating Another Baby Registry For a Second Baby
If you already have children, you may not be tempted to create a new registry. But trust me the completion discount is reason enough to create one.
There are items you bought during your previous pregnancy that are not reusable. You also might have items that were damaged or outdated.
Even though you might not have a baby shower when a second baby comes around, you might have close friends, family, and coworkers who ask what you want. In this case you can send them the link to the baby registry you have created.
I personally created a baby registry on Amazon for my second pregnancy because I wanted to get the completion discount. You can also get a welcome box. It definitely saved us some money to do this.
How To Create Second Baby Registry On Amazon
You can create multiple baby registries on Amazon. However, all the registries cannot be active simultaneously.
I would recommend deleting or archiving your old registry and then starting a new one. If you want to buy similar items once again, you can update your old registry instead.
Here's how to create a new baby registry and delete the previous one.
Go to your Amazon baby registry page.
Go to the registry you already have and navigate to the bottom of the page.
Click "delete my registry". You will see a pop-up message to confirm the deletion.
Next, go to the Amazon baby registry page and click "create a new registry".
Add the items you want and click "create my baby registry".
Pretty simple, right? Now if you want to update your old registry, just go to your already created registry and click edit. Add and remove the products you want and click save.
Yes – you can have more than one baby registry. Now you just have to determine if you want to.
Multiple baby registries can be beneficial or confusing depending on your situation or preferences. If you want to provide both online and in-store shopping options for your baby shower guests or want to receive more than one welcome box – creating multiple baby registries is the way to go.
Just remember you will want to ensure that you don't overlap items on different registries. Plus, you also have an option to create a universal baby registry where you can add items from other retailers all on the same registry.
Finally before I sign off, be sure to grab your FREE printable Baby Registry & Pregnancy Checklists by filling in the form below. Learn which must haves to put on your baby registry and when to complete items in each trimester of your pregnancy.