A new mom has to make a lot of decisions and that includes small decisions like choosing the right baby gear. A baby bottle is an essential item that you will require whether you are breastfeeding or not.
But, how many baby bottles do you need? How do you choose one?
This decision varies from case to case. The number of bottles you require depends upon the number of times your baby needs to use them.
In this article, I'm going to help you decide how many baby bottles you should buy or put on your baby registry, Plus, you will learn how to find the right bottle.
Please note, there are affiliate links in this post. Read my privacy & disclosure policy at the bottom of this page to learn more.
How Many Baby Bottles Do I Need For a Newborn?
Typically, newborns feed 10-15 times a day. I recommend starting with a couple different types or brands of bottles to see which one your baby prefers.
Once you know the best bottle for your baby you can buy more according to your baby's preference and the number of times she is eating per day. The number of bottles you require depends upon several factors like if you are exclusively breastfeeding, formula feeding, mixed feeding, or feeding multiples.
So, let's get into the details on the actual number of bottles you need, depending on the way you will feed your baby (or babies).
How Many Baby Bottles Do I Need If Breastfeeding?
If you are exclusively breastfeeding it is very likely you will also pump at some point. Most pumps come with a couple of bottles so you don't need any extra bottles to start.
However, as your baby grows and you store breast milk in the fridge, I recommend exclusively breastfeeding moms have at least 4 bottles. That will give you two to pump into and two to store in the refrigerator at any given time.
You might find you prefer to have 6 or 8 bottles total, so you can buy a few more if that's the case.
How Many Bottles Do I Need If Formula Feeding?
When you are formula feeding you will use a bottle each time your baby eats. Once you know the bottles your baby likes, you will require at least 8 bottles for formula feeding.
A lot of parents like to get a bottle for each feeding of the day, this way they only need to wash bottles once a day.
How Many Baby Bottles Do I Need For Exclusively Pumping?
If you are exclusively pumping you will require 2 bottles each time you pump. When you are done pumping you might end up combining your bottles into one.
But you will still need to clean the empty bottle. For this reason it's best to have 16 bottles in the rotation when your baby is a newborn and you are exclusively pumping.
How Many Baby Bottles Do I Need for Twins?
For twins, that means double the bottles that are needed. I recommend having 8 bottles if you are breastfeeding your twins.
On the other hand, if you are formula feeding or pumping for twins you will require at least 16 bottles.
How Many Bottles Does a Newborn Go Through In a Day?
A newborn baby usually eats 8-12 times a day depending upon the quantity and type of milk. Breast milk is usually very light and more digestible.
So a breastfed baby will tend to eat more often when compared to a formula fed baby. If you are breastfeeding your newborn, at first you will not use many or any bottles. For formula feeding or exclusive pumping, your baby will drink about 8-10 bottles per day.
Before we move on, be sure to grab your FREE printable Baby Registry & Pregnancy Checklists by filling in the form below. Learn which must haves to put on your baby registry and when to complete items in each trimester of your pregnancy.
What Size Baby Bottles Do I Need For a Newborn?
Did you notice there are different size bottles? It can be kind of confusing. When your baby is a newborn, you will want the smaller 4-5 oz bottle sizes.
They provide accurate measurements for the amount of formula or breast milk you need to give and they are a good size for feeding a newborn. As your baby grows, especially for formula fed babies, the larger bottles will become necessary in order to provide enough milk in a feeding.
Things To Consider When Choosing a Baby Bottle
There are so many different types of bottles available on the market. You can choose from different types of materials, shapes, and sizes. But how do you choose a bottle that is suitable for your needs?
Here are the most important factors you should consider when choosing a baby bottle.
Material
Baby bottles are available in glass, plastic, stainless steel, and disposable material, with the most common being glass and plastic bottles. Every material has its pros and cons.
Glass is BPA-free. It's safe for both your baby and the environment, but it is easily breakable. Meanwhile plastic is not environmentally-friendly and the BPA can be bad for your baby. But these bottles are long-lasting and you don't have to worry about them breaking as easily.
Stainless steel bottles can be expensive, but they are durable. You cannot see through the bottle. Every time you want to check how much milk is left, you will have to open it.
A disposable bottle is a good option when you don't want to spend time cleaning. However, they will cost you a lot and they are not good for the environment.
Size
For newborn babies, you should get the smaller-sized bottles (4-5 oz). Newborns feed small amounts of milk every time, so smaller bottles are the way to go.
It is easier to measure the small amount of formula per feed in this bottle too. You can shift to bigger bottles as needed when your baby becomes a few months older.
Shape
Baby bottles are available in different shapes such as standard, angle, and wide bottles. Wide bottles mimic the shape of breasts, so it's a good option for breastfed babies.
Standard bottles are tall and straight while angled bottles are bent at the neck to make it easier to hold.
Parts
Baby bottles are usually a combination of different parts i.e. bottle, nipple, collar, and sometimes a travel cover. Availability of all parts is an important consideration when choosing a bottle.
Before buying a bottle brand, make sure that they also sell all the parts separately. Additionally, if a bottle has a lot of parts associated with it that means more things to clean.
Easy To Clean
The baby bottle you choose should be easy to clean. A typical shape or wide bottle is easier to clean than an angled bottle.
Plastic bottles can be cleaned easily but they can get stains over time. Meanwhile, glass bottles do not have this problem.
Nipples For Combined Feeding (Nursing + Bottle Feeding)
When you are nursing and bottle feeding at the same time, you should choose a bottle who's nipple is trying to mimic the shape of the breast. Sometimes babies start to prefer one kind of nipple and they might give you a hard time while nursing or while bottle feeding.
A wide-shaped bottle with a breast-shaped nipple is a good option to choose for combined feeding.
Pump Compatibility
If you will be pumping, especially if you will be pumping often it can save you a lot of time to use bottles that are compatible with your pump.
Best Baby Bottles For Newborns
Now that you know what to look for when picking a bottle and how many baby bottles you need, let's review our list of the best baby bottles available for newborns. You can use this list to pick the bottle that is the best fit for your family's needs.
Philips Avent Natural
Philips Avent Natural feeding bottles are my personal favorite assuming your baby doesn't have any feeding issues. They are made of polypropylene, which is a BPA-free material.
These bottles are great for breastfeeding babies because of their nipple shape and feel. They are ultra-soft and the wide breast-shaped nipples make it easier for your baby to latch to it.
An anti-colic valve is integrated into the nipple by making air flow away from your baby's tummy. The nipples are available in various flow rates too.
You can choose the nipple size according to the developmental stages of your baby. Start with a "0M" flow rate for your newborn baby and then upgrade the nipple size as needed. No need to buy a new bottle.
Be sure to check which nipple size the bottles come with first. Finally, the bottle shape is easy to hold for parents and the wide neck and few parts makes it easy to clean.
Dr. Brown's
Dr. Brown's feeding anti-colic baby bottles are a popular recommendation of pediatricians in the United States. These bottles are made of plastic (BPA-free) and the nipples are manufactured with super-soft silicone.
The anti-colic vent system of these bottles is clinically proven to reduce colic, and good airflow during the feedings decreases spit-ups and burping. Dr. Brown's bottle nipples are available in different flow rates so you can choose according to your baby's age.
These standard-sized bottles are compatible with most breast pumps. You can easily wash these bottles with a brush or in a dishwasher and they are also sterilizer safe.
These were the bottles of choice for my newborn who had trouble drinking fast enough. With the first few bottles we tried she would have a lot of milk spilling from her mouth.
Tommee Tippee
Tommie Tippee Closer to Nature baby bottles are ideal for breastfed babies. The breast-shaped nipple and bottle make switching between nursing and bottle feeding simple.
These bottles are made of BPA-free material and the nipple is made of soft silicone that feels like human skin. The anti-colic valve in the nipple reduces air ingestion, thus preventing the symptoms of colic.
Different nipple flow rates are available to choose from according to your baby's age. These bottles are easy to hold because of their wide shape.
Medela
Medela bottles are a great choice when you are going to use a Medela pump. This is exactly what I used for my exclusively breastfed newborn for this exact reason.
The whole Medela set includes everything you need to pump into, store, and feed breast milk. These bottles are compatible with all Medela breast pumps.
The bottles are made of BPA-free plastic material that stores the nutrients of the breastmilk. The silicone nipple is soft and wide, so your breastfeeding baby shouldn't have any problem drinking from them.
Medela breast milk bottles are leak-proof because of the screw-on lid and you can conveniently invest in a carrying cooler case too. The bottles are dishwasher and microwave safe and can be easily cleaned with a bottle brush.
Nanobebe
Super cute Nanobebe Flexy silicone baby bottles are available in 4 different vibrant colors. These bottles are great for breastfed babies because silicone is soft and feels like human skin.
The bottle shape and material mimics the mother's breast, which will help ease the transition between nursing and bottle feeding. Plus, there is a triple vented anti-colic nipple.
It is important to note that you may need to heat milk or water before putting it in the bottle because silicone is heat-resistant. A slightly tilted shape makes it easier to hold the bottle while feeding the baby and these bottles can be cleaned in a dishwasher.
Philips Avent Anti-Colic
Philips Avent anti-colic bottles are great for exclusively bottle fed babies. As the name implies, they are designed to prevent problems with colic in babies.
These bottles come with a unique AirFree vent, which keeps the nipple full of milk (and not air). The vent also makes the bottle suitable for upright feedings.
You can either feed your baby with or without the vent, it's up to you. The bottles are made of BPA-free material and their wide necks make them easily washable.
Comotomo
Comotomo baby bottles are made of silicone and they are another great option for babies who are nursing and bottle feeding at the same time. The bottle looks and feels exactly like a breast because of its shape and softness.
The dual anti-colic vents reduce the risk of colic in babies. A truly wide neck makes the bottle very easy to wash.
These bottles are safe in the microwave, for boiling water, to use in a steam sterilizer, and in the top rack of the dishwasher. However, you might want to warm the milk before pouring it into the bottle because silicone is heat-resistant.
Philips Avent Glass
Philips Avent glass bottles are made up of premium quality borosilicate glass that is heat and thermal shock resistant. The Natural Response nipple allows for paced feeding similar to nursing at the breast.
The anti-colic valve on the nipple prevents your baby from ingesting air. A wide range of nipple flow rates are available so you can change the nipple as your baby gets older.
The shape of the bottle is designed in such a way that is easy to hold for parents. The bottle can be refrigerated, warmed, or sterilized, and they are easy to clean too.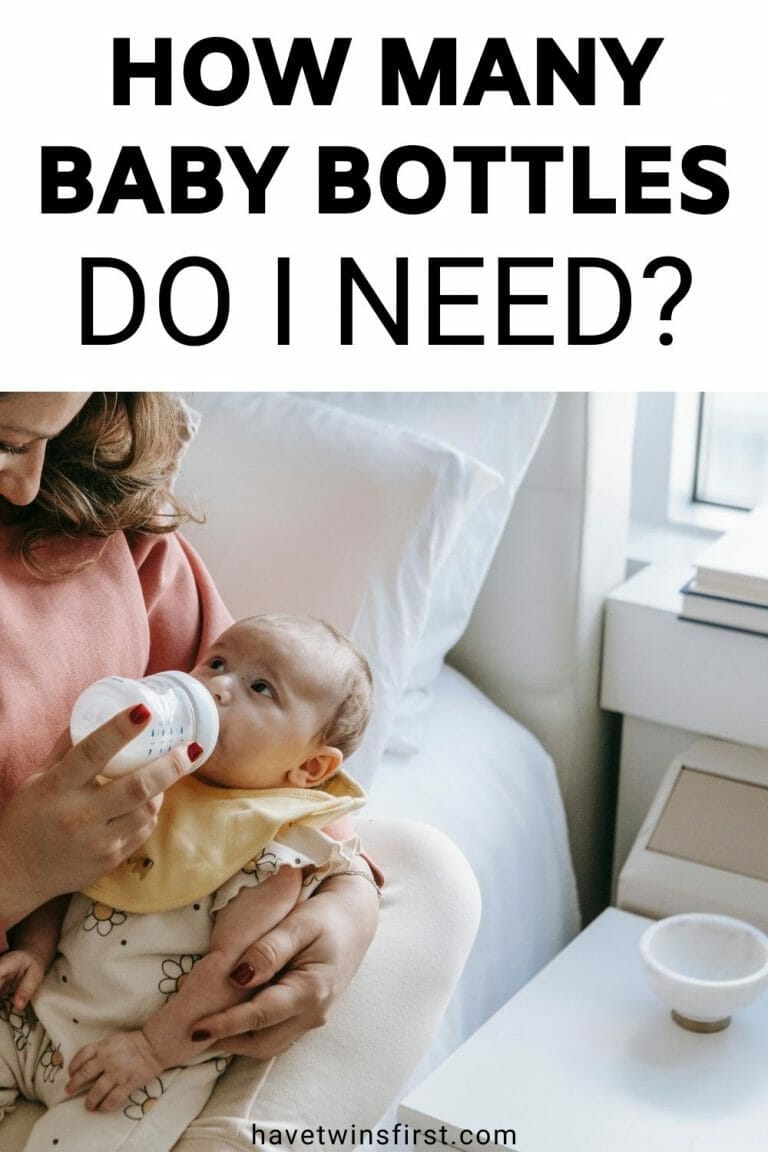 How To Clean Baby Bottles
It is so important to clean baby bottles properly. You should even sterilize them, especially during the first 3 months of your baby's life to make sure that there are no germs.
A baby's immune system is very immature. If the bottle is not cleaned properly. it can cause infection, especially diarrhea and vomiting.
Here's how to clean a baby bottle properly with a brush.
Take all parts of the baby bottle apart. Remove the nipple from the screw cap.
Put some dish soap in your washing container and add hot water.
Let the bottle parts sit in the hot water to kill the germs.
Wash your hands with a good anti-bacterial soap.
Clean the bottle with a bottle brush. Make sure that there is no leftover milk in the bottom of the bottle.
Clean the screw cap thoroughly including the area from where the cap screws.
Put hot water in the teat of the nipple and squeeze it to remove the leftover milk from the hole of the teat.
Rinse all the bottle parts thoroughly so there is no soapy liquid left.
Let the bottle parts air dry. I absolutely love this bottle drying rack and still use it today for sippy cups.
If you are looking for a bottle brush recommendation, I love this one and have used it for years. I love the holder that it comes with and it does its job very well.
How Often Do Bottles Need To Be Replaced?
In general baby bottles should be replaced every 4-6 months. Bottles that are not made of BPA-free material should be replaced within 3 months.
If you see discoloration of the bottle or if the bottle is cracked or damaged, you should replace it immediately. Keep in mind you will also need to replace the nipples every month or whenever you see any damage or discoloration.
Can Bottles Be Reused For Another Baby?
A good bottle made of BPA-free material should be reusable for another baby as long as it is not broken, damaged, or discolored.
However, you must change the nipple, this is not reusable for another baby.
Understanding how many baby bottles you need is dependent on the way you will be feeding your baby. When you are nursing you need fewer bottles than a mom who is formula feeding or exclusively pumping.
As a reminder you will want at least 4 bottles if you are breastfeeding, 8 bottles for formula feeding, and 16 bottles if you are exclusively pumping. For twins it's 8 bottles for nursing and 16 bottles for both formula feeding and exclusively pumping.
When choosing a baby bottle you need to check that the material and shape of the bottle is right for you and your baby. For nursing babies, the nipple of the bottle should mimic the breast.
Other good qualities of a bottle include being made of BPA-free material and being easy to clean. Good luck on this adventure of feeding your newborn and enjoy your time as much as possible.
Finally before I sign off, if you are expecting you might also be interested in these other printable pregnancy resources listed below.