What does it take to succeed when pumping for twins, particularly when trying to exclusively pump for twins?
As a twin mom who dealt with having babies in the NICU, I ended up pumping in order to feed my babies breast milk.
In this post I will cover what to expect when exclusively pumping for twins and tips for exclusive pumping success.
A Desire To Breastfeed Twins
When my twins were born I was a first time mom. Throughout my pregnancy I knew I wanted to breastfeed. My reasons varied from believing this was the healthiest option to most of my friends breastfeeding their babies. Plus, I was breastfed as a child.
I was very nervous about trying to breastfeed twins. I had seen the struggles my friends had been through breastfeeding just one baby.
In the end I was able to provide breast milk to the twins for the first 11 weeks of their life through exclusive pumping.
Since I have previously written about my personal experience breastfeeding premature twins, which mostly entailed pumping for them, the purpose of this post is to discuss what to expect when pumping for twins. Plus, provide tips on how to succeed when exclusively pumping for twins.
Please note, there are affiliate links in this post. Read my disclosure policy to learn more.
How To Prepare To Pump For Twins
If you are pregnant with twins and want to breastfeed, it is definitely important to be prepared to exclusively pump.
It could be you pump for just a few weeks or you could end up pumping the whole time you breastfeed. This is more likely with twins because twin pregnancies result in a higher likelihood of early births.
The smaller the babies, the less likely they will have a good latch and strong enough suck to breastfeed when they are born.
In my case, the twins were born at 35.5 weeks, and they were brought to the NICU after they were born. They weighed 4 lb 12 oz and 4 lb 13 oz, and they were not strong enough to latch and breastfeed.
This meant I started pumping for my twins at the hospital. I do not feel I was prepared for the possibility of needing to exclusively pump, especially for two babies.
I had even taken a twins birth and breastfeeding class at the hospital, but it did not teach anything about how to handle pumping for twins.
If I were to do it all over again, how would I handle exclusively pumping for twins? Here are my top 4 tips.
Tips To Succeed When Pumping For Twins
Setup and accept any and all help you can get
Get a good breast pump through your insurance
Decide on a pumping schedule
Commit to pumping for your twins
Getting Help With Twins
This is one is the BIGGEST keys to success. I had help during the first month at home with my newborn twins. After that I was completely alone while my husband was at work.
When my family was around during that first month I made the mistake of focusing on my fears of what would happen when I was alone.
While they were around I could have tried to fit an extra pumping session or two in to boost my supply.
I still pumped 6 times per day, while also dealing with spinal headaches. But, maybe I could have gotten help with night feedings and pumped at night, instead I skipped pumping at night.
Start by enlisting the help of your family (it's free). Another option, if you can afford it, is to hire help. If you can swing it, I think it's definitely worth hiring helper.
Maybe hire a night nurse to get some sleep. This would allow you to just wake up, pump, and go back to sleep.
A cheaper option would be to hire a teenager from the neighborhood to help feed your twins, while you go pump.
I really wanted to do everything myself as a first time mom. I cannot stress enough how important it is to accept help from your family and consider hiring someone to help you as well.
Take it from someone who has been there, it will be worth it.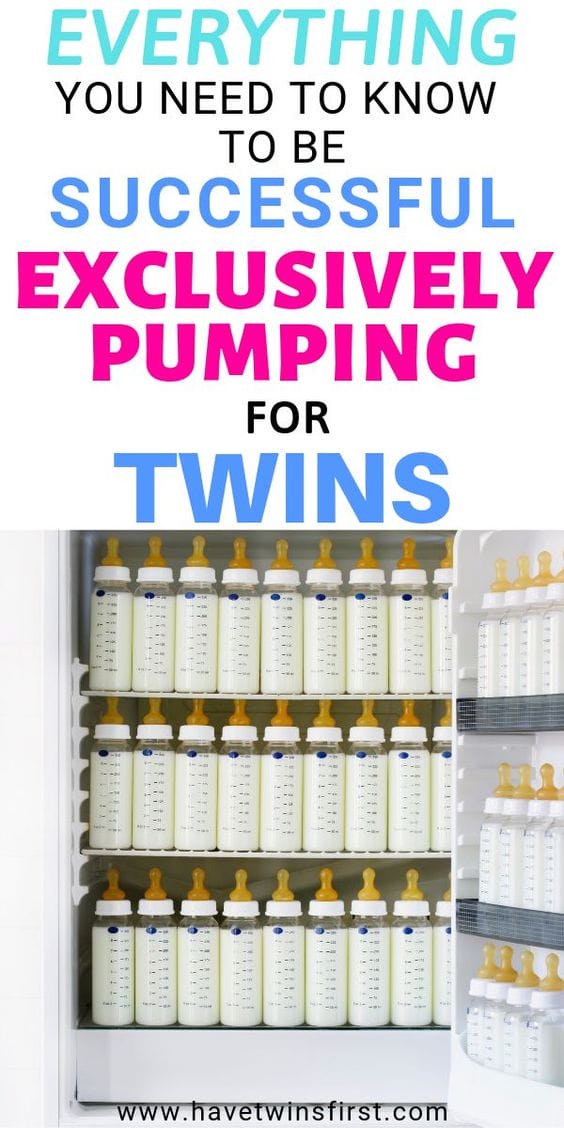 Choosing A Breast Pump For Twins
Depending on your preference and what your insurance covers, either rent a hospital grade pump or buy a double electric breast pump.
The hospital grade pumps are stronger, but there could be a limitation on how long insurance will cover a rental.
Personally, because of the time limitation, I decided purchase a breast pump through my health insurance.
I used the Medela Pump In-Style Advance Breast Pump for both the twins and my singleton. This breast pump was wonderful. I never had any problems with it. I have two of them and they both still work like a charm.
Another breast pump that is very popular is the Spectra S1. I recommend looking into both the Medela and Spectra pumps and deciding which one you think would work best for you.
Baby Gear You Need When Pumping For Twins
I wanted to include a list of the gear you will need if you end up pumping for your twins.
(1) Breast Pump – the Medela Pump In Style Advanced has worked well for me. I get a lot of milk when I pump and it does not hurt. The Spectra S1 is another popular option. For more options check out this post on the best breast pumps for exclusive pumping.
(2) Bottle Sets – Your Medela pump will come with 2 bottles. I recommend also purchasing these Medela 5 oz bottle sets. The bottle set comes with the nipples you will need for feeding. I use the Medela bottles because all the parts match up with the pump, which makes life much easier.
(1) Hands Free Pumping Bra – I recommend the Simple Wishes bra. I also have the Medela hands free bra, but the Simple Wishes is far superior.
(1) Box Of Breast Pads – I recommend the Lansinoh brand. I would start with a box of 60 pads.
(1) Tube Of Lanolin – I prefer the Medela brand over the Lansinoh brand, it flows much easier out of the tube. I only used this during the first few weeks, but you will need it.
(3-4) Nursing Bras – Nursing bras do not have underwire and they are very comfortable You will probably need to buy new bras because you will be a different size while pumping / nursing. Plus, you do not want to wear bras with underwire, because it can negatively impact your milk supply. I think the best place to purchase more nursing bras is Target. They are reasonably priced and comfortable. Make sure you get at least one nursing bra for sleeping.
(1) Twin Z Pillow – Even if you're not nursing, you will want this pillow to assist with bottle feeding your twins simultaneously. You can use the Twin Z pillow to prop your babies and easily feed them at the same time. I wish I had known about this pillow when my twins were babies.
(1) Set of Pump Spare Parts – It's nice to have a spare set of pump parts for two reasons. If you are not up for cleaning after every pumping session, you will save a little time. Secondly, if anything happens to your first set, you now have backup.
Extra membranes – Replace membranes every couple of weeks. You will notice them feeling thinner when you clean your pump parts. This is a sign that is time to replace them. I always noticed an uptick in breast milk supply when I switched to a new set of valves.
Pumping Gear For Working Moms Of Twins
If you will be pumping at work, in addition to the above gear I recommend the following.
(1) Breast pump – Get a second breast pump, so you don't need to lug your pump to and from work.
(1) Hands free pumping bra – Get a second hands free pumping bra, so you don't need to bring one back and forth.
(2) Bottle Cooler Sets – These are perfect for storage for transferring bottles to and from work, plus they keep your breast milk cold during transportation.
(1) Sweater cardigan – Stay warm while your pumping.
Pumping For Twins Schedule
As far as establishing a pumping schedule, you will want to build some flexibility into it.
I think the best way to do this is decide how many pumping sessions you will complete in a 24 hour period.
In my case I did 6 pumping sessions per day. This did not produce enough breast milk to support two babies exclusively with breast milk. But this is what I was able to do given my circumstances.
For a point of reference, if I was only feeding one baby, I would have been able to supply about 90% breast milk with 6 pumping sessions.
Could I have woken up at night for an extra pumping session or two? Sure, but since I was also waking up to feed the one of the babies, this was just not going to happen.
Which again, emphasizes the importance of getting as much help as possible to succeed with exclusive pumping for twins.
Below is a sample schedule of what it might look like when you pump for your twins. This is for six pumping sessions per day. If you can add more than this, then go for it.
I think this schedule is a realistic look at what you can aim for, if you will be on your own with your twins.
Just remember, 6 sessions did not provide enough breast milk for two babies and I had to supplement with formula.
Committing To Pumping
If you have read what it's like to breastfeed premature twins, then you know switching from pumping to breastfeeding can be very difficult.
I thought switching to nursing would make feeding the twins get easier, but instead it got harder.
Over the first 10 weeks I had become very comfortable with my pumping schedule and feeding my babies (simultaneously when needed) with a bottle.
However, I was concerned with the amount of breast milk I was making. I thought if I could just start breastfeeding my supply would increase.
What I did not realize was how difficult it would be to get the twins to latch and once latched, to establish a good latch.
It felt like completely starting over after 10 weeks of really hard work.
If you are exclusively pumping and you are comfortable with it, do not feel like you have to make a change. It is okay to stick with this method. In my case, I could have provided breast milk a little bit longer if I hadn't been so stressed about figuring out breastfeeding.
So, there you have it. My top 4 tips to succeed with exclusive pumping for twins.
Before you go, a quick reminder of the most important tip. Get help, get help, get as much help as you can get.
Need To Increase Your Milk Supply?
If you still have more questions about pumping breast milk and how to maximize your sessions, then I highly recommend you check out the the Pump It Up online pumping class.
If you are looking for a step by step guide on how to pump for your babies, then definitely sign up for the Ultimate Exclusive Pumping class from Milkology.
These classes are so worth the very small cost in order to know you are doing everything you can to make as much breast milk as possible while pumping for your twins. 
If you found this post helpful, please save it on Pinterest.