A bassinet is a perfect place for a newborn to sleep mainly because of its size and mobility. In recent years, the American Academy of Pediatrics now recommends that babies sleep in their parents bedroom until 6 months old.
What do you do if your baby is too big for the bassinet, but not ready for the crib or you need another place for her to sleep that fits in your room? In this article, I will discuss the signs that your baby is too big for the bassinet, the best alternatives, and how to transition your baby to a new sleeping space.
Please note, there are affiliate links in this post. Read my privacy & disclosure policy at the bottom of this page to learn more.
When Is a Baby Too Big For a Bassinet?
A bassinet is designed for the comfort and safety of the child, but how long can you actually use a bassinet? Typically, babies outgrow the bassinet at around 3-5 months old.
This timeline is hard because you might not feel your baby is ready to go into the crib, especially if you want your baby sleeping in your room until 6 months old.
Signs Your Baby Has Outgrown The Bassinet
Since each child grows at her own pace, we are reviewing what to look for so you will know if your baby is getting too big for the bassinet. Look for the signs listed below.
Weight Limit Reached
Every company's bassinet has a different weight limit, but typically it ranges from 15-20 pounds. You will need to check the weight limit for the particular bassinet you are using to confirm if your baby can stay in it.
Some babies gain weight quickly. If your baby has reached the weight limit of her bassinet, it is time to shift to another sleeping space. A baby may reach around 15 lbs at 3-4 months old, which will be a good time to start the transition.
Not Much Space
Besides gaining weight, some babies may grow in length quickly. If your baby can touch the end of the bassinet with her feet, it is a sign that she is too big for the bassinet.
Rolling Over or Moving Around
One of the primary purposes of putting a baby to sleep in the bassinet is safety. However, it is not safe for babies who can roll over or move around.
The walls of the bassinets are not high. If your baby can roll over earlier than you expected, it's best to transition her to new sleeping quarters.
What To Do When Your Baby Is Too Big For The Bassinet, But Not Ready For The Crib
Now that you know the signs your baby has outgrown the bassinet, let's review how to handle this. You can try these options if your baby is too big for the bassinet, but not ready for a crib in her own room.
Move To Playard or Mini Crib
A playard (also called a Pack 'n Play) is a great alternative. It is a portable sleeper that you can use for your baby from birth to toddler age.
If you are transitioning away from a bassinet, then you can get the basic playard without a bassinet. Another option is to get a playard with a bassinet and use this the whole time. You would start with the bassinet on top and transition to the bottom playard when your baby outgrows the top bassinet.
A playard is easily movable from one room to another and has significant space for bigger babies. It also folds up and is great as a portable crib when traveling.
A mini crib is another great option if your baby is not ready for a standard crib. It's a smaller version of a typical-size crib. Some mini cribs have wheels that make them easy to move around.
Put Crib In Your Room
If you have the space, you could just put your baby's crib in your room. This is a solution if your baby will sleep in the crib, but you still want her in the same room with you.
However, most people do not have space in their bedroom for a crib, so this might not be a great option.
Get a Bassinet That Transitions To a Small Crib
If the standard bassinet is no more suitable for the baby, you can get a bassinet that converts into a small crib.
But before buying a convertible bassinet, make sure that it meets the safety standards. In addition, it should be durable enough to maintain its structure.
Use a Swaddle Transitioner
One way to get your baby used to the crib is to invest in a swaddle transitioner. Babies also grow out of their swaddles around 3-4 months old.
These are big changes for your little one! If she was in a bassinet and swaddled and now breaking out of her swaddle and moving to a much larger crib, she might not like that.
Personally, I have had great success with the Baby Merlin Sleepsuit. I used this for all my kids for both transitioning to a crib and transitioning out of swaddling around 3 months old.
Other options include the Zipadee-Zip and the Nested Bean Zen One.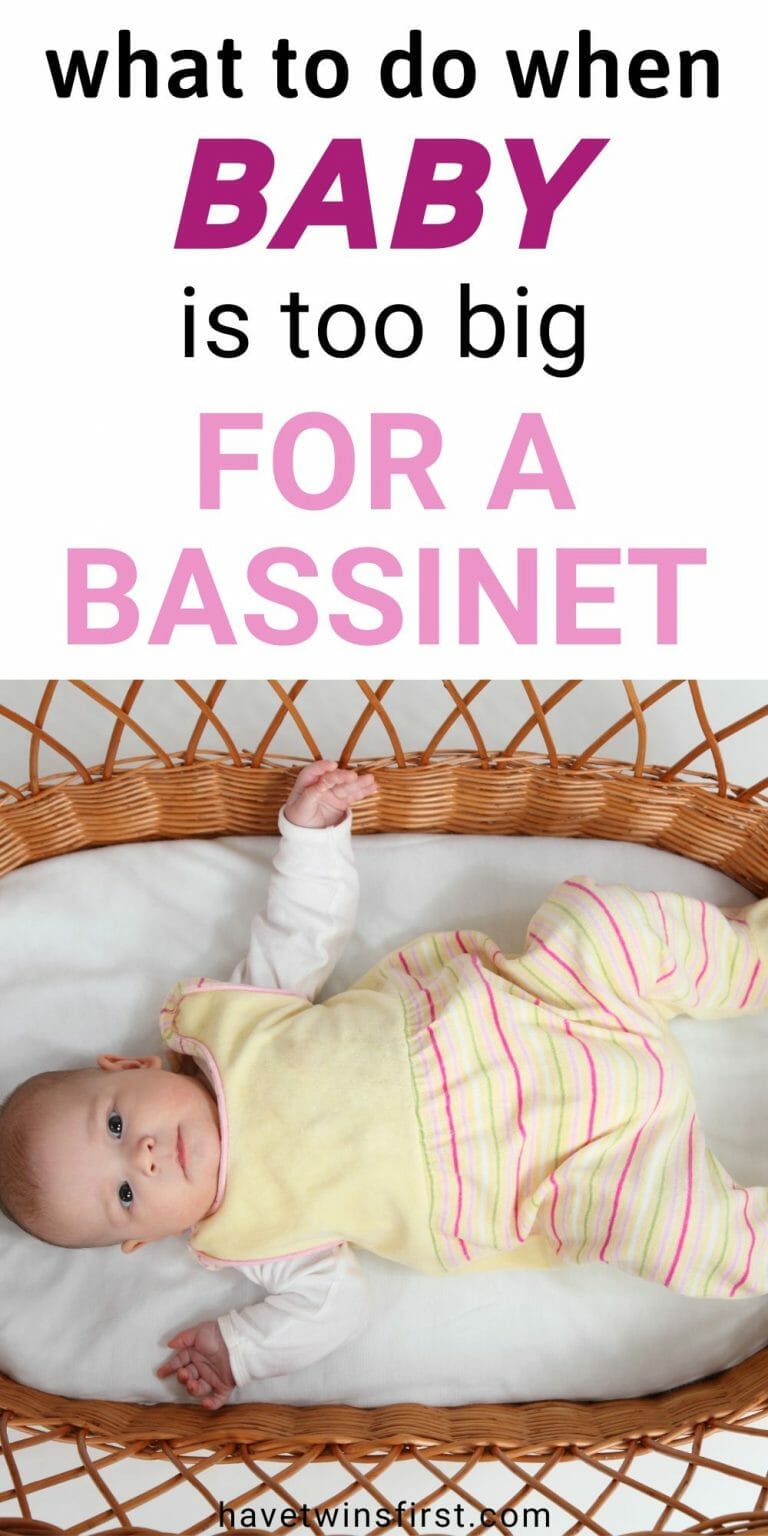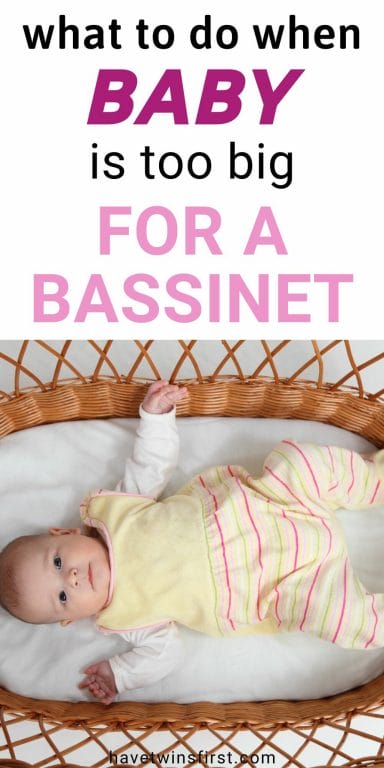 Transitioning Your Baby To a Crib When She Is Too Big For a Bassinet
You might decide that you do want to transition your baby to the crib from the bassinet. Here are a few tips that will help you during the transition.
Try to not change the sleeping environment. Initially, you can move the crib where the bassinet was placed or move the bassinet where the crib will be. Once your baby is comfortable in the crib, you can move it wherever you want.
Create a sound sleeping environment. The room temperature should be between 68 to 72 degrees Fahrenheit (20 to 22 degrees Celsius) and your baby should be dressed appropriately for sleep. You can also use nursery blackout curtains and a sound machine.
Continue swaddling your baby until she is used to the crib. Then you can move to a swaddle transitioner or a sleep sack.
Start the transition with nap time.
Stick with a routine and schedule.
The Best Baby Sleep Choices When Your Baby Is Too Big For The Bassinet & Not Ready For The Crib
Let's review the best sleep choices for transitioning your baby from a bassinet to another sleeping space that is NOT a standard size crib.
1 – Dream On Me Mini Crib / Portable Crib
A portable mini crib is a great option for your baby when she is not ready for a standard-sized crib in her room. The Dream On Me mini crib is an ideal choice that grows with your child. You can convert the mini crib into a mini toddler day bed and then eventually into a twin-sized bed.
This crib has a compact and modern design. The size makes it more manageable to fit in your bedroom if needed.
Other features of this mini crib include that it is made of pure New Zealand pinewood, the mattress can be adjusted to 3 different heights, and you can choose from 4 different colors.
2 – Graco Pack 'n Play
When your baby is too big for the bassinet, you can use a Pack 'n Play as opposed to a crib. A Pack 'n Play is essentially a portable crib that can also be used as a baby playpen. This means it is has much smaller sleeping quarters than a crib.
The Pack 'n Play has a durable frame that is safe for your baby and ideal for traveling. The portability feature makes it easy to move into your bedroom at night.
Just use the push-button and then fold it up or drag it where you need using the wheels. The airy mesh on all four sides of the Pack 'n Play play allows good ventilation.
3 – Lotus Travel Crib
A travel crib is another excellent option. The good thing about this is that you can use for your baby to sleep in until she is ready for a regular crib, and you can still use it when you are traveling.
I recommend the Lotus travel crib. It is very easy to use with a set up time of less than one minute. In addition, this crib only weighs 13 pounds making it very easy to carry.
The Lotus travel crib has a comfortable mattress and it can be used up to 3 years old. The crib has full-height mesh, which makes it breathable.
You can also zip or unzip the access door. When not in use, pack the Lotus travel crib in its carry case.
4 – Ingenuity Dream & Grow Bedside Bassinet (2 Modes)
A bigger bassinet is an excellent choice too. The Ingenuity Dream & Grow bassinet is a little larger than the average bassinet and the height of the mattress is adjustable.
This means it can grow with your baby throughout the first year. The lockable wheels allow you to place the bassinet in your room initially and when your baby is ready for her room, you can just roll it to the nursery.
The Ingenuity bedside bassinet has multiple mattress height options and its breathable mesh increases airflow. It also comes with soothing sounds and soft lights that can help sooth your crying baby.
5 – babywombworld Bedside Sleeper & 3-In-1 Portable Crib
The last option we have when your baby is too big for the bassinet but not ready for a crib, is a bedside sleeper that converts into a portable crib. The babywombworld bedside sleeper works as a bassinet at first, and when your baby outgrows it, you can convert it to a portable crib by adjusting the mattress height.
You can use this sleeper until your baby moves to a standard bed and you can also use it as a play pen during the daytime. The bedside sleeper is so lightweight that you can easily carry it from one room to another. It even comes with a bag to pack it in when you are traveling.
Moving your baby out of a bassinet when he is too big can be tricky, especially when he's not ready for the crib. Luckily there are some things you can do and some innovative products available to help.
Safe and comfortable sleeping space is crucial for a baby. If your newborn grew more quickly than normal, she might not fit into her bassinet or be ready for her own room yet. There are multiple options you can choose when this is the case.
A travel crib, a portable bassinet, or a Pack 'n Play may help put your baby to sleep until she is ready for a standard-size crib. Good luck finding the perfect solution for your baby.