Breastfeeding is one of the most amazing experiences you can have as a mother. It is a natural process and so healthy for your baby.
Of course, there are many factors that could lead you not to breastfeed, and that is fine too. But, something that could lead to successfully nursing your baby is participating in a breastfeeding class.
The question is when should you take a breastfeeding class? Before or after birth? Below we will take a look at the recommended time to take a breastfeeding class and the reasons why.
Please note, there are affiliate links in this post. Read my privacy & disclosure policy at the bottom of this page to learn more.
Should I Take a Breastfeeding Class Before Birth?
When you are an expectant mother there are many things that you will be thinking about and many decisions that will need to be made. One of these is whether or not you will choose to breastfeed.
Now breastfeeding is not on everyone's to-do list, and that is perfectly fine because we all have our own reasons why we may choose to or choose not to breastfeed. Now if you are thinking about breastfeeding:
Should you take a breastfeeding class before birth? The answer is absolutely!
It is especially beneficial if you are on the fence or feeling overwhelmed about how to nurse properly.
When Should I Take a Breastfeeding Class?
Taking a breastfeeding class before you are due is the best option. The ideal or recommended time to take a breastfeeding class is in your third trimester, around 3-4 weeks before your due date.
By taking a nursing class during pregnancy you will be well informed and better equipped with the information you need before you have your baby. Additionally, by signing up on the closer side to your due date, the information you need for successful breastfeeding will be fresh in your mind.
Reasons To Take a Breastfeeding Class Before Birth
Although you can attend breastfeeding classes once your baby arrives, the likelihood of you having time to really focus or attend with a newborn is very slim. You also need to start nursing from day 1, so it's better to be ready from the get go.
Those are there are the top reasons it is highly recommended to attend a breastfeeding class before birth. Take it from a mom who has been there and done that with twins and a singleton.
If you're still not sure, here are some things you are taught in a breastfeeding class to help you decide what's best for you (see below for a more in depth look at these items):
How to establish a good milk supply
How to know when your baby is getting a sufficient amount of milk
How to get your baby to latch well
Different breastfeeding positions
How to increase your confidence when it comes to breastfeeding
The importance of support while on your breastfeeding journey
How to find a breastfeeding support group
What to do in situations that prevent good milk flow or cause problems with latching
Learn facts from a trained professional – inaccurate information on lactation is often a problem
Is a Breastfeeding Class Worth It?
One of the questions that come up often when it comes to breastfeeding classes is whether it is worth the investment of time and money. The answer is a resounding YES, especially if you are definitely planning on breastfeeding for the long term.
If you are not sure whether you want to breastfeed or have any reservations, taking a breastfeeding class can help you make a more informed decision. A breastfeeding class that is presented by a professional will provide you with information that will help you better understand how it all works.
Breastfeeding is no piece of cake! It takes persistence – but once you get the hang of it, it can be an amazing experience.
Who Should Teach My Breastfeeding Class?
It is important to note that breastfeeding support groups and breastfeeding classes are two different things. When it comes to breastfeeding classes, you want to make sure your teacher has at least one of the following certifications (the below breastfeeding health professionals definitions were supplied by the Office on Woman's Health):
International Board Certified Lactation Consultants (IBCLCs). IBCLCs are certified breastfeeding professionals with the highest level of knowledge and skill in breastfeeding support. To earn the IBCLC certification, candidates must have a medical or health-related education and breastfeeding-specific education and experience. They must also pass a challenging exam.
CLCs (Certified Lactation Counselors) or CBEs (Certified Breastfeeding Educators). A breastfeeding counselor or educator teaches about breastfeeding and helps women with basic breastfeeding challenges and questions. These counselors and educators have special breastfeeding training, which is usually a one week long course.
Doulas. A doula is professionally trained to give birthing families social and emotional support during pregnancy, labor, and birth, as well as at home during the first few days or weeks after the baby is born. Doulas who are trained in breastfeeding can help you learn to breastfeed.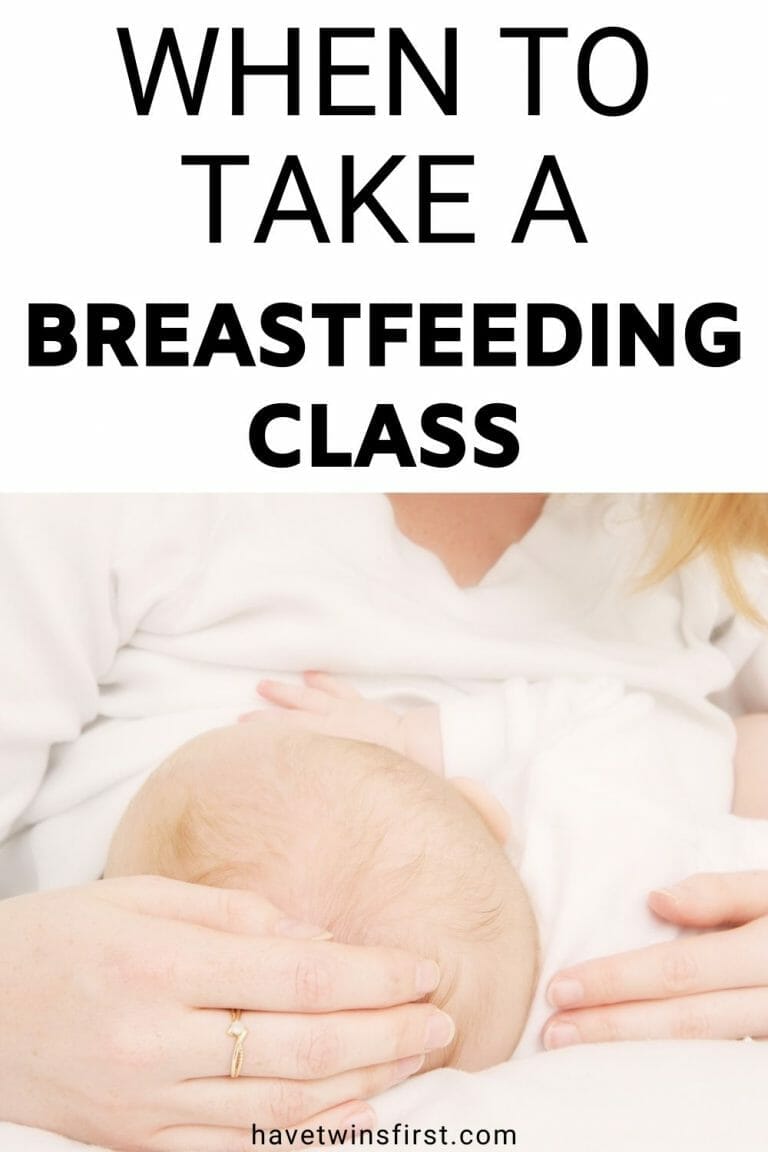 What Is Taught In a Breastfeeding Class?
Breastfeeding classes can be very informative regardless of whether you are totally committed to breastfeeding or on the fence. You will learn a lot of things that you may not have known about breastfeeding which can ease any sense of anxiety that may arise when you are on your breastfeeding journey.
Here is an overview of a variety of items that are taught in a breastfeeding class.
Benefits of Breastfeeding
The first thing you are likely to learn in a breastfeeding class is the benefits of breastfeeding. There is no denying that these benefits are plentiful and once you have a better understanding of these benefits, you may be more determined to make a go of it.
Some of the benefits include:
A stronger immune system for both mom and baby
Less chance of allergies
Less chance of cavities down the line
Emotional boost for mom
Helps mom lose weight faster
Complete nutrition in each feed
Much easier when travelling
Milk Supply
One of the biggest concerns for expectant moms is how they can get their milk supply to be optimal for their baby. This can cause a lot of anxiety – which can actually have an adverse effect when it comes to breastfeeding.
In a breastfeeding class, you will learn how milk supply works. You will be given insight on when to expect your milk supply to actually "come in" as they say and you will also be given tips and tricks to boost your supply.
The truth is – the more you breastfeed, the more your milk supply will increase.
Latching
Another huge concern for moms (usually because they have heard scary stories from other moms before) is whether their newborn will latch. When a baby does not latch correctly, it definitely hampers the breastfeeding process.
It can also be very painful for mom and very stressful all round. In a breastfeeding class you will be taught all about latching, how to position your baby to ensure she latches well, and the reasons why your baby may struggle to latch (i.e. tongue tie, lip tie, inverted nipples, etc.).
Expressing & Storing Milk
If you are a working mom or want your partner to help with feeding at some point in time, you will want to learn how to pump breast milk and how to store the milk efficiently.
A breastfeeding class will provide you this information, including best practices when it comes to breast milk storage guidelines.
Expectations & Support
A support system is integral to a successful breastfeeding journey. A breastfeeding class will guide you on how to find a support system that works for you.
You will also learn things like what to expect during the newborn phase such as how much milk your baby needs and how to ensure your baby is getting enough milk.
Diaper outputs will also be discussed as this can be very different for a formula fed baby.
Should I Take an Online Breastfeeding Class?
Yes! In fact I very highly recommend online breastfeeding classes. An online class is just as useful and informative as an in-person class and you can do it in the comfort of your own home.
Online classes are especially useful if you choose to attend a breastfeeding class once your baby has already arrived. So which online breastfeeding class is best?
I highly recommend the Milkology online breastfeeding classes. They are the gold standard in my opinion and are taught by a Certified Lactation Educator.
On top of that, the Milkology classes are very reasonably priced, you won't even have to worry about the cost and the reviews are through the roof. The most popular course is the breastfeeding class, but there is also an exclusive pumping class and a back to work pumping class too.
Where Can I Take a Breastfeeding Class?
In this day and age we are so fortunate that there are so many options for new and expectant moms when it comes to learning resources, such as breastfeeding classes.
Some places you can take a breastfeeding class include:
Online
At the hospital
At a local clinic
Specialized breastfeeding clinics and support groups
Now that you know when to take a breastfeeding class, is it time for you to sign up?
It is important to remember that even if you attend a breastfeeding class, you do not have to feel obligated to carry through with breastfeeding. But you will definitely feel a sense of relief when you are well informed about breastfeeding.
As a reminder we recommend taking a breastfeeding class 3-4 weeks before your due date and we highly recommend Milkology's online breastfeeding class too. It has stellar reviews and a price that can't be beat!
Having breastfeeding knowledge and knowing that you are not alone on your journey can be very calming and satisfying. Most importantly – enjoy your pregnancy and rejoice in motherhood.