When your baby becomes a toddler he or she will be out of the phase where baby music toys have to be used to have some fun. Toddlers are able to get their hands on some more advanced music items.
Musical instruments help to better the growth of children. They encourage hand-eye coordination, improve motor skills, and support sensory development.
A guitar is a great musical instrument choice for toddlers. It is one of the most common musical instruments and your toddler will absolutely love playing something new that makes noise.
In this article I'm sharing the difference between toy and real guitars and the best toddler guitars you can buy for your 2, 3, or 4-year-old today.
What's The Difference Between a Toy and Real Guitar For a Toddler?
Toy guitars are the toy version of real guitars. They are smaller in size and available in cute colors and designs.
Sometimes only the shape of this toy is like a guitar. Toy guitars may or may not come with real strings that will play music. Sometimes other toy instruments like pianos or play buttons are embedded into a toy guitar.
You can get real guitars for toddlers too. These would be actual musical instruments that have guitar strings that are the perfect size for a small child.
The Best Real Acoustic Toddler Guitars
Acoustic guitars don't require electric amplification to play music and their strings are usually made of steel. These guitars are the most beginner-friendly.
If you are looking to get something that makes your toddler familiar with real guitars and also one he can use for guitar lessons later on, then an acoustic guitar is a good choice to make.
Here is my list of the best acoustic toddler guitars.
Master Play 30" Wood Guitar with Case
</p>
The Master Play wood guitar is just like a real guitar, but is smaller in size and its features are suitable for kids. This guitar is made of linden wood, which is the most popular type of wood used in the making of guitars.
Generally, acoustic guitar strings are steel strings but this material can be a little hard for your kid's little fingers. The Master Play guitar strings are a mixture of steel and nylon to make them softer.
A toddler's fingers won't hurt while playing this guitar. Just like a real guitar, there are 6 strings and 6 tuners that will allow your child to play some tunes. You can use this guitar to start guitar lessons for your little one, if you wish.
KidKraft Lil' Symphony Wooden Play Guitar
The KidKraft Lil' Symphony guitar is another great option for kids. It looks like a real guitar, but it is smaller in size.
It's made of real wood with plastic mixed in and the colorful look makes it attractive to kids. The 6 strings are soft enough for your little ones fingers.
If you just want to introduce a good musical instrument to your toddler then this is a great option, but I don't recommend using this one for guitar lessons. Replacement parts are available on the company's website.
First Act Discovery Acoustic 30" Guitar
The First Act Discovery acoustic guitar is a 30" plastic guitar perfect for kids. The 6 strings are made of nylon, so they are easier to play and they are protected by durable plastic to prevent damage.
The whole set consists of everything your child needs to play. Along with the guitar, there is an adjustable guitar strap, clip-on LCD headstock guitar tuner, guitar picks, chord cards, a nylon carry case, and extra strings.
This guitar has very accurate fret spacing and low string height, which makes it easier to play for kids.
The Best Toddler Guitars With Real Strings
The best toddler guitars are smaller in size. If you are looking for a smaller guitar with real strings, here is the list of the best options for you.
Pidoko Kids Wooden Guitar
The Pidoko Kids guitar is great for toddlers. It is made of real wood and the design is strong and sturdy.
This toy guitar has real strings and the strings are easily tunable. It is available in gender neutral eye-catching colors that kids love.
The size and design are perfect for little hands. It measures 22 inches long and 8 inches wide. The compact size makes it easy to carry during traveling.
No assembly is required, just unpack and let your child start playing.
Hape Kids Wooden Ukulele
The Hape kid's wooden ukulele is another great option. This is available in 5 super cute colors and designs that a child will definitely love.
The guitar has 4 strings made of nylon that are not hard for little fingers. The strings are properly attached to the wooden surface and are easily tunable.
This guitar is non-toxic and made of child-safe material. The size of the guitar is perfect for little ones and easy to carry while traveling. It's just 22 inches long and almost 8 inches wide.
POMAIKAI Soprano Ukulele for Beginners
The POMAIKAI soprano ukulele makes a perfect gift for beginners who never played the guitar before. It's also perfect to for toddlers starting guitar lessons.
The guitar is made of basswood and the 4 strings are nylon strings. It is very easily tunable because of the 15 geared tuning machine.
The fret height is perfect and the company uses standard paint thickness to make sure that tunes are just right.
The small and ultra-compact size is great for kids. This guitar is only 21 inches long and around 6.5 inches wide. You can choose from 6 different eye-catching colors.
Loog 3 String Acoustic Kids Guitar
The Loog acoustic kids guitar is absolutely perfect for toddlers as they won't only get a guitar, but access to learning material as well. You can download a free Loog guitar app that has everything your toddler needs to learn to play guitar.
The app is built with kids in mind. It includes video lessons, a tuner, and a digital songbook! The Loog guitar is made of basswood and maple wood.
The strings are made of nylon, which is super soft and flexible. Your little one's little hands won't hurt at all.
The 3 strings are easily tunable and are the same as they are in a real guitar. A toddler can start learning guitar lessons from this and then easily switch to a bigger guitar once he is ready.
Everjoys Soprano Ukulele Beginner Pack
The Everjoys soprano ukulele will win your toddler's heart immediately because of its rainbow strings. Each color of the string represents a different tune so it will be easier for your toddler to learn.
The Everjoys ukulele is more than just a guitar. Along with the 21 inch ukulele, you will get a colorful strap, a songbook for learning to play, a spare string, two spare picks, a digital tuner, a microfiber cloth for polishing the surface, and a carry bag.
The body of the guitar is made of basswood, while the material of the strings is nylon.
Hola! Soprano Ukulele Bundle
The Hola! soprano ukulele is another wooden guitar that's great for kids. It's made of a mix of rosewood, walnut, maple, and mahogany wood.
This ukulele has 4 strings that are made of premium Aquila Nylgut. This guitar is 21 inches long and comes with a carry bag, a strap, and 3 different sizes of picks.
Plus, you get 2 months of free live online lessons. This set makes a perfect gift for everyone who wants to start learning to play guitar. The guitar is available in 10 different colors.
Trendy Soprano Ukulele for Beginners
The Trendy soprano ukulele is a Hawaiian ukulele that measures 21", a great size for kids. A smooth fingerboard with 12 frets and nylon strings is easy for your little one's hands.
The ukulele has 4 strings and metal knobs for easy tuning. The body of this little guitar is made of basswood and it is available in 7 different colors.
The lightweight features make it easy to play Hawaiian ukulele harmonies, and it comes with a waterproof carry bag.
The Best Toddler Toy Guitars for 2-Year-Olds
2-year-olds are very unlikely to actually learn to play guitar. They will be more interested in toy guitars that are colorful and have different play buttons. Here's the list of best toy guitars for 2-year-old toddlers.
Baby Einstein Magic Touch Ukulele
This Baby Einstein toy guitar is a great option for 2-year-olds. It's available in 2 different colors and the design is just super cute.
This instrument has 4 strings that make real chord sounds. It has two play modes "freestyle" and "play along" mode.
When your toddler strums, he will enjoy the real tunes of a guitar. The good thing is that you can use the volume button to control how loud it is.
The Baby Einstein guitar is made of a mix of wood and plastic, and it has no sharp edges so it's completely safe for kids under 3 years of age. However, supervision is still crucial for little toddlers who are not yet aware of safety.
YOLOPARK Mini Guitar
The YOLOPARK mini guitar is like a mini version of a real guitar as it is playable, tunable, and looks like a real guitar. It has 4 strings that are made of nylon, which is flexible and not easy to break, making it perfect for little hands.
The string knobs are adjustable so you can tune the guitar according to your choice. This guitar is super small at just 17 inches in length.
The super cute design and colors make it more attractive for little kids. The material used to make this guitar is plastic.
The package includes a ukulele strap and 1 tone dial. It's a great start for kids who might one day take guitar lessons.
Dimple Kids Handheld Musical Electronic Toy Guitar
The Dimple Kids guitar is actually a plastic toy that looks like a guitar. It does not have strings to play, instead it has over 20 interactive buttons.
There are 8 buttons that play 8 different tunes and 3 musical modes that include rock, hip-hop, and jazz. You can set the volume according to your choice.
This lightweight toy guitar comes with a strap so that 2-year-olds can play it easily. The Dimple Kids toy guitar is battery operated and the interactive lights and music will win your toddler's heart.
Finally, this toy guitar is available in one gender-neutral color (red and yellow).
Just Play Blues Clues & You! Sing Along Guitar
If your toddler is a fan of Blue's Clues, then this toy guitar is the best choice. The 15" Blue's Clues toy guitar is made of plastic and it doesn't have strings to play with.
It has play buttons that feature 3 different play modes and 2 different songs. It's a sing-along guitar that plays great songs from the show Blue's Clues & You.
This guitar is only available in a blue color because of its theme. A picture of a blue puppy (the Blue's Clues character) is on the guitar which makes it more attractive for kids.
The Just Play Blue's Clues & You sing along guitar is operated with batteries.
First Act Cocomelon Musical Guitar
CoComelon is huge show for today's kids. Almost every toddler is a fan. If you know a kid who loves Baby John and his family, this CoComelon toy guitar is a great option.
This brightly colored guitar has a picture of Baby John that will catch your 2-year-old's attention immediately. This toy guitar does have strings.
Instead of play buttons this guitar plays one song only, the "Finger Family" song, which is perfect for singing along. The CoComelon guitar is 23 inches and battery-operated.
Disney Pixar Coco Guitar
Have you watched Coco? Great movie, isn't it? In the movie, Ernesto de la Cruz plays a white guitar and the Disney Pixar Coco guitar is inspired by it.
The white color of this guitar is eye-catching and when your toddler plays it, it will light up. These features bring excitement to kids.
It has 8 chords that will help to play music and compose new melodies. The guitar is 25 inches long – a perfect size for 2-year-olds.
Baby Einstein Strum Along Songs
The Baby Einstein Strum Along toy guitar is great for 2-year-olds and the white and red color is eye-catching. This toy does require batteries to play.
You can switch between 2 guitar sounds, acoustic and banjo, and use the whammy bar for different sound effects. The whammy bar lights up when children play the guitar.
The volume can be set to low or high and the guitar is 16 inches long. You can also choose to buy this as a set with the matching piano too.
The Best Electric Guitar for 3 & 4 Year-Olds
If you are looking for an electric guitar for your 3 or 4 year-old then the YMC 30″ electric guitar is a great option. It's made of basswood and maple wood and it has 6 strings made of stainless steel, just like the strings of a real guitar.
The guitar is 30 inches in length which makes it a good choice for 3 or 4-year-olds. Your little one can even start learning guitar lessons using this electric guitar.
It is easily tunable and suitable for right-handed kids. The whole set includes a guitar, battery-powered 5-watt amplifier, 3 picks, a cable cord, a strap, a few extra strings, and a nylon carry case. So everything your preschooler needs to start playing guitar is already included.
What To Look For When Buying a Toddler Guitar
When buying your child a guitar, you should consider the following qualities in order to ensure you purchase the best toddler guitar for your needs.
Is it small in size and lightweight so your toddler can hold it easily?
What is the sharpness of the strings like? Nylon strings are better for little hands as they are soft and flexible.
Decide if you want to buy just a toy or a real guitar. For example if your child will take guitar lessons you would need an actual guitar.
Make sure the guitar is suited for right-handed or left-handed, depending on what you need.
The color of the guitar could be important to a toddler.
The material of the guitar should be non-toxic.
At What Age Can a Toddler Play a Real Guitar?
5-7 years is the best age when kids can start playing a real guitar, but some kids can start as early as 3-years-old. Every child is different.
If someone in the family plays guitar, a child might take more interest and start playing sooner.
Benefits Of Learning How To Play Guitar As a Toddler
Playing guitar has so many things that are great for toddlers. This includes:
Improved hand and eye coordination
Ability to focus
Early interest in playing music
Enhanced creativity
Improved memory
Boosted self-confidence
Lots of fun and enjoyment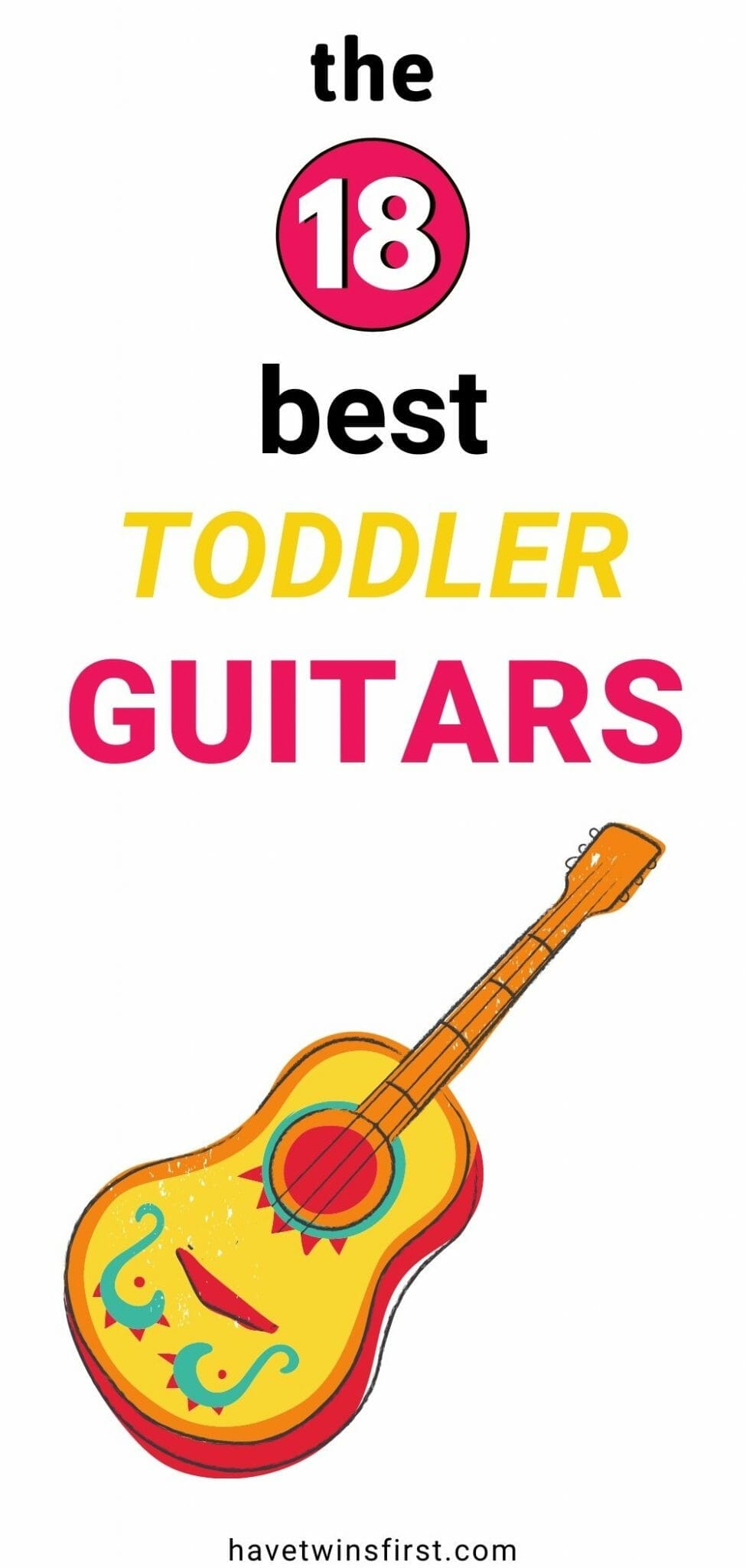 There are a lot of choices and decisions when it comes to buying a toddler guitar. Should you get a real one or a toy one? Whatever you decide you can choose from our list of the best toddler guitars and know that you will be getting a good quality guitar for your little one.
Playing a musical instrument like a guitar can really benefit toddlers and preschoolers like improving their memory, creativity, coordination, and focus. You can choose either a toy guitar or a smaller version of a real guitar (i.e. ukulele).
Whatever you choose it should be attractive for your child and it should be a fun experience.
Other toddler posts that might interest you: