Swim floaties for toddlers are a great investment if your little one is either not swimming yet, or not a very confident swimmer. There are many different kinds of swim floaties available on the market today and choosing the right one for your child's weight, height, and level of swimming ability is imperative.
I decided to take a look at all the things to consider when looking to buy a swim floatie as well as some of the best brands available. It's not always easy to find floaties for smaller toddlers.
So, let's review the best swim floaties for toddlers under 30 lbs.
Please note, there are affiliate links in this post. Read my privacy & disclosure policy at the bottom of this page to learn more.
What Is a Swim Floatie?
A swim floatie is essentially a device that is used by toddlers and young children who have not quite mastered their swimming ability. It is a great addition to your child's swimming lessons as it gives them peace of mind and therefore more confidence when they are in the water.
The concept behind the floating device is that it keeps your children above the water and protects them from going under and possibly drowning. A swim floatie is usually made from PVC and this is due to its durability and ability to keep your child afloat.
The packaging will often be labeled as "vinyl".
Other Names For Swim Floaties
Swim floaties have been around for ages and they have also adopted many names through these times. Here are some of the most common names they are known as:
Puddle Jumper
Swim Vest
Float Suit
Swimming Aid
Toddler Life Jacket
Personal Flotation Device (although this often refers more to an actual life jacket and is shortened to PFD)
Buoyancy Aid
Are there many differences associated with these different swim floaties? Well, they all serve the same or similar purpose which is to keep your child safe while they are in the water.
It is important to note that a swim vest is not necessarily a flotation device but more of a swim aid. Puddle jumpers are by far the best selling product as they really cater to all your swim safety needs.
What's The Difference Between a Toddler Swim Floatie & a Toddler Life Jacket?
As we have discovered in the previous section there are many different kinds of toddler swim floaties. But what are the main differences between these and an actual toddler life jacket?
According to safety regulations, a swim vest or swim floatie does not provide as much protection as a toddler life jacket. A life jacket really just gives that much more buoyancy and assistance when it comes to your child floating in the water.
A toddler swim floatie is a wonderful product if your child is learning to swim as it helps them gain confidence in the water.
How Much Does My Toddler Need To Weigh To Wear a Floatie?
When you are looking at purchasing a floatie or swim aid for your toddler, one of the most important things to look at are the weight limits. The minimum weight for a swim floatie is 20 lbs.
Most swim vests and floaties are actually built for kids over 30 lbs. That is one main reason I put this post together, so parents could find the best swim floaties available that are safe for toddlers under 30 lbs.
The Best Floaties For Toddlers Under 30 lbs
Now that we have established the different kinds of floaties and what the main uses and benefits are of investing in the right one for your toddler, I thought it fitting to introduce you to some of the best floaties for toddlers under 30lbs.
Let's dive in!
Elejolie Kid Swim Vest
The Elejolie Kid Swim Vest is not only functional – but super cute and fun too. It is made from polyester and foam and is completely water-proof.
They are perfect for ages 2-6 and provide great protection for your child while in the water. The chest strap is adjustable and it has a double safety buckle for a comfortable fit.
This particular floatie is good for non-swimmers, as well as those who are still in the training phase and need more confidence in the water. A bonus is that your toddler will love the little crab design.
Ricoco Toddler Swim Floatie
The Ricoco Toddler Swim Floatie is super cute with a shark design. Your little one will love wearing it.
This particular swim floatie has a weight capacity of up to 50 lbs, with the minimum weight being 20 lbs. Additional features of this swim floatie include:
Durable and heavy duty
Easy to put on and comfortable for your toddler
Adjustable back buckle allows for parents to determine the proper secure fit
Great as a swim aid as it allows your child to stay afloat and keep his head above water whether are on back or belly
100% satisfaction warranty
These swimmies are designed in the USA and manufactured according to the highest quality standards.
Lastly, the bright colors of this float make it easy to identify your child in a pool or on the beach.
HKUU Kids Swim Vest Jacket
The HKUU Kids Swim Vest Jacket is really awesome because it comes in many different designs. Your little swimmer can be a unicorn or an astronaut treading the water and have the time of his life.
This swim vest is a swimming aid but should not be used as a life-saving device. Parental supervision is imperative (just like with all the swim floaties we are reviewing here).
The top features include:
Safety buckle that is impossible for a small child to gain access to or unlock
Suitable for ages 2-7 (maximum weight 55 lbs)
Provides good buoyancy and is great as a swim aid and swim trainer
Soft-touch polyester fiber is used, so it is gentle on your child's skin
Uses high-quality PE foam core to provide buoyancy, meaning it will not absorb water and it retains its level of flotation
The swim vest comes with a mesh bag, which makes taking it anywhere easy. It is perfect for splashing in the pool or having a great time on the beach.
TEWENE Toddler Swim Vest
The Tewene Toddler Swim Vest has no plastic components. It is made purely from woven polyester and nylon. This means it is more comfortable for your child and chafing is prevented.
It is also more environmentally friendly and sustainable. Other features include:
A weight range of 22-66 lbs
A 23-29 inch chest circumference means it gives protection, but also a decent range of movement
Bright colors and cartoon images make them fun and children are more likely to want to wear their swim floatie
The product comes with a nice drawstring bag to take the swim vest with you anywhere
Safety is always in the front of your mind, so it's nice to know that the chest strap is easily adjustable and the back buckle has a very quick release that is also out of reach of your little one.
Zeraty Swim Vest For Toddlers
The Zeraty Swim Vest also has the look and feel of a life jacket. This swim vest is made from top quality neoprene for warmth and buoyancy.
The best features include:
Suitable for ages 1 to 9 years old (maximum weight 50 lbs)
UV50+ protects your child from getting sunburned
Double safety buckles which are also easily adjusted
This swim vest fits snuggly on your child, but allows them freedom of movement which is needed while swim training.
The Best Life Jacket for Toddlers Under 30 lbs
A life jacket is an absolute necessity on a boat, and especially so when it comes to children. This has led us to search for the best life jacket for a toddler under 30lbs, and that search gave us the STEARNS Life Puddle Jumper Life Jacket.
This product is US Coast Guard approved and is therefore certified for use on boats. It is made from hydropene fabric, is lightweight, and ultra-soft for added comfort for your child.
The Crosstech flotation foam gives the life jacket perfect buoyancy. Although the STEARNS Life Jacket is perfect for use on boats, it is also suitable for use at the beach and in the pool.
This product is approved for use on toddlers under 30lbs. The cute, fun, and colorful designs add to the appeal of this life jacket.
You get all of this for a really affordable price – which is great appeal for the parents (right?).
The Top Toddler Swimming Aids
Now that we have gone through various swim vests and life jackets and similar products, we are now ready to look at toddler swimming aids. It is important to note that swimming aids are just that, they are there to assist your child with swimming and provide confidence while they are in a swimming pool.
A life-saving device/life jacket provides a lot more protection for your child and is the best option when it comes to preventing drowning accidents. Let us now take a look at some of the best swimming aids available.
Splash About Kids Learn To Swim Vest
The Splash About Kids Swim Vest is an awesome item to take just about anywhere with you. Perfect for beach outings, weekends away, and fun days in the pool at home or with friends.
Learning to swim is a big step for a little tot and you want to be able to give them as much protection and confidence while they are learning to master this skill. Added features of this swim vest include:
Complies with CE European Standard: EN 13138-1: 2014
Made with high-quality neoprene, making this vest have super soft seams to prevent chaffing
Non-removable and non-bulky float system
Sizes available for ages 1-6
Easy to put on with a zipper and Velcro strap
Although this item is amazing as a swim aid, it is not a life jacket. Constant adult supervision is required while your child is in the water.
VSATEN Back Float
If you are looking for something really different when it comes to teaching your child to swim, the VSATEN Back Float is a definite game-changer.
This back float forces children to use their arms to keep themselves afloat. This means they strengthen their upper body quickly, and also learn to swim a lot faster.
Added features of the VSATEN Back Float include:
Made from ethylene-vinyl acetate foam meaning it is sustainable and environmentally friendly
Excellent buoyancy
Layers can be removed as your child's swimming skills improve
Perfect for children 1-7 years of age (maximum weight 60 lbs)
Provides much needed confidence while your little one learns to swim
The upgraded quality plastic buckle clips in and stays in place
This product is perfect for all occasions and easy to take with you wherever you go.
Fun Toddler & Baby Floats
When adults who are buying a toddler or baby float for the pool, we can get super overwhelmed with the huge variety. They are all so incredibly cute, so how can we choose only one?
These kinds of floats are perfect for smaller children and babies who want to be a part of the water fun. Here is our list of the best quality ones on the market today.
Intex My Baby Float – We all know when it comes to anything pool related, you really cannot go wrong with an Intex product. This baby float is so cute and comes in a bright yellow color. Your baby can sit comfortably in the inner ring. There is more than enough support and great buoyancy.
Ovv Inflatable Airplane Float – What fun your toddler can have driving this airplane float around the pool. It is suitable for ages 1-4 and has a weight capacity of 50 lbs.
Free Swimming Inflatable Baby Float with Sun Canopy – This ultra cool and cute inflatable baby float comes with an awesome sun canopy (removable). Perfect for those sunny days in the pool where you need to protect your little ones from the harsh rays. It comes in small, large, and x-large size so it can be used for babies from 3 months up until children 6 years of age. The design of this baby float encourages babies to kick and swim in a horizontal position.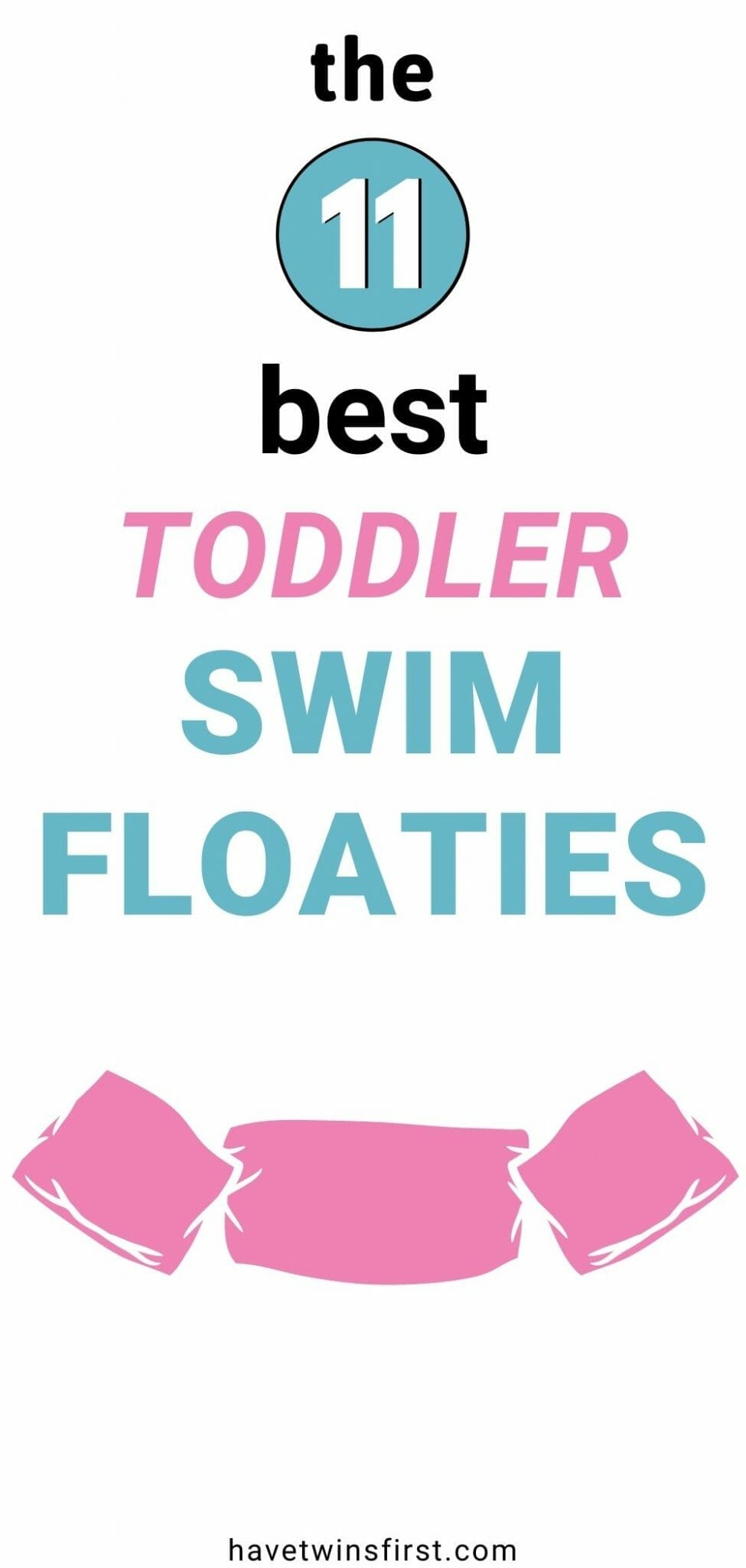 How To Use Floaties For Toddlers Under 30 lbs
Floaties for toddlers are plentiful and they also have different ways they need to be put on. A swim vest will generally be put on similar to a jacket and secured with the buckles in front of the body. Some swim vests also have a zipper in front.
The swim floaties with wings will generally be put over the head and arms will be inserted into the water-wing part. Even though these flotation devices, swim vests, and swim floaties are meant to protect your child in the pool, it is of the utmost importance that there is always adult supervision.
Seeing your toddler in the water is a thrilling experience for everyone. You can make sure your child is safe by choosing one of the best floaties for toddlers under 30 lbs from the list above.
Swim floaties are awesome items to take with you wherever there may be water play. They are available in many shapes and colors and cater to all sizes of children up to at least 6 or 7 years of age. Durability is the order of the day, most are eco-friendly, and all are extremely safe for your child.
It is important to note, however, that even though these devices are perfect for helping children to master the skill of swimming or to at least gain confidence while learning, there should always be adult supervision at all times.
Enjoy selecting from our list of the best floaties for toddlers under 30 lbs – I hope you find one that is the perfect fit for your family!
Before you go, feel free to check out some more toddler resources below, including a free one.
FREE learning help for 2+ years old – click the image for more info!
More toddler gear articles you might find helpful: