There is just something about fishing. It must have to do with the fresh air and outdoor life that makes it so appealing. Not to mention the excitement and achievement when you catch your first fish.
Getting your kids interested in fishing is something you can enjoy all together. So, did you know that you can get fishing poles specifically designed for toddlers?
In this post I am reviewing the best fishing poles for 3 year olds and toddlers, along with the qualities and characteristics you should be aware of when picking out fishing gear for your child.
Please note, there are affiliate links in this post. Read my privacy & disclosure policy at the bottom of this page to learn more.
Why Do I Need a Fishing Pole Designed For a 3 Year-Old?
Now that it's your little one's turn to give fishing a whirl, you will need to get him his own fishing pole. But why do you need a fishing pole designed for a 3 year-old?
It is likely that he is still pretty small and maybe not all that coordinated yet. For these reasons it's important to get a fishing pole that is the right size for your 3 year-old and also one that is easy to handle.
Things To Look For When Selecting a First Fishing Pole For a Toddler
When you are getting ready to introduce your young one to fishing, make sure it is a fun and positive experience. But also a learning opportunity too.
In order to select the best fishing pole for your 3 year-old it is important that it is:
Easy to handle
Easy to carry
Not too heavy
Has a good grip
Assists in getting that first big catch
In order to make that happen it's important to look at the items below. This will ensure you get the best fishing pole you can for your 3 year-old.
Length – Shorter rods are easier for small kids to handle
Material – Kids tend to break things easily, therefore you would be better off getting a graphite or fiberglass rod, so you do not need to replace it regularly
Weight – A small child cannot hold a heavy rod, so rods for small children tend to be a lot lighter
Reel Style – There are two kinds, but the spin-cast type of reel is much more user-friendly and allows a lot more control
It may be beneficial to try and get a rod and reel combination. Additionally, you may want to consider getting a package deal where all the extras such as hooks, sinkers, bobbers, and a tackle box are included.
What Type Of Fishing Pole Should I Get My 3 Year-Old?
When purchasing a fishing pole, I recommend getting a spinning rod. These are the most common type and come with a spin-cast reel. This means the reels are attached to spinning rods and feature a push-button mechanism that activates the reel's line release.
Spinning rods have an easy and simple casting process, with few complications. You also want to get a rod that has the fishing line running inside the pole.
This is the most user-friendly for your tot and will help to avoid a big tangled mess – no one needs that on a fishing trip!
The Best Fishing Poles For 3 Year-Olds
Now that you have an idea of what you should be looking to get the best fishing pole for a 3 year-old, let's take a look at some of the top brands on the market. All of the products listed below are combo sets or starter sets, which make them absolutely perfect for a toddler just starting out on with fishing.
1 – Lanaak Kids Rod and Reel Starter Set
The Lanaak kids rod and reel starter set is a fantastic option for a first time fishing expedition. Features include:
65-inch telescopic fishing rod
Spin-cast reel
Stocked tackle box
Minnow net
Beginner's guide
Carry case
The spin-cast reel comes already assembled and has a push-button which is very easy to use. No tangles. No mess.
The tacklebox includes 2 floating bobbers, 10 hooks, 10 split sinkers, 10 swivels, 2 jig heads, 6 plastic worms, 1 crankbait lure, and 1 fishing net.
2 – ODDSPRO Kids Fishing Starter Kit
The ODDSPRO kids fishing starter kit is really cute and colorful, which already makes it a winner in my books. It is definitely the one on this list that gives you a lot of bang for your buck.
Features include:
1.2-meter pole for 3 to 5 year-olds
Superior grip quality
Non-slip even when wet
All-in-one fishing pole and reel combo
Collapsible design makes it portable
Instruction manual for beginners
Tacklebox
Carry bag
The tacklebox comes filled with a selection of lures, hooks, and other items needed for a fishing adventure.
3 – PLUSINNO Toddler Fishing Starter Kit
This PLUSINNO toddler fishing starter kit is super fun. It is colorful and so appealing for toddlers. The combo set comes with everything your young angler may need on their fishing adventure.
Features include:
Perfect length pole at 1.2-meters
A soft casting plug so kids can cast in the backyard or on the shore to sharpen up their casting skills
Fishing for kids beginners guide
Easy to cast reel
Pole lengths and equipment for all ages
Carry bag
The tackle box contains floating bobbers, hooks, split sinkers, swivels, jigs, plastic worms, crankbait lure, and a fishing net. This set is wonderful and easy for little hands to work with.
4 – DaddyGoFish Telescopic Rod & Reel Combo Set
This is a really awesome first fishing pole set. The DaddyGoFish combo set comes in a range of colors to appeal to everyone. There is even a lovely pink set if your fishing companion is stacking up to be a fishing princess.
Features include:
Telescopic rod and pre-spooled reel
Collapsible chair and rod holder (love these)
Bait net
Awesome light weight carry bag
The combo set also comes with a tackle box which includes 1 crankbait (hard lure), 10 soft lures, 6 float bobbers, 6 jig heads, 4 hooks, 6 treble hooks, 4 swivels, 1 bite alarm bell, and 10 split shot sinkers.
It's important to note that this kit is a little different because of its telescopic rod. It can grow to some degree with your child.
5 – QudraKast Kids Fishing and Reel Combo
If your little angler is not only a lover of fish, but also a fan of dinosaurs or space – the QudraKast kids fishing and reel combo has you covered.
Features include:
Fun themed designs on the rods and accessory carry bag
Telescopic rod
EVA rod giving a more sensitive response to fish
Tangle-prevent technology
Pre-spooled spin cast reel
This combo also comes with a tackle box filled with everything your little one will need to enjoy their first of many fishing adventures with you. This is a great quality product that is perfect for taking with you wherever you may go.
6 – Kid Casters Spin Casting Rod and Reel Combo
"No job too big, no pup too small. PAW Patrol is on a roll" – or in this case, on a fishing rod. These Kid Casters spin casting rod and reel combo's come in an array of designs including PAW Patrol, PJ Masks, and Frozen.
This fishing pole is small, lightweight, and perfect for little ones to handle with ease. This particular fishing rod is extremely cost-effective and has everything that is needed to get your 3 year-old started with fishing.
7 – Zebco Splash Spinning Reel and Rod Combo
The Zebco splash spinning reel and rod combo is available for purchase at Walmart. This combo set is also cost-effective while providing exactly what your little one needs for a beginner fishing pole.
It is slightly longer than many of fishing poles mentioned on this list, but it is adjustable. It comes pre-spooled with 20 meters of Zebco fishing line. As a bonus this pole is perfect for left or right-handed kids.
8- Zebco 202 Spincast Reel and Fishing Rod Combo
This is another addition to the Zebco range of fishing rods, with the 202 model being slightly more advanced in what it has to offer. Zebco has been around since 1949 and is known for its quality, with their products being really durable.
Features include:
5.5 foot, 2-piece rod
Easy casting with a spin cast reel
30 meters of pre-spooled line
Fiberglass rod which is great for children
EVA rod handle for comfortable grip
In addition to all these wonderful features, you will also get a tackle box which includes 6 hooks, 6 split-shot sinkers, 3 swimbaits, 3 jig heads, 6 curly-tail grubs, 1 spinner attachment , and 2 bobbers.
Lastly, you get a 1-year warranty when you purchase this fishing pole set.
What Are The Differences Between Kids and Adult Fishing Poles?
There are various reasons why a kid should not just use an adult pole, and they greatly depend on your child's age and size. It is also important to note that as your child grows and becomes more skilled with fishing you can start opting for bigger, heavier, and more technical fishing poles.
Here are some of the main differences you will find between an adult fishing pole and a kid's fishing pole:
Length and weight of the fishing pole
The kind of casting – spin cast, bait cast or spinning reels, and fly fishing
The material of the fishing pole – for young ones you will most likely get a fiberglass rod, whereas adult poles also have metal and wooden rod options
Grip – many kid's fishing poles have an EVA pole grip, which is much easier to handle
How Do I Size a Fishing Pole For My Toddler?
The ideal sizing when it comes to a fishing pole's length for a toddler is 3 to 4 feet. If your 3 year-old child is smaller, you will want opt for the smaller rod.
If you have a toddler who is slightly bigger than what is considered the norm, you can probably get away with a slightly longer pole than what is mentioned above. You should also consider that a telescopic or adjustable rod might be perfect because you can adjust their length accordingly.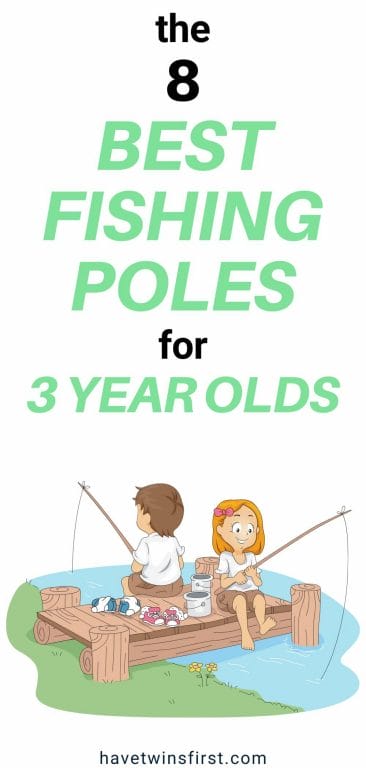 Fishing Accessories Needed For 3 Year-Olds
Now that you have a comprehensive list of fishing poles available for your little one, what fishing accessories might you want? Here is a list of some items you might want to invest in.
Good, comfortable shoes – waterproof, breathable shoes are best, make sure they are capable of handling lots of water and mud
Hat – especially if you are going to be out in the sun
Nightcrawlers – these are considered the royalty of fishing bait
Tackle box – if your fishing pole did not come with a tackle box, you will definitely need to get one
A change of clothes – Accidents happen, especially around water
Bug repellant – Normally where there are bodies of water, there are bugs
Once you have all these things in place, the last thing to do is – go out there and enjoy!
Fishing with your 3 year-old is fun and exciting (especially if you catch some fish), just be sure you invest in the right fishing pole for your toddler.
There are many options available that qualify as one of the best fishing poles for a 3 year old. Remember that the most important thing when your toddler gets his first fishing pole is that he is able to handle it on his own.
It is a big confidence booster when your 3 year-old can carry, cast, and catch his own fish – no matter how small it may be. At the end of the day the most important thing is having some quality time together.
Other toddler posts you might find interesting: