Baby registries are a really great way to get your hands on some awesome baby items that you may not necessarily buy yourself. There are many stores where you can create a baby registry and select the items you wish to have.
But unfortunately many new parents-to-be forget certain items and leave them off their registries. They simply don't know what they need since they are new to all this baby stuff.
With that said, I have compiled a list of the most forgotten baby registry items and why you should be including them on your registry list.
Please note, there are affiliate links in this post. Read my privacy & disclosure policy at the bottom of this page to learn more.
Why It's Important To NOT Forget Items For Your Baby Registry
It is very easy to forget items for your baby registry! There are so many things to keep track of during pregnancy including doctors visits, planning the nursery, and trying to eat healthy.
There are certain baby things that are must haves, but some of these items can easily be forgotten. It's a good idea to add any must have baby items to your registry, so you are ready when your newborn arrives.
Even if a friend or family member does not purchase certain items from your registry, you will at least have a record of wanting it. Then you can buy it yourself if needed. And don't forget, some baby registry stores offer registry completion discounts too.
The Most Often Forgotten Baby Registry Items
With everything going on during your pregnancy journey it is easy to forget things, especially when it comes to your baby registry. So, here is my list of the most forgotten baby registry items.
Make sure to include these items on your baby registry list.
Blackout Curtains or Shades
Have you considered putting blackout curtains for the nursery on your registry, or maybe blackout shades? Most people will probably leave these off their baby registry, but you will be surprised by how useful they can be.
Blackout curtains or blackout shades are brilliant if you have a room that gets a lot of light. They will help keep the nursery darker so your little one can fall asleep more easily. Plus, they also help your baby stay asleep in the early morning hours.
And don't forget naps. Blackout curtains or blackout shades are super useful for helping your baby take longer naps during the day.
Sound Machine
Is a sound machine necessary for a baby? Technically no, but many babies struggle to self-soothe as newborns and a sound machine can be very beneficial.
Sound machines help babies to block out normal household sounds, which they may find difficult to do on their own. It is important to note that even though sound machines are generally safe, they do need to stay below a certain decibel level.
Baby Medicine Kit
A medicine kit specifically for newborns is a life-saver to have available. As your baby grows you can add any other necessary items for her age.
The baby medicine kit I recommend contains all the relevant medicines that are safe for newborns. It includes the following:
Saline Spray / Drops
Nasal Aspirator
Gas Relief Drops
Infant Fever & Pain Reliever (acetaminophen)
Gripe Water
Diaper Rash Ointment
Once your baby is old enough, you will also want to have Motrin on hand too.
Waterproof Crib Mattress Pads
I think we all know that babies will inevitably leak through their diapers at night, especially when they are in between sizes. You can avoid ruining your baby's crib mattress by investing in waterproof crib mattress pads.
Although they are not the most exciting item, they are a great thing to put on your baby registry because you definitely want to protect your baby's mattress. Make sure you get two, so when one gets wet you have another one to replace it while you wash the dirty mattress pad.
Changing Pad Covers
Just like it's important to protect the crib mattress, you will also want protection for the changing pad. Again, it is inevitable that there will be accidents or messes when changing diapers.
A changing pad cover keeps things neat and clean, allowing you to just replace if it gets messy. Changing pad covers also come in fun colors and designs, so they look great in your baby's nursery.
Another advantage of a changing pad cover is they provide more warmth for your baby as opposed to the cold changing pad.
Waterproof Changing Pad Liners
Waterproof changing pad liners are portable and can be very useful when you are out and about. They can be used as a changing mat when on the go.
Another great use for these are newborn diaper changes on your bed at night. If you have your baby sleeping in your room, just keep a changing pad liner next to you. Lay your baby on it to change her diaper.
These liners are machine washable. With multiple ways to use them, they are a smart choice to include on your baby registry.
Bottle Brush
Whether your baby is breastfed or formula fed, chances are you will use a bottle at some time or another. Keeping the bottle clean is very important.
Often milk will sit at the very bottom of the bottle and bacteria can gather there. That is where the handy bottle brush comes in.
Besides the big brush, most bottle brushes also have a smaller, narrow brush that can be used to clean the lid and other small crevices of the baby bottle too.
Breast Pads & Lanolin
I cannot stress enough how important these two items are to have on hand. They are perfect baby registry items, but they are often forgotten. Your family and friends will be able to find breast pads and lanolin just about anywhere.
Even if you don't breastfeed, you will want some disposable breast pads on hand postpartum in case you leak some breast milk. And if you are breastfeeding you will definitely have leaking breasts. In this case you can choose between disposable breast pads or reusable, washable breast pads.
If your baby struggles to latch and feed, you may also experience cracked, sore nipples. This is where lanolin comes in. It helps to repair and soothe damaged nipples.
Pacifier Clips
If you are going to be give your baby a pacifier, chances are she will lose it throughout the day too. That is one reason to get pacifier clips.
I actually found the best use for them was attaching a pacifier clip with a pacifier on it to the car seat. This way, whenever we went out I wouldn't have to worry about forgetting a pacifier. And, if my baby wanted it in the car it was readily available.
Baby Sleep Suits & Wearable Blankets
It's pretty common to put baby swaddling blankets and Velcro swaddles on a baby registry. But what about swaddle transitioners and wearable blankets?
After your baby is 3 months old, she will start growing out of swaddling. It's very helpful to have something to help her transition to a new sleeping environment. My favorite for this is the Baby Merlin Sleepsuit.
Finally, once your baby grows out of a swaddle transitioner, I love wearable blankets, also known as sleep sacks. These provide warmth for your baby, since she cannot have a blanket in the crib with her. They also prevent babies from trying to climb out of the crib as they become toddlers.
For more information read: How Many Swaddles, Sleep Sacks, & Receiving Blankets Do I Need?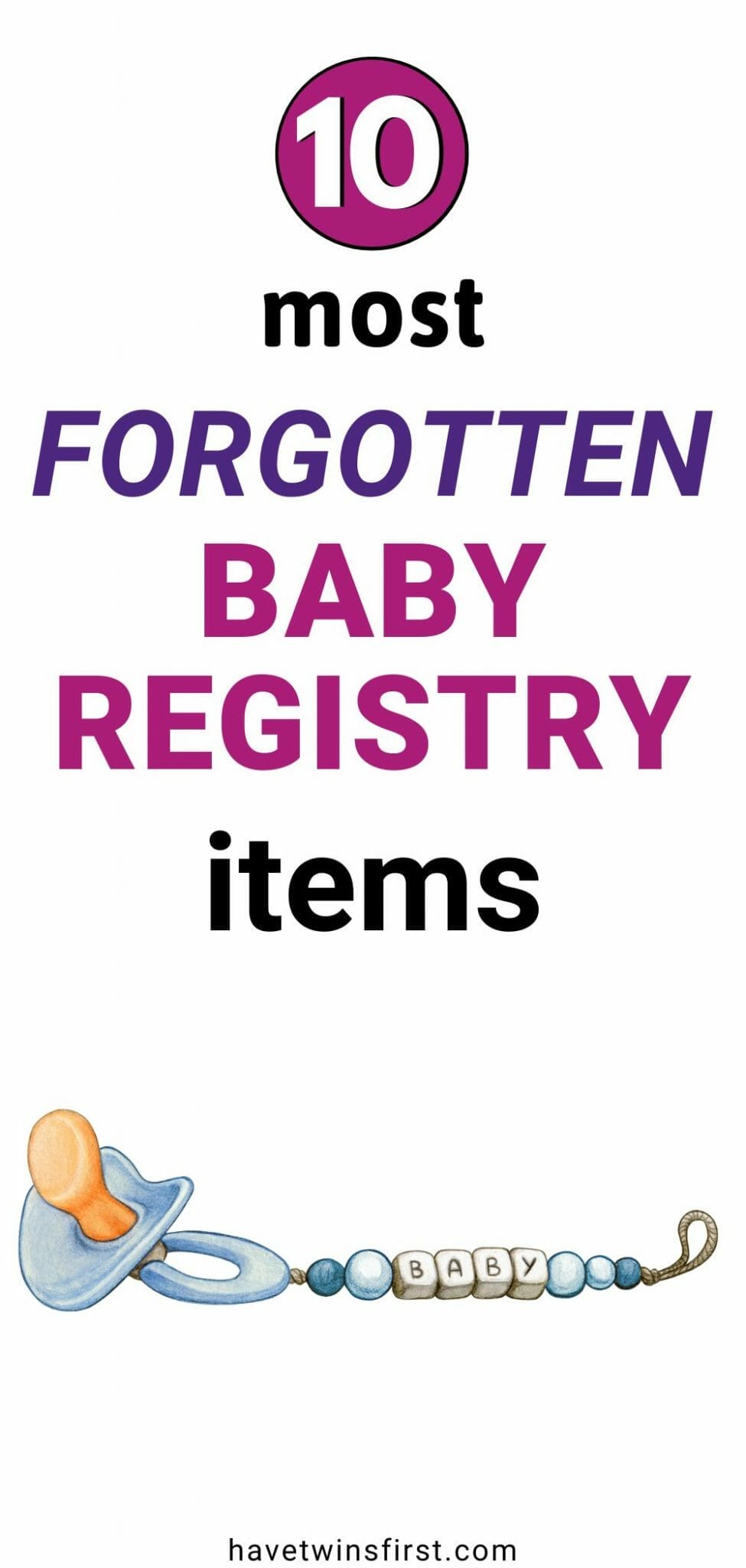 Baby Registry Items That Can Be Forgotten (& It's Okay!)
Now even though I have been talking about baby registry items that you should NOT forget about, there are also some that you can leave off your registry. These items are ones that you usually receive a lot of as gifts anyway.
The list of baby items to not include on your baby registry is as follows:
Whether for your baby shower or just because, people are going to be buying you lots of these items. This means it's not necessary to add them to your registry. In summary, add some of the other items mentioned in this article to your baby registry and leave the ones listed above off.
Make sure you get some of the most forgotten baby registry items added to your registry soon!
Even if you do not use some of these forgotten baby registry items right away, there will come a day when you will want them. Plus, if you are using your registry specifically for baby shower gift ideas, having a long list of various items can be very beneficial to your friends and family when it comes to making choices.
Finally before I sign off, be sure to grab your FREE printable Baby Registry & Pregnancy Checklists by filling in the form below. Learn which must haves to put on your baby registry and when to complete items in each trimester of your pregnancy.