You're pregnant and starting to think about that baby registry. I know the first thing I wondered when I was starting mine was:
What are the best places to register for a baby?
I wrote this post to help you choose the best place or places to register for your baby shower. As you read this post, you will see that there are quite a few stores that are great options for creating a baby registry.
Please note, there are affiliate links in this post. Read my privacy & disclosure policy at the bottom of this page to learn more.
Is a Baby Registry Necessary?
Although it may not be absolutely necessary to make a baby registry, it is definitely nice to have. A baby registry makes life so much easier for those wanting to spoil you and your new bundle of joy.
Creating a baby registry also allows the expecting parents to keep track of which baby products have been purchased and which ones are still needed.
Why Should Expecting Parents Start a Baby Registry?
When you have created a baby registry and have shared the information with your family and friends, you can easily track what has been purchased from the list of registry items.
Having this kind of control over what you will get and what is still needed lightens your load. It also allows you as the expectant parents to only buy what is absolutely needed.
Will I Get Free Baby Stuff When I Create a Baby Registry?
We all love freebies! This is especially the case when a new baby is on the way. You can use all the help you can get – right?
But, do you get free baby stuff when you create a baby registry?
The answer is – not all places that offer a baby registry will give you stuff for free. However, there are some that will really spoil you (you just need to know where to look).
Many places have goody bags for pregnant moms when you register for their services or spend a certain amount of money. We have more details on which stores offer this at the end of the post, so keep on reading or scroll to the end to find out which ones.
Where Are the Best Places To Register For a Baby?
There are many places where you can register for your baby, but not all of them offer the same service or the products you may want.
I have done some research over the years and have come up with this comprehensive list of some of the best places to create your baby registry. Let's take a look at each one in detail.
Amazon
I love Amazon because it is so convenient! You just hop online and order what you need.
Amazon provides the ultimate experience for convenience and almost always has competitive prices. How can you beat never having to leave your house and getting everything delivered to your door? Plus, unlimited FREE 2-day shipping for Amazon Prime members.
With all that said, it makes sense that creating an Amazon baby registry is so simple. Plus, it's an easy place to shop for your friends and family.
Amazon is very convenient for your loved ones to order gifts. The options for baby items are endless. And, last but not least, the prices are often the best you will find.
Let's review all the benefits of why Amazon is one of the best places to register for a baby. If you create an Amazon baby registry, you will enjoy the following benefits:
10% registry completion discount – this means you can purchase anything you do not receive in a one time order from your registry and receive 10% off the entire order
Universal baby registry – add items to your registry from any store
90 day returns
Now, if you create an Amazon baby registry AND you are an Amazon Prime member, you will receive the following additional benefits:
15% registry completion discount
Free welcome box – the box contains free samples of various baby products
Up to 20% off diapers and baby food (Amazon Family).
As you can see there are some nice advantages to also being a Prime member if you plan to make an Amazon baby registry.
Target
I like Target for many of the same reasons I like Amazon for a baby registry. Target has great prices and a great selection of baby items. Plus, online shopping with Target is easy.
One reason I recommend making a Target baby registry is that you are able to physically go to Target to see baby items in person. If you create a Target baby registry you will get the following benefits:
15% registry completion discount
Free welcome box – the box contains over $150 in samples and coupons
Universal baby registry
Return gifts from your registry for up to a year – no receipt needed
Group gifting – allow friends and family to contribute towards larger items
Be sure to check out our Target baby registry must haves list too!
Babylist
Babylist is fast becoming another one of my favorite places to shop for babies and kids. Plus, it is really great when it comes to creating a baby registry.
One of the big draws is the fact that you receive a Hello Baby Box for free when you sign up. That being said, in order to qualify for the baby box you need to do a few things first. Take a look at some of the requirements below:
Add 3 items to your baby registry directly from the Babylist Shop
Add 3 items to your baby registry from other stores
Make a minimum purchase totaling $10 from the Babylist Shop
Verify your address and pay $9.95 + tax, where applicable, for shipping
Some other great benefits of signing up with Babylist include:
15% discount on items purchased from the Babylist Shop
Personalized gifts can be added i.e. vouchers for dog walking, cooked meals, and house cleaning (who wouldn't love this, right?)
What are the shipping options with Babylist?
On checkout whoever is purchasing can select your preferred delivery location listed or an alternate delivery address
Orders from other retailers through Babylist can be sent to the registrant or any other address which is manually entered
Walmart
Walmart is a great place to create a baby registry because it really caters to everyone when it comes to what is available as well as price points.
The benefits of registering at Walmart are plenty, but these are my personal favorites.
Free Welcome Box filled with baby essentials up to a total value of $40
4,500 Locations to shop at – registrants and gift givers can shop and browse at any of the locations and return items if necessary
One year return option for eligible registry items
Walmart is usually an option for those who want to give their family and friends a wider option of items to choose from. Plus, you provide the ability to actually go into a store and do the buying.
Added benefits when you have a baby registry at Walmart include:
Next-day delivery on items over $35
Walmart's Hoo is an excellent virtual registry assistant and can give you some great product recommendations
Professional furniture assembly – putting together the crib or other items does not have to be you or your partner's headache anymore
Order online and pick up in-store
buybuy BABY
Here is another fantastic place to create a baby registry where you can be assured of top quality items for your little one – and yourself.
Something to also look for is if you are a first time visitor to the buybuy Baby website. You can sign up for their newsletter and you will receive a 20% discount.
On the website you will find all kinds of special offers, top tips, and a great selection of recommended and top-selling products. Setting up your registry is basically the same as the others, but buybuy Baby definitely has added benefits.
Benefits for having a registry with bubuy Baby:
Upon registering you receive a baby bag filled with free samples, coupons, and a copy of their baby registry guide
15% registry completion discount
Free shipping – there are exclusions to this rule, but generally you will get free shipping for a year if your registry purchases exceed $1,500
Baby registry referral rewards – referrals that result in registration get you $25 off a $100 in-store purchase
First time baby registry creators can speak with experts who can guide you to create your best baby registry
Helpful tools offered at buybuy Baby:
Baby registry checklist – keep track of what you need and want online
Baby registry analyzer – create a registry with varied priced items for everyone's budget
Baby registry thank you list – track registry purchases and send thank you notes
MyRegistry
MyRegistry is a really cool site as it is not only for baby registries. You can add your wedding registry on there or create a Christmas wish list. All of that in one place – how awesome is that?
But, since we are talking about creating a baby registry, let's get into those details. MyRegistry allows you to create a universal registry meaning you can add items from all your favorite retailers, as well as sync your current baby registries.
Reasons to love MyRegistry:
Add items from all your favorite retailers by clicking on the "Add to MyRegistry.com" button
Sync your other store registries
Register for cash gifts
Get great perks from their retail partners
Easily announce and share your registry
With MyRegistry.com you also get a baby registry checklist and access to a sample registry.
Best Places To Register for Big Ticket Baby Shower Items
Now we have had a look at some of the more mainstream places to get a variety of items on your baby registry, but what about those really special big ticket baby shower items?
Here is my top list of special, more luxury type baby registry places.
Pottery Barn Kids
When I think of Pottery Barn Kids I think of the beautiful nursery furniture they have. But, they also carry car seats, strollers, curtains, clothes, and more.
They actually have all the baby must haves you could ask for. However, it can get expensive!
So, it's up to you. Create your whole baby registry here or just the few items you really are in love with. Here are the benefits of a Pottery Barn Kids baby registry.
20% registry completion discount
Free nursery design services
Registry concierge help
Crate & Kids
Crate & Kids is all about ultra-luxurious baby and kid items with a specific focus on products that have multiple uses or can grow with your child.
Benefits of registering with Crate & Kids:
Free shipping on eligible purchases
Free and expert design services
10% registry completion discount
Able to send thank you notes
IKEA
At the time of writing this post IKEA is moving their website, so unfortunately you will not be able to create a new registry for now. But, once it's complete this article will still be here.
So, let's review the process. It would involve visiting the IKEA gift registry page and registering with all your details. Then, make use of the IKEA checklist and add the items you want.
Once you have created your account, you will need to enter the gender, due date, and birthplace of your baby. Next, select your registry preferences.
Option to make the registry private – your guests will have to enter a password
Add a baby registry greeting for your shower guests
Sign up for notifications when items are purchased
Sign up for notifications when items are unavailable
Keep in mind that shipping costs at IKEA are $49.
The Best Eco-Friendly Baby Registry
As a globe we are all trying our best to go greener and be eco-friendly – and this can extend to your baby registry as well. The way to do this is to look at items that are more sustainable and have more than one use.
Many stores do offer these kinds of things. If possible, you may want to add these items to your registry. You can actually check out our minimalist baby registry list to get some ideas on the best eco-friendly baby items.
What kind of items should you be looking at adding when creating a "green" baby registry? Let's take a look.
Sustainable wooden furniture
Organic mattresses and bedding
Organic clothing & swaddle blankets
Mats and rugs which are 100% cotton and have natural dyes
Also, look at ethically sources items. Other items which you can check for that are more sustainable are multiple-use bottles, bowls, and cutlery.
One place you can be guaranteed you are putting these types of items on your registry is the Ultimate Green Store. They offer a gift registry on their website.
So, if you are looking for eco-friendly, sustainable items definitely check out the Ultimate Green Store. Amazon, Babylist, Pottery Barn Kids, and Crate & Kids also offer many options within this market as well.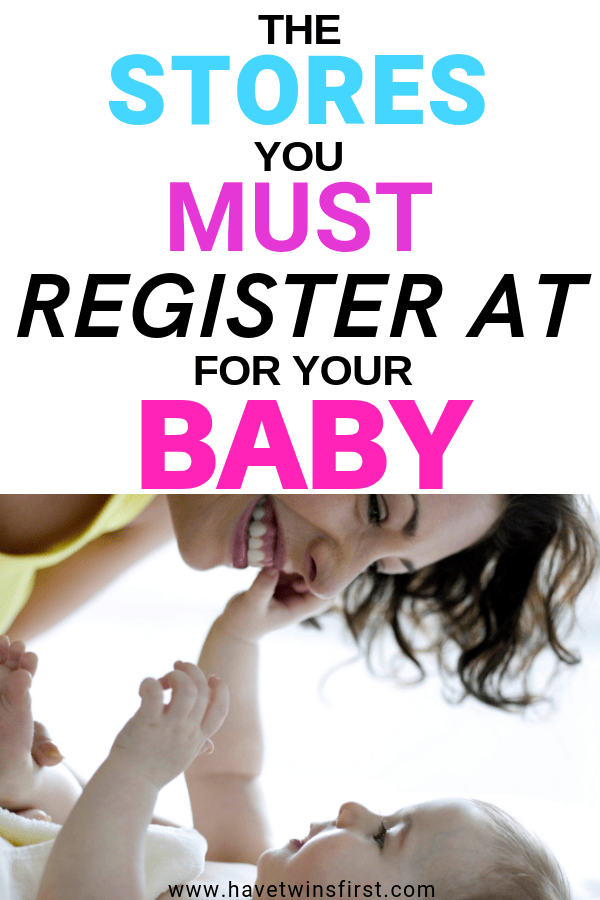 The Best Places To Register for Free Baby Stuff
As we mentioned before – we all love freebies, especially when it comes to baby shopping. I did the research for you so that you can look at places that have great free offers for you.
Amazon – The Amazon welcome box is jam-packed with goodies – you will receive this ONLY if you are an Amazon Prime member
Target – Free welcome kit worth $150+
Babylist – You will get a box of free samples – but you have to do a few things first to qualify (see above for more info)
Walmart – You get a box filled with free goodies totaling about $40
buybuy Baby – Free goody bag (contents will differ from bag to bag)
As discussed, most of these places offer not only a free goody bag or free items, but they also offer extended discounts as well as completion discounts.
So, go ahead and take a look and find the baby registry or registries that suits your needs and budget.
Before we move on, you might find these FREE printable Baby Registry & Pregnancy Checklists helpful. Just fill in the form below to get them. Learn which must haves to put on your baby registry and when to complete items in each trimester of your pregnancy.
How Many Places Should You Create a Baby Registry At?
I wanted to take the time to explain why I think you should create a baby registry at multiple stores. I wouldn't go overboard, I recommend creating two baby registries.
The top reason to create two baby registries is that it gives you more baby item options. Additionally, you are able to do a price comparison on baby items offered at both stores.
Then, you can add the baby item to the registry from the store with a better price. Another thing to consider is online stores versus in person shopping.
I definitely think it's a good idea to create a baby registry with at least one store that has a brick and mortar location. It gives your loved ones the option of shopping online or being able to physically go to a store.
Plus, you can go see some baby items in person and using that scanner at the store is fun too!
Now that you know the best places to register for your baby, what are you waiting for? Start working on that baby registry NOW!
I hope this post has given you some helpful insight into the best places to register for your baby. The good news is that you have a lot of options! Good luck picking the ones that are best for you and your family.
Before I sign off you might also be interested in finding out when to start your baby registry and how many items you should put on your baby registry. And if you are expecting you might also be interested in these printable pregnancy resources listed below.