Creating a baby registry is a lot more work than you would think. There are so many options for baby items out there and it is difficult to know what you actually need.
Expecting parents want to get the best and most useful things for their baby, and can even end up doing extensive research before finalizing what they put on their baby registry.
However, at the end of the day, how many items should actually be on a baby registry? This can just be plain confusing. In this post, we will walk you through the number of items you should have on your baby registry, as well as provide pointers for what to add, what not to add.
Please note, there are affiliate links in this post. Read my privacy & disclosure policy at the bottom of this page to learn more.
Why Would I Need a Baby Registry?
Creating a baby registry can help parents be more organized in preparation for the arrival of their baby. Additionally, a baby registry makes it easy for friends and family to pick baby gifts for the baby shower or when the new baby arrives.
It also allows tracking of baby items, in order to stay organized with which baby gear is still needed versus which gifts have already been received. On top of this, it prevents baby shower guests from purchasing the same gift.
How Many Items Should I Put On My Baby Registry?
If you are going to be a parent for the first time, it is likely you will need quite a few items for your baby. The number of baby items you add to your baby registry will depend on whether you want to get all brand new items or would also accept some used baby items.
As a general rule, baby registries typically have 100 to 120 items. This number covers everything that you will need once the baby arrives. However, you can always add more or less products to your list as you would like to.
For instance, if you have limited space or like living a minimalist lifestyle, then you would aim to have less items and could create a minimalist baby registry (more on that below). On the other hand, if you have a huge circle of family and friends, you might need to have more gifts on your list to make sure they all have some options to choose from.
How Many Items Is Too Many To Have On a Baby Registry?
Welcoming a baby is an overwhelming experience especially for first time parents. There are so many items in the big baby stores and they all seem extremely important. So, if you have been feeling this way, you are not alone.
With that said, our advice is to NOT go overboard! Your goal should be to only get things for your baby that you will actually use.
A general rule of thumb to follow is that having more than 150 items on your baby registry is too much. One way to handle reducing all the "baby stuff" is to just get the essentials that you will need right after birth while your baby is a newborn.
Even though it can be enticing to get all those cute baby things that you don't necessarily need, stick with a baby essentials list, rather than extra clothes and toys.
How Many Expensive Items Should I Have On My Baby Registry?
It is definitely okay to add expensive items such as a crib or stroller to your baby registry. All such items are essentials.
Close family and friends might be spending more or people might chip in for a group gift to get you a big item. If you do add expensive baby items we recommend having no more than 10 on your baby registry list.
Just be sure that you add items in a variety of price ranges so there are choices for everyone's budget.
How Many Items Should Be On a Minimalist Baby Registry?
Sometimes parents want to choose fewer items for their baby registry because they do not want to waste anything. For instance you could let the baby arrive, and then buy more baby stuff when the need arises.
Some parents also decide not to get everything brand new, they reuse hand-me-down gifts from their friends and family. It helps to cut the cost of baby items.
If this sounds like you, then you should be aiming for 35 to 50 must-have items for your minimalist baby registry list. Your list would contain only the most essential items that you will need right after baby's birth.
Before we move on, you might find these FREE printable Baby Registry & Pregnancy Checklists helpful. Just fill in the form below to get them. Learn which must haves to put on your baby registry and when to complete items in each trimester of your pregnancy.
What Is Baby Registry Etiquette for Number & Types of Baby Registry Items?
As far as etiquette for the number of items on your registry, we recommend following the guidelines and ranges discussed above. But, what about other baby registry etiquette questions? For example, the types of baby registry items to include on your registry.
Below you will find some simple baby registry etiquette and rules to follow and also not to follow. Let's start with the things you should do when creating a baby registry.
Complete Your Registry
Maybe you have already been thinking about your baby registry since the moment you found out you were pregnant. Or, maybe you are still wondering what the heck to put on it.
Either way, you need to gather information about all the baby registry store options and baby registry must haves. Then, you can start creating your registry. The earlier you start working on your baby registry, the earlier you can complete it and check it off your list.
Give Options
Your friends and family will have different budgets for the gifts they purchase for you and the baby. Some of your friends might want to spend $10, while some might want to spend over $50.
A few people may have a budget of more than $100. So, you should add baby item options for every budget.
Add More Than One Store
It's a good idea to include multiple store options for your baby registry. For example, Amazon is a very popular store for creating a baby registry.
But, it is also nice to register somewhere where gift givers can go in person to pick a gift. Or, maybe one of your stores of choice doesn't have many locations.
While it is not absolutely necessary to register at more than one store, it can be more convenient for your baby shower guests to have options.
Next, we will move on to the things you shouldn't do when creating your baby registry.
Not Create a Baby Registry
One great thing about creating a baby registry is that it will help you organize and manage the things you will need for your baby. You will also be able to keep track of any items that are still left to buy.
If you do not create a baby registry, you could end up a little more disorganized with the baby items you need. A baby registry also helps friends and family to decide their gifts.
If you build a baby registry, your friends and family will at least get you some gifts according to your taste and preference. By not creating a registry you risk having quite a few gifts that you do not love.
Make a Baby Registry Last Minute
It is not recommended to create a baby registry at the last minute. You might forget to add many important things to your registry.
Building that perfect baby registry is a process that actually takes quite a bit of time. You should start your registry as early as possible to avoid the last-minute hassle. It also gives people more time to choose the gift that they will buy for the baby shower.
Add Only Expensive Items
Never create a baby registry that has only high-end items. It might be impossible for some family members to afford such gifts.
It can also be a turn off for friends and family to see only expensive items. As previously discussed, it is better to create a budget-friendly registry with a variety of price points, so that everyone has an option to choose a gift from it.
Baby Items To NOT Put On Your Baby Registry
We understand that you might feel like you want to get EVERYTHING for your baby, but it is also important to be mindful of spending money wisely. You should not buy or put anything on your registry that you are unsure about.
If you feel you will not need something initially, don't get it. Here is a list of some things that you should not put on your baby registry.
Bottle Warmer
It is unnecessary to have a bottle warmer. You can give room temperature or even cold milk to your baby.
To bring a bottle to room temperature straight from the fridge, put hot tap water in a pint glass, then put the baby bottle in the water for 1 to 2 minutes.
The milk will warm up enough for your baby to drink it. So, it is truly not required to own a bottle warmer.
Wipe Warmer
A wipe warmer is a useless item since you can use room temperature wipes without worrying. If you ever feel the wipe is too cold, just hold it between your hands for a few seconds and its temperature will increase.
At the end of the day, you do not want to put a wipe warmer on your baby registry, you are better off spending money on something else your baby really needs.
Diaper Stacker
A diaper stacker is used to organize the diapers and diaper changing essentials close to the changing table to facilitate easier diaper changing. But, you can easily just organize right on top of your changing table instead.
Wake your creativity up and use boxes and baskets for keeping diapers close to the changing table. Do not invest in a diaper stacker when you can DIY it easily.
Crib Bumpers, Comforters, & Blankets
Crib bumpers, comforters, and blankets are a big NO for newborns. Ideally, a baby's crib should be empty when he is sleeping to minimize the risk of SIDS.
So, you do not need to get anything more for the crib than a mattress and crib sheets.
Car Seat Cover
Even though a car seat cover might make both you and your baby feel secure, it is still not necessary to put it on your baby registry. You can get that later on if you truly believe that it is necessary.
Cart Cover
A cart cover prevents babies from having direct contact with dirty cart seats at the store. But, they are for babies who can sit up.
For a newborn, you will not need a cart cover yet. On top of that, it's an additional thing to carry around, so you might opt to not use one anyway once your baby is old enough for it.
Baby Shoes
Babies can be left barefoot or wear socks until they start walking closer to 1 year old. Plus, a newborn baby is often swaddled, which will cover your baby's feet anyway.
You do not need baby shoes to flaunt your baby's OOTD!
Best Baby Items To Include On Your Baby Registry
We know it is confusing for you to decide which items are best for the baby. Everything seems to be a good purchase. But you should always do some research before deciding on each product.
Below we have compiled a quick list of the best baby necessities that you must add to your baby registry. Here's a list of the items that are a must-have for a baby registry.
When Should I Share My Baby Registry?
Start preparing your baby registry as early as possible so that you have plenty of time to complete it before sharing it with others. It's proper etiquette to provide enough time to friends and family to decide their gift.
If you plan to have a baby shower, you should share the baby registry with friends and family at least a month before the shower date. If you do not plan to have a baby shower, then around the start of the third trimester is the right time to share your registry.
Your guests should have a lot of time to pick and choose their gifts. So, make sure you don't delay completing your baby registry.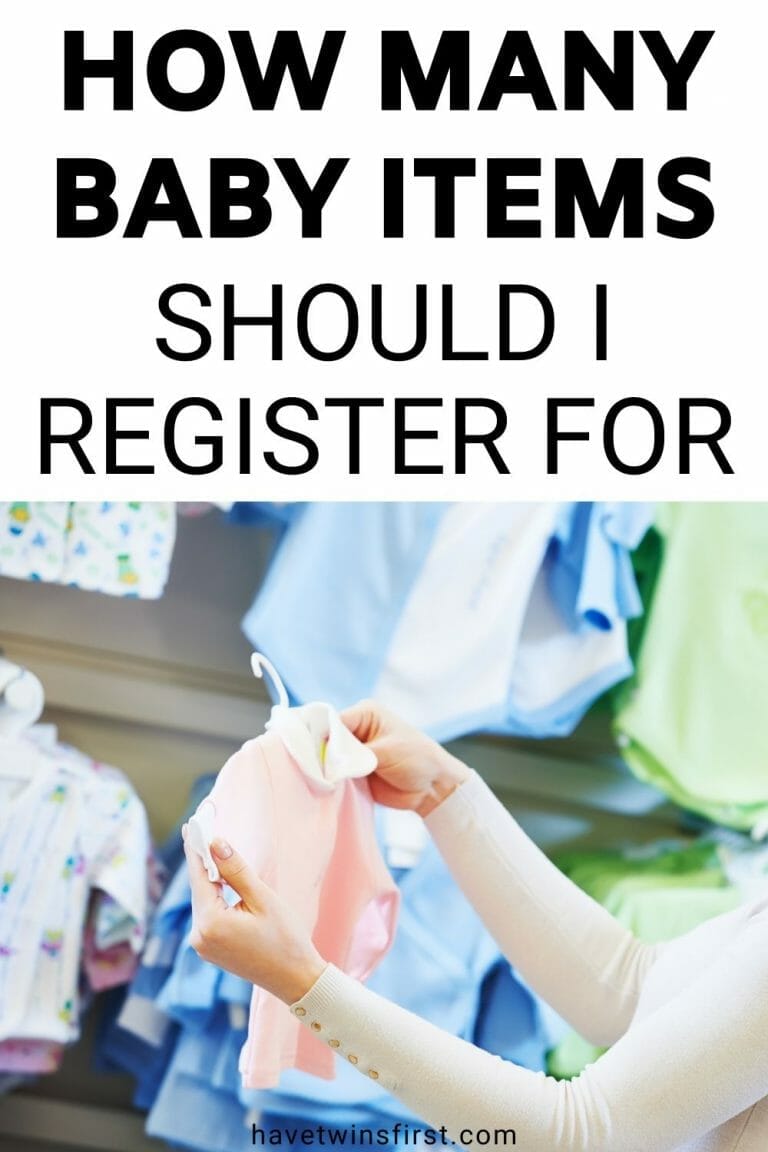 Putting together your baby registry list is HARD! Figuring out how many items you should put on your baby registry and which ones can be tricky too.
Organizing a baby registry can be a confusing task that requires a lot of time. You will likely find yourself doing a lot of research to choose the best brands for your baby.
However, this effort makes it easier for friends and family to decide their gifts. Plus, not having a baby registry could lead to people picking out the same gifts for your baby.
It is a wise decision to have a baby registry as it creates ease for you as well. Be sure to have a variety of items on your list, but also not too many expensive items.
It is okay to start creating your baby registry as soon as you find out you're pregnant, and add items that you find necessary. Remember to aim for approximately 100-120 items on your registry.
Finally before I sign off, if you are expecting you might also be interested in these printable pregnancy resources listed below.
Good luck with your pregnancy and building your baby registry!