The early years of a baby's life are crucial for growth. To ensure normal and steady development, parents strive to provide the best nutrition for their baby through food.
When it's time to start solids it can get a bit overwhelming with all the food choices available. Understanding what the healthiest and most nutritious options are can be very confusing.
Oatmeal vs rice cereal is an example where parents are often unsure of the better choice. In this post we will take an in-depth dive into the differences between oatmeal and rice cereal.
Please note, there are affiliate links in this post. Read my privacy & disclosure policy at the bottom of this page to learn more.
What Is the Difference Between Baby Rice Cereal Vs Oatmeal Cereal?
Rice cereal and oatmeal cereals have many similarities, but differences as well. Here is a list of a few differences between them to give you a better idea about the best option for your baby.
Grains: Both rice and oatmeal cereals are made of different grains. Oatmeal is made from oat grains and rice cereal from rice grains.
Taste: Oatmeal cereal has a nut-like taste, while rice cereals are more bland and tasteless.
Texture: Oatmeal cereal has a grainy texture and rice cereal has a smooth and creamy consistency.
Allergy: Oatmeal cereal can cause allergic reactions in a small percentage of babies, however it is very uncommon to have an allergic reaction to rice cereal.
Overdose: Oatmeal cereal can be given to a baby as much as you want, but rice cereal should be given in small amounts due to the risk of arsenic exposure.
Oatmeal Vs Rice Cereal: Which Is Safer & Healthier?
Multiple factors help decide whether oatmeal or rice cereal is safer for your baby in particular. Even though both cereals are good for babies, there could be unexpected side effects or allergic reactions.
When you think about introducing rice cereal in your baby's diet, you should be well aware that is does contain low levels of arsenic, which has been linked to cancer and neurodevelopmental effects. Rice cereal also does not contain a great amount of nutritional value because it has few basic vitamins and minerals. Lastly, it has a bland taste.
When you compare oatmeal cereal to rice cereal, you will find that oatmeal cereal is packed with an abundant amount of vitamins, minerals, and fiber. Oatmeal cereal does have a greater risk to causing an allergic reaction, but that risk is still very low.
It has a slightly nutty flavor and the complex carbohydrates in oatmeal cereal help keep a baby's tummy full for longer.
After reading through this section it is probably obvious, but in my opinion, oatmeal cereal is a safer and healthier option for babies. At the end of the day, it is totally up to you if you want to test out both cereals, stick with just one, or opt to not feed baby cereal at all.
Benefits of Feeding Your Baby Rice or Oatmeal Cereal
Feeding rice or oatmeal cereal to your baby has many benefits, which include the following:
Packaged cereals for babies are packed with extra nutrients and fiber.
Baby cereals are iron-fortified which helps in maintaining appropriate iron levels for your baby, especially breastfed babies.
Rice or oatmeal cereals are easily digested and keep babies full for a long time.
Oatmeal cereal especially helps in relieving constipation.
Baby cereals can be mixed with a variety of other foods such as fruit and vegetable purees.
Cons of Feeding Baby Cereal
What about the negatives of baby cereal? As with all things there are also negatives that need to shared. Here are a few cons of feeding baby cereal to babies.
Some baby cereals are highly refined not in their raw and organic form. This process removes helpful nutrients from the food.
Rice cereal contains the toxin arsenic.
The cost of baby cereal can add up over the course of a month.
You might need to try different brands to see which brand best suits your baby.
Do I Have to Feed My Baby Oatmeal or Rice Cereal?
No, it is not mandatory for you to feed oatmeal or rice cereal to your baby. There is no hard and fast rule that you must feed your baby a specific cereal or cereal at all.
Many parents opt to feed their babies cereal because it's a very easy food for starting solids, especially because you can mix it with breast milk or formula. There could also be other reasons to introduce cereal to a baby's diet.
Some common reasons to feed a baby oatmeal or rice cereal include the following:
Baby's iron levels are low
Baby does not eat anything else and only likes to eat a particular cereal
Baby is underweight
Baby is sick and needs a light diet i.e. rice cereal
Oatmeal Vs Rice Cereal for Babies with Reflux
Baby cereals are usually recommended by doctors for babies who suffer from acid reflux. Cereals make the stomach contents heavier which helps prevent food and milk from coming back up. Your doctor will recommend cereals only if your baby is at least 4 months old.
Since oatmeal cereal is wheat-free it will not cause trouble for your baby's stomach if your baby is allergic to gluten. However, your doctor might recommend rice cereal as it is easier to digest and works perfectly as a thickening agent in milk.
Can I Use Oatmeal or Rice Cereal as a Thickener in Baby's Bottle?
It is believed that mixing cereal in baby's milk will help a baby to sleep through the night. It seems to be a common practice among a huge number of parents.
However, it is not a great idea and it is NOT recommended by the CDC. Here are a few facts about mixing cereal in a baby's bottle.
When you start feeding solid food to your baby, he should be at least 4 months and able to eat the cereal from a spoon. If you mix cereal with milk in a baby's bottle it will delay or prevent the baby from becoming an independent eater.
Putting cereal in a bottle could cause your baby to overeat.
Mixing cereal in a baby's bottle increases the chances of your baby choking.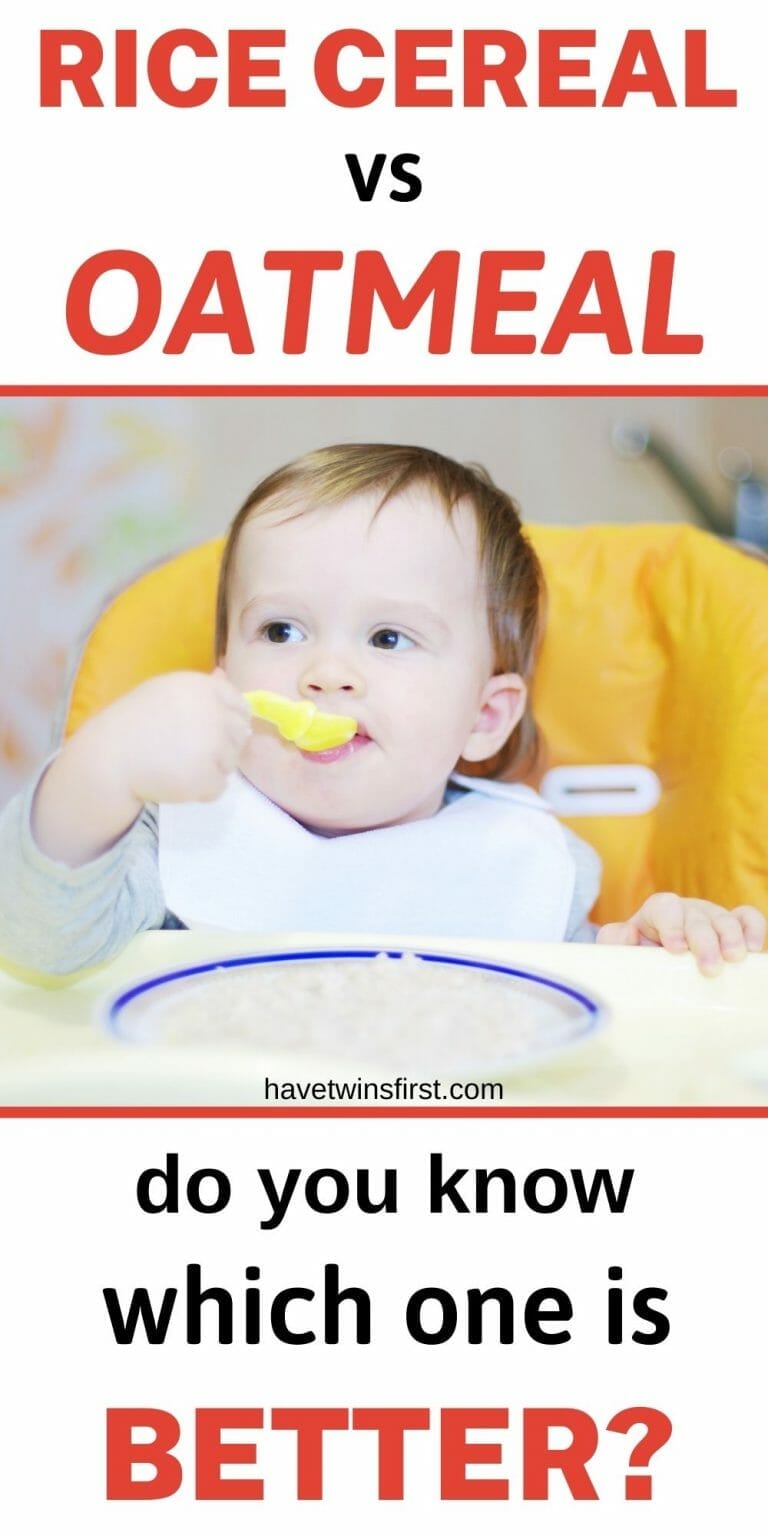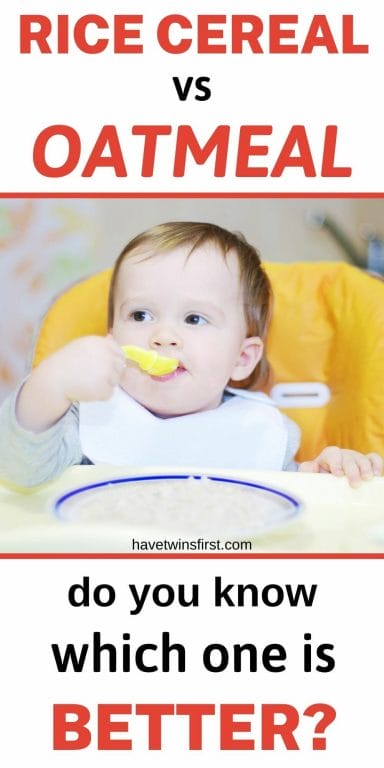 When To Start Rice or Oatmeal Cereal for Babies
The most recommended age to start solids for a baby is 4 to 6 months old. It varies from child to child so you should always consult your baby's pediatrician before making a final decision.
The pediatrician will also be able to guide you on which cereal is best for your baby (oatmeal or rice cereal). It is also important to not delay starting solids too far past the recommended age because this will increase the risk of food allergies.
In order to determine if your baby is ready to start solids, there are few signs to look out for. Those signs are as follows:
Your baby has good control over his head. He should be able to easily hold his head up and turn it.
Your baby easily can sit up in a high chair.
Baby is showing interest in food when you eat in front of him. He opens his mouth, watches you eat, or tries to grab your food.
A baby that is showing the above-mentioned signs and is at least 4 months old, is ready to have solid food. But, it is still important to talk your baby's doctor before moving forward.
How To Mix Baby Cereal with Formula
Here is a step by step guide that explains how to mix baby cereal with formula:
Prepare the formula milk as you normally would.
Start with 1 teaspoon of baby cereal in a bowl and add 6 teaspoons or formula.
Stir until the cereal is well mixed with the formula.
Put your baby in a high chair or booster seat.
Try feeding your baby the cereal and formula mixed together.
If your baby will not take it, add more formula to make it soupier. Continue to water it down, until your baby is willing to try it.
Pro tip: if adding more formula is thickening the mixture, try to add just water to thin out the cereal.
You will need baby bowls and spoons when you start introducing solid food. This is my favorite set.
How To Mix Baby Cereal with Breast Milk
Mixing baby cereal with breast milk is not very different. It is the same process as you would do with formula milk.
You may find that the ratio of breast milk to cereal is lower. You can try starting with 1 teaspoon of baby cereal to 5 teaspoons of breast milk.
Remember, do not leave the mixture for later use as it is not safe to offer it to the baby.
How To Introduce Oatmeal or Rice Cereal To a Baby
Starting solids for your baby is a huge milestone for a parent. Formula or breast milk will continue to be the main source of nutrition until he turns 1 year old.
But, offering different foods now helps your baby become familiar with different textures and tastes, and reduces food allergy risks. When the day does arrive to introduce solids, you should opt for easy-to-digest foods.
In that regard, baby cereal, like oatmeal and rice cereal happens to be the most common selection. To start, you will want to introduce small amounts since this is a new food.
It is best to start with about 1 to 2 tablespoons of baby cereal. Additionally, you will want to give your baby the same type of cereal for 2 to 3 days, in small quantities, to detect allergic reactions.
Once you are sure that a particular cereal suits your baby and does not cause any trouble then you can start using it regularly.
Best Baby Rice & Oatmeal Cereals
If you think choosing between oatmeal vs rice cereal is difficult, then you should go to a store and see several brands that offer these cereals. You will get confused all over again while choosing which one brand meets your requirements.
There are a huge number of brands that make baby cereals, and every brand has its positives and negatives. Let's go through some of the best cereals available on the market and consider their pros and cons.
Gerber Rice or Oatmeal Cereal
Gerber has earned immense respect in the field of baby food. It is the #1 recommended brand by pediatricians. It is a brand that parents trust and their cereals are free from artificial colors and flavors.
Gerber baby cereals have added nutrients that further enhance a baby's healthy development. They source non-GMO ingredients for their cereals which is why their cereals are extremely good for baby's health.
The rice or oatmeal cereals by Gerber are a great choice for parents since they are made from natural ingredients. As you start introducing fruits and vegetables to your baby's diet, Gerber also offers various flavors for their cereals like oatmeal with banana bits or banana apple rice cereal.
HIPP Organic Baby Rice Cereal
HIPP organic baby rice cereal is made with 100% organic rice flakes and it is completely vegetarian. This wonderful blend of rice cereal can be consumed on its own or you can mix it with pureed fruits and vegetables.
It is free from preservatives, nuts, milk, egg, and wheat. Since it is free from anything that causes potential risk of allergies in babies, it is a great choice to use as baby's first food, especially if you are looking for something light and easily digestible.
Beech-Nut Stage 1 Oatmeal Cereal
Beech-nut is a reputable brand that deals with non-GMO cereals only. Their cereals are a great choice when starting solid foods with your baby.
The oatmeal cereal by Beech-Nut does not contain wheat which is why it is free from gluten. Being gluten-free helps successful digestion in babies who are intolerant to gluten.
Beech-nut's cereals are loaded with vitamins and minerals, including iron and vitamin D because most babies are deficient in them. The easy-to-digest texture of the oatmeal makes it great as a baby's first solid food.
Earth's Best Organic Whole Grain Baby Cereal
Made with whole grains, Earth's best organic cereals are a well-balanced meal for your baby. They are free from salts, refined sugar, and preservatives.
Earth's Best organic oatmeal cereal and Earth's Best organic whole grain rice cereal both have additive nutrients including iron, thiamin, folic acid, niacin, calcium, zinc, vitamin B6, and vitamin B12. The vitamins and minerals help to make a baby's immune system stronger.
Since babies need a lot of energy to play throughout the day, the extra nutrition in the Earth's Best cereals helps in keeping their energy levels high. Earth's Best uses 100% organic and non-GMO ingredients for their baby cereals.
The oatmeal vs rice cereal debate and whether you should even feed baby cereal is a hot topic.
It is a fact that every parent wants to feed the healthiest food to their baby to ensure their normal growth and development. There is no harm in feeding your baby oatmeal or rice cereal if your baby does not develop allergies against them.
Many brands make organic cereals without preservatives and sugars so you can trust and use them. Even if you prefer fresh and homemade food for your baby, you might still opt for baby cereal once in a while.
Both oatmeal and rice cereals work well as a baby's first food. But, in our opinion, oatmeal cereal is a better and healthier option because it does not have the risk of arsenic exposure that comes with rice cereal.
Before starting your baby on cereal or solids you should always consult with your pediatrician. Have fun as your baby starts exploring new foods!