Are you considering taking the Montessori approach to raising your children? One philosophy is that you start early on by introducing the Montessori way of living to your child – the sooner, the better!
Montessori is all about creating a sense of self and a sense of independence from early on in life. So what better way to get started than creating a Montessori baby registry.
In this post I am reviewing the top must haves to make your Montessori baby registry checklist complete.
Please note there are affiliate links in this post. Read my privacy & disclosure policy at the bottom of this page to learn more.
What Is a Montessori Baby Registry?
A Montessori baby registry is quite different to the traditional kind. For example, when you are setting up a Montessori-inspired nursery you will build it around your baby and her needs rather than looking at it from the perspective of what works best for the parents.
Items on your Montessori baby registry will be aimed at creating more space in the nursery so that your baby can move around more freely. You will add products that allow your baby to discover things that interest them, allowing your baby to grow and develop in a more well-rounded way.
Qualities of Items on a Montessori Baby Registry
Once you have decided on a Montessori way of life for your baby, you can start prepping the baby registry. Factors you will want to consider when creating your Montessori baby registry include:
Incorporating items that are natural for materials used, colors, and textures
Items that are durable
Things your baby can take into her own space to make use of on her own, allow freedom of movement, and create a sense of independence
These are key aspects of the Montessori philosophy. Let's take a closer look at some of the main things to look at when creating a Montessori baby registry.
Freedom Of Movement
Freedom of movement is a very integral part of the Montessori way of life and it is especially important for your baby to have as this allows for the natural gross motor development needed from a young age.
When your baby feels free, but also comfortable to move around in her own own space, she will tend to absorb a lot more and learn things a lot faster. Babies are also more likely to have a more holistic approach to learning later on in life.
Obviously, it is important to note that even though you will want to promote this freedom of movement for your baby, safety should also be at the top of your mind as your baby is allowed to move around.
This freedom of movement is also observed in the Montessori classroom. If your baby has been exposed to it from a young age, she will be able to integrate a lot better.
This approach opens babies up for a more social type of behavior, which can make learning from those around them easier too.
Caring For Your Baby With Respect
Another important part of the Montessori method is caring for your child with respect. This relates to respecting her as a human being as opposed to just a baby or just a child.
This way of life is very closely related to letting your baby or child show you what she needs and when she needs it. This reminds us that no two children are the same and neither is the way we approach their upbringing.
How can you show respect while caring for your baby? There are various ways in which to do this such as the following:
Speaking to them: Tell your baby what you are doing and why you are doing it. Babies love to hear voices, especially their parents. They also learn a lot when they hear different people speak to them. Babies love to know what is going on around them and speaking to them stimulates their knowledge center in their brain.
Listen to them: Okay so I know babies do not talk – but they do in a way with the sounds they make, their facial expressions, and their body language. When you are really in tune with your baby, you can respond accordingly.
Avoid baby talk: Now this is a tough one because we all love to do the baby talk thing. At some point in your baby's first few months of life you will want to start speaking to them almost in the way you would speak to an adult. Adjust your tone and pace of voice. You will also want to refrain from speaking in the third person early on, so instead of, "Mommy is …", you would say, "I am …".
Use soft hands and movement with your baby: This lets your baby know you respect her body and space.
Allow time: Allocate time for talking with, movement with, and playing with your baby. Also have a schedule for sleep.
Always use kind words
Baby Uses All Senses
When your baby is exposed to a Montessori way of life, she will become accustomed to using all her senses. This allows your baby to experience her surroundings in a more holistic manner.
Of course, we do not want to overstimulate little ones and that is why in a Montessori setting, whether in the home or at school, it is important to only activate 1 or 2 of the senses at a time. In doing this you are also strengthening the other senses of your child, which can be very beneficial.
In a Montessori classroom, the following senses are stimulated using various Montessori designed tools and techniques.
Visual Discrimination: Learning to differentiate visually between form, color, and size.
Tactile: What do things feel like when we touch them with our hands and skin?
Stereognosis: Figuring out what something is without seeing, smelling, or hearing it. Removing these senses strengthens the other senses.
Baric: Differentiating between weights using scales, etc.
Thermi: Learning the difference in temperature.
Olfactory: Learning different smells and distinguishing and categorizing them depending on their strength.
Gustatory: Developing a sense of taste by tasting different things, linking them together, and knowing what is what just by tasting (no sight involved).
Chromatic: Distinguishing differences in colors.
As you can see here, the Montessori method is very thorough in covering an array of things as it pertains to your child's growth and development. These items are all important to consider when putting together your Montessori baby registry.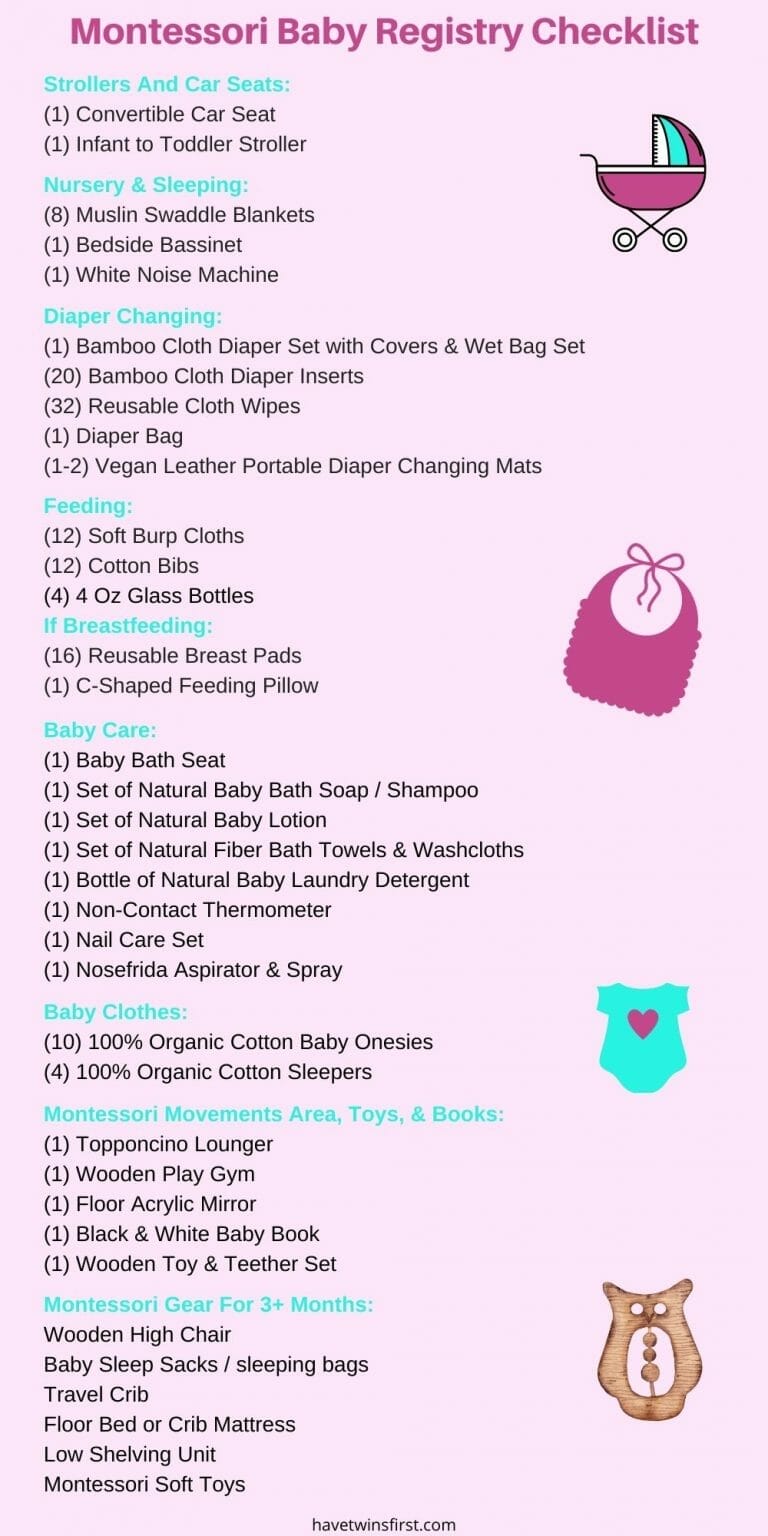 Montessori Baby Registry Must Haves For a Newborn
If you have been doing any Montessori research you will have noticed a running theme – minimalism. This flows over into your Montessori baby registry as well.
Your baby registry will be minimalistic and will generally try to incorporate the Montessori method as much as possible. Here is a comprehensive list below of what you should add to your Montessori baby registry.
To get started go ahead and click here to create your Amazon baby registry. Then, go ahead and add the items you want from the list below.
Please note – in this list you will find a few items which are just necessities rather than specifically Montessori inspired.
Nursery & Sleep
(2 sets of 4) Stretchy & Breathable Swaddle Blankets
Swaddling is something that has been encouraged since forever. The reason is because babies are kept comfortable making them calmer, which allows them to sleep better.
These swaddle blankets are great quality and a great value for your money.
(1) Bedside Bassinet
You will likely want your baby close to you for the first few months. A bedside bassinet is perfect.
It also gives your baby her own space, but allows for safety and comfort at the same time. Often you will transition to a floor bed for your baby once she moves out of the bassinet.
In the Montessori method a white noise machine is very much encouraged as it gives your baby the stimulation of sound. A white noise machine will also help with calming your baby and providing better sleep.
On The Go
A car seat is an absolute must have for baby safety. In keeping with the whole minimalistic approach, a convertible car seat is first prize as it can grow with your baby.
(1) Infant to Toddler Stroller
A convertible stroller or pram is also a great investment as again it means one item purchased which can be used for years to come.
This type of stroller also provides great freedom of movement for your newborn, as opposed to a frame stroller where your baby remains strapped into her car seat.
Feeding Baby
A C-shaped feeding pillow is wonderful to use for breastfeeding because it can help with positioning and your baby's overall comfort.
(2 sets of 6) Soft Burp Cloths
Texture is important making a soft burp cloth an essential.
(2 sets of 8) Reusable Breast Pads
Having reusable breast pads is not only good for the environment, but again helps with keeping things to a minimum – including costs.
(3 sets of 4) Cotton Bibs
100% organic cotton bibs are longer lasting and more natural in fabric, which is also an important aspect of Montessori.
(1 set of 4) Glass Natural Nipple Bottles
Glass bottles are definitely kinder to the environment. Plus, when your baby uses a glass bottle it's free of any harsh chemicals. The natural nipples are similar to a breast making your baby more likely to enjoy drinking from it.
Diaper Changes
(1) Bamboo Cloth Diaper with Covers & Wet Bag Set
Natural bamboo fibers for cloth diaper inserts are definitely part of a Montessori registry. Many new parents are going the cloth diaper route as again it is environmentally friendly, cost effective in the long run, and keeps within the minimalistic scope of things.
On top of this, cloth diapers are softer, more comfortable, and easier to move around in than traditional disposable diapers.
(2 sets of 10) Cloth Diaper Inserts
Bamboo inserts are soft and made of natural fibers – perfect for a Montessori baby registry.
(4 sets of 8) Reusable Cloth Wipes
Reusable cloth wipes will be less harsh on your baby's skin than disposable wipes. An added bonus is that they are a cost effective option too.
(1) Diaper Bag
I recommend purchasing a diaper bag rather than using whatever backpack you have laying around the house (yes this is an option). But, a diaper is built with your baby's needs in mind – it has an insulated area for bottles and is designed to hold diapers and other baby necessities.
Make sure you get one that can hold everything you need – including a portable diaper mat and a few changes of clothes.
(1-2) Portable Diaper Mats
These are great for when you are out and about and need to change your baby urgently. These mats will keep your baby comfortable during diaper changes.
Baby Care Must Haves
Bathing your newborn in his or her own bath tub is safer because it's a more compact area. The Blooming Bath lotus bath seat is a soft, comfortable option for your baby that still provides freedom of movement.
(1 set) Baby Soap
Choose a baby soap which is natural and free from perfume.
(1 set) Baby Lotion
Use a natural, light-scented lotion to massage your baby and keep his or her skin hydrated.
(1 set) Towels & Washcloths
Get natural fiber towels and washcloths that are only used by your baby. They are soft and your baby can feel the different textures of the towels.
(1 bottle) Natural Baby Laundry Detergent
Using a natural baby laundry detergent helps avoid skin irritation.
Invest in a touchless forehead thermometer for your baby because it's non-invasive when compared to the traditional ones.
(1) Nail Care Set
Keep your baby's nails short and clean to avoid scratching accidents.
These are great for keeping your baby's nose clean, especially when she has a cold. The Nosefrida nasal aspirator is more comfortable and more effective for your baby when compared to the nasal aspirator you will get at the hospital.
Baby Clothes For Your Montessori Baby Registry
(2 sets of 5) 100% Organic Cotton Onesies
100% organic cotton onesies last longer and are more breathable than typical cotton onesies.
(2 sets of 2) 100% Organic Cotton Sleepers / Jumpsuits
As stated above getting organic cotton for your baby's clothes is more comfortable, safer, and longer lasting.
Montessori Movement Area, Toys, & Books
This product is highly recommended by the Montessori infancy course. It gives your baby complete comfort and support during feeding time, tummy time, and hanging out time.
(1) Play Gym
This pine frame baby play gym with hanging toys is perfect for a Montessori nursery or playroom. The colors are neutral and not over stimulating.
It provides various shapes, sizes, and sounds to keep your baby entertained and stimulated.
A floor mirror is an absolute must have in your baby's Montessori room. It allows babies to track and see everything within their space, as well as watch themselves move about.
It helps with visual discrimination as well.
The high contrast of a black and white picture book helps with visual perception. Your baby will be more focused on the images because she can see them better due to the high contrast.
(1) Wooden Montessori Toy & Teether Set
Wooden toys are more durable and also great for your baby's tactile senses.
Things NOT On a Montessori Baby Registry
Now that we have gone over all the things which are must haves on a Montessori baby registry, let us look at what should NOT be included on your baby registry.
Traditional Crib
When you follow the Montessori method you will not have a traditional crib. The reason for this is that once your baby outgrows their bassinet or co-sleeper, you will look at transitioning them to a floor bed.
Floor beds are safest for babies over the age of 1.
Pacifiers
Pacifiers are also taboo when it comes to a Montessori registry as the belief is to allow babies to self-soothe. The Montessori method advocates letting your baby communicate his or her needs and for you to listen to them.
Using a pacifier will not be beneficial in this regard.
Jumpers / Walkers
If you are implementing a Montessori method for your baby, you will want to leave the jumpers and walkers off your list. Your baby needs to be able to move freely in his or her space and these kinds of items restrict that movement.
Velcro Swaddles
Velcro swaddle blankets are more restrictive than the muslin cotton swaddle blankets. It's important to swaddle your baby, but better to use material that will allow your baby to move more freely.
Uncomfortable Clothing
Loose-fitting, comfortable clothing is important for allowing your baby to have free movement. Tight clothing can be restrictive and cause irritation.
Montessori Inspired Baby Registry Items For 3 Months & Beyond
If you started out with a Montessori way of life you will most likely carry on with it as your child grows. Here is a list of Montessori-inspired items you will want to look at investing in for your baby from 3 months and upward.
It's up to you if you want to add some of these your baby registry now, or wait until your baby is old enough to need them.
It is possible to create a Montessori inspired baby registry for your newborn!
If a Montessori approach is something you are wanting to try with your baby, it is definitely possible. The key is to stick to a minimal amount of things and a more natural color palette and texture.
Before you go feel free to grab this printable Montessori baby registry checklist. It's actually a bundle of four different types of baby registry checklists, so it's pretty helpful when assembling your baby registry.
If you would like some additional help figuring out what you need be sure to grab your FREE printable Baby Registry & Pregnancy Checklists by filling in the form below. Learn which must haves to put on your baby registry and when to complete items in each trimester of your pregnancy.