Yay! You are expecting and it is time to start preparing for the arrival of your baby. Now comes the fun part, SHOPPING!
As you get started figuring out when to start buying baby stuff, you will probably start asking the question:
How many baby clothes do I need?
It can be hard to resist putting a bunch of sets of baby clothes on your baby registry checklist, or in your shopping cart, when you are surrounded by so many adorable choices. But, the truth is, if you give into the temptation to buy every baby romper or cute sleeper you see, you will end up with a whole lot of baby clothes that are never worn.
In this article we will take a look at how many baby clothes you REALLY need. Plus, we will share baby clothes checklists for the first year, a baby clothing size chart, when to change your baby's clothes size, and much more.
Please note, there are affiliate links in this post. Read my privacy & disclosure policy at the bottom of this page to learn more.
Baby Clothing Size Chart
When it comes to buying clothes for your baby, often it comes down to more than just the age of your baby. On a baby clothing size chart you will see height and weight metrics.
This is because babies are generally categorized using these metrics. For example, you have a preemie baby, this is a baby who is born before 37 weeks.
The weight and height of a preemie is much less than a baby who is born full term. On the size chart, you will see a preemie described as a baby up to 5 lbs and up to 17 inches.
Meanwhile, a newborn baby, which would be full term, is described as 5 to 8 lbs and up to 21.5 inches. The metrics on a baby clothing size chart are very helpful for selecting the correct size.
Often, this is much more helpful, than simply a baby's age. Below you will see an example of a sizing chart from Carter's (my favorite store for baby clothes).
It is good to keep something like this handy, so that you may reference it whenever necessary.
Something else to consider is buying baby clothes one size bigger than needed. If you do not mind your baby's onesies being baggy, this could save you some money.
By shopping this way, your baby can wear his or her baby clothes for a little bit longer. Your baby and the way you shop for them is unique to you and your circumstances.
If you take into consideration your baby's size and weight, as well as needs, as time goes on you will be better equipped to shop for baby clothes that your baby will wear for a long period of time.
How Long Are Babies In Each Size Clothes?
Baby clothes generally fall into three categories, infant (0-6 months), baby (6-12 months), and toddler (12 months and up). Within these three categories there are also subcategories.
These subcategories are sized in 3 month increments during the first year. After the newborn size, baby clothes sizing often goes like this 0-3 months, 3-6 months, 6-9 months, and 9-12 months.
As you can see, babies grow like weeds. The biggest growth spurt is between the infant and baby stage. Your baby is most likely going to grow out of their clothing the fastest during the first 6 months.
It would then make sense to not stock up on too many items within this age range. From personal experience, I found having more of the 6-12 months items of clothing worked better for me.
It is also important to mention that you need to take into consideration the time of year your baby is born. Make sure you purchase clothing in the correct size AND season.
A baby will probably grow out of newborn baby clothing within a couple weeks. The next sizes, 0-3 month and 3-6 month clothing will last a little longer, but you will most likely have to move onto a bigger size before the 6 month mark even happens.
After that, you are looking at going up in sizes approximately every 3 months until your baby reaches 1 year old.
How Many Baby Clothes To Buy In Each Size
Even though it is true that babies grow very quickly in the first 12 months of life, it is also a good idea to have a few sets of clothes in the same size. You are not going to want to do laundry every single day.
Plus, you never know when there could be a diaper leak or a spit-up situation. In those cases, it is vital to have a complete change of clothing available.
Since your baby will not be in his or her clothes for long during the first 6 months, you will not want to have quite as many clothes in these sizes as baby clothes after 6 months of age. As you read on, you will find baby clothes checklists to help determine how many baby clothes you need in each size.
When To Change Baby Clothes Size
As a general rule of thumb, you would want to change the clothing size once it starts to be uncomfortable for your baby. During the first few months of life, babies are forever moving their limbs,
You want them in clothing that allows free reign of movement. If they feel restricted and uncomfortable, you will find yourself with a very cranky baby.
When in doubt, you can check to see if the buttons or zippers struggle to close properly on onesies and sleepers. If they do, then it is probably time to move up a size.
Another check would be getting clothes over your baby's head easily. If this is difficult, it is another sign to think about going up a size in baby clothes.
When it comes to baby pants, you want to make sure that they fit snuggly. But, they also should not ride up all the time and expose your little ones bum.
In general, you will have to play it by ear. Be aware of how the clothing fits when you dress your baby, how your baby responds to the clothing being on, and how your baby moves when in the outfit.
How Many Baby Clothes To Buy Before Baby Is Born
The truth is that when it comes to newborn clothing you will not need much, as babies grow so quickly within this time. However, for the bigger sizes such as 3-6 months, 6-9 months, and 9-12 months you will want to have a few more items available in the closet.
Sometimes it is better to wait until baby has actually arrived to buy some clothes. All babies are different, and their growth spurts can happen much sooner or a little later than others.
Other factors to consider when it comes to how many baby clothes to buy include how often you do baby laundry, the season you are in, and how many times you anticipate needing to do a full clothing change. Here is a guideline to follow on how many baby clothes to buy before baby is born. You will want to get one set each in newborn size and 0-3 months.
Although not technically baby clothes. It's also important to mention investing in these baby sleep must haves, including swaddle blankets and sleep sacks. You can get lightweight ones for summer and heavier ones for winter.
Newborn Clothes Checklist
We are now going to review a newborn clothing checklist and what is deemed essential and what is not. This list is slightly longer than the above list because you can always buy some of these clothing items once baby arrives.
Here is my list of the type of baby clothing and the amount needed for a newborn baby.
Of course, as mentioned before, these are all very broad ideas of what you should have within your baby clothes kit. Each baby and family is unique, but the list above gives you a good starting point.
How Many Clothes Does A Baby Need In The First Year?
Let us take a look now at how many baby clothes you are most likely to need within the first year of your baby's life. As we have established, babies grow very quickly, and there is no telling for sure when their growth spurts will happen.
Onesies or bodysuits are an absolute staple to have in your baby's clothing bundle. It would be a good idea to have a variety of them in all sizes and look to have a combination of long-sleeved and short-sleeved.
As a general rule of thumb, having about 8 onesies each in all sizes will do you well. It is also a good idea to have 4 sleepers and 6 pairs of pants.
These clothes work well for your baby no matter their age because they are comfortable and versatile. Pair them with a long sleeve shirt or sweater for cooler days.
Lastly, it is near impossible to resist other adorable baby clothing items such as frilly dresses for girls or the cute denim overalls for boys. If there are some things you "just have to have", don't fret about it.
Go ahead and get a few fun items to add to your baby's wardrobe.
Before we move on, you might find these FREE printable Baby Registry & Pregnancy Checklists helpful. Just fill in the form below to get them. Learn which must haves to put on your baby registry and when to complete items in each trimester of your pregnancy.
What If I Have Another Baby?
Reusing baby clothes is a common practice and totally acceptable. In fact, baby clothes are some of the best baby items to buy used.
You should also consider asking friends and family if they have any baby clothes you can take off their hands. Quite often you will have good luck with this.
With babies growing so fast, parents tend to end up with more baby clothes than they know what to do with. On a related note, if you think you might have another baby, then it's not a bad idea to hang on to the baby clothes after your baby has outgrown them.
This might be a good reason to consider getting more gender neutral clothes, so that they can be reused in the future. Once you are done having kids, you will likely find yourself being one of those parents with bags full of baby clothes to pass on.
Baby Clothes Storage Ideas
Where are you going to keep all these baby clothes? Most times a dresser is a good way to go. Baby clothes are small and take up very little space.
You can fold them and sort them for easy access. A tip from a "veteran" mom is to pack the items according to age, and if at all possible, seasonally too.
Any coats, sweatshirts, or dresses can be stored in the hanging space of a closet. Be sure to pick up some adorable baby size clothing hangers, perfect for those smaller items that should not be folded.
You can also look at adding extra rails within the hanging space of a wardrobe to fit in more clothes. This works especially well if you want to have separate sections for summer and winter.
There are many solutions for baby clothing storage that can be used to accommodate smaller spaces. You will also need to take into consideration your growing baby and their clothing needs. As they change, so will the storage needs.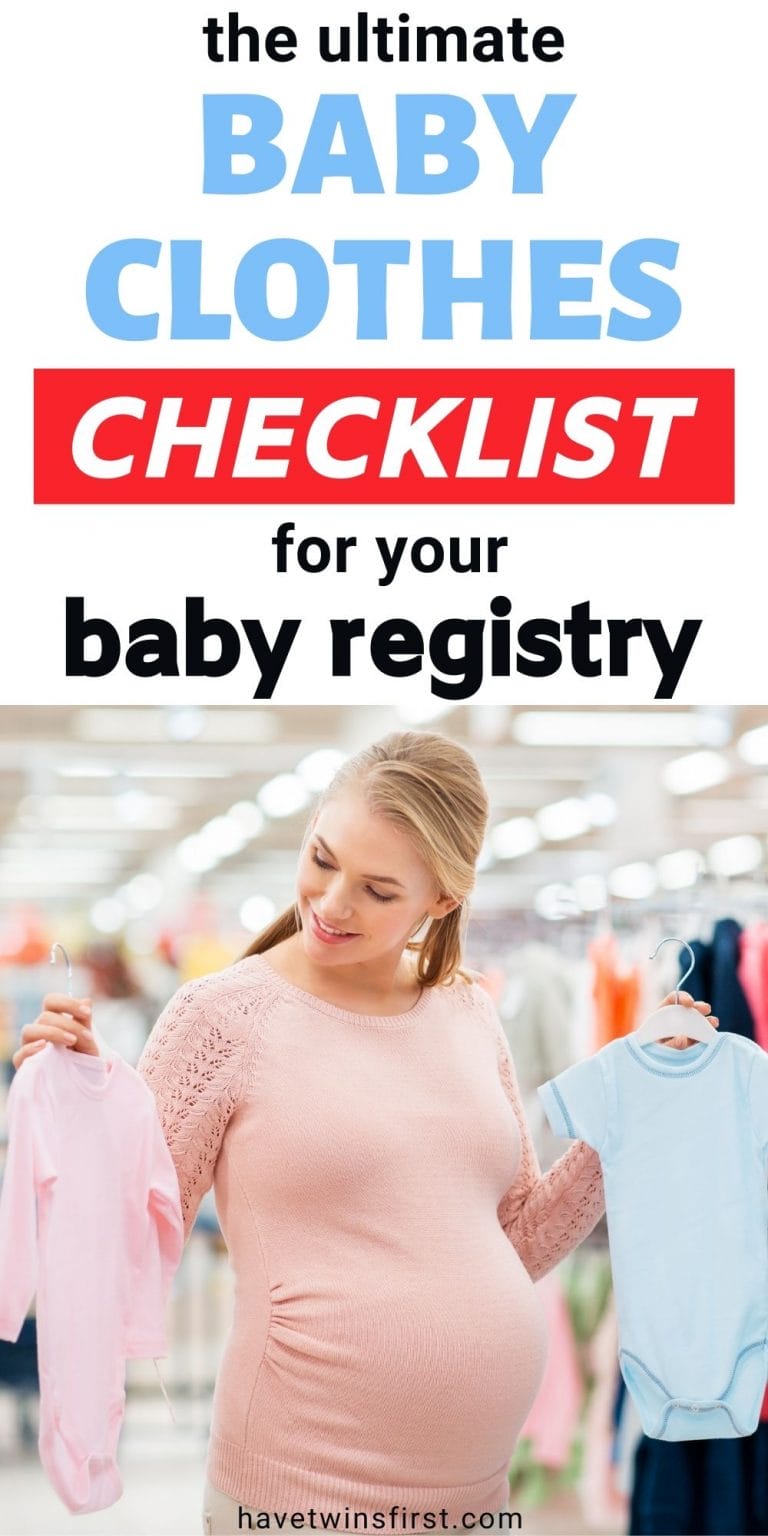 Get Those Baby Clothes Ready
Having a baby is such an amazing, exciting, exhilarating and nerve racking event all at the same time. Things become so busy leading up to the arrival of your bundle of joy.
Even though it is exciting to stock up on goodies for your baby, try not to let that overwhelm you. In this article we have given you some insight into the basics that will keep your baby clothed and comfortable for at least the first year of life.
Once your darling baby starts to develop his or her personality, and you start to see what makes him feel most comfortable when it comes to clothes, you will likely adjust the way you do clothing shopping for your little one.
Finally before I sign off, if you are expecting you might also be interested in these printable pregnancy resources listed below.
We wish you all the best on your journey into motherhood, it really is a blessing.