Baby Registry Checklist For 2020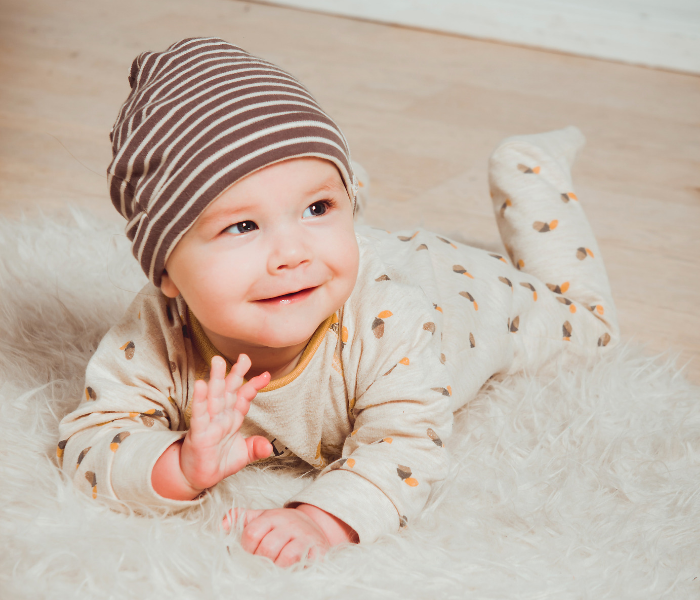 So, you're looking for some help with your baby registry. Then you have come to the right place. In this post you will find a comprehensive baby registry checklist completely updated for 2020.
As a mom of twins and a singleton I have personally used many different types of baby items. This baby registry checklist is comprised of items I have personally used or items I wish had been around when my kids were still newborns.
Keep in mind, that as I made this baby registry checklist, I not only took into account the things that will make life easier with a baby, but also the cost of the baby gear.
Also, if you're wondering the best places to register for baby, then you should know I highly recommend a combo Amazon and Target baby registry.
Another useful baby registry tool that we have is the baby registry quiz. If you are looking for a customized list, take our baby gear registry quiz. You will receive a detailed baby registry guidebook with baby gear recommendations, tailored to your needs.
Don't want to read the whole post? Check out the Have Twins First Amazon Storefront. I have compiled a list with the baby registry must haves you need in 2020. And, before you start, don't forget to create your Amazon baby registry account.
If you want the full lowdown, with details on the best baby gear for your baby registry, then read on.
One last thing before we get to the baby registry checklist, these recommendations are based on, what I believe, are great quality baby gear at great prices. I hope the list helps make building your baby registry a little bit easier.
Please note, there are affiliate links in this post. Read my disclosure policy to learn more.
Stroller And Car Seat Recommendations
(1) Infant Car Seat with Base – we had the Graco click connect and really liked it. The Graco click connect system has since been replaced with the Graco SnugLock system, which is what I recommend going with. I know Chicco car seats are popular too. I chose Graco because it is the lightest weight car seat.
(1) Car Seat Base per each additional car – when you buy an infant car seat it comes with a base. But, if there are other cars that will be driving your baby around regularly, you will want to get just the base for those cars too. The car seat base must be from the same company as the car seat.
(1) Stroller Travel System – I recommend getting the stroller frame. It is much lighter than the convertible strollers. Once your baby can sit up it will be easier to get a lightweight umbrella stroller, rather than using the bulkier, heavier convertible stroller.
(1) Convertible Car Seat per car – when picking a convertible seat, consider if you are planning to have more children. It could be important to pick slim convertible seats, that will allow you to fit up to three car seats across in your car.
(1) Umbrella Stroller – we have a Summer Infant 3D stroller. The model we had is no longer available, so I would go with the Summer Infant 3D lite umbrella stroller, which is very popular.
Must Have Nursery Items
Below is the list of nursery must haves for your baby registry.
(1) Crib – I recommend getting a crib that converts to a toddler bed.
(1) Crib Mattress – this is the one we have for all three kids. It's been great quality and you also can't beat the price!
(1) Short Dresser with 6 drawers – I have included the number of drawers to give you an idea on how much storage you will need. A dresser and a small closet will provide plenty of space for clothes, diapers, etc.
(1) 4-Shelf Bookcase – The bookcase provides space for books, plus any additional storage that might be required. I found 4 shelves to provide plenty of storage.
(1) Changing Pad – I recommend putting a changing pad on top of a short dresser instead of buying a changing table.
(2) Changing Pad Covers – Don't forget to get a couple covers for the changing pad.
(2) Waterproof Mattress Pads – get two mattress pads so you have a backup if your baby's diaper leaks.
(2) Fitted Crib Sheets – I personally like percale sheets to help keep your baby from getting too hot.
(1) Night-light – You will want a night-light for middle of the night visits to the nursery. Then, you can continue to use it during the toddler years. This one is a great price and still works over 4 years later.
(1) Hamper – get one in neutral colors so it can be used elsewhere in the future.
(1) Video Baby Monitor – It's hard to find a monitor that is perfect. To be honest we were never totally thrilled with our video monitors from Levana or Samsung. Because of this I would recommend purchasing this Infant Optics monitor. It has great reviews and is not overly pricey. Another thing to consider when choosing a monitor is if you want the capability to look at the video through an app on your phone. If so, I would go with this baby monitor from Peteme. If you want a baby monitor with both it's own monitor and phone capabilities check out this Motorola baby monitor.
(1) Set of Blackout Shades – I had read getting blackout shades will help your baby sleep later in the morning and nap for longer during the day. We have used them with all our kids. As far as I can tell they were a good investment for helping my kids sleep.
(1) Sound Machine – my twins are still using their sound machine to this day. I highly recommend a sound machine to help drown out noises around the house. Plus, when you have a newborn it replicates the sounds of the womb.
(1) Crib Mobile (optional) – get a mobile that matches your nursery theme.
(1) Glider Chair (optional) – the glider is nice and comfortable. It was convenient to have a spot in the nursery to feed or hold the baby at night. As your baby becomes a toddler you can use it to for reading books. We have a Shermag glider and it has held up very well.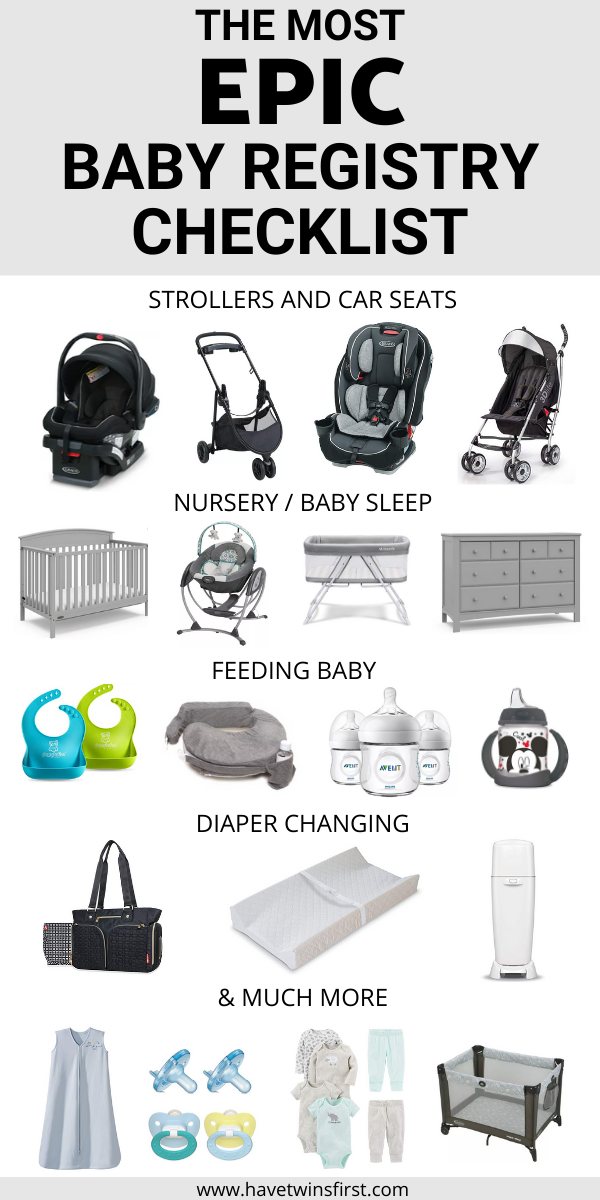 Diaper Changing Needs
Start with the quantities listed below for all your diaper changing essentials. Buy more diapers in the correct size, as needed. Keep in mind, there is a good possibility you will also receive diapers as gifts. I personally like Pampers Swaddlers for newborn, size 1, and size 2 diapers.
(1) Case of Newborn Diapers – Pampers Swaddlers – Size 0 (Newborn size)
(2) Cases of Size 1 Diapers – Pampers Swaddlers – Size 1
Diaper Tip: When babies get bigger around 6 months of age, or when they go to size 3, the Costco Huggies, called Huggies Plus, are made special for Costco and have extra protection. I love the Huggies Plus diapers because there is a noticeable difference in absorbency compared all other diaper brands I have tried.
(1) Case of Wipes – I like the Huggies Natural Care wipes.
(1) Changing Table (if have 2 floors): I recommend getting a changing table if you have 2 floors in your house. We purchased this one and it has been great. It's a good price, still in good condition, and has plenty of storage.
If you get a changing table you will need another Changing Pad and 1 or 2 more Changing Pad Covers.
(8-10) Waterproof Changing Pads – these are great for diaper changes on your bed in the middle of the night during the newborn phase. They also come in handy to protect the changing pad cover. When your baby gets bigger, use them for diaper changes on the floor. Stick some in your diaper bag too. They come in various sizes, it's good to get a couple different sizes.
(1) Diaper Bag – This Fisher Price diaper bag is a good size, will fit everything you need, and it is good quality.
(1) Container of Diaper Rash Cream per changing area – Aquaphor is my favorite. It is also good to get a small tube of diaper rash cream to keep in your diaper bag.
Hand Sanitizer – keep some at each diaper changing area and get travel hand sanitizer for the diaper bag.
(1) Diaper Pail per changing area – I have liked the diaper genie. There are positives and negatives to each brand out there. I recommend reading online reviews and deciding what will work best for you in each changing area of your home.
The Best Baby Sleep Gear
Here is my list of essential baby sleep registry items.
(1) Bassinet – I recommend either the 2 in 1 Rocking Bassinet or the Arm's Reach cosleeper, having your baby sleep next to you as a newborn can make feeding and diaper changes, in the middle of the night, a lot simpler.
(8) Swaddling Blankets – take as many receiving blankets as you can from the hospital, they are great quality (and free). The hospital blankets are big, so they are great for swaddling or they can be used as burp cloths. My absolute favorite swaddling blankets are the aden+anais muslin blankets. The muslin blankets are big and have some give, perfect for swaddling. Between the hospital and a 4 pack of aden+anais blankets, it should be enough to start. You can always buy more later.
Pacifiers – I recommend getting 1 pack each of a couple different brands to see what your baby prefers. Two of my kids liked the Philips Avent soothies and then switched to the Philips Avent silicone when they got older. While my third child would only take the Nuk pacifiers.
(1) Playard – it is really dependent on your needs whether to get the basic playard or a playard with the bassinet / changing area combo. We opted for a separate changing table on the first level of the house, which worked for our family. A separate changing table was my preference for the following reasons. After 3-6 months, your baby will outgrow the top bassinet of the playard. Where will you change the baby after that? You also need to consider finding space to set up the playard. Lastly, buying the basic playard will save you money. With that said, I love playards for traveling. You can use it as a portable crib up until 3 years old. I also loved using it as playpen from 6-10 months old. It provides a safe play area, and is especially useful when you need to leave the room for a few minutes.
(1) Bouncy Chair (optional) – bouncy chairs are great for your baby's naps or for your baby to just lounge. You can have your baby close by while you get some stuff around the house. My kids always slept well in them. It's not a necessity, but very convenient to have an extra hang out spot.
(1) Swing – I personally like the glider swing because it's smaller. We had a 3-4 week period when this is all one of the twins would sleep in. Our youngest also went through the same phase. So, it's definitely worth it to help get some sleep at night.
(2 ) Velcro Swaddles – I like the Summer Infant velcro swaddles best. These are especially nice for first time parents, that are nervous about how to swaddle their baby.
(1) Baby Merlin Magic Sleepsuit –we love the Baby Merlin and used it for transferring from sleeping in a bassinet to the crib. I recommend getting a second suit, if you end up using it, because of diaper leaks. We only used the 3-6 month size, because the kids fit in it well past 6 months. So, don't worry about buying 6-9 month size.
(2) Wearable Blankets – we started using wearable blankets after the babies were out of the Merlin sleepsuit. They loved them. The Halo brand is great and seem to be the best value. Medium should be the right size when transitioning from the Merlin suit.
Must Have Baby Feeding Products
Here is my list of must have baby feeding products. After this list you will find separate lists depending on whether you plan to breastfeed or formula feed.
(10) Burp Cloths – I like flannel burp cloths over terry burp cloths, they seem to be more absorbent. Clean cloth diapers also work well as burp cloths, so that is another option.
(10) Cloth Bibs – there is a good chance you will receive a lot of bibs for presents. It's best to wait and see what you get first. I do not have a brand to recommend. Personally, I like the cloth bibs that have a waterproof backing.
(2) Silicone Bibs – these are good when baby starts eating solid food. I loved these PandaEar bibs. They grow with your baby and are great quality. My 3 year old still fits into these bibs and I have not had to replace them.
(1) Bottle Brush – I love this OXO bottle brush. It works really well and comes with a stand.
(1) High Chair – this Baby Trend high chair has held up really well. I definitely recommend them. They are easy to clean and the storage spot for the tray is perfect. The only downside is it takes up a lot of space. If you have a small living space, I recommend a booster seat that attaches to a kitchen chair. You can also use these booster seats when traveling.
(2) Sippy cups – make sure to start with the trainer cups. I would get two different brands and see which one your baby likes. We started putting small amounts of water in a sippy cup around 6 months. This made transitioning away from the bottle at 1-year-old much easier. We had the best luck with this Munckin cup and this NUK cup.
(10) Plastic Spoons – we received a large variety of baby spoon brands for gifts. I always find myself reaching for these Munchkin ones, they are by far my favorite.
(8) Plastic Bowls – I have liked both the Gerber and Munchkin bowls we have. The Gerber ones are nice because they come with lids. IKEA also has nice sets of plastic-ware for babies.
(1) Bottle Drying Rack – we love the Boon grass drying rack. It has gotten a lot of use and it has been a conversation piece when we have had visitors. I also like the twig and flower accessory that you can buy with it.
If you plan to breastfeed:
These recommendations are based on waiting to see how breastfeeding is going before investing too much money into it. The items listed will get you started. If breastfeeding is going well, you can buy more gear as you need it.
While I was staying at the hospital and after my baby was born, the lactation department helped me pick out the best available breast pump provided through my insurance. They also measured me for a nursing bra and had bras to purchase. If these options are available to you, I recommend doing the same. You will need a breast pump and nursing bras, but I do not recommend including them on your baby registry.
(1) Breastfeeding Pillow – I used both the My Brest Friend and the Boppy nursing pillows. I have one I keep upstairs and one I keep downstairs. I thought the My Brest Friend was better during the first 4 weeks. After that, I liked the Boppy for feeding in bed and the My Brest Friend when sitting on a couch. Start with one pillow, probably the My Brest Friend. If breastfeeding is going well, purchase a second pillow for convenience. Don't forget to get a cover if the pillow doesn't come with one.
(1) Box of Breast Pads – I recommend the Lansinoh brand and starting with a box of 60.
(1) Tube of Lanolin – I prefer the Medela brand over the Lansinoh brand, it flows much easier out of the tube. I only used this during the first few weeks of nursing, but you will need it.
You will need the items below, but I do not recommend registering for them. Instead, buy them after baby is born and breastfeeding is going well.
(1) Breastfeeding Cover – I couldn't really use a breastfeeding cover effectively until my baby was around 4-6 weeks old.
Bottles – the number of bottles you need might depend on if you are returning to work. You can start out with the 2 bottles that come with the breast pump and get more as needed. I recommend purchasing this bottle set. The bottle set comes with the nipples you will need for feeding. If you will be working you should also get this cooler set. For work, I had 8 bottles in rotation (4 per day). I use the Medela bottles because all the parts match up with the Medela pump, which makes life much easier.
(1) Hands Free Pumping Bra – I recommend the Simple Wishes bra. I also have the Medela hands free bra, but the Simple Wishes is far superior. It's especially worth the investment if you will be pumping a lot.
If you plan to formula feed:
(3) 4 – 5 oz Bottles – I have used both Dr Brown's and Philips Avent bottles. For ease with cleaning, I recommend Avent because it has less parts and did not leak from the nipple as much. However, it's not always that easy, sometimes you might have to test different brands to see if your baby has a preference. If you only want to clean bottles once a day, you can get more bottles after you know which bottle brand your baby does well with.
You will need the items below, but I do not recommend registering for them. Instead, buy them after your baby is born and you know which brand of bottles and which brand of formula he or she likes.
8-9 oz bottles
Nipples – purchase the faster flowing nipples as needed. You will notice your baby wanting to drink faster, but not being able to. This is the cue for going up to the next level for nipple flow.
Formula – don't stock up on formula before your baby is born. Instead, register on the Similac and Enfamil websites for their rewards programs. You will get free formula samples before your baby arrives. Then, you will continue to receive coupons throughout the year if you end up using one of these brands for formula. You will also be given formula at the hospital.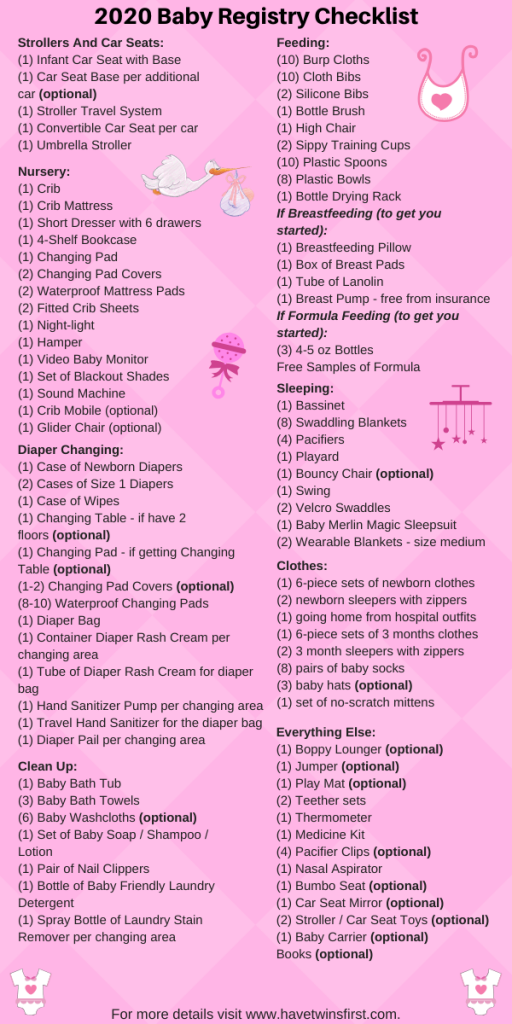 Baby Clean Up Time
Here you will find a list of baby registry items you will need for baby bath time and baby laundry.
(1) Baby Bath Tub – you don't need anything fancy, but it's very helpful to get a tub that has an infant insert.
(3) Baby Bath Towels – I like the hooded towels.
(6) Baby Washcloths (optional) – you can register for special baby sized washcloths if you want. You can also just use wash cloths you already own.
(1) Set of Baby Soap / Shampoo / Lotion – I have used Johnson & Johnson, Babyganics, and Aveeno. I like Aveeno the best. It cleans well and is very gentle on the skin. It also takes a long time to get through a bottle, so it's worth the extra cost.
(1) Pair of Nail Clippers – I personally like using nail scissors over nail clippers. If you're not sure, you can just register for both.
(1) Bottle of Baby Friendly Laundry Detergent – I have always used Dreft because I love the smell and it cleans well. You can also get any brand of free and gentle detergent. This can be useful if you don't want to keep track of different detergents for the adults and older kids.
(1) Spray Bottle of Laundry Stain Remover per changing area – this is an absolute must! OxiClean, Shout, Spray N Wash all work well. You do not need to purchase the baby friendly version for stain remover.
Baby Clothes For The Baby Registry
You do not need to register for much clothing because you will receive a lot of clothes as gifts. You should also hit up friends and family who are looking to get rid of their baby clothes.
(1) 6-piece set of newborn clothes
(2) newborn sleepers with zippers
(1) going home from the hospital outfit – this is something you will pick out. I always opted for a sleeper. Zipper sleepers are much easier to use than the ones with buttons.
(1) 6-piece set of 3 month clothes
(2) 3 month sleepers with zippers
(8) pairs of baby socks – my kids always kicked their socks off, but you will want these when you go out places, especially in the winter.
(3) baby hats (optional) – this is another thing I rarely used. Most of the baby hats we had came as a set with an outfit.
(1) set of no scratch baby mittens
Once you have received gifts and hand me downs, go ahead and buy any additional clothing you think you need.
The Rest Of The Baby Registry Checklist
Here are the other items you will want to consider registering for that do not fit into any of the categories above.
(1) Boppy Lounger (optional) – I loved having a spot to put my newborn to just hang out. My baby had a blast chilling in the boppy lounger. It's easily portable to bring to different rooms in the house. Just note, that it is not intended to be used for sleeping.
(1) Jumper (optional) – the twins played in this a lot, they loved it! It also lets you get some stuff done while your baby is entertained and safe. I recommend the Fisher Price jumper, it's very bouncy. We also have a Baby Einstein jumper, but the Fisher Price one was always more popular in our house.
(1) Play Mat (optional) – this is great for tummy time. You will get a lot of use out of a play mat during the first 6 months.
A few teethers – my kids love these Munchkin teethers and these silicone teethers. I still use the Munchkin teethers as ice packs for "boo-boos".
(1) Thermometer – we have the Exergen temporal artery thermometer. It works well, it's easy to use, and it doesn't upset my kids.
(1) Medicine Kit – this new parents survival kit is great to have on hand. Especially, when it's 3am, and your baby has been screaming for who knows how long.
(3-4) Pacifier Clips (optional) – we love to have a pacifier permanently clipped to the car seat, that way you never forget it when you go out.
(1) Nasal Aspirator – you will probably get one for free at the hospital, so you can just use that one. However, I really like the Nosefrida nasal aspirator. Does it sound gross? YES! But it works so well and there is a filter to prevent any exposure to snot. I will also say that the tube is so long, I've never had anything come anywhere close to the filter.
(1) Bumbo Seat (optional) – this is not a necessity, but all my kids really loved having a spot to sit up before they could do it on their own. I never found the tray to be useful, so don't worry about getting that accessory.
(1) Car Seat Mirror (optional) – I recommend getting a mirror just for the car you will drive in most often with your baby.
(2) Stroller and Car Seat Toys (optional) – these are good to have, but there is a very good chance you will receive a some toys as baby gifts. You can register for a couple stroller toys, or just wait and see what you get.
Books (optional) – I do not recommend registering for any books. You will receive many books for gifts.
(1) Baby Carrier (optional) – I do not have any specific recommendation because I never used mine. Even though I did not find baby carrying useful, I know some moms that couldn't live without it. If you think you will use it, then register for one. If you're not sure, try to borrow a baby carrier from a friend.
More Baby Registry Checklist Tips
I know making your baby registry can seem overwhelming and expensive. Reading through the above list is a lot to take in. As you create your registry, keep the following in mind.
This was touched on above. But, a reminder that if you have two floors, have a changing area upstairs and a changing area downstairs. Also, have a hamper for upstairs and one for downstairs.
When it makes sense, buy gender neutral items. If you have more children, you will be able to reuse this gear.
Borrow baby gear from your family and friends.
If you have Once Upon a Child near you, they sell used baby items. It might be a good place to find something on the expensive side that you will not use for that long (like a swing).
Another place to look for used baby gear is Facebook swap sites. I bought my bumbo chair for $5 and our swing for $35 this way. I even bought maternity clothes on a Facebook swap site.
More Pregnancy Help
So there you have it, that is the complete baby registry checklist I recommend. If you want a more customized list with the items above take our baby registry quiz to receive a FREE baby registry guidebook, tailored to your specific needs.
And, one last thing before I sign off. There is a very good chance you have read this post because you are pregnant. I highly recommend you check out this online couples prenatal course. It's taught by a labor and delivery nurse. And, you get to learn all about labor and delivery, with your partner, from the comfort of your own home.
Good luck as you put together your baby registry checklist and prepare for the arrival of your newborn baby!
Hi, I'm Jeanne, thank you so much for visiting my blog. I am a working mom to twin girls and their little brother. In my free time I enjoy writing tips from my own experiences on pregnancy, babies, toddlers, and twins. Read More…
---
---