Going green is one of the most important decisions to make at this time. Mother earth is suffering.
When having a baby, we can't let go of this decision. Instead we should make baby product choices that are safe and sustainable for the earth and beneficial for both moms and babies.
No, you don't need to start farming to go green. The good news is it's not so difficult anymore to find eco-friendly baby products to add to your baby registry. So let's get started reviewing how you can create an eco-friendly baby registry that's perfect for you and your baby.
If you are having twins, read through this post and see the section near the bottom explaining how to use this list to create an eco-friendly twin baby registry.
Please note, there are affiliate links in this post. Read my privacy & disclosure policy at the bottom of this page to learn more.
What Makes a Baby Registry Eco-Friendly?
The materials used in making baby products are the key to an eco-friendly baby registry list. The baby items you add should have the following properties.
Recyclable, reusable, or decomposable
Non-toxic
Water-based
Free from harmful chemicals
Made up of harvested wood or organic cotton
Essentially, everything on your baby registry should be made of material that is environmentally friendly.
Is a Minimalist Baby Registry The Same As an Eco-Friendly Baby Registry?
A minimalist baby registry and an eco-friendly baby registry are two different concepts, however they can be related in some ways.
An eco-friendly concept is about choosing products that are nature-friendly and do not harm the environment. On the other hand, a minimalist baby registry is about choosing simple and fewer products to save as much space as one can.
These two different things share the same concept of living consciously and taking care of the earth. A minimalist lifestyle is eco-friendly in a way – fewer items means the less burden you are putting on mother nature.
Where Are The Best Places To Register For Eco-Friendly Baby Products?
Creating a perfect baby registry can be a bit of a task when you are only going to choose eco-friendly options. It can become challenging to find all the good stuff under one roof.
Here we are sharing some stores where you will find eco-friendly baby registry items all in one place.
1. The Ultimate Green Store
As the name suggests, The Ultimate Green Store is THE place to shop for all eco-friendly products. From clothing to cleaning supplies, this store provides only green products.
At the Ultimate Green Store you can create a gift registry for the green products of your own choice. Plus, they have an entire area dedicated to babies and it contains of all the baby essentials you will need.
2. Amazon
Amazon is a giant and that is for a reason. You can find almost any product on Amazon, including eco-friendly ones!
Amazon has a wonderful baby registry program. For an eco-friendly baby registry be sure to add only eco-friendly products when you create your Amazon baby registry.
3. Babylist
Babylist helps expectant parents get exactly what they need for the arrival of their new baby. Babylist's main goal is to provide parents with the products they need to build a better baby registry.
Part of this mission means they provide green products that you can easily add to your registry. Another advantage of the Babylist registry is you can add products from any store to it.
Okay, now it's time to dive into all the eco-friendly baby registry must haves.
List of Must Have Eco-Friendly Baby Registry Items
Now it's time to get into the actual list of the best eco-friendly baby products. Below you will find a list broken into different genres to make it easy to navigate.
Without further ado, here's our list of the best eco-friendly items that you must have on your baby registry.
Stroller & Car Seat Travel System
A stroller and car seat travel system is a must have for all babies. The Britax Safewash B-Lively and B-Safe Gen2 Car Seat & Stroller Travel System is the eco-friendly option we recommend.
This baby travel system is made up of alloy steel which is a sustainable material. This product can be used for a long time and it can be reused for other children or it can be recycled.
Eco-Friendly Nursery Items
Here is a list of the best eco-friendly must haves for the nursery.
Carter's by DaVinci Colby Crib
A crib is must have sleeping equipment for babies. It is safe and it provides a personal sleeping space that a baby can use for a very long time. The Carter's crib by DaVinci is made of pinewood and TSCA compliant recycled wood fiberboard. The material of construction for this crib makes it an awesome eco-friendly choice.
Graco Premium Foam Crib Mattress
The Graco foam mattress is firm, safe, and provides peaceful baby sleep. The premium mattress is eco-friendly as it is free of prohibited phthalates, lead, and mercury. It is also expert tested to meet all applicable federal safety and flammability standards.
On top of that, this mattress is CertiPUR-US certified, which means it's made without ozone depleting materials like formaldehyde and heavy metals.
Carter's by DaVinci Colby Dresser
Organizing so many small clothes along with baby products like diapers and diaper accessories can be a challenge. That's why I recommend a 6-drawer short dresser. It will provide space for all kinds of baby stuff, along with functioning as a changing table on top.
Just like the Carter's by DaVinci crib recommended above, this dresser is made of sustainable pinewood and TSCA-compliant engineered wood.
To prevent risk of suffocation, it is advised to use fitted sheets on the crib mattress for babies. The combination of a firm crib mattress and fitted crib sheet make the safest space for a baby to sleep. Burt's Bees crib sheets are made of 100% organic breathable cotton, making this a cozy and comfortable eco-friendly choice.
Safe and Sound Organic Bamboo Waterproof Crib Mattress Protector
Even if you put the world's most absorbent diaper on your baby, there are still chances of bedwetting. So, getting a mattress protector is definitely needed. The Safe and Sound waterproof crib mattress protector is made of bamboo. Bamboo is known as a highly sustainable plant because it requires almost no fertilizer or pesticides and it needs only a little water to grow.
Eco-Friendly Baby Sleep Items
What about the things you need to help your baby sleep? The list below are all the must have eco-friendly baby sleeping options.
BreathableBaby Greenguard Gold Certified Mesh Portable Sleeper
A portable sleeper that is bigger than a typical bassinet, but smaller than a crib is a great option to provide your baby with a safe sleeping space near you. This baby sleeper has breathable mesh and it is a very convenient option because it can be carried anywhere around the house. It will provide a cool and comfortable sleeping space for your baby.
The BreathableBaby portable sleeper is made of sustainable New Zealand pine and it is finished with non-toxic paint that is free of lead, phthalates, and formaldehyde.
HEVEA Natural Rubber Pacifier & Natursutten Orthodontic Pacifier
A pacifier can really help to sooth a crying baby. Plus, a pacifier can help reduce the risk of sudden infant death syndrome.
There are 2 great eco-friendly pacifier options you can add to your baby's registry. One is the HEVEA natural rubber pacifier, which is 100% natural, plastic-free and non-toxic. These pacifiers are made of 100% natural rubber.
The second good option is the Natursutten orthodontic pacifier. The natural rubber used in the making of this pacifier is BPA-free and free from phthalates or chemical softening agents.
Aden + Anais 100% Cotton Muslin Swaddle Blankets
Swaddling blankets are great sleeping aids for babies. It helps your baby to continue sleeping after experiencing a startle reflex. Swaddling also keeps babies safe, secure, and cozy – reminding them of being in the womb.
The Aden + Anais swaddle blankets are made of 100% natural cotton muslin making this a wonderful eco-friendly option for your baby registry list.
Eco-Friendly Diapers & Wipes
Most people who choose to live an eco-friendly lifestyle, choose cloth diapers instead of disposable diapers. This saves mother earth from unnecessary plastic, while also saving a lot of money for new parents too.
Leekalos Cloth Diapers with Bamboo Inserts
A good cloth diaper should keep your baby dry and it should be leak-proof. Breathability is another very important factor to consider while buying a cloth diaper.
Leekalos cloth diapers are reusable and use bamboo inserts. Its durability and adjustability make this diaper more sustainable and thus a great item to add to an eco-friendly baby registry.
Bamboo Reusable Wipes & Bamboo Disposable Wipes
When you are raising a baby or toddler wipes are a basic must have item. It's an on-the-go solution to clean your child's face, hands, and bum. Most wet wipes are not reusable or biodegradable.
However, there are two very good alternatives to non-biodegradable disposable baby wipes. One is to purchase disposable wipes made of bamboo, which are biodegradable in 21 days. These wipes are made of a combination of shea butter, olive oil, aloe vera, and chamomile. They are baby-safe, hypoallergenic, and free from harmful chemicals.
A second choice for eco-friendly baby wipes are reusable and washable bamboo wipes. The OsoCozy reusable wipes are made of sustainable and renewable materials. The single layer of cloth makes it easy to clean up your baby, then wash it.
You can choose either of these two options or I would even recommend having both on your baby registry – reusable for home and disposable for when you are out and about.
Eco-Friendly Diaper Changing Items
What are the other items you will need for changing diapers? Here is a list of diaper changing must haves that are eco-friendly.
Sealy Baby Soybean Changing Pad
A changing pad on top of a short dresser in the nursery saves a lot of space when compared to getting an entire changing table. The soybean changing pad from Sealy is made of soybean enhanced foam and is PVC free. The use of natural and renewable soybean oils makes this changing pad a great eco-friendly option for your baby registry.
Burt's Bees Baby Changing Pad Cover
A changing pad cover keeps the changing pad clean and makes the changing process more comfortable for your baby. The Burt's Bees changing pad cover is made of jersey knit 100% organic GOTS certified cotton, which makes it very eco-friendly.
Era USDA Certified Organic Diaper Rash Cream
You will only need diaper rash cream if you are using disposable diapers. But there could be situations where you do use them, such as when you travel. If you plan to use disposable diapers or will be sometimes, then having diaper rash cream on hand is important.
The Era Organics Baby Diaper Rash Cream doesn't contain any chemicals, parabens, SLS, alcohol, mineral oil, petrolatum, or harmful ingredients. It will soothe, moisturize, and protect your baby's delicate skin without the presence of dangerous chemicals.
I recommend getting a diaper bag because they are built with all your baby's needs in mind. Besides appropriate space and organization for diapers and diaper changing accessories, you will also find space built specifically for bottles.
This Eco by Naty diaper bag is made of GOTS certified organic cotton, which makes it a 100% eco-friendly option to add to your baby registry.
Eco-Friendly Baby Feeding Products
When you are bottle feeding your baby with formula or breast milk there are few products you will need. Here are some great options for you to add to your eco-friendly baby registry.
Philips Avent Natural Glass Bottle
You are definitely going to need bottles. Buying a general plastic bottle that everyone uses is not going to suit your eco-friendly registry. That's why we recommend the Philips Avent natural glass bottle.
The nipple is BPA-free and its shaped to be close to the breast for moms. This makes it very easy for combined feeding of your baby (breastfeeding and bottle feeding). The glass material used in making this bottle make it a good eco-friendly choice.
Hello Nature Natural Fiber Bamboo Bottle Brushes
When you are using bottles for feeding, you are going to need brushes to wash them properly due to their shape. The Hello Nature natural fiber bamboo bottle brushes are zero-waste and plastic-free. Plus, the handles are made of pure wood.
Burt's Bees 100% Organic Cotton Burp Cloths
Babies might spit up some milk after feeding up to the age of 6-8 months. To clean up after them it's very convenient to have a burp cloth ready. Burt's Bees burp cloths are made of 100% organic cotton, making them suitable for an eco-friendly baby registry.
Best Eco-Friendly Products If You Are Breastfeeding
Snuggle Me Organic Feeding & Support Pillow
Breastfeeding mamas know how much they need a good supportive pillow while they breastfeed their little ones almost all day long. It can be a lifesaver that prevents back pain and makes it easier for your baby to latch properly.
The Snuggle Me feeding and support pillow is made in the USA with certified GOTS organic cotton, making it non-toxic, breathable, and hypoallergenic. The pillow has polyester fill meaning this item is machine washable too. The material used in making this pillow make it an eco-friendly baby product.
KeaBabies Organic Bamboo Reusable Breast Pads
Breast pads, also known as nursing pads, are a must have for breastfeeding moms. You simply put them in your bra and they absorb leaking breast milk. They keep your clothes clean and protect them from milk stains.
The KeaBabies reusable breast pads are made of organic bamboo, which is one of the most prominent eco-friendly materials. This company also qualifies for Amazon's Climate Pledge Friendly.
Lanolin is a yellow fat that is obtained from the wool of sheep. It is known to treat sore and cracked nipples caused by breastfeeding. Medela's lanolin cream is 100% natural. It's a single ingredient without any preservatives or fragrance.
Eco-Friendly Must Haves For Starting Solids
When your baby starts solids you are going to need some bowls to prepare the meal. bobo&boo bamboo bowls are made with non-toxic and biodegradable materials. bobo&boo is on a mission to provide safe, eco-friendly baby utensilsl. Most of their products are made of sustainable bamboo. Be sure to add these bowls to your eco-friendly baby registry.
Along with the bowls, you are definitely going to need some spoons to feed your little one. Avanchy bamboo infant spoons are 100% plastic-free, BPA-free, and PVC-free. The main ingredients are natural bamboo and silicone, making it eco-friendly and easy to use for feeding babies solids.
A high chair keeps your baby in an upright position making it safe and easier for babies to eat solid foods. The Stokke Clikk high chair is made of wood and plastic and is phthalate free. One baby can use this high chair for a long time, from 6 months to 3 years of age. Because this high chair is made of some wood and can be used for a long time it is a good option for an eco-friendly baby registry.
Eco-Friendly Must Have Baby Bath Items
What are the best environmentally friendly items you can purchase for bath time? Below we are reviewing what you need for your baby registry when it's time for your baby's bath.
Burt's Bees 100% Organic Cotton Hooded Towels
Burt's Bees hooded baby towels are made of 100% organic cotton. They are extremely soft and absorbent. The cotton used in the making of these towels is GOTS certified. The company also holds the "climate pledge friendly" certificate from Amazon. So, these towels are great to add to an eco-friendly baby registry.
Burt's Bees 100% Organic Cotton Washcloths
Just like the towels, Burt's Bees washcloths are made of 100% organic breathable cotton, making them a great item for an eco-friendly baby registry.
Dr. Bronner's Baby Soap Gift Set
Good quality organic soap is essential for your baby's bath time. Your baby can be cleaned without exposing him to harmful chemicals. Dr. Bronner's soaps are made with organic oils that are gentle for sensitive and delicate skin.
These soaps are fully biodegradable and vegan ingredients are used to make them. On top of that, the wrappers used in packing the soaps are post-consumer recycled material.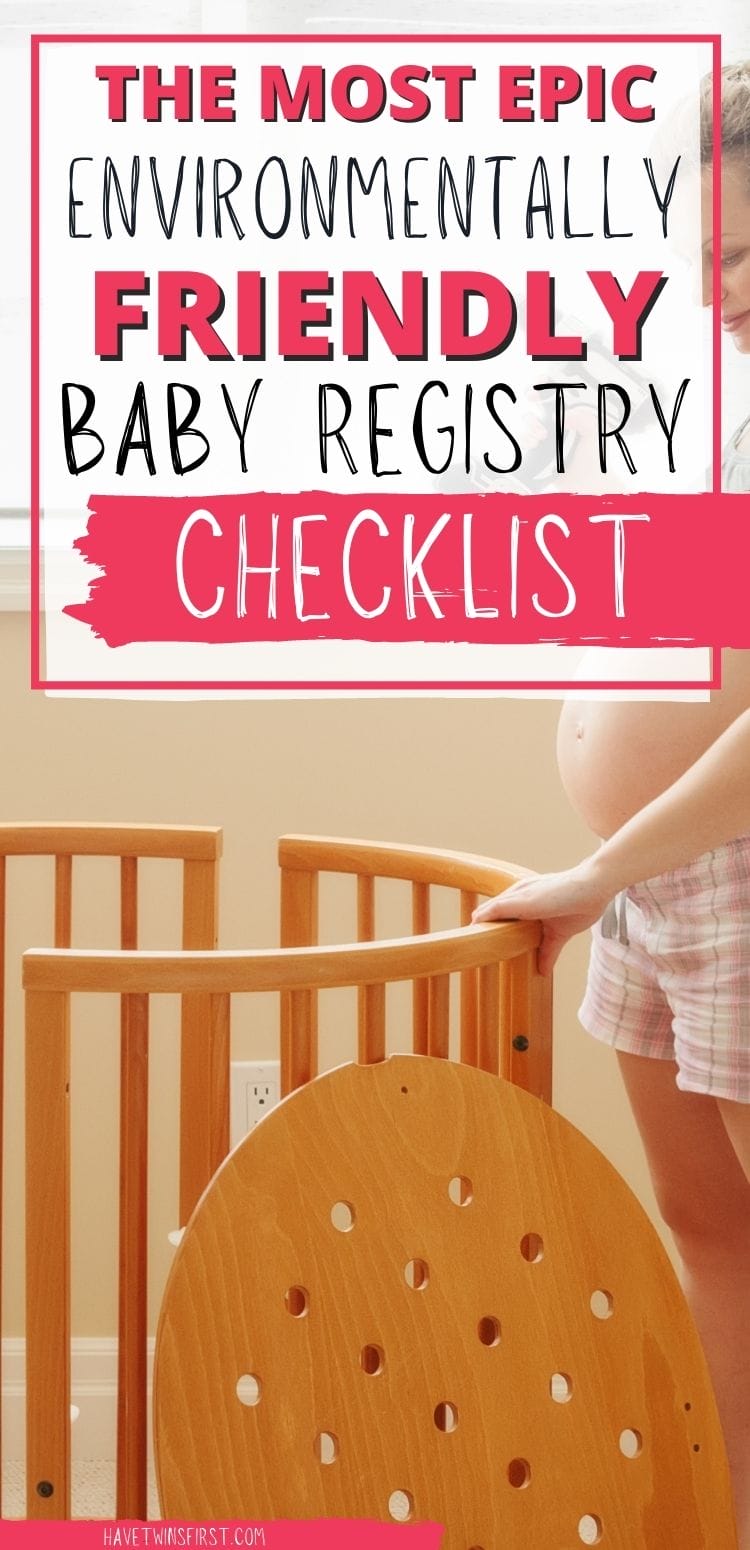 Must Have Baby Care Eco-Friendly Products
The list of eco-friendly baby registry must have items is almost complete. I just have a few more baby care items to share.
Burt's Bees 100% Organic Cotton Bibs or Diaper Squad 100% Organic Cotton Bandana Bibs
Babies are mess makers. They just can't control their drooling and spitting up. A bib can save you from having to change your baby's clothes often throughout the day. There are two good cloth bib options.
One is Burt's Bees cotton bibs. They are made of naturally grown 100% organic, GOTS certified, and breathable cotton. This makes them a good eco-friendly option. The second great option is the Diaper Squad Bibs. They are also made up of organic cotton. Depending on the style you prefer, you can add one or both of these bibs to your eco-friendly baby registry.
Rhoost Bamboo Baby Nail Clippers
An infant's nails grow like crazy. You might need to clip those little nails every other day. The Rhoost baby nail clippers are made of the finest natural bamboo, which is the most sustainable material out there.
These nail clippers can be used for a long time – from infant stage to toddler stage (and sometimes to the preschooler age too). The material used and the length of time these nail clippers can be used make this product an excellent choice for an eco-friendly baby registry.
A thermometer that can give an accurate temperature reading without putting it in your baby's mouth or underarm is an essential product. Babies are quite prone to getting viral infections and these infections can trigger a fever. A thermometer might not be specifically an eco-friendly product, but it is needed.
The iHealth no-touch thermometer is a great product to have that can read the body's temperature within the range of 1.2 inches from the center of the forehead. This thermometer is equally suitable for infants to elderly people.
Optional Eco-Friendly Baby Registry Products
After discussing all items that are essential for your baby registry, I have some other eco-friendly products that are not essential, but they are nice to have. Check out the list and see if you think any of these items will be useful for you too.
Travel Crib
A travel crib can be really helpful. A portable and easy-to-carry crib will help you in putting your baby to sleep wherever you are.
The Lotus travel crib is made of fabric, is low VOC, and has no lead, phthalates, PVC, or heavy metals. That means this is a great eco-friendly product option that you can add to your baby registry.
Bamboo Laundry Hamper
Babies are known to use a lot of clothes. You will need to change them several times a day because of spitting up, drooling, and many other similar reasons. A laundry hamper in the nursery can be a great aid to store these dirty clothes in one place.
For an eco-friendly choice I recommend a bamboo hamper that also has a natural stained finish. The hamper I recommend includes a removable bag to make it easier to carry the laundry.
100% Organic Cotton Baby Clothes
Baby clothes are not required for your baby registry. You will likely receive a lot of clothes as gifts and a great eco-friendly option is to only use hand-me-downs, if you can. However, if you want to include a few choices for your eco-friendly baby registry I recommend Burt's Bees 100% organic cotton baby clothes.
You can also check out our article on how many baby clothes you need, to get an idea of which clothes you need in which size.
Organic Baby Bath Pillow
This bath pillow is a better option than a plastic baby bath tub. You do not absolutely need a device for bathing your baby (you can just use your kitchen sink). But it can be really helpful to have something to hold your newborn during baths.
You can put this organic baby bath pillow in any sink of your home and give your baby a bath. The materials are made of Tencel organic, biodegradable, sustainable fabric.
Makemake Organics Play Mat
A play mat can be a safe space for your baby to spend time with toys and have some tummy time. It's especially good for you if your house is not carpeted and you need a soft surface for your baby to play on.
The Makemake organic play mat is safe, non-toxic, chemical-free, and doesn't contain any harmful dyes, fertilizers, or pesticides. It is made with the softest GOTS-certified cotton too.
B. toys Wooden Baby Play Gym
Along with a play mat, a baby gym can keep your baby busy for hours. Touchable, squeezable, and sensory toys will be the center of attention for your baby. The B.toys wooden play gym is made of pure wood making it an eco-friendly choice.
Natural Rubber Teethers or Wooden Teethers
Teethers can be a great aid for soothing your baby he has teeth coming in. There are two great eco-friendly options. One is a natural rubber teether, which is made of natural rubber and is BPA, PVC, paraben, and phthalates free. The second eco-friendly option are wooden teethers, which are made up of pure wood and silicone.
Wooden Hanging Toys
Hanging toys made of pure wood can be a great aid to keep your baby busy either at home or on the go. They can also help develop your baby's motor skills.
Bamboo & Linen Baby Carrier
A sling baby carrier can help a mom do things around the house or get out of the house easily while carrying the baby. This is especially good for moms who don't have a helping hand. The Nalakai Ring Sling baby carrier is made of pure bamboo, which makes it a great eco-friendly option to add to your baby registry.
Eco-Friendly Baby Registry for Twins
What about an eco-friendly baby registry for twins? As a twin mom I have to include a list for that here too. You would essentially get the must have items listed above, but the quantities you need are different. Here is what you need for the big items.
As opposed to the stroller and car seat system listed at the beginning of this post. You would pick one of the following:
(2) Cribs
(2) Crib Mattresses
(1) Tall & (1) Short Dresser
(2) Bassinets / Portable Sleepers
(2) Travel Cribs
To get an idea on quantities of smaller items, like burp cloths and bottles, check out our twin baby registry checklist.
Printable Eco-Friendly Baby Registry Checklist PDF
Finally, last but not least, if you would like a printable eco-friendly baby registry checklist pdf, you can get that here. It's actually a bundle of four different types of baby registry checklists, so it's pretty helpful when assembling your baby registry.
Now you know the best eco-friendly places and products for creating your baby registry, it's time to get started!
When having a baby choosing eco-friendly baby products is a wise decision, especially today when the earth is suffering a lot. To make environmentally-friendly decisions you need to look at the material of construction for a product, whether it's organic and sustainable, and if the product is reusable, renewable, or recyclable.
I hope you found my list of eco-friendly baby registry must haves and optional products beneficial. Good luck creating that perfect baby registry for you and your family.
Finally before I sign off, you might find these FREE printable Baby Registry & Pregnancy Checklists helpful. Just fill in the form below to get them. Learn which must haves to put on your baby registry and when to complete items in each trimester of your pregnancy.