As a mom of 3, I know how difficult it can be to find the right footwear for your kids. This is especially the case when it comes to finding sandals for toddlers!
It can feel like an endless journey trying to find the exact right fit, along with sandals that are good quality and will last a long time. Knowing that this can be quite a challenge, I decided to put together a comprehensive list of what I consider to be the best and safest sandals for toddler boys.
I have even included a section for toddler boys with wide feet too. So let's get started.
Please note, there are affiliate links in this post. Read my privacy & disclosure policy at the bottom of this page to learn more.
Are Sandals Safe for Toddlers?
This is a question many moms wonder when considering purchasing sandals for their small child. Sandals are a great option when it comes to finding footwear for the summer months as they are mostly lightweight, breathable, and easy to get on and off.
However, it can be tricky to understand how safe a sandal is, especially if it has no support for the heel. When it comes to the safety of toddler sandals it is important to consider the factors listed below.
Getting the right size
Having room for growth
Adjustable straps and closures
Comfort
Understanding if your toddler has wide feet
Ensuring the sandal has a sturdy sole and cushioning to keep feet safe, supported, and protected
Remember to also shop for toddler sandals according to your child's activity level. Take into consideration if your toddler will be running a lot and climbing with sandals on.
In summary, sandals are safe for toddlers as long as you pick ones that have the qualities above.
Should Toddlers Wear Flip-Flop Sandals?
Flip-flops are cute and are so easy to just slip on. That is fine for an adult or older child.
But when it comes to toddlers, I would not recommend flip-flop sandals for everyday use. They are acceptable for going to the pool or the beach, but that's their limit.
Here are some of the main reasons I never recommend flip-flop sandals for toddlers.
Flimsy – soles are thin and often the thong between the toes is not strong causing irritation
No support – no cushioning, no heel protection, or ankle support
Toes exposed – this can lead to bruises, scrapes, injury from falling objects, and the chance of being stepped on
Increased chance of falling – very dangerous when toddlers are running, especially on uneven ground, climbing, and almost anything else toddlers like to do
Overall I would say invest in strong, quality sandals for your toddler boy and avoid flip-flops. It will be worth it in the end.
What Qualities To Look For In the Best Sandals For 2-Year-Old Toddler Boys
When it comes to finding the best sandals for toddler boys, there are several things parents should look for to ensure the comfort and safety of their child's feet. Here are some of the qualities I consider to be the most important.
Proper fit
Sturdy sole
Breathable material
Adjustable straps
Closed toe design (if possible)
Flexibility
Easy to clean
Traction
You will want to make sure the sandals you purchase can be worn for a considerable amount of time without breaking or losing their slip resistance. Look for sandals that can be adjusted as your toddler's feet grow over a few months time.
The Best Sandals For Toddler Boys By Brand
Now that we know what kind of qualities we should be looking for when purchasing sandals for toddlers, here is my list of some of the best sandals for toddler boys on the market. I thought it would be easiest to list the best brands and then you can shop from there.
These brands tick all of the boxes when it comes to quality and safety. Take a look for yourself and I hope you find one that is the right fit for your little boy.
Crocs
Love them or hate them Crocs are definitely here to stay at this point. Toddler Crocs for boys are the perfect choice for toddler footwear and even older kids love them too.
They are lightweight, breathable, and easy to put on and off. They really do tick all the right boxes.
Crocs classic clogs sandals are unisex, sporty looking, and have an amazing "stay on" ability, so they will not interfere with your toddler's playing time.
Keep in mind that sizing can be tricky. Consider ordering a couple different sizes and returning the one that doesn't fit.
Features include:
Easy and adjustable fasteners
Ethylene vinyl acetate sole
Relaxed fit
Teva
Teva is all about adventure and not taming the outdoor spirit. It makes sense then that they have made amazing toddler sandals for boys.
Teva is perfect for the busy adventurer who does not want to sit still. With Teva sandals, toddlers who would rather be on the move as much as possible will be safe and comfy while doing so.
These sandals are made from a synthetic material and have a rubber sole. This brand is also all about sustainability. They have shown this by using recycled plastic to create a quick-dry webbing to support the foot.
Features include:
EVA-foam midsole for cushioning
Quick-drying webbing
Bungee cord laces to keep the foot secure
Durable rubber sole
Easy-to-use fastener
Teva sandals are perfect for light hikes and water activities. These sandals come in a lot of different colors. One negative with Teva sandals is most of their designs do have an open toe.
Keen
Keen is a very well-known and well respected footwear brand and that's because they have great quality products. Their toddler sandal range is no exception.
The Keen Seacamp closed toe sandal for toddlers is perfect for the child who needs that little extra protection. It is definitely the best choice for daycare, kindergarten, and playdates as it keeps the foot comfortable and protected in all areas.
Features include:
100% fabric
Solid, sturdy rubber sole
Bungee cord laces to keep the foot in the shoe
Water-resistant
PFC-free
Superior slip resistance
Non-marking rubber (so your floors will thank you)
Adjustable hook and loop strap
Keen sandals are really great. They come in various colors, look stylish, and are easy for your little one to put on and take off on his own.
Merrell
Merrell has some amazing, high-quality children's shoes and the Hydro Junior Sport sandal is a great choice for a busy toddler. It is a closed-toe sandal and has a strong rubber tip. It is a very durable sandal that can handle a lot of activity.
Features include:
100% leather material
Sturdy rubber sole
Bungee cord lacing
Breathable
Adjustable hook and loop closure
Heel pull loop
The Merrell range of toddler sandals and shoes is the perfect choice for those families who like to hike, play sports, and be around water.
Nike
The Nike brand is synonymous with quality, comfort, and great aesthetics. They are probably one of the most well-known brands on this list and for good reason.
They not only manufacture incredible footwear for adults, but also for children. One of my favorites is the Nike Kids' Sunray Protect sandal.
These shoes are perfect for busy and active toddler boys and girls alike. They are available in a huge array of colors.
Features include:
Leather sole
Waterproof material
Easy on and off
Easy closing Velcro strap
This sandal is also great for kids who like to be around water, and they are perfect for climbing trees too.
Adidas
Another very well known brand is Adidas. It is a brand that is associated with sports and activewear.
That means they are the perfect brand to be producing sandals for super active little kids. The Adidas Child Adilette sandal is really comfortable and is the perfect sandal for toddlers at the beach or pool.
This sandal comes in a few popular colors and sizes. It also comes with an affordable price tag, considering the quality.
Features include:
100% man-made
Synthetic sole
Quick drying
Adjustable hook and loop strap for easy on and off
Very secure and comfortable fit
EVA sole is lightweight and flexible
Stride Rite
Stride Rite has a fabulous little sandal for toddler boys. It is the Child SRT Wade Sandal. A great thing with Stride Rite shoes are that they are made in the USA from high-quality materials.
Features include:
Rubber sole
Lightweight and breathable
Waterproof
Machine washable (definite bonus)
Memory foam footbeds
Rounded flexible soles
Slip-resistant
Comfortable and easy to wear
Secure hook and loop system with Velcro
These sandals are once again great for any outdoor excursion and activity. They are especially loved by those who have kids who want to be in the ocean – with their shoes on. 
See Kai Run
I just love the name of this brand! And it really describes the kids that will be wearing their shoes perfectly. Running is second nature for them.
The See Kai Run Boy's Cyrus IV FlexiRun sandal is just adorable. It comes in lovely colors and is a great addition to any toddler's shoe shelf.
Features include:
Ethylene vinyl acetate sole making this sandal super comfortable and lightweight
Closed-toe sandal
Durable
Water-friendly PU leather
Soft jersey lining makes your child feel like he is barefoot
Molded footbed for healthy foot development
An added bonus is the fact that this sandal was awarded the Seal of Acceptance by the American Podiatric Medical Association. You cannot go wrong!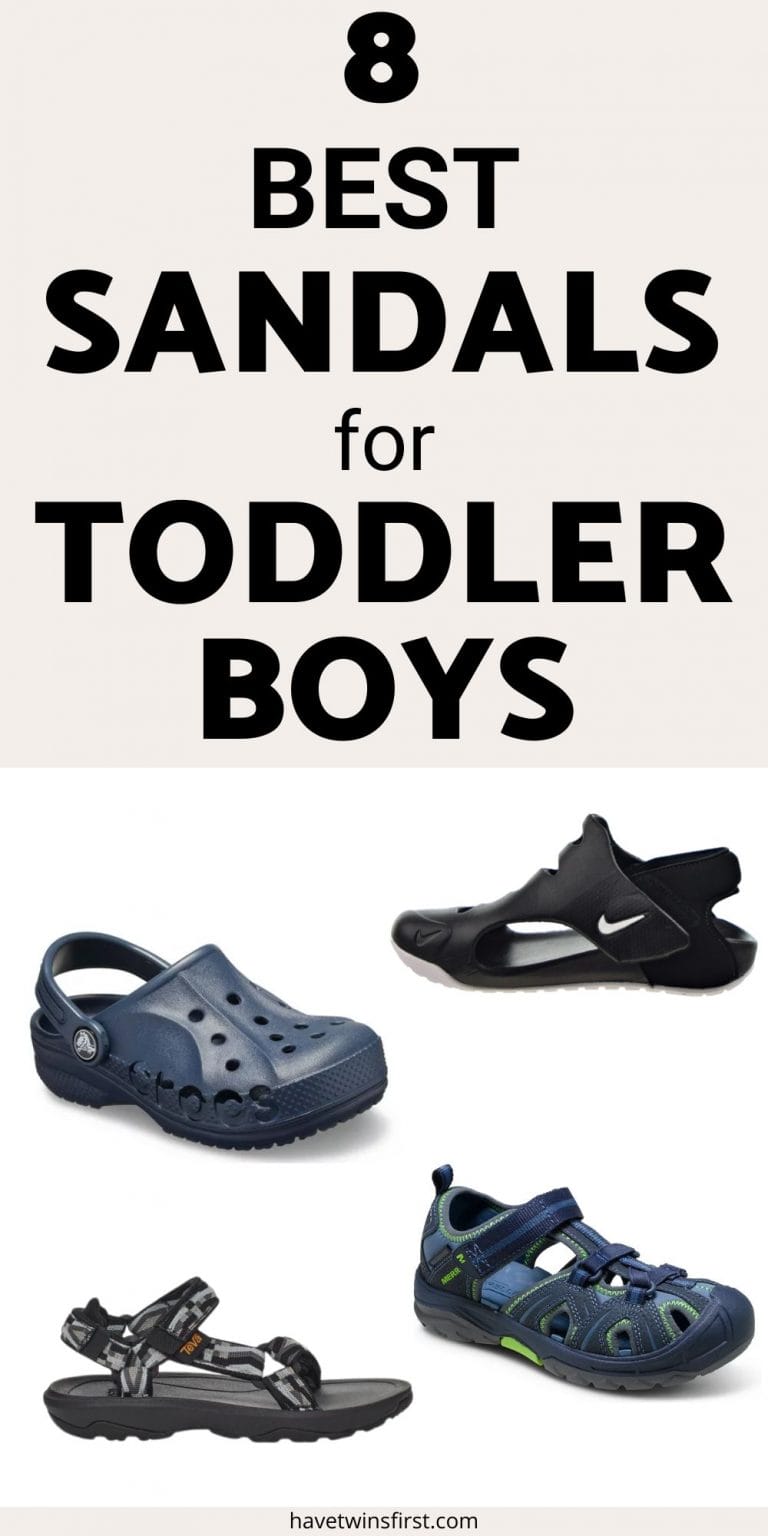 The Best Sandals For Toddlers Boys With Wide Feet
We have had a look now at some of the best sandals for toddler boys. But which sandals would be best for a toddler with wide feet?
My pick would be the Hurricane XLT2 Sport Sandal from Teva.
Features include:
100% synthetic
Made in USA
Man-made sole
Quick-dry webbing made from recycled plastic
Bungee cord lace to help hold the foot in
EVA-foam midsole for lightweight cushioning
The flexible rubber sole provides extra comfort, protection, and support. These are especially great qualities in shoes for those with wide feet.
I do want to note that this sandal has an open toe and does not provide all that much protection for your toddler's feet. If you would prefer a closed toe sandal option for wide feet, I recommend sandals from See Kai Run. They have wide openings for feet to slip into, and their straps are generally more flexible.
When & Where Toddler Boys Should Wear Sandals
The rule of thumb is that when children are still growing and their feet are still developing, they should be barefoot as much as possible. But there comes a time when toddlers need to wear shoes or sandals.
So when would be the right time and place for toddler boys to wear sandals?
The most obvious would be if they are attending school and need to have their feet well protected. It is also important if they are in places where there are sharp objects, thorns, rocks, or anything that can injure their feet.
Summer is the ideal time for sandals. But you will probably find that once your toddler boy has found his favorite sandals, he may be wearing them during rainy weather too.
Are Sandals Comfortable For Toddler Boys?
If you purchase the right ones for your child, then yes he will be comfortable. It is all about finding the right fit and making sure the straps over and around the foot are not too tight and restrictive or too big. Soft inner soles are also important as they will almost mimic walking barefoot.
Now that you know the best sandals for toddler boys including for those with wide feet, it's time to shop!
From this comprehensive list you are sure to find a sandal that suits your child's needs. As you shop, remember to make sure you find the right fit for your child to ensure he is comfortable.
Look for durable, but lightweight soles. Keep in mind when and where your toddler will be wearing his sandals.
You will also want to look for easy-on and easy-off closures and straps. Waterproof and washable sandals are definite bonuses too.
Before you go, feel free to check out some more toddler resources below, including a free one.
FREE learning help for 2+ years old – click the image for more info!
More help with toddler items: