Having twins is a blessing, but at the same time there can be a lot of challenges caring for two newborns. One of those challenges is finding a way to travel with two babies. At this point, a double stroller becomes a must have item.
Luckily, there are actually quite a few options on the market. But of course, they are not all created equal. Some newborn twin strollers offer enough space for two babies, but they are very heavy. On there other hand some of the strollers are lightweight, but they do not offer many great features.
Some strollers are designed specifically for twins, while others can be converted to hold two babies. When selecting the best double stroller for newborn twins, it's important to look for these features:
Easy to handle and maneuver
Provides ample space for both your babies and storage
Safe and adjustable – preferably adjustable enough to grow with your twin babies
With all that said, let's get started discussing strollers for newborn twins and which ones are best.
Please note, there are affiliate links in this post. Read my privacy & disclosure policy at the bottom of this page to learn more.
What Type of Stroller Do You Need for Newborns?
There are many different types of strollers. For a newborn, a stroller that a car seat clicks into or a stroller that allows a baby to lay inside of it is preferable. Other items to consider for a newborn stroller include:
Safety (harness and brakes)
Reclining seat
Good suspension
Adjustable canopy
Storage space
Weight
Portability
Do You Need a Double Stroller for Newborn Twins?
Yes, you need a double stroller for newborn twins. They won't fit in a single stroller.
What Makes a Stroller "The Best" For Newborn Twins?
There are different types of double strollers. You will choose between tandem (one seat in front of the other) and side-by-side double strollers. You will also need to decide if you want a double stroller where the car seats snap into it or a bassinet-style where your newborn twins can lay down.
If you live in the suburbs, a rural area, or will mostly be driving with your twins then I recommend getting a stroller that can snap two car seats into it. On the other hand, if you are in a big city, don't have a car, and mostly walk or take public transportation you might prefer the bassinet-style stroller for a newborn.
In fact, as you read on you will see that the strollers listed either only accept car seats (lower price point) or have both a car seat and infant seat/bassinet option.
Let's get started reviewing which are the best strollers for newborn twins!
The Best Twin Strollers With Two Car Seats For Newborn Twins
There are plenty of double stroller options for two newborns available on the market. But the ones listed below are my picks as an experienced twin mom for the best strollers for newborn twins that give you high quality at the best price.
Baby Trend Universal Double Snap-N-Go Stroller Frame
The Baby Trend Universal Double Snap-N-Go Stroller Frame is a tandem stroller frame (one seat in front of the other). You take your car seats and snap them into the stroller.
This means you can keep your twins in their car seats when transferring them from the car to the stroller. If they are napping, you won't wake up your twins while moving them from the car to the stroller.
One of the biggest advantages of the Baby Trend stroller frame is that it is compatible with many different car seat models because it has a larger cradle frame. The stroller features rear wheels with brakes.
Since you will keep your kids inside their car seat they will be strapped in with a 5-point safety harness, so you don't need to worry about your babies' safety. Moreover, the frame is strong and sturdy (made up of a mix of plastic and metal).
The other great feature of this double stroller is that it is compact and lightweight, and it is an easy one-hand fold. Stroller frames are much lighter in weight than other stroller options and for this reason, they are my personal pick as the best stroller for newborn twins. For convenience, this stroller also has a large drop-down basket and a parent tray with two cup holders.
Joovy Twin Roo+ Car Seat Stroller
If you want a frame stroller that keeps your twins side-by-side instead of head to toe (allowing you to see both of them when pushing the stroller), then the Joovy Twin Roo+ car seat stroller frame is a great choice. There is one caveat though, this stroller is often out of stock. If you want it and find it in stock somewhere buy it while you can.
This is also a stroller frame where you can snap your babies car seats into it. It is ultra sturdy, so it is suitable for modern car seats that are built heavy and tough. The Joovy Twin Roo+ stroller is compatible with 23 major car seat models. You can get custom click-in adapters in order to fit your specific car seats into the frame.
A small wheel base provides easy mobility. It features front-wheel suspension, swivel wheel locks, and rear brakes. This Joovy double stroller is easy to fold with one hand.
The folded dimensions are only 47.75 x 26 x 10.25 inches! There is a giant storage basket and 4 cup holders.
Mockingbird Single-To-Double Stroller
The Mockingbird single-to-double stroller is different from the two strollers already discussed. This is because it can be used for one baby, but you can also buy a kit to convert it to a double stroller.
But, that's not all! You can attach a riding board to create space for one child to stand on too. So this stroller is even suitable for 3 kids (two babies and one older child).
This Mockingbird stroller converts into a tandem double stroller (one seat in front of the other), but to do this you must purchase the 2nd seat kit along with the stroller itself. The Mockingbird double stroller has an extendable canopy to provide maximum sun coverage, while the mesh material provides good airflow.
Rubberized wheels provide a smooth ride without the risk of the tire being flat, and the suspension diverts the vibration. The stroller can be folded with one hand making it a pretty compact thing to keep in the car.
The Mockingbird stroller is compatible with many different car seat brands (car seat adapters sold separately). Or, you can get these infant seat inserts instead. This stroller has a large storage basket, but doesn't come with a cup holder. It you want a cup holder, you must purchase it separately.
Keep in mind, there is an option to purchase a bassinet, but you cannot use two bassinets at once on this stroller. You can check out the infant to infant configuration options here. Generally, you would opt for 2 car seats or 2 infant seat inserts.
The Mockingbird stroller is comparatively expensive. It is currently priced at $450 for a single stroller, plus you have to buy the second baby seat and any other accessories you want separately. But this stroller will grow with your babies, so that is an advantage and might make it worth the added cost.
Graco Ready2Grow LX 2.0 Double Stroller
The Graco Ready2grow double stroller is a tandem double stroller that can be used for twins by snapping in two car seats. When using the car seat configuration your twins will face the same direction towards the person pushing the stroller.
An advantage of this stroller is that it grows with your twins. Once your twins grow out of their infant car seats and can sit up on their own, you can continue using this stroller. The two seats on this tandem double stroller face the opposite direction.
One bigger stroller seat faces outwards, while the other smaller seat faces toward the person pushing the stroller. Other than two stroller seats, as your twins get even bigger there is one bench seat and a standing platform.
This Graco double stroller is compatible with only Graco car seats. There is a large storage basket behind the bench seat. The bench seat is easily removable to access the basket. Additionally, it has a removable cup holder.
It is easy to fold with one hand, however, it is quite big even after folding. The full-sized canopies give great protection from sun and wind, while the convertible 3-5 point safety harness provides safety from falling.
This stroller has the advantage of growing with your twins, but it is heavier and bigger then the frame strollers listed above. Additionally, it is only compatible with Graco infant car seats.
Baby Jogger City Select 2 Singular-to-Double Modular Stroller
Baby Jogger is a well known company within the stroller market. They have a wide variety of strollers for different needs.
The City Select 2 single-to-double modular stroller is one of their products that is great for parents of twins. When you buy the second seat kit, this stroller converts to a tandem double stroller that is suitable for twins from baby to toddler age.
Compared to other similar strollers on the market, the Baby Jogger double stroller is lightweight and it has a one-step compact fold. The telescoping and height-adjustable handlebar are unique features of this stroller that you may not find in other strollers.
This stroller has ample storage, but it doesn't have cup holders. If needed, you can buy a universal stroller cup holder to attach to it.
There is plenty of room between the two seats of the stroller so your babies can stay comfortable, and the safety harnesses keep them safe too.
The full Baby Jogger double stroller set (including the second seat) is very pricey, but it will grow with your babies.
Peg Perego Duette Piroet
The Peg Perego duette piroet is another great tandem double stroller option. It is made in Italy.
The frame of this stroller is so versatile. It can hold reversible stroller seats, Primo Viaggio car seats, and pop-up bassinets. The Primo Viaggio infant car seats can be attached without any adapter.
"Reversible seats" is a unique feature. Your twins can see each other and have a great time together while traveling. This is a great option for twins who share a strong bond.
Unlike other tandem strollers, the seats of the Peg Perego double stroller are on the same level. This makes it great for your babies to interact with each other.
The Peg Perego double stroller is very easy to move because of its wheels with ball bearings and 360-degree motion. You need very little effort to move this stroller.
The stroller seats are very comfortable and safe because of the safety harness. This stroller has a extraordinarily large storage basket and an extendable canopy for convenience. Again, this stroller is much pricier than the frame strollers discussed previously.
Joovy Qool Double Stroller
The Joovy Qool double stroller is a great tandem double stroller with some unique features. One thing that makes this stroller special is that the fabric used is eco-friendly.
It's made of 100% recycled material. If you are putting together an eco-friendly baby registry, the Joovy Qool double stroller is a great choice.
Another unique feature of the Joovy Qool stroller is its magnetic safety harness with additional padding for extra comfort. Additionally, the adjustable footrest for the kids is another plus for extra comfort.
This stroller allows you to attach two bassinets if you prefer that option to snapping in two car seats. The Joovy double stroller is easy to move with its adjustable leather handlebar, rear wheel suspension, and swivel front wheels.
Like other good strollers, the Joovy Qool double stroller has an extendable canopy, a large storage basket, a cup holder tray for parents, and comfortable seats. As has been the theme, this stroller is quite expensive, but it could be worth the extra cost because it will grow with your twins.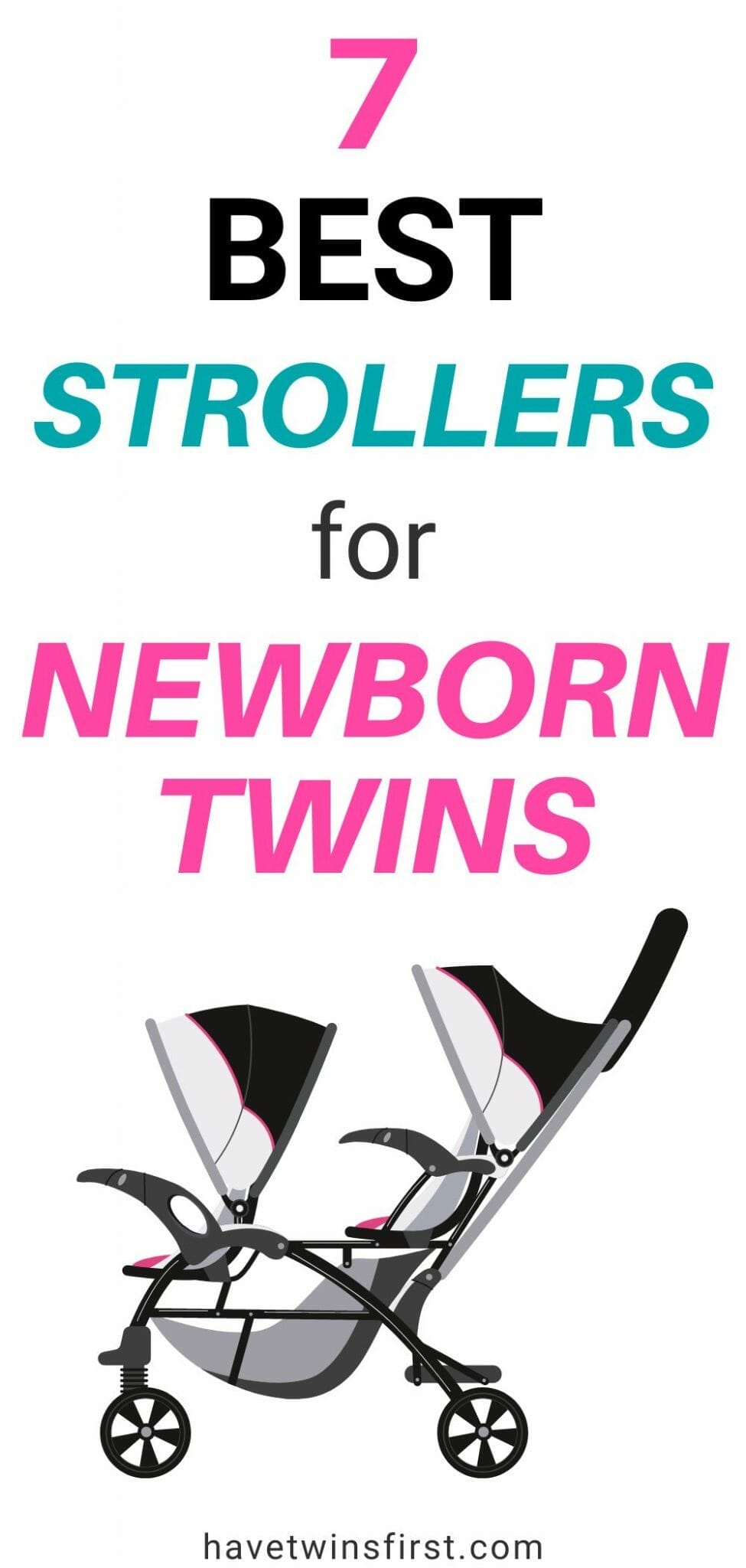 Why the UPPAbaby Double Stroller Is Not On This List
The Uppabbay double stroller is one of the most well known strollers around with many great features. Are you wondering why I didn't add it to my list? It is because of the price!
This stroller can be a great option for your twins, but the price is very high. It is available in the range of $1,100-1,400.
There are many other similar strollers available at a lower price point that work just as well. So, I don't think it's worth it.
Choosing one of the best strollers available for your newborn twins is extremely important to make your life on the go a little bit easier.
A double stroller becomes a must have when you have twins. A good double stroller must be comfortable and safe for babies and easy to move for parents.
All of the strollers for newborn twins listed above have these features. Now you just need to determine which one is best for your family.