Oh no! Your twins have started climbing out of their cribs. On the one hand, it means your kids are becoming more skillful and they are growing.
However, the result can also be destructive because your twins could fall and get badly hurt. Whether your toddler twins have started trying to climb out of their crib or they are just getting big and are ready to move to a bed, this post is going to cover everything you need to know about transitioning twins to toddler beds.
Please note, there are affiliate links in this post. Read my privacy & disclosure policy at the bottom of this page to learn more.
When Should You Transition Twins Out of Cribs and into Twin or Toddler Beds?
This can be a tricky question. You could go by age when transitioning twins to toddler beds, but that's not always the best answer and doesn't always work.
In general, you can move your babies from cribs to toddler beds between the ages of 1 and a half to 3 years old. Here are some easy and helpful tips that you can follow for transitioning twins from cribs to beds.
Don't get hung up on age. The day one or both of your toddlers become capable of climbing out of the crib, you can assume that you need to make the transition soon.
Wait at least a few days after your babies make their first escape. Some kids will stop climbing after a few attempts, while others will continue to do so. If one or both of your twins are climbing out of their cribs persistently, you should definitely make the transition.
Observe your toddler twins growth. If your toddlers are outgrowing the crib this is also a sign it's time for the crib to bed transition.
How To Transition Twins to Toddler Beds
From my experience, I would say it can actually be easier (believe it or not) when transitioning twins to toddler beds from their cribs compared to moving one kid. Why would this be the case?
Since your twins have a partner in each other, I found their fears about the move to be minimized. Here are the steps that I used to transition my twins to their toddler beds.
Step 1: Make Crib Moving Day An Event
The day your twins are making the move, throw a party. But, I don't mean one that involves all your relatives and friends.
Prepare their favorite dishes, give the nursery a makeover, maybe even put balloons in the nursery. This will make them interested in moving to their bid kid beds, and you can make new memories.
Step 2: Get Used To The New Bed
This was a genius idea that came from one of my friends. For 3 nights straight, I took my kids to their new beds and we would play with toys and talk. That's it.
My kids would then sleep in their cribs. After 3 days it was time to sleep in the new beds.
If you will be converting your twins' cribs to toddler beds, meaning there is no bed to play in, you could show them pictures of what their new bed will look like instead. Just look up your crib online or one that is similar and show them how it turns into a big kid bed, so they know what to expect.
Step 3: Start Bedtime Early
Get your twins to their beds about half an hour earlier than their normal bedtime routine. This will allow them time to check out their new setup.
It will also give you more time to read some extra books and deal with any anxiety your twins are facing.
Step 4: Dealing With Your Twins Getting Out Of Bed
Don't be surprised when or if your twins crawl out of their new beds. It's okay!
Don't get mad and don't force it. Bring them back to their beds and reassure them that everything is okay. You can also offer a reward for showing what big kids they are for staying in and sleeping in their beds.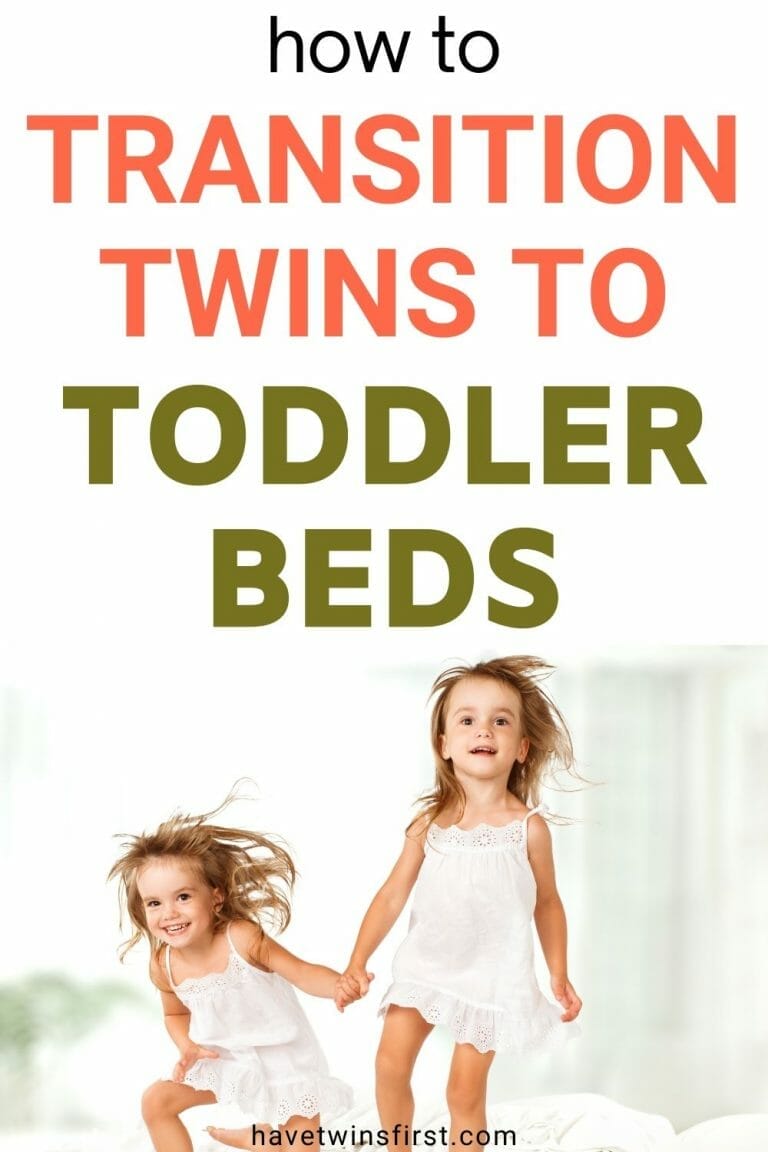 How Can I Get My Twins to Sleep in Their Toddler Beds?
Now that you have taken the big step of transitioning your twins to toddler beds, you will need to make sure they stay in their bed. Here are some tips to help.
Involve Your Twins When Buying the New Bed
When buying beds for your toddlers, get them involved in the process. Ask them what color they prefer or maybe you can even show them some pictures of the beds you have found.
This is essentially the first step for the crib to bed transition. The more involved they are, the less chance they will get out of bed or cry to go back to their old cribs.
Spend a Few Nights In the Doorway
If your twins are struggling with sleeping in their toddlers beds you could sit in the doorway for about an hour. This will assure them that you are there.
Don't shut the door, let them see you are there. Do this for a few nights, and then let them sleep independently.
Praise Them
Praising always reaps positive rewards. When you see your twins staying in their beds, let them know that they are doing a good job.
This will encourage them to behave and stay in their beds longer. Be sure to compliment them consistently, either everyday or every few days at first.
Establish a Consistent Bedtime Routine
Having a consistent bedtime routine can help your twins fall asleep faster and stay in their beds longer. An example toddler bedtime routine might involve bathing, then playing, then listening to stories or rhymes, followed by lights out.
Whatever the routine is, make sure you do it everyday leading up to going to sleep. Keep in mind that playing throughout the day is crucial for toddlers and will help make them tired at night.
Best Toddler Bed Ideas for Twins
What about choosing the best beds for your twins? There are actually a lot of options out there for twin toddler bed arrangements and we will discuss them below.
Convert Cribs to Toddler Beds
Some cribs can be converted to toddler beds. These types of cribs will allow you to remove one side of the crib and lower the mattress.
I always purchased cribs that converted to toddler beds, it was one less thing to worry about purchasing down the road.
Additionally, the transition to a toddler bed could be smoother and less disturbing because the toddler beds will look similar to your twins' cribs. If you already have cribs that are convertible to toddler beds, that's great because you don't need to worry about buying a new bed for your twins.
Two Twin Beds
One easy solution is to buy two twin beds and mattresses. Compared to toddler beds, twin beds have more room to grow and your kids can use them for years.
However, they may lack the themes and design that are fun for kids and they are typically higher from the ground.
Double Toddler Bed for Twins
Another option is to buy one double toddler bed that your twins can share. This could be beneficial if your twins' bedroom has limited space.
A negative to this option is that your twins won't have their own sleeping space when compared to having an entire bed for themselves.
Twin Over Twin Bunk Beds
Bunk beds can be a great option when it comes to saving space. However, safety can be a concern for the child sleeping on the top bunk.
I would recommend starting with twin beds that can later convert to bunk beds.
Twin Over Double or Double Over Double Bunk Beds
Twin over double or double over double bunk beds could also work for you. When your twins are too small for the top bunk, they could share the bottom double bed.
Additionally, if you have 3 or more kids at home, they can all sleep in the same room, when needed. There are even bunk beds that come with a pull out trundle bed to truly maximize sleeping space.
Should Toddler Twins Sleep in the Same Room?
Yeah. Why not! You can definitely have your twins sleep in the same room.
Twins have a connection with each other and their bond could become even stronger by sharing a room. On the other hand, if your twins are struggling with sharing sleeping quarters, there is no reason why you need to keep them together as long as you have the space.
At the end of the day, you should do what is best for your family.
Can Twins Share a Bed when Transitioning to Toddler Beds?
Definitely! Twins can share a bed as toddlers. But, depending on their nature, the success of this can vary.
Some twins sync together really well, while others might fight a lot. If your twins tend to fight this can hamper their sleep. In that case, I would recommend going for two separate beds.
Do I Need Bed Rails when Transitioning Twins to Toddler or Twin Beds?
Bed rails can be helpful and provide added safety. However, it is not mandatory.
If the toddler or twin beds don't have bed rails, make sure their height isn't too high. You could also place soft mats on either side of the beds to prevent your twins from getting hurt if they fall from the bed.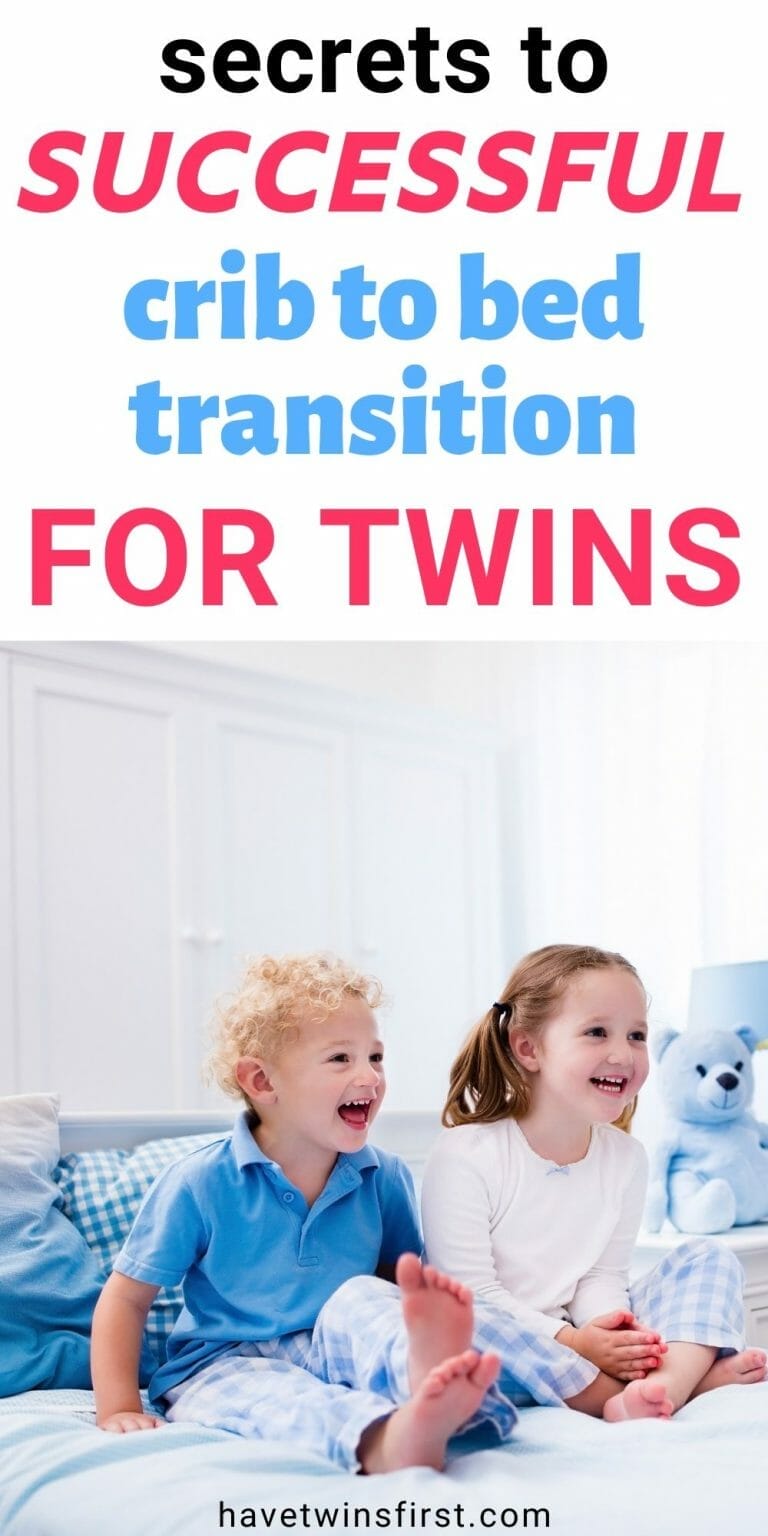 Transitioning twins to toddler beds is a HUGE step. It can seem scary, but, as long as you select the right toddler beds for your twins and follow the steps here, it will be easier than you think!
As your twins grow, you will find yourself making all sorts of different transitions, such as going to school, starting solids, etc.
Moving your twins from a crib to a toddler bed will need to happen some day and you don't need to be scared. If you follow the steps and tips from above and monitor your twins in their new beds for a few days, you will be in great shape. Good luck!
More twin toddler help: Potty Training Twins in 3 Days