How should you dress your baby for sleep? I think this is a very important question. I know it's something I thought about all wrong before becoming a first time mom.
For whatever reason, there is a misconception out there that your baby needs to be bundled up A LOT for sleeping.
However, in reality, if your baby is too warm it is actually very dangerous, because it increases your baby's risk of SIDS.
So, in this post I want to review how to dress your baby for sleep. This will include the importance of making sure your baby is not too hot or too cold when sleeping and a baby sleepwear guide for the first year.
Baby Sleep Temperature Guidelines
Before I get too much into how to dress your baby for sleep, I want to review the importance of temperature and your baby's sleep.
You will want to maintain the nursery or the room your baby is sleeping in between 68 and 72 degrees F.
We decided to buy a video baby monitor that includes a temperature sensor. There is an in-room temperature display on the monitor, so you can know if the room is too hot or cold.
It was a nice feature to have on our baby monitor and it really gave me peace of mind knowing that my kids rooms were at the correct temperature.
What Do Newborns Wear To Sleep?
Now that you know the temperature to keep the nursery at, let's discuss how to appropriately dress your baby for sleep.
For different age ranges, throughout the first year, there are some differences in what I recommend for sleep. We will start with the newborn phase.
There are really only two things your baby needs to wear for sleep as a newborn.
Whether you get swaddling blankets or Velcro swaddles, these will keep your baby nice and warm.
Underneath the swaddle a short sleeve onesie should be the perfect temperature.
For swaddling blankets, I highly recommend Aden & Anais or a similar brand that makes muslin swaddle blankets. This material is very breathable.
Additionally, the size of the Aden & Anais blankets plus how stretchy they are make swaddling surprisingly easy to do.
If swaddling just seems overwhelming, get yourself some Velcro swaddles. As far as I can tell, they are foolproof.
How To Dress Your Baby For Sleep If She's Too Big For Swaddling
What about when your baby has grown out of the swaddle? I have always used and loved the Baby Merlin Magic Sleepsuit both for transitioning out of the swaddle or for transitioning baby to a crib.
The Baby Merlin Magic Sleepsuit, is perfect to use for your baby's sleep at 3 months to 6 months old.
Just as with swaddling, the Baby Merlin Magic Sleepsuit is heavyweight. The only thing your baby will need to wear underneath is a onesie.
Your baby's feet will stick out the bottom of the suit. I recommend putting socks on your baby's feet for sleep, if you want.
You could also consider footed pajamas, but these types of pajamas are often made from heavyweight clothing.
Sleepwear After 6 Months Old
After 6 months, or whenever your baby is capable of rolling over with the Baby Merlin suit on, it will be time to transition to different sleepwear.
At 6 months and into the toddler years I highly recommend a sleepsack. A sleep sack keeps your baby warm, since blankets are a no-no in the crib.
As your baby enters into the toddler years, there are additional benefits with sleepsacks. Number one, sleepsacks are a deterrent for your toddler to try climbing out of the crib.
Secondly, a sleepsack also acts as an additional barrier from curious toddlers trying to take off their diaper.
You might have noticed that sleepsacks are short sleeved. When you switch to sleepsacks you will want to have your baby either sleep in pajamas, a sleeper, a long sleeved onesie, or a short sleeved onesie.
Whether you get long or short sleeved sleepwear will depend on the time of year and the climate you live in.
I do recommend staying away from fleece and other heavyweight material for under a sleepsack. This will prevent your baby from getting too hot when sleeping.
Baby Sleepwear Guide
Check out or pin the chart below for a quick reference on how to dress your baby for sleep. Not only is this gear useful for safe baby sleep, but it is also key in getting your baby to sleep on her own.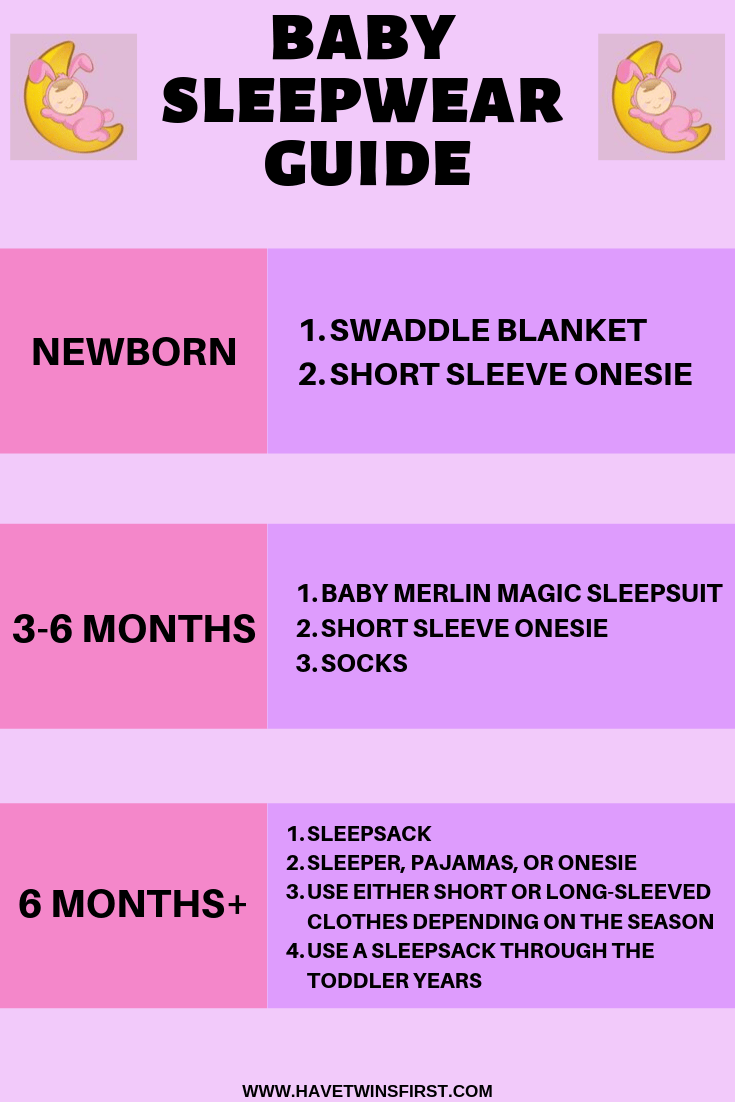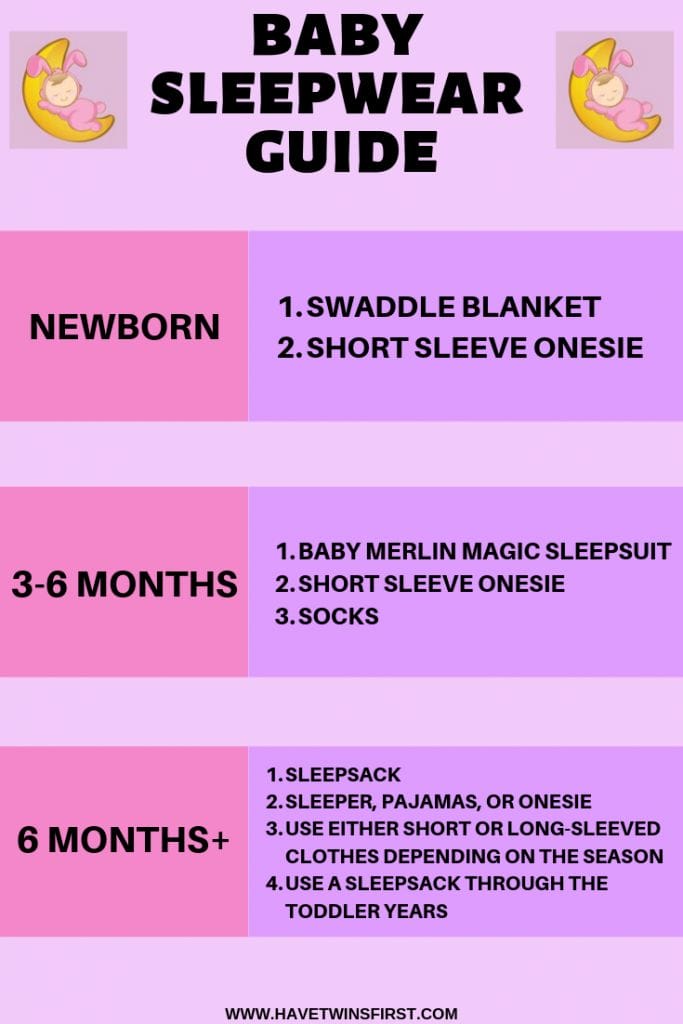 What Should Baby Wear For Naps?
Now that you know how to dress your baby for sleep, does this also apply to naps?
The short answer is…YES!
Whether you have a newborn that you are swaddling or a 6 month old in a sleepsack. You will want to continue using those products for naps too.
As far as what to wear underneath the sleeping gear, I would recommend anything similar to what is suggested in the sleepwear guide.
The rules for naps are the same as sleeping at night, keep your baby at a comfortable temperature.
This means, you will not want anything too heavy on underneath their outer sleepwear (swaddle, Baby Merlin Magic Sleepsuit, or sleepsack).
When using a swaddle or the Baby Merlin Magic Sleepsuit, your baby's arms will be covered, so short sleeves will be totally fine.
With a sleepsack, your baby's arms are not covered, so if it's cooler outside you will probably want your baby wearing long sleeves.
Hopefully this article has made it pretty straightforward on how to safely dress your baby for sleep.
If you found it helpful, follow our Facebook page, or pin this article for future reference.