When I found out I was expecting twins, I had so many questions! First, I knew that caring for twins was going to be a lot different than caring for one baby.
While shopping for my yet-to-be born twins, I did a lot of research, but I also bought some extra stuff I never used. That's why I have created this article, to let you know the top twin baby must haves.
This list contains ONLY the essential items for twins and does not include any nice to have items. For a more involved list of both must haves and nice to haves – check out our twin baby registry article.
Please note, there are affiliate links in this post. Read my privacy & disclosure policy at the bottom of this page to learn more.
Do Newborn Twin Baby Must Haves Include Items NOT Made Just For Twins?
There are many "twins only" baby products available – and a lot of them are really smart, useful items. Some of these products are even included on my list below. But not all the newborn twin items you buy will be twin-specific gear, in fact most will not be.
What you will need to understand as you get your twin baby must haves is which items you need more of, and which ones you don't. All this information is included in the article below, so let's get to it.
Interesting read on twin-only items: A Twin Mom's Top 10 Cool Things For Twins
What Must-Haves Do I Need Two Of Or Double Of For Twins?
To give you clarity, here is a list of baby essentials you will need two of or double the amount for twins.
Car seats
Cribs / bassinets
Crib mattresses
Crib mattress pads
Crib sheets
Diapers
Wipes
Playards / travel cribs
Bibs / burp cloths
Bottles
Formula (if formula feeding)
Baby clothes
Before we move on you might want to grab our FREE Twin Baby Registry Guide by filling in the form below. It includes a printable Twin Baby Registry Checklist and links to (2) ideal sample twin baby registries. This guide will walk you step-by-step through selecting the baby items that are perfect for your family's specific needs.
Twin Baby Gear Must Haves for Sleeping & The Nursery
Let's start by reviewing the essential items you will need for newborn twins in the nursery and also for sleeping in general.
Cribs / Bassinets (2)
Some parents use only one crib initially for their newborn twins, but you will eventually need two of them, so it is best to get two cribs from the beginning.
If you plan to put your newborns to sleep in a bassinet, you will either need two of them or you can get a double bassinet.
Check out this article on the best newborn twins sleeping arrangements for more help.
Crib Mattresses (2)
You will need a crib mattress for each of your twin's cribs. I recommend getting one that is GREEGUARD Gold certified.
Nursery Furniture
What standard nursery furniture do you need for twins? This is what I recommend for a twin nursery in order to have enough storage:
(1) Short Dresser – put changing pad on top
(1) Tall Dresser
(1) Bookshelf
(1) Glider Chair (optional)
A fun twin item for the nursery is a double glider chair. However, they are pricey and this item is not essential so it might not be worth it to you.
Hamper
A hamper in the nursery is an under-rated item. But, you are going to need one. Maybe you already have one, or if you don't, you can get one to match your nursery décor.
Mattress Pads (4)
A crib mattress pad is a mattress cover that keeps the mattress safe from diaper leakages. Good quality mattress pads also provide more comfort and regulate body temperature.
It's important to get a waterproof mattress pad too, since the main purpose is to protect the crib mattress when there is a diaper leak.
You should get four mattress pads for twins. This provides a backup for each crib.
Crib Sheets (4)
A fitted crib sheet will go over the mattress pad and makes sleep time more comfortable for babies. You will want to ONLY put a fitted sheet in the crib.
Remove everything else like pillows, toys, and blankets from the crib when your babies are sleeping. It reduces the risk of SIDS.
Just as with the mattress pads, you will want to have four fitted crib sheets on hand for twins, which provides a backup for each crib in case of diaper leaks.
Changing Pad + Covers
Newborns need up to ten diaper changes per day. You will need at least one changing pad to either insert in a changing table or put on top of a short dresser. You do not need separate changing pads for each baby, they can share.
If you have two floors in your home I recommend having a changing area with a changing pad on each floor. For each changing pad you will want to get a cover to protect the pad from getting dirty during diaper changes.
Invest in a back up cover too, so if there is an accident you can replace it while you wash the cover. For example, if you have one changing pad get two covers, and if you have two changing pads get three covers.
Night-light
A night-light is actually not essential for a baby's room because your baby won't be afraid of the dark at an early age. However, you will want some lighting at night to feed your babies or change their diapers.
Since turning on a light may disturb your twins sleep a night-light is a great choice instead.
Swaddling Blankets (12)
This is a lightweight blanket used to wrap a newborn baby. I personally love the muslin swaddle blankets because they are lightweight and stretchy making them easy to create a good swaddle.
I recommend having at least 12 swaddling blankets for newborn twins. Keep in mind that you will probably get a few good swaddle blankets from the hospital, so you can probably start with buying 4-8 blankets and see if you need more after your twins arrive.
Pacifiers
Sucking on a pacifier often helps to calm down a baby. Caring for twins can be much more exhausting, so a pacifier may help you soothe your babies and put them to sleep faster.
How many pacifiers do you need for twins? I recommend getting 2-3 packs of different newborn pacifier types / brands to see which ones each baby prefers. Once you know, you can buy more.
Newborn Twin Baby Must Haves for Feeding
Let's review the must haves for feeding twins. This list includes things you need for breastfeeding and also things you need for bottle feeding.
Burp Cloths (16)
It is very typical for babies to spit up some milk after feeding. You will to have a burp cloth on hand to clean up when this happens.
With two babies I recommend getting 16 burp cloths.
Bibs (20)
Initially you will use bibs to capture drooling. Babies drool a lot as their teeth start coming in. For catching drool, I highly recommend getting bibs that are waterproof. Eventually you will also use bibs when feeding solids to your twins.
I recommend getting 20 bibs (10 for each baby). Keep in mind bibs are a very popular baby gift and it is likely you will receive some from friends and family.
Bottle Brush
If you use a bottle to feed your baby, it is really important to clean it with a bottle brush. A bottle brush will make sure you clean the bottle thoroughly.
Personally, I absolutely love this bottle brush from OXO.
Twin Feeding Pillow
Feeding two babies simultaneously can be daunting, so getting a twin feeding pillow can be beneficial. The Twin Z pillow is really great and can be used by both breastfeeding and bottle feeding twin parents.
Single Nursing Pillow – If Breastfeeding
If you are planning to breastfeed twins it's actually really important to also get a regular nursing pillow. When your babies are newborns they will not be on the same schedule yet.
It's much easier to feed using a nursing pillow, especially during the newborn stage. A double feeding pillow is just too bulky when you are feeding only one baby.
Breast Pads – If Breastfeeding
Breast pads absorb breast milk that will leak from your breasts. You just insert the pads it in your nursing bra.
You can choose between reusable or disposable breast pads.
Lanolin – If Breastfeeding
Lanolin is used to treat cracked and sore nipples during breastfeeding. It is natural and totally safe for both mom and babies.
You will definitely want some Lanolin on hand during the early stages of breastfeeding to give yourself some relief.
Breast Pump – If Breastfeeding (Free Through Insurance)
If you are planning to breastfeed, you will also want a breast pump for the times you are not around to nurse your babies. The best part is this is free through health insurance plans in the USA.
4-5 Oz Bottles (6-8)
You need baby bottles for formula feeding, but you also need them to store and feed pumped breast milk.
I recommend starting with 6-8 small baby bottles (4-5 oz). See which bottles your babies like, then get more if needed. My personal favorites for bottles are the Avent bottles and the Dr. Brown's bottles.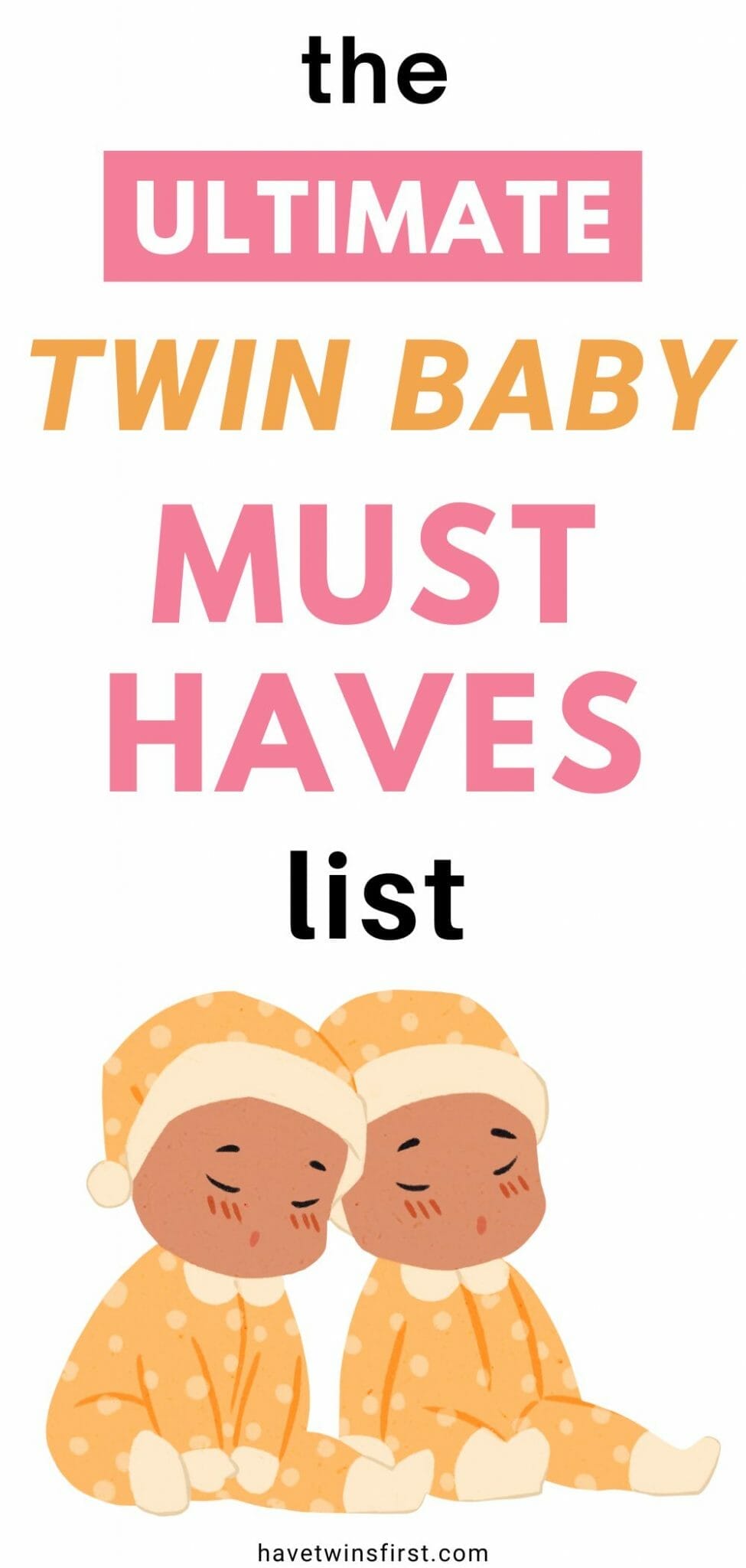 Twin Baby Care Must Haves
Now what about bath time and laundry? Here is a list of baby care products you should have on hand before your twins arrive.
Baby Shampoo / Soap
Babies have very delicate skin, so you cannot use regular shampoo or soap for them. Instead, you will get baby shampoo and soap.
These products do not contain harsh chemicals that might harm a baby's skin or cause burning in their eyes. My personal preference is the Aveeno line of products.
Baby Nail Clippers or Scissors
Baby nails grow like crazy and newborns can easily scratch their faces with their nails. You will find yourself cutting nails more often than you think – once a week or sometimes twice a week.
You will need a good pair of baby nail scissors (my preference) or baby nail clippers.
Baby-Friendly Laundry Detergent
Regular detergents contain chemicals that may irritate a baby's delicate skin. It's best to buy baby laundry detergent or a gentle laundry detergent to wash your baby's clothes.
Laundry Spray Stain Remover
Keeping a baby's clothes clean and stain-free is hard. They often get dirty because of spit-ups, food, and diaper leakages.
You will be using plenty of laundry spray stain remover to get rid of tough stains.
Teethers
Babies start to show teething symptoms as early as 3-4 months old. This means it's best to have some teethers on hand before your twins arrive.
I recommend getting a couple sets of different types of teethers.
Thermometer
A thermometer that accurately reads is necessary when you have a baby. I have tried various thermometers including non-contact ones.
I always find myself reaching for my Exergen temporal artery thermometer. It gives the most accurate reading of the thermometers I've used for this type.
Nasal Aspirator
A nasal aspirator is a device that sucks the mucus out of the nose. Babies cannot clear their noses, so you need to have a nasal aspirator instead.
You will get one at the hospital, but it doesn't work all that well. Instead, I recommend purchasing the FridaBaby Snotsucker, it is amazing and surprisingly not gross.
Twin Baby Must-Haves for On The Go
The following items are must haves when you are traveling or out and about with your little ones. These items will get you through the first 6-9 months with your twins.
Infant Car Seats (2)
A properly installed car seat is so important for kids' travel safety. Your babies should be buckled up properly even if you drive just a few blocks away.
Each twin will need their own car seat. My personal recommendation for twins are the Graco SnugRide SnugLock car seats.
I have liked every single Graco product I have purchased – especially their car seats. I also recommend the Graco infant seats because they are the lightest weight. This is important with twins if you find yourself carrying both seats at the same time.
Double Frame Stroller
A double frame stroller is a fantastic product that makes traveling with twins much more manageable. It is just a frame that allows you to snap in two infant car seats.
I recommend the frame stroller because it is lightweight, easy to carry, and you do not need quite as much space for it in your car when compared with other double strollers.
Baby Clothes For Twins
Below is a list of the quantities you will need in newborn and 0-3 month baby clothes. You will receive quite a lot of clothes as gifts, so I do not necessarily recommend registering for everything listed.
12 onesies: A onesie is a cute baby bodysuit that covers the torso. Changing diapers is easier when babies are wearing a onesie.
12 pairs of pants: You can put pants with a onesie if you want to.
6 sleepers with zippers: Zipper sleepers are much easier to put on and take off than the ones with buttons.
1 set of no-scratch baby mittens: Babies may scratch their faces with their nails, these types of mittens will protect them from that.
8 pairs of socks (optional): If your babies are born in winter you should have socks to keep their feet warm.
Twin Baby Must Haves for 3+ Months
That covers the list of twin baby must haves for newborns. But there are some more items you will need during the first year.
You just don't necessarily need to get them before your twins arrive. Below is a list of essential twin baby items that you will need after your babies are 3+ months old.
Convertible car seats (2): A convertible car seat grows with the child. Once your twins grow out of their infant seats, you will move them into convertible car seats. I recommend investing in slim car seats to optimize space in your vehicle.
Double stroller – umbrella or jogging or both: When your babies can sit up with support you can get a double umbrella stroller, double jogging stroller, or both. A double umbrella stroller is great if you walk some and run errands. If you are a jogger or walk a lot, a double jogging stroller is the best option. Some parents might opt to to buy both.
Playards or travel cribs (2): You will eventually need two playards (aka Pack N Plays) or travel cribs for your two babies. These portable items will allow you to put your baby to sleep when you travel overnight. If you get playards, you can set them up in your house too and your babies can play while you do some things around the house.
High chairs (2): Babies need a high chair to sit in and have their meals starting around 5-6 months old. You can choose from regular high chairs, booster high chairs, or the ones that clip onto a table.
Sippy cups: You can introduce sippy cups to your babies when they are 6 months old. Start by getting two different types to see what they prefer and make sure you get the trainer sippy cups.
Baby bowls and spoons: Most babies start to eat semi-solid food around 4-6 months of age. You will want non-breakable bowls and spoons made of materials like plastic or silicone.
That covers all my twin baby must haves list, which provides you with the bare essentials to get through the first few months with your newborns.
Shopping for twins is different from shopping for one baby. For example, you may need greater quantities of some products or choose a product specifically made for twins.
Hopefully you found some useful tips as you read through this article. Good luck as you prepare for the arrival of your twins.
Finally before I sign off you might also be interested in these printable twin pregnancy resources listed below.