Are you considering investing in a baby swing, but are not quite sure which one to choose? Are baby swings even worth purchasing in the first place?
Having a baby swing can be a huge lifesaver for parents of infants in getting their babies to sleep. On top of that, selecting a baby swing that plugs into a wall is a great idea because you will not have to worry about the swing running out of battery power.
With that said, in this post we are providing in depth reviews of the best baby swings that plug into a wall and why you really should treat your baby – and yourself – to one.
Please note, there are affiliate links in this post. Read my privacy & disclosure policy at the bottom of this page to learn more.
Do I Need a Baby Swing?
You have seen them on the showroom floor of baby shops and they show up in movies and advertisements. They look so cool and so comfy for a baby, but do you actually need a baby swing?
It really is a personal preference if you want to purchase a swing for your baby or add it to your baby registry list. That means baby swings are NOT absolutely necessary, but they are wonderful devices to have available in order to help newborns and older babies sleep better.
I will also share my own personal experience that two out of three of my babies would ONLY sleep in a baby swing at night for a 1 month stretch as newborns. So, from my own personal experience I highly recommend getting a baby swing that plugs into a wall.
Baby swings are known to be quite beneficial when it comes to helping colicky babies because they generally need to have constant movement to offer them relief and to help them relax.
Is a Baby Swing Worth Its High Price Tag?
One objection many parents have when deciding whether to buy a baby swing is its high price tag. Given my personal positive experience with baby swings, I believe that yes it is worth the high cost for this baby item.
Don't forget that you can use your baby swing again if you have more children in the future. You can also sell it when you are done get a good return on investment.
A baby swing is also a great baby item to buy used. This is could be a good option for saving some money.
Having a baby swing can be very beneficial to everyone in the family, not just your baby. For example, if your baby is soothed and calm this will create a more comfortable environment for everyone in your household.
Should I Get a Baby Swing That Plugs In Or One That Is Battery Powered?
Once you make the decision to get a baby swing, the next question is whether you should get a plug in one or a battery powered one.
I believe a baby swing that plugs into a wall is a far better decision. If you get a swing which can plug in, you will not need to be replacing batteries every second day. This means a plug in baby swing is more economical.
Reasons To Get a Baby Swing
As mentioned, although a baby swing is not an absolute necessity – it most certainly is a really great "nice to have" item. Here are 8 reasons to consider getting one (or adding one to your baby registry).
Mimics the Womb
The first few days and weeks for a newborn can be quite overwhelming. A baby swing can help remind newborns of the womb with its soft motion, making this one reason babies really love swings.
May Help with Colic
Baby swings often have a vibration function which may be very beneficial to colicky babies. The vibration can help to soothe them and cause them to be less fussy and less uncomfortable.
Best Nap Time
If nap times are driving you crazy, a baby swing is awesome for helping babies fall asleep quickly and staying asleep longer. The vibration and motion are key factors for helping with this.
Hands-Free Mommy or Daddy
We all feel like we need a clone of ourselves after having a baby so that we can do other things around the house. Or, if you have an older children you want to be able to spend time with them too.
A baby swing is perfect for this because it allows your new baby to be in the same space as you, but with your hands free.
Stimulate The Mind
Just as it works well to calm and help baby to sleep – a baby swing is also great for stimulating your baby's sensory system.
Learn To Fall Asleep
The best thing for a baby is to help them learn how to self-soothe and fall asleep on their own. If you put your baby into their baby swing drowsy but still awake, it is a great way for them to learn how to nod off by themselves.
Provides Entertainment
Baby swings that plug into a wall have music, lights, and even little mobiles. They are great for entertaining your baby while you need to get something done around the house..
Helps Baby Learn
If you move the baby swing to different rooms in the house it can be extremely educational for your baby. Every time he enters a new environment, he is learning something new by hearing new sounds and seeing new things.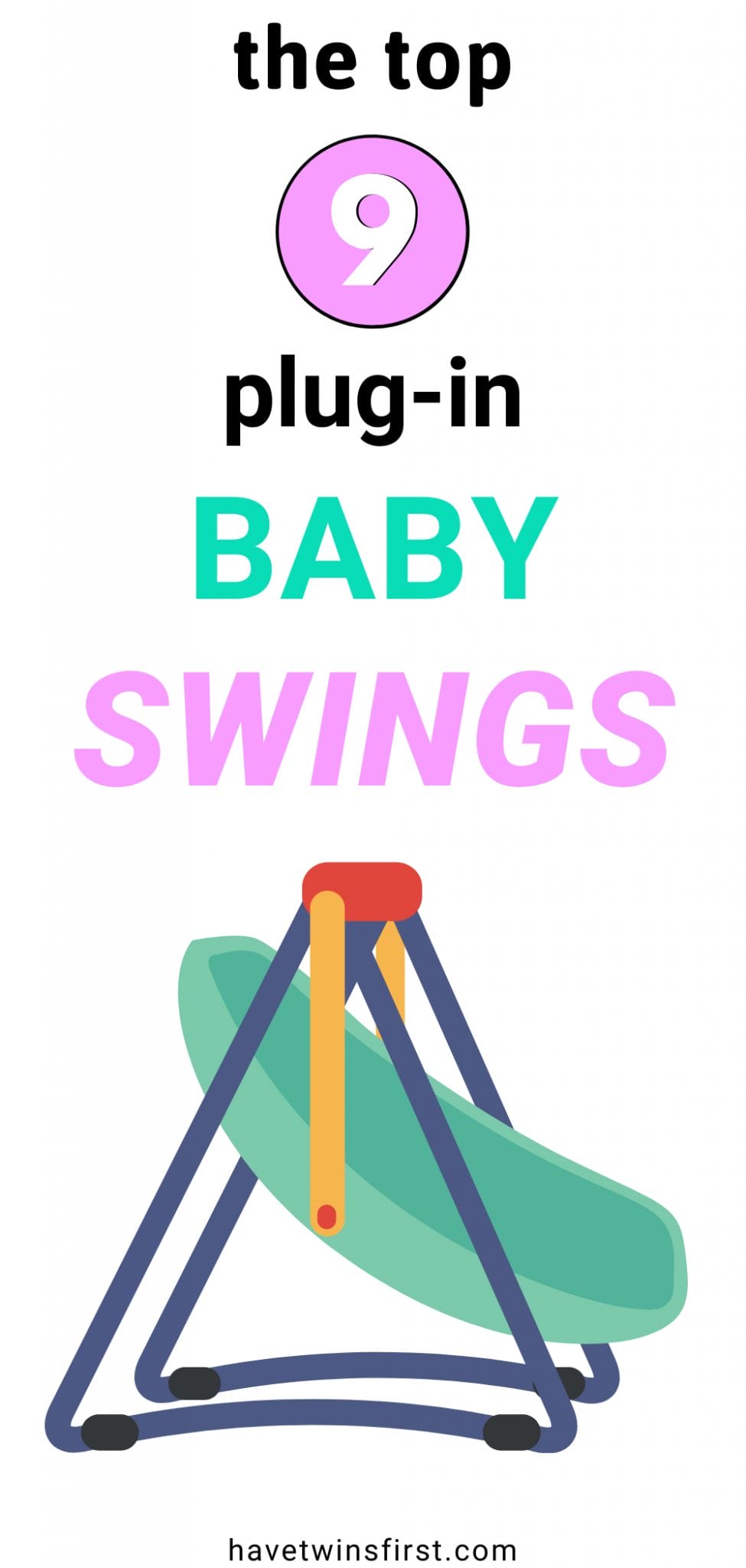 Important Features of Baby Swings With AC Adapters
Safety – The swing you choose should protect and keep your baby safe while in it. It is important to look at the straps the swing has. A strap over the midline is great, but additional straps over the shoulders are even better.
Portability – If your house is a little larger and you want to cart the baby swing with you, get one that is easy to move.
Motion – A swing which has a range of motion is best so that your baby does not get bored.
Sound – Sounds, white noise, or lullabies are a great feature for your baby's entertainment.
Versatility – Having a baby swing which can convert into a bassinet or baby rocker is also a great feature that you might find handy.
Size – Always look at the size of your space and compare it to the size of the swing you are considering.
The Best Baby Swings That Plug Into a Wall
There are many baby swings available which plug into a wall. With the massive amount of information overload, I am providing you with a few of my top picks below.
Take a look at the features of all of these recommended baby swings and find the one that works the best for you.
Graco DuoGlider
The Graco DuoGlider is perfect if you are looking for a safe and comfy space for your baby to spend time while you move around them freely. Here are some of the features you can look forward to:
Swing seat converts into a rocker which means your baby has a soft spot to rest and even take a nap
One hand operation – you can shift from swing seat to rocker without moving your baby
Soothing motion helps baby to feel supported and comforted almost like being cuddled in your arms
Vibration with two gentle speed settings
Safety: 3-point harness
Fisher-Price Dual Motion Baby Swing With Music
Next on the list is the Fisher-Price Dual Motion Swing. Fisher-Price has been around for many years and you can definitely trust in the quality of their products, including this baby swing.
When you purchase this swing, these are some of the features you will find:
Super cute animal theme
Two ranges of motion – it can sway from side to side or back and forth from head to toe
Adjustable seat recliner
6 different swing speeds
16 songs and sounds
Overhead mobile with mirror – this is great for keeping baby entertained and learning
Foldable legs mean it is easy to transport
Safety: added protection of a 5-point harness
Note: This swing is battery operated AND has an AC adapter so you can plug it in at the wall.
Graco DuetSoothe Swing & Rocker
Graco is also an amazing brand which has been around for a while now and has a wide product offering. The name is synonymous with quality and the Graco DuetSoothe Swing & Rocker is no exception.
Features of this swing include:
Removable swing seat – this means you can use the handles to carry the seat around the house
3 position reclining seat
Sway from side to side or back to front
6 swinging speeds – choose what works for you
Various music options
Safety: 5-point harness
Note: This swing is also operational with either batteries or plugging it into the wall
4moms mamaRoo Multi-Motion Baby Swing – Bluetooth Baby Rocker
The 4moms MamaRoo Multi-Motion Baby Swing is just amazing and so innovative. It also looks fun! There are so many features to love about this swing, but here are just some of my favorites:
Machine washable fabric
It moves like you do – up and down and side to side in a smooth range of motion
Bluetooth capability – for the tech savvy and keeping up with the times, you can control the motion and music via bluetooth
4 built in sounds – but you can also plug your mp3 player in and use your own playlist
AC adapter only
Adjustable seat recline positions
Safety: Broad safety straps to keep baby secure
Graco Sense2Soothe Baby Swing with Cry Detection Technology
The Graco Sense2Soothe Baby Swing, sounds amazing and it is quite a superb product. Let's take a look at some the top features:
2-in-1 seat – the swing seat converts into a portable rocker as well
Built-in microphone – detects cries and helps to soothe your baby by adjusting motion, speed and vibration
3 position reclining seat
Choose from a range of nature sounds, white noise, and music
Ingenuity DreamComfort InLighten Cradling Swing
Another highly rated baby swing is the Ingenuity DreamComfort InLighten Cradling Swing. This high quality item is also well priced – which is a big bonus for anyone.
If you are interested in this particular swing, take a look at some of the main features:
Machine washable fabrics
Save on batteries with the USB cord
3 Different swing directions
180 degree rotation means that baby stays in your sight – and you in theirs – at all times
6 Different swing speeds
Lightshow mobile and music keeps baby entertained at all times
Graco Simple Sway Swing
The Graco Simple Sway Swing is the last one on our list and also the most economical choice. Hopefully by now you have found one, or a few swings, which have peaked your interest.
As mentioned before, Graco is a really great, trusted brand, so you cannot go wrong. Here are some of the main features:
Side to side motion soothes baby
6 swing speeds means you can find the best setting for your baby
Perfect for smaller spaces due to its small frame
2 speed vibration
Variety of sounds
Safety: 5-point harness system
Best Portable Baby Swings With a Power Cord
A portable baby swing is one which you can actually carry around with you and move easily from one place to another. Getting this kind of baby swing is good if you want that ease of movement, have a second floor in your home, or if you want to be able to take it with you when traveling.
Below you will find my top two picks for this type of swing.
AiBeeYou Baby Swing
AiBeeYou Baby Swings are cute and compact, plus portable swings are very cost-effective. Some of the main features of this portable baby swing are listed below:
6 swing speeds
Side to side motion or upgrade to head-to-toe motion
5-point safety harness means your baby is extra secure at all times
2 recline modes
Soft plush material keeps baby comfortable and feeling protected
USB cable included
Ingenuity Portable Baby Swing
The Ingenuity Portable Baby Swing is also a great portable swing with very good reviews. Here are some of the main features:
5-point harness for added security while your baby is in the swing
Stuffed toy mobile for entertainment
5 different swing speeds
11 different melodies and sounds
Easy assembly and easy to move around
Battery powered or USB cord only (you must provide the plug yourself)
Please note that this comes with a USB cord, but not the adapter. You can plug it in using the cord, but you must provide the plug yourself.
Baby Swing AC Adapters
All baby swings which plug into the wall need an AC adapter. It may happen that you need a replacement adapter.
If replacement is needed, it is nice to know that AC adapters are available to purchase separately for baby swings.
Investing in a baby swing can save you a lot of stress and headaches related to your baby's sleep. Which baby swing that plugs into a wall sounded the best to you?
As you saw there are quite a few different kinds of baby swings which plug into the wall, including portable ones. The main features that show up with all the swings are the range of motion, swing speeds and music. The most important thing for you to think about is what will fit best in your home and what fits your budget.
Finally before I sign off, you might find these FREE printable Baby Registry & Pregnancy Checklists helpful. Just fill in the form below to get them. Learn which must haves to put on your baby registry and when to complete items in each trimester of your pregnancy.