Have you ever struggled to find a fun and small bath toy that is easy to keep clean? I know I have as a mom of 3.
That's why I was so excited to test out and review these unique bath toys from Soppycid. They open up to fill with water, making them easy to clean and mold-free. So let's get started talking about why I think these toys are great for both parents and kids!
This post has been sponsored by Soppycid. All thoughts and reviews are my own.
How Do the Soppycid Bath Toys Work?
These bath toys are an ingenious invention. You can fill them with water, but they are also mold-free.
The Soppycid bath toys open and close in half. You open and fill with water, then fold it together to close and keep the water inside.
Being able to open these toys allows them to stay mold-free in between uses. This is by far the largest benefit in my opinion.
Having bath toys that take in water, but are hard to remove water completely caused our family to throw away a lot of bath toys due to mold. Plus, it was always a safety concern and gross to find mold in those toys.
Soppycid Bath Toy First Impressions Review
The packaging of the Soppycid bath toy was very simple and pleasing. It also comes with a small net to store the toys in once they are dried out. I was excited to test these toys out when I saw them!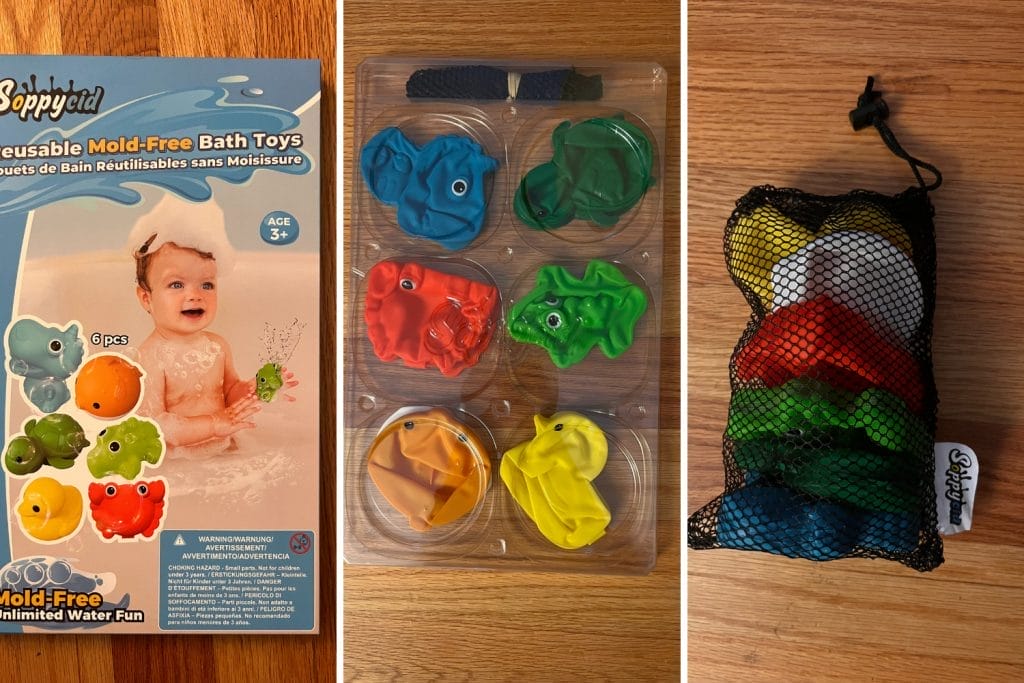 Review of What Makes the Soppycid Bath Toys Awesome
Let's review all the amazing benefits of these fun and innovative bath toys from Soppycid.
Mold-Free & Easy To Clean
One of the most attractive things about these toys is that they are mold-free. You are able to open them up to both fill with water and remove water.
That means after you are done, you can empty them and let them dry. If they ever do get mold after being wet, the design allows them to easily be cleaned off too!
Nontoxic
The Soppycid bath toys are made from nontoxic food-grade silicone. They are also BPA-free. Since babies and toddlers have a tendency to put things in their mouth, you do not have to worry that these toys have any dangerous chemicals in them.
Easy To Use
Filling these toys with water is simple. Open them up and submerge them in water. While still under water you can easily fold them back together.
When your child is done playing, simply open them up and empty the water. Finally, set them out to dry. Once dry, you can store them in the small netting bag that comes with it.
Long-lasting
These reusable bath toys are made from durable material (silicone) and easy to clean. These two characteristics make this a bath toy that should last through toddlerhood and beyond. I do recommend emptying the toys of water and letting them dry after each use to ensure their durability.
Fun for Babies & Toddlers
Whether it's pretend play, filling with water, or making water explode from these toys there are many different ways for little ones to have fun. There are 6 different animals and 5 different colors too. You get a blue dinosaur, orange fish, green turtle, green alligator, yellow duck, and red crab.
Multiple Uses
Since these toys are easy to clean, you can use them in many places kids play in water. This includes the bath, the pool, and the beach or lake. Again, just make sure to clean them well when you're done.
Is There Anything Else To Review About the Soppycid Bath Toy?
One thing parents might find surprising about these bath toys is the water does not leave in a traditional way. When squeezed, the toys collapse and water comes pouring out quickly. It's like the water explodes from the toy.
Now, at first I was surprised by this. But, then I thought this is actually more fun for little kids. Having a bunch of water pour at once is exciting, as opposed to the small stream that comes out of a traditional bath toy.
One other item I want to mention is these toys sink once filled with water. This not necessarily bad, but just something that I thought parents would want to know.
At the end of the day, my personal review of the Soppycid bath toys are that they are great fun at bath time and safe for your baby or toddler.
Parents will love these toys because they are easy to clean, store, and travel with. Babies and toddlers will love these toys because they are easy to use and they can make water "explode" from them. If you have been looking for a bath toy that is mold-free, then the bath toys from Soppycid are the perfect choice!
Other fun items for babies and toddlers that might interest you: